Tinos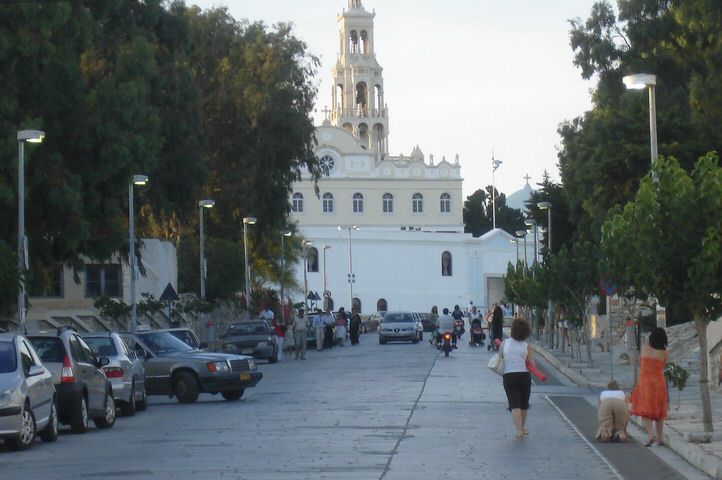 As you can see, my ability to plan ahead is trumped by my inability to stick to my plans. A trip that was supposed to include Patmos and Samos has instead turned into Syros-Tinos-Mykonos. But that's OK. It just shows that no matter what you decide to do or what events change your plans, one can still have fun wherever you end up.
I loved Tinos. From the moment we got off the ferry and drove up to the church of the sacred healing icon and passed a woman crawling up the sacred street on her hands and knees I knew this was an extraordinary island. We passed her about half way up the hill, we in our Vitara and she crawling so it was really no contest and we had time to look around the church and take a few photos before she arrived. She was wearing knee-pads. I assume there is nothing in the good book that says when crawling on your hands and knees to Greece's holiest religious shrine you can't.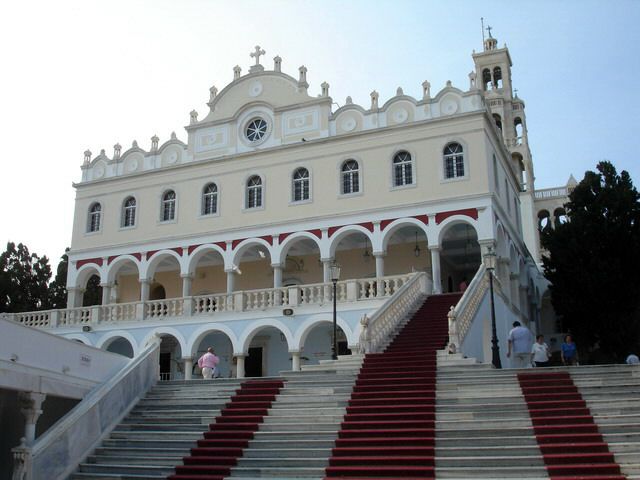 But there was something that seemed comical about it, though the reason people crawl to the shrine are usually not. They are here for a cure, for themselves or someone on their family or a friend. There was an old man on the ferry who was on his last legs who had to be carried on and off the boat in one of the ship's plastic seats. He was traveling with his wife and a young priest and they all looked frightened, like appealing to the Virgin Mary was this guy's last chance and whether it cured him or not depended on their faith. If you believe that crawling on your hands and knees up a hill, then up a hundred steps and into a church to the sacred icon of the Virgin will cure you, then maybe it will. And if God or the Virgin is watching then probably they don't care if you are wearing knee-pads or not. But I know that if I crawled all the way up a mountain to a holy icon and was not cured immediately I would be pretty pissed off.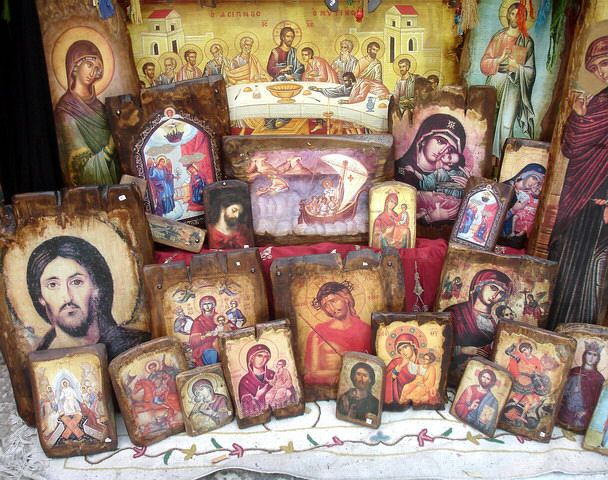 We didn't stick around but I wonder what pilgrims do when they are done? Do they go to a cafe? They don't crawl back down, at least I didn't see anyone crawling down. Are they like rock climbers or bikers who get together after a climb or Sunday ride and talk about it over a beer or a frappe? "Man, crawling up the street was tough, but at least they had that carpet. But those %@$%# steps were hard as hell".
Anyway I will stop now before I get into trouble with the church or someone who feels compelled to defend it. (Believe it or not it happens. I get lots of unfriendly e-mail from people who read my History of Greece and think I am taking sides on an issue. The funny thing is that I get criticism from both sides saying I favor the other.)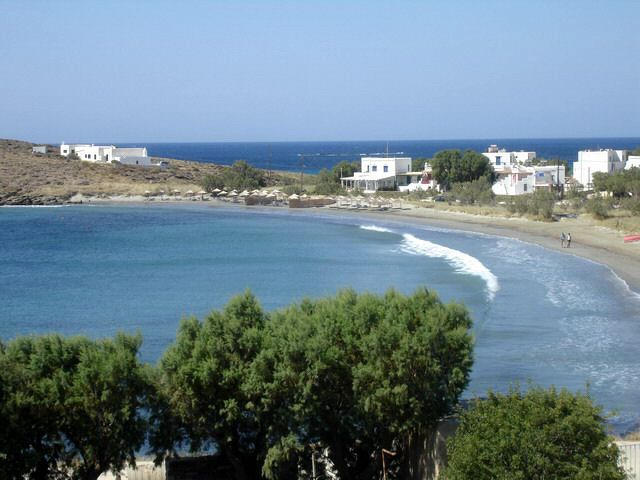 We stayed at the Porto Raphael Hotel in Agios Ioannis Porto on the east end of Tinos. The hotel was beautiful with a well kept garden full of palm trees and Mediterranean plants and bushes. We had a 2 bedroom apartment overlooking the sea with a view of Mykonos, Delos and Renia. The owners were Juleaniou and his brother Isidoros who kept us informed and fed in the hotels taverna which was pretty good. Of course the area lacked the kind of nightlife that a teenager craves and Amarandi was ready to swim to Mykonos. The first day the wind was blowing and we met some of her friends from Syros at a beach called Livada which was at the end of a long dirt road, facing north and had tremendous waves. Too big for me and the fact that it was a stone beach and rocks as big as your fist were also being churned up in the breaking waves made body surfing pretty unpleasant. But there was a nice little taverna there that served the specialties of the island which are marinated artichokes and these big puffy omelets made with artichokes, local sausage, potatoes and tomatoes.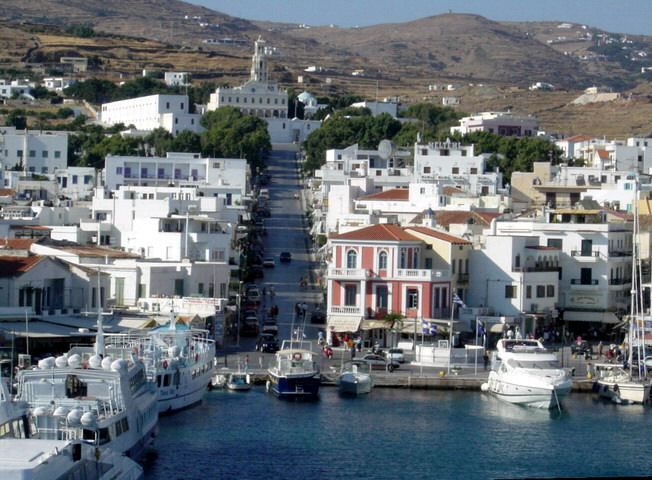 Tinos is a low key island. The worst place is probably the town which is to the religious as Mykonos is to the hedonists. All the tourist shops sell icons and religious items and the streets are packed with people buying them. Most of the restaurants are fast food and the cafes are packed with people who have come to see the shrine. There are a couple OK tavernas on the east side of the port but between the ferry port and the main part of town they have the look of the kind of places that don't care if they get repeat customers. The endless stream of people visiting the church means there will always be business. Tinos town is a tribute to the narrow-minded architecture of the early seventies when people tore down their traditional houses and built apartment buildings. But if you leave the main street and wander around the back streets you will find the same narrow alleys, winding streets and Cycladic village architecture that you will see in Mykonos and other islands. Its just hidden.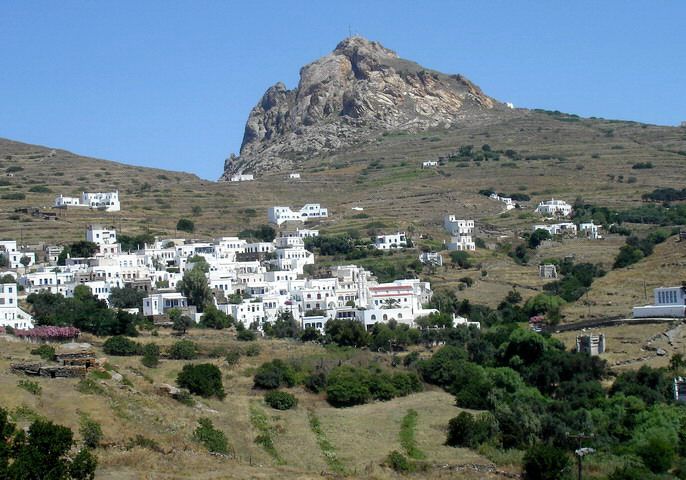 But the beauty of Tinos is its traditional villages of which there are many, scattered all over the island. The madness of the port rarely if ever invades the interior of the island. We drove around for 2 days and kept running into the same 5 or 6 groups of people who were also exploring the island. Mostly foreigners and some Greek-Americans. Tinos is 40% Catholic and some villages are Orthodox, some are Catholic and some are mixed. They are all beautiful, at least the ones we saw, and each has some reason for you to get out of the car and walk around. One may have a famous old church or a sacred spring, another a shade covered platia with a nice cafeneon, a great taverna, traditional basket weavers, the famous Tinos dovecotes, a museum, art galleries, you name it. Anyway this will be covered in my Tinos Guide if I ever get the opportunity to write it.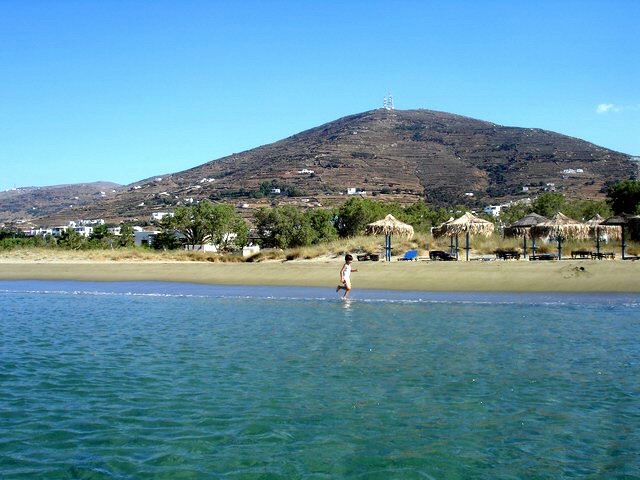 The beaches at Agio Ioannis Porto where our hotel was located were great. Almost as nice as Naxos beaches which many people say are the best in Greece. The cove closest to the hotel had rocks for snorkeling and a little bit of seaweed at one end which may turn some people off (my daughter hates it). But about 50 steps away another beach called Agios Sostis begins that has nice sand, rocks for people who don't like sand (me), a taverna for people who don't really like beaches, and shade for people who don't like sun. There are also sun-beds for people who do.
Anyway before I sign off I have to tell you a funny story. When we decided to go to Tinos (Andrea's idea) we were researching hotels. I picked out the Porto Tango from the photos on their website. Then I went to Tripadvisor and I don't think I have ever seen a hotel more maligned by more people. A concentration camp would get a higher rating according to the people who stayed there. Because it was one of two 4-Star hotels on the island Fantasy had it on their list of acceptable accommodations. I called George and told him to read the reviews which he did and removed it, replacing it with Porto Raphael which in my opinion is a gem of a place.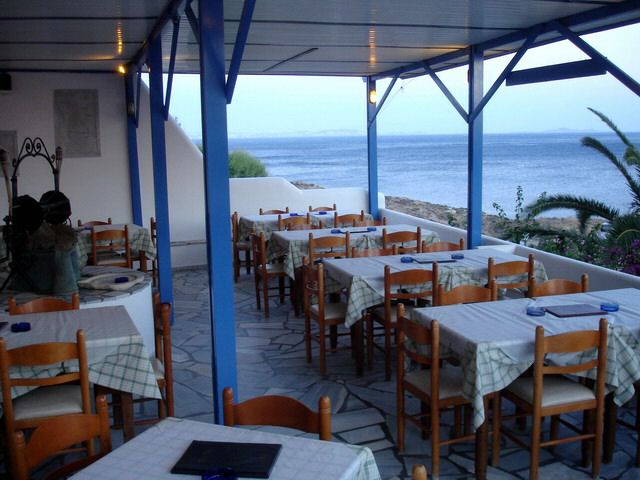 So go to Tinos. Rent a car and explore the island and come back in time for a swim and dinner at the hotel's restaurant or one of three or four other tavernas in the area. You won't find a more peaceful place in Greece, particularly with a view of Mykonos town.
Too peaceful for Amarandi. She wanted to go back to Syros. I wanted to go to Andros. We compromised. We would go to Mykonos if we could pack and be at the ferry in an hour to catch the boat. We said goodbye to our friends at the Porto Raphael Hotel and made it with 20 minutes to spare (the ferry was late). So the next time I write it will be about Mykonos. (Maybe)
Until then.....
You can finds more about the Porto Raphael Hotel at www.hotelsofgreece.com/cyclades/tinos/porto-raphael
And don't forget to read Matt Barrett's Guide to Tinos