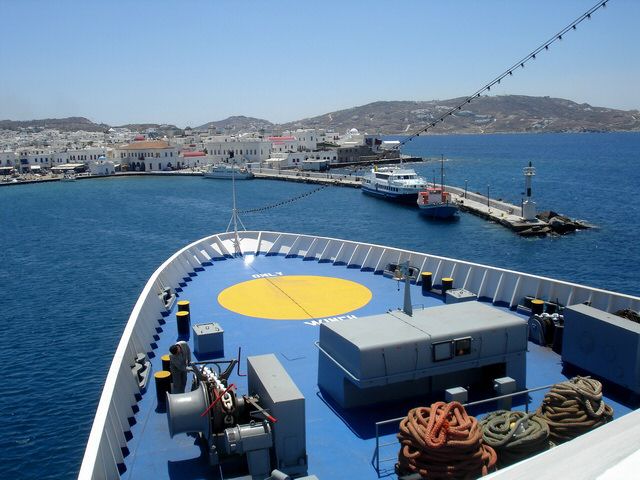 Mykonos was a compromise. Amarandi wanted to go back to Syros because she had friends there. I wanted to go to Andros because I had gone there several years ago, written pages and pages about it, and then discovered that the 35 rolls of film I had taken were all out of focus because something was wrong with my camera. (The pre-digital age). Because of that I never put together a guide to the island and always felt bad about it. But I knew that Amarandi would be bored on Andros and the more bored she is the more disagreeable she is and the more unpleasant the trip is. So I decided to be a nice guy and go to Mykonos. After all, what kind of trouble could a 14 year old girl get into in Mykonos?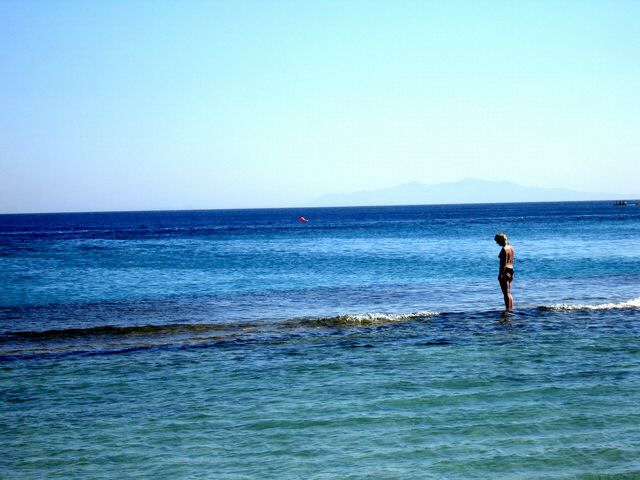 On the ferry I was parked right in front of the Cycle-Greece vehicle loaded with bicycles and luggage. This was pretty cool I thought because Colleen McGuire had written a couple articles about cycling in Greece for my website but I had never met her in person. I caught up to her on Paradise beach. Or was it Elia? I can't remember. They are so much the same. Big restaurants for hundreds or thousands of people, loud music, so many umbrellas and beach beds that you can't see the sand. Few people swim. They just sort of bake like lizards. There must have been 2000 people on the beach and 10 people in the sea including us (3). Elia was nicer. Paradise was hardly a paradise if you like to swim. There is a rock shelf about 30 feet off the shore and you have to walk or swim to it, climb onto it and walk across it. It's covered in sea anemones and seaweed and is kind of yucky to step on. But that is the only way to get to the deep part of the sea where the water is cold and a beautiful blue. Inside the reef it is warm and since that is the only place anyone swims probably 10 to 15% suntan lotion. There is a spot where the reef ends and you can swim out through there if you like. But guess what? That's where the boats come in that ferry people from Platiyialos and also the speedboats that pull the water-skiers around. So to get to open sea you are taking your life into your hands.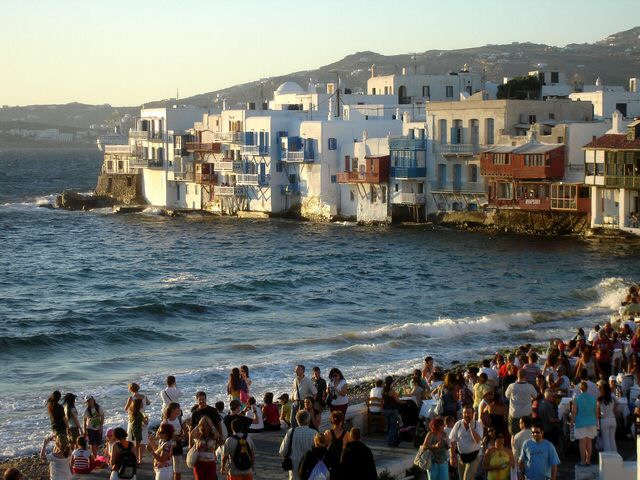 But the beaches are not really for swimming but for nursing hangovers. The real action is in the town where every single building is a shop of some sort. Bars, restaurants, boutiques, jewelry stores, fast food, and just about anything you can think of is sold in Mykonos and people just wander around the endless streets shopping or looking. Food is like the beaches. Just OK. The tavernas are huge and mostly mediocre because they don't have to be good. They just have to sustain the people so they have the energy to go out and party. They are expensive though and they push the lobster relentlessly since it is the most expensive fish. I saw lobster pasta at a seaside Italian restaurant for about 70 euros a plate. There were other pastas for 30 and 40 euros a plate. At that price it better be good, but I would not count on it. We had a meal at Antonini's Taverna right in the main square by the taxi stand which was recommended by our pal Michalis at the Hotel Adonis (which was great by the way). It is one of the oldest restaurants in Mykonos and was as good as any in Athens with a varied traditional menu like you would find in an estiatorio and grilled meat and fish too. Excellent lamb fricasse. We drank our ouzo at Sirens on the waterfront, with the small seafood meze which was decent though expensive at 22 euros. But the waiter, a young guy from Karditsa named Kosta was entertaining and made us feel welcome. The restaurant at Ellia beach was good as well. Large menu with lots of pastas. Great bruchetta.