The King George Hotel in Athens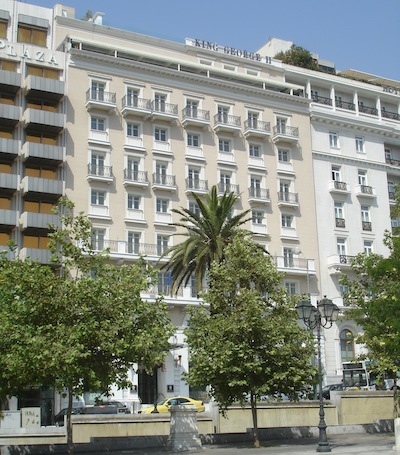 My last two days in Greece and Fantasy Travel has put me in the King George Palace Hotel in Syntagma Square, right next door to the Grande Bretagne, which was full. It's hot too. The third heat wave of the summer, though thankfully a short one, expected to last only a couple days. But its not so bad. I was out much of yesterday walking around and it was cool in the shade. Sitting in an outdoor cafe or restaurant was not that pleasant but going from the air-conditioned hotel to air-conditioned restaurant or the air-conditioned office of Fantasy Travel was not much different from living in North Carolina. In fact it did not seem as hot as NC seems in the summer. So if you are looking at the weather reports and freaking out because it is so hot in Greece, don't worry. If you are used to US East Coast heat and humidity, this is not as bad. If you did not have AC then it would not be too pleasant but there are few hotels now which don't.
The King George is rated The Best City Hotel in Greece by Conde Naste magazine. We have a large bedroom, an entrance hall, a living room with a couch, room for a cot, and another sitting area that runs along the wall below the window, sort of another built in couch. There is also a big elegant desk with a pretty nice stereo system. The AC can be adjusted for each room. The bathroom has a deep bathtub encased in marble with a seating area so you can invite your friends to watch you take a bath. There are even a couple stools for them. In the bedroom there is a walk-in closet with a full length mirror. Actually it is more than a closet. It is an actual room and the closet is on one side. Best of all the hotel has free highspeed internet. If you didn't bring your laptop that's OK. There is a keyboard in the desk and you just plug it in to the TV and go online. Movies are a bit expensive. About 18 euros for 24 hours so to make it worthwhile I will probably go down to Syntagma Square and sell tickets for people to come up to my room and watch movies for a euro. The TV is full of interesting news channels including an English language version of Al Jazera, Euro News, CNN International, Russian News (also in English) and lots more.
The hotel is a lot smaller than the Grande Bretagne. Probably only about 70 rooms. There is a health spa in the basement as well as a small swimming pool, sauna, steam-room, and exercise machines. I told myself I would swim and exercise every day but I have not managed to do more than look around. The restaurant is pretty good though prices are double what you would pay for something similar in the USA if you factor in the rate of the dollar vs the euro. But terrific service compared to the GB. We had gone there first (these are George's choices, not mine. I am happier at the restaurant in the meat market or some simple working class place than with the phony elegance of Greek luxury hotel restaurants, but George like to show us that Greece can be as sophisticated as the US. It can't. None of these places would crack the top ten in Chapel Hill, North Carolina.)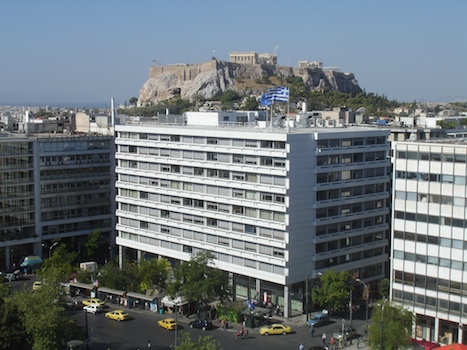 Anyway we went up to the rooftop garden restaurant at the GB first. Terrific view and really a beautiful restaurant. We got a seat on the edge so we could have a view of the Acropolis, like I have not seen it enough times. (come to think of it I didn't even look at it except when we first sat down.) The waiter came and told us about the specials and left us the wine list and we never saw him again. For twenty minutes we were sharing stories of the lack of quality service in so called luxury facilities. I told Andrea that on the islands the owner of a luxury hotel could have been the farmer who owned the property ten years before or the waiter in the deluxe restaurant could have been hired for his ability to speak English because he worked in a souvlaki shop in Monastiraki for five years. Not to imply that the Grande Bretagne is not one of the best hotels in Greece, and maybe the world. But when the bottom line is making money and keeping salaries down, and most Greeks aspire to be civil servants so they can make a living without doing any work, good help is hard to find. George seemed a little embarrassed but he was the one who said the King George had a better restaurant, so he was happy to leave. I don't know if he was right because we never tasted the food at the GB except for the bread-sticks and the water.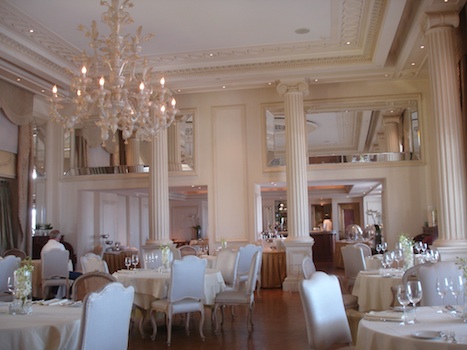 But the Tudor Room at the King George Hotel gets high marks for service because the staff was friendly and unpretentious and the food was fine. Actually by the time we ate we were the only ones there so we had everyone's attention. Our main courses arrives simultaneously, each carried by a different waiter.
We had a slight problem with the drain. Well, more than slight. Water does not go down so we called reception and they sent up the hotel handyman and now our bathroom is in pieces and we have to move to another room. I am happy to stay here because after a summer of workmen hammering and chipping away at our stone house in Kea, plumbers seem almost peaceful. But I suppose most guests would probably want to move. The hotel does not know that I am a travel writer, here to review the King George Palace and I guess if they find out they will freak. Maybe upgrade us to the penthouse with the private pool. I told George. Maybe he will negotiate something for us. Anyway this could happen to any hotel and I am still going to give it a good review. I like it better than my home. George wants to call and upgrade us for the inconvenience. I said I am perfectly happy with the same room on another floor. I don't need something nicer. This is nice enough. But maybe he can use the incident to negotiate better prices so he can offer the King George Palace cheaper to his clients and save them money. Through my own suffering Fantasy Travel's clients will have benefited. That's OK. He paid for the room.
One last thing about the King George Hotel. They had a really nice restaurant bar in the lobby. But check out the lamps.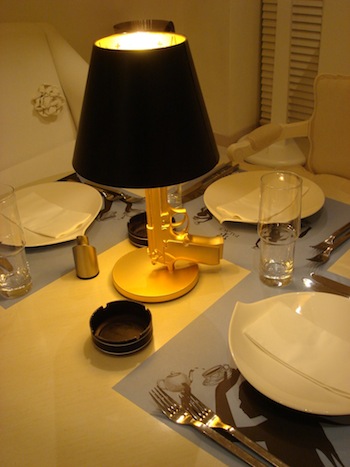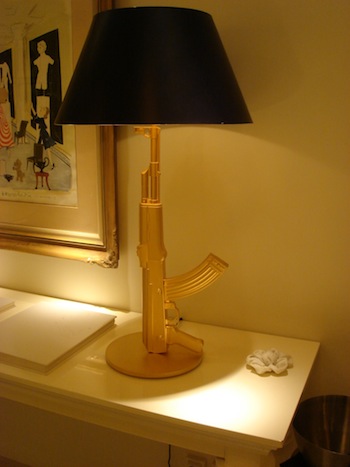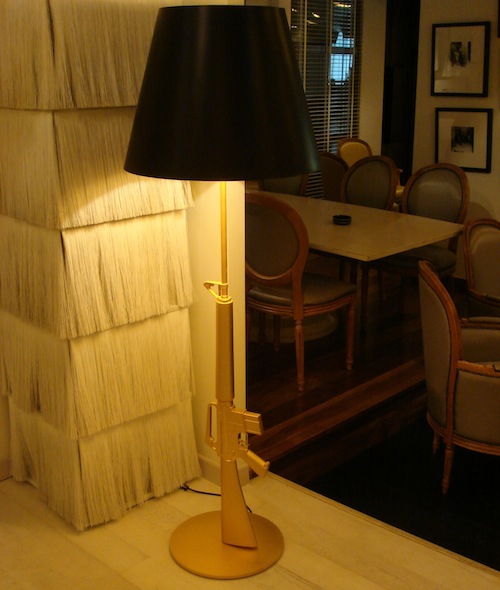 Pretty weird, right? Kinda makes you wonder about the clientele.