From Athens to Kea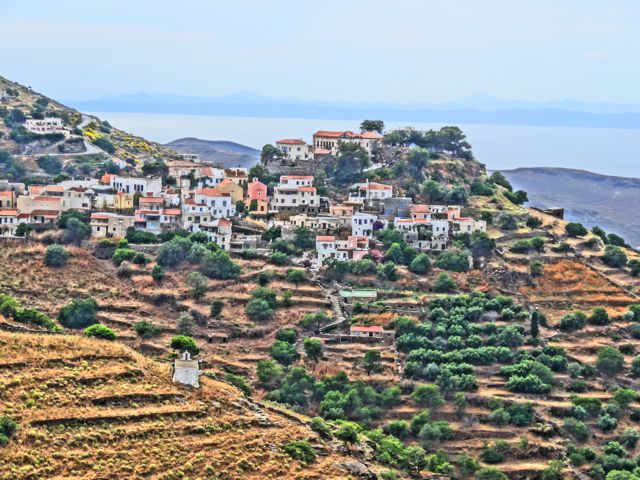 I am back in Kea with several thousand photos of Syros-Tinos-Mykonos-Lesvos and Chios. Not to mention dozens of business cards of restaurants and hotels, brochures, scraps of paper, local guides in Greek and/or English, and a head full of jumbled ideas about how to make and update web-pages for these islands and the various parts that I found interesting enough to write articles about. The weather has changed. Its not even hot. Up in the village of Ioulida it is about 24c with a strong wind making the windows and shutters bang and clatter if they are not propped open with rocks. Its a nice atmosphere for working and when I need a break I can watch the ships pass by in the Cavo d Oro or go down to Yiannis Taverna in the Piazza and have lunch and a little wine. Of course once I do that my work day is over.
To be honest I am having motivational problems. The last few days on Chios I could not get a decent internet connection so the e-mail just piled up. I think I had a couple hundred when I woke up on August 1st, but yesterday afternoon I managed to completely catch up, even after a 3 carafe lunch, which sort of worries me about some of the advice I may have given. Well, they can't complain. After all it is free.
Now I am looking at the tasks ahead of me and thinking about smaller projects I could do to procrastinate. The Chios page is the scariest. It looks like weeks of work and I am trying to decide whether to start here and spend the last 3 weeks of my summer in Greece working, or go and have some more adventures and do all the sites in the states. It means lugging back piles of paper but since all my clothes are stained with olive oil from endless dinners I will have plenty of room.
We stopped in Athens for a day before coming to Kea and had an 'only in Greece' experience. Amarandi had been asking for Chinese food all morning and when we went to say hi to George at Fantasy Travel there was a take-out menu for a new Chinese restaurant on his desk. We relented, all except Andrea, and went to have a Chinese lunch even though it was 41c which is over 100f. Andrea was griping about it but in the end sat down and ordered and actually was quite pleased with one of their salads. The food was pretty good by Greek-Chinese standards I guess, though I have to admit I have not eaten Chinese food in Greece since Mr Yungs was the only Chinese restaurant in 1970. So using that as the standard this was pretty good. But right in the middle of it some workmen come in and begin cutting out the large storefront window, banging, crashing, splintering glass, the kind of job you do when the restaurant is closed, not when there are people eating. Andrea was watching splinters of glass flying all over the kitchen and into the dining area and finally said "Thats it!" and stormed out. I followed soon after. It made me realize something about Greece. Rather than close for a couple hours in the afternoon they stayed open to get a few extra euros knowing that not only would two guys taking out a plate glass window cause make dining un unpleasant experience, but it was also dangerous. Shards of glass flying all over landing in the food in the kitchen and the dining room? I mean, really. Its pretty irresponsible.
It reminds me of a story about George from Fantasy who went to the same restaurant every day for 20 years right next to his office. He would go into the kitchen and see what looked good and order it. One day he was in the kitchen and saw the chef reach into a pot of something with his finger and taste it. "If you do this when I am in the kitchen I can only imagine what you do when nobody is looking" George told him, and walked out the door and never ate there again. So in the case of the Chinese restaurant, though the food was decent, how can you trust a restaurant where you witness flying shards of glass going everywhere, because they are so greedy they won't close for a couple hours to protect the safety of their customers?
Hotels do this too. I went to visit a friend at the Titania which was reopening after extensive rennovations. The entire lobby was a construction site as were many of the floors. The elevator was like a service elevator with cardboard on the floor to keep the paint, mortar and cement from destroying it since the workers were also going up with their wheelbarrows. Upstairs in the beautiful rooftop garden you would never know of the chaos which reigned below. But it was obvious that the hotel was not finished but they decided, what the hell, let's open as much of it as we can so we at least have some money coming in. But the people who booked a room in the newly renovated hotel that was actually incompletely renovated, were not going to go home and rave about the wonderful room they had in a construction site. They are going to wonder how a hotel could allow guests when everyone who worked there was wearing hard hats.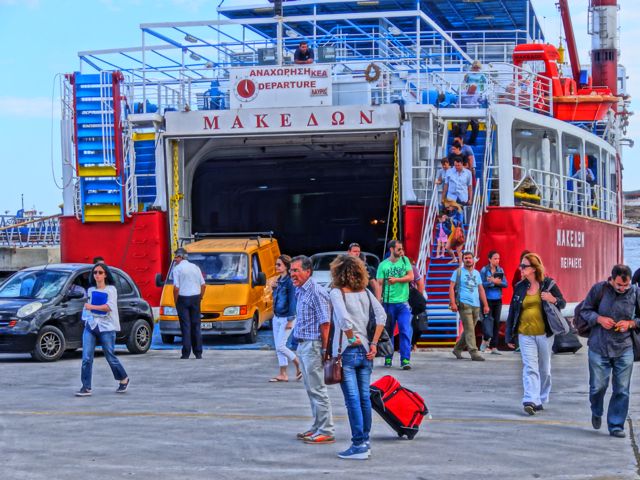 In fairness to the Titania, the renovations are long completed and it is a beautiful hotel that anyone would be happy to stay in. But how many of those people who stayed there during the construction would return and how many people did they tell about their experience who will book elsewhere. Its the short-sightedness of Greek business. Take the money now even if it costs you later.
So to end this rambling story Andrea and I left 41c Athens and drove to the beach at Sounion and had an island like swim and then to the port of Lavrion where somehow her father had managed to get us a ferry ticket on a day when it seemed half of Athens was leaving for the islands. This time I had to back the car all the way up the ramp and to the very back of the ferry. I did OK. But I am getting tired of the anxiety I get before putting the car on the boat. I was thinking that maybe I won't go anywhere else this summer just to avoid it.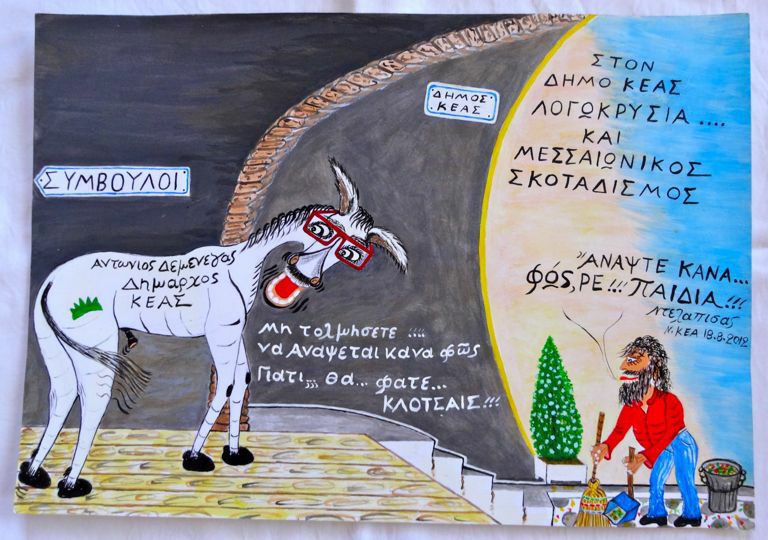 There are a number of exhibitions and concerts going on here this August. Marios Tokas is playing a concert in Kounderos. There were a couple photo exhibits, one by Margaret Stassopoulis of all her photos of people in Kea from the last 35 years. Another by Greek video director Kostas Efremidis at the Vourkariani Gallery, which was some of the best photography I have ever seen. There was a book for sale called KeaTziaCea published by Mauve (e-mail: ttn-tv@otenet.gr) that is worth having. But the biggest exhibit for me is the one by Dellapizza in Chora. Del has taken an empty lot and with concrete, stones, paint (mostly whitewash) and flowers, has created this garden-park to show his amazing paintings which depict life on Kea and on the planet in an ingenius and satirical but naive way that makes people love him, and some of the subjects of his paintings hate him. For more see Delapitsas Website
Captain BJ just called me. He is sailing into Korissia on a chartered catamaran and will be here through the day. So I guess I am not going to start my Chios page today either. Thats OK. Lunches and dinners with BJ are always entertaining. Much more fun than making websites. And he may give me some ideas on other ways I can procrastinate and avoid my big projects. Going to the beach comes to mind.