Christmas in Greece
It's been awhile. Much has happened. I wish I could remember it all. Most of it was fun. Some wasn't but luckily for me that's stuff I forgot. Probably you want to read about my Christmas in Greece since when I last wrote that's where I was headed. So let me begin with that. I really planned to devote an entire website to Christmas in Greece 2007 but I don't know if that's going to happen since there are a million other things I need to write about. But let me see how much of Christmas I can remember.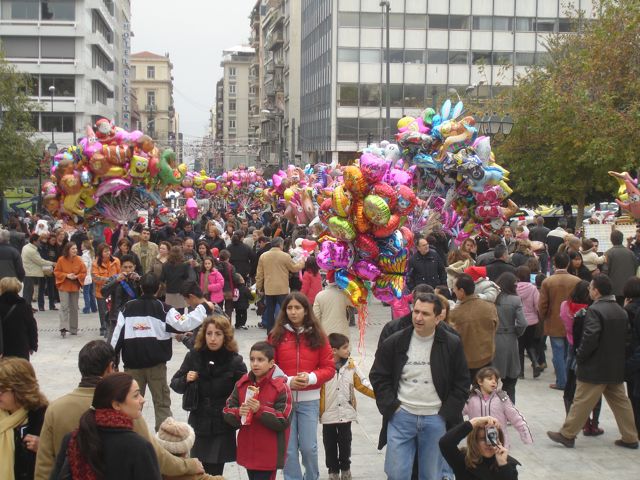 We left the USA on Christmas Eve. My brother David and his wife Beckette and three year old daughter Anastasia decided to come too. Well actually David decided. Beckette was reluctant but in the end gave in. The baby did not have a vote. The flight was OK. Easy connection in NY. We sat far from them and though we could still hear the baby every so often we were not adversely affected. My feeling is that once you have paid your dues flying with your own infant you should be spared the suffering of flying with a relative's. Amarandi got a portable DVD player and sat in the seat in front of me and let me hook my Bose noise cancellation headphones up so I killed several hours watching 'There's Something About Mary' and 'The Truman Show'. As usual the choice of movies on Delta was terrible. I think they buy their DVDs from the 9.99 rack at Best Buy. They are so uptight about not upsetting or offending their customers that they just show the most lame family oriented movies they can find. They would be better pulling out all their seats and putting individual screens for every passenger like the Air Bus and Boeing 777s have. But on the same subject of not offending the passengers it was surprising that on a flight that left NY on Christmas Eve and arrived in Athens on Christmas Day the world 'Christmas' was not mentioned once, not by the flight attendants, not the Captain in his welcome message, nor upon arriving in Athens. I was imagining a festive flight with passengers exchanging gifts, burning logs in a fireplace on the big screen and all the smaller ones, Christmas carols and maybe complimentary eggnog. No such luck. I guess they figured anyone flying on Christmas Eve was either Jewish, Muslim, Hindu or Atheist.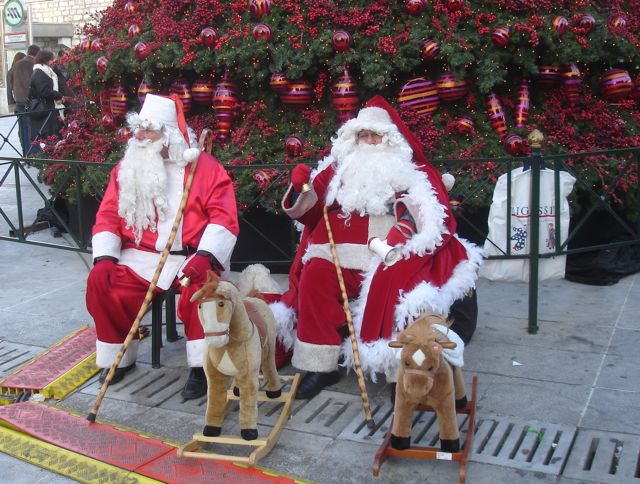 Athens made up for it. The whole city was decked out in its Christmas finest. Lights and decorations were everywhere. Syntagma Square was packed with grown-ups and children. There was a big colorful merry-go-round, people selling balloons, degenerate looking Santa clauses with miniature ponies that children could sit on for long enough to take a photo for a few euros, clowns, jugglers, mimes and Africans selling designer handbag knock-offs and CDs. Ermou street, the main pedestrian shopping street was packed too though few stores were open on Christmas day. We went to dinner at Andrea's father's apartment in Kypseli. I was falling asleep at the dinner table and went home to await that night's dinner at a friend's house, though instead I ended up with my brother at the Diodos Ouzerie-Restaurant across from the ancient Agora, a place that pretty much became the hangout of he and his family.
The weather was not great compared to other winter trips. The days were usually cloudy and in the fifties. A couple nights it got down to the upper thirties and there were a few of those beautiful sunny winter days that you get in Athens. We'd made lots of plans. We were going to Meteora, Methana, Pelion, and maybe even skiing in Arachova or Karpenissi. But as often happens there was so much going on in Athens that we never left. Every day it was lunch with someone and then dinner with someone else, or many someone's else's. We had several big taverna nights at Saita in the Plaka, my favorite underground bakaliaro restaurant (fried codfish). We had a great dinner at Sardeles in Gazi with Yiannis Lambrou, the owner of Methymnaos Winery in Lesvos. He brought a case of his white wine, gave one to the owner of the restaurant and we drank the rest. I must have drank at least 2 bottles myself plus complimentary mastica and tsipuro from the restaurant and I woke up the next day happy and clear-headed. It was so much fun we did it the next night at the Taverna Psiri with a case of Methymnaos Red. In case you don't know the story of this wine go to www.lesvos.com/wine so I can move on to other subjects. Read it. Its pretty interesting.
One night we were sitting in the Evi Cafe, my favorite little ouzo hangout (Elvis Costello's for those of you familiar with my writings) when this American guy who has been playing flute on the streets for the last 25 years came in to entertain us. He handed me a flyer for a new pub that had just opened up in Monastiraki called the James Joyce Pub which as you have probably figured out was Irish. We went there for a nightcap and it became late night party central for us for the next week or so. It was so authentically Irish that when I walked out the door at 3am I was surprised to see the Acropolis.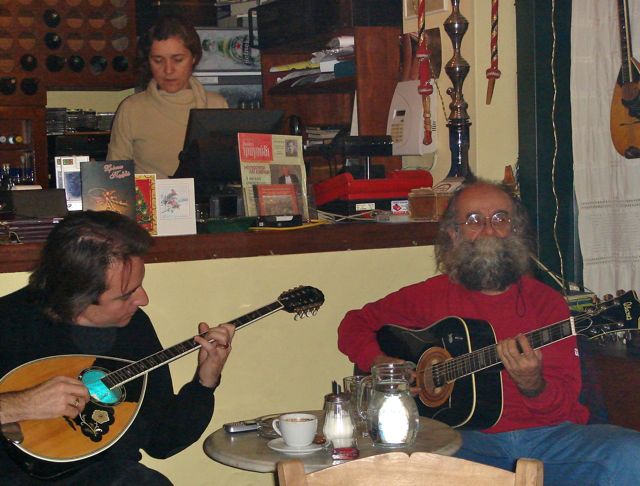 New Year's eve we had an ouzo at Platia Iroon. All the tables were reserved but Nikos treated us and let us hang out until the place started getting busy. We decided to go to the psistaria (grill house) next to Taverna Psiri where the waiter was so offensive I took it out of my site the next day and was able to relish that travel-writer-as-God feeling to celebrate the New Year. (The food sucked too in case you are worrying that I was just being vindictive because I didn't like the guy-which I didn't. Though in previous visits I liked the food enough to include it on my site.) We went to the Hotel Attalos rooftop bar at 11pm to watch the fireworks and drink this terrific micro-brew beer that was left that morning in my hotel for me to taste. Actually that's a pretty funny incident that I should mention before I continue with New Year's. A brewmaster, beer connoisseur from the US by the name of Stephen Bender sent me an e-mail about a new micro-brewed Greek beer he was making or helping to promote, called Zeos. One day I came down to the lobby of the Attalos and Maria said "Matt. Someone left these boxes for you". There were 4 cases of Zeos! We put them in the walk-in cooler and brought one case to the roof bar and let everyone try it on New Year's Eve. It was great. Much better than any of the popular Greek beers just as 99.9% of American microbrews are better than Miller, Bud or Mich.
So anyway we were joined on the Hotel Attalos rooftop (New Year's eve.... remember?) by some of our friends and watched the spectacular display of fireworks that were being shot off from the Dimarchos Square, Lycavettos and the Acropolis. After things died down and guests began drifting away we went back to the James Joyce Pub which was hopping. It was packed with Irish, Greek Irish, and International people, mostly x-pats living in Athens. They were waiting for 2am which was New Years in Dublin and when London's Big Ben on the big-screen hit 12 the place erupted into dancing, singing and cheering. I finally dragged myself out at 4am.
New Year's day we spent with the family of George the Famous Taxi Driver. His wife Loula is an incredible cook, better than any restaurant in Athens, and she put out a spread of the Greatest Hits of Greek Food. Roast lamb and potatoes, mousaka, pork with celery, pastitsio, cheese stuffed peppers, fried butterflied shrimp, marinated octopus, macaronitopita, baklava, sadziki, tirokafteri, and more. There was so much food that I had a spoonful of each on my plate and still I was full. George had some tsipuro (like moonshine) that he had flavored with pomegranate and several different barrel wines that he had brought back from friends in the mountains. The last time I had such a feast was... well the last time we had dinner with them. When we see them in Athens we always want to go out to restaurants and they seem reluctant. Its because like I said. Loula makes better food than any restaurant in Athens. When they closed their restaurant in White Plains, New York the whole town must have gone into mourning. Well NY's loss is Greece's gain.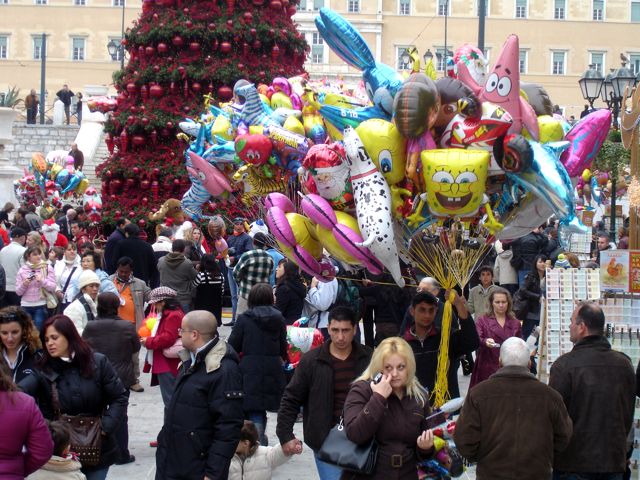 The festivities of Athens continued through the first week of the year. It was pretty funny actually. I could leave the hotel and walk over to Ermou and the party was continuing with mobs of people, balloons, ponies etc. It seemed like the cops were going easy on the Africans. Usually they pack up their stuff into their white sheets and take off en mass down the street as soon as a cop is spotted by their lookouts. But maybe the order came down to go easy on them over the holidays. I saw one African in the middle of a transaction with an Athenian woman, take off after a cop approached them, leaving the bag and the woman with a 20 euro bill in her hand. The cop called the guy back who reluctantly returned, expecting a beating or being arrested. The cop took the twenty from the woman and gave it to the African who nervously walked off probably wondering "did this really happen?"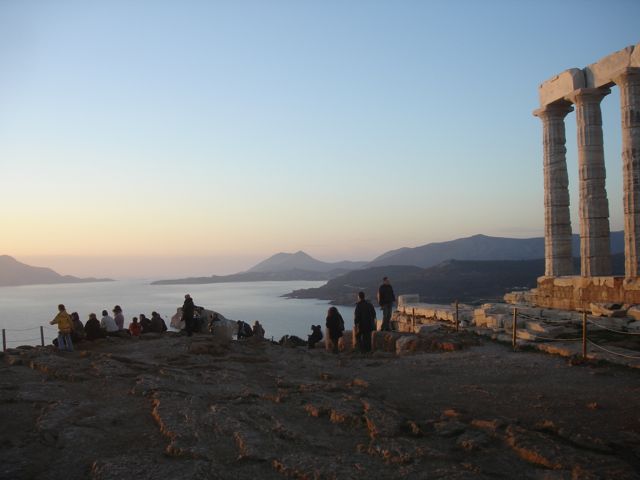 There was a beautiful French Canadian filmmaker in our hotel named Chantel Valois who had also written a book called "Does Size Matter?" She became part of our gang and I introduced her to Yiannis the Winemaker, Pantelis the artists-playwright son of the Poet-Sandal-maker and Adonis Spinoulas the actor-director son of the famous Rolando who owns the restaurant we eat at in Kea every night. The last day she and I went around taking photos of graffiti. It was a beautiful warm sunny day, the best day of the holiday, and I was thinking that it was a shame that I never left the city. I called Elias at Swift and he told me he could have my car for me in 5 minutes, from the warehouse he keeps his rental cars. We got a lift to his office and twenty minutes later we were on the coastal road heading for Anavissos where we had a nice meal of barbounia, and then to Sounion where we photographed the temple including the early 19th century graffiti. That last night we had one last big taverna night at Saita, said goodbye to all our friends and left the next day for America.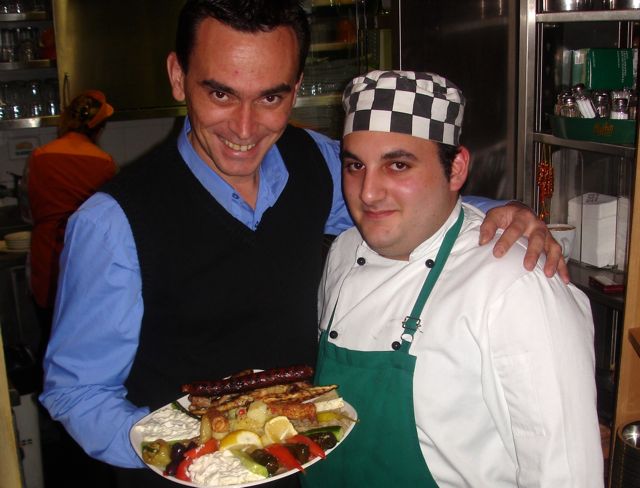 So what did I accomplish in Greece besides drink and eat and hang out with my friends? Well for one thing I discovered some great restaurants. Hell's Kitchen is a sort of bistro right behind the Mayor's Office on Athinas Street with food that is better than you will eat at the upscale hotel restaurants at about a quarter of the price. Its kind of a funky area, not really made for families at night being more of a bar-scene that happens to have great food, but they have all sorts of omelets, burgers and food that may be the antidote if your stomach is Greeked-out. Sardeles in Gazi was as good a fish restaurant as its next-door neighbor The Butcher Shop is a meat restaurant. Try them both. You can take the metro and get off at Keramikos and you are half a block away. Diodos is one of the many cafe-restaurant-ouzeries on lower Adrianou St overlooking the metro tracks, the ancient agora and the Acropolis, but pretty good food, friendly waiters, a great pikilia (assortment) for drinking ouzo, and you can't beat the view, at least from street level. The best discovery was the James Joyce Pub though probably once I discovered it, it was best that I leave Greece for awhile to not end up like one of those famous writers who in the twilight of their careers do a lot more drinking than they do writing. But as long as I have mentioned it let me also say that the food there was great and on Sunday they had NFL Football. If you are looking for it just find the entrance to the Ancient Agora, then look for the big hole across the street and the James Joyce is just on the other side of it.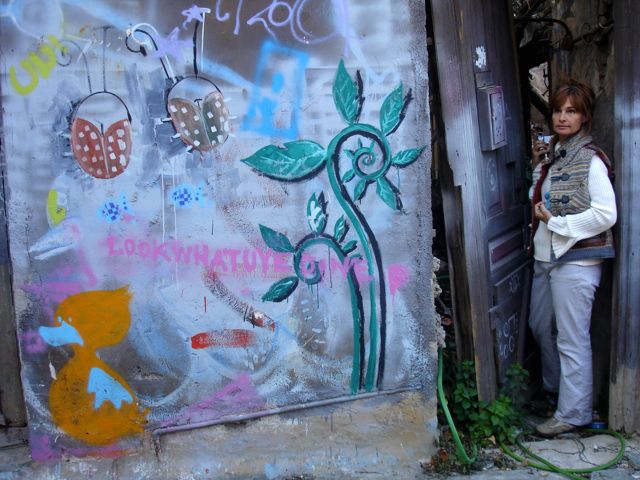 My main project though was the Graffiti which I always just took for granted. For some reason a few 'pieces' caught my eye and for several days I walked around taking pictures. It was not until I sat down with the hundreds of photos that I realized how exceptional some of it was. So for the last couple weeks I was working on a graffiti site which you can visit at www.athensguide.com/art/graffiti and let me know what you think.
On a final note as a further excuse for me being slack about writing in this blog lately, do you remember all my computer problems? Yes of course you do. I took my Sony Vaio laptop to the Geek Squad at Best Buy who said they could diagnose the problem in 24 hours and probably fix it. (It was not shutting down properly and the cursor was jumping all over making it difficult to write). They called me a few days later and told me that the computer passed 2 of the 3 tests but would not allow them to do the third which usually means that whatever is wrong will cost more to fix than buying a new one. They encouraged me to look at their computers after I told them I was interested in the Dell XPS M1530 but I went to the Dell store and ordered what I wanted. When I came home I was a little sad. I liked the Sony. It was a nice little computer, light, nice display, and pretty durable. The idea that it was now a worthless piece of junk according to the Geek Squad did not seem fair, especially since it was less than 2 years old. I decided to send an e-mail to Sony who wrote back right away and gave me a list of things to try. None of their suggestions worked until I tried the last one which was to press the F10 button at start-up which returns the computer to its factory settings. I did it and it worked perfectly. So a month ago I had two expensive but broken computers and now I have three computers that are basically all brand new. So if anyone wants to buy a brand new used Sony Vaio SZ120P let me know.