Kifissia, American Club, ACS Cruise to Nowhere and Flisvos Marina
Its been quite a week. That's why I have not written much. I have been too busy.
Thursday I had spent all day in the house working on my Thessaloniki page and by nightfall I was ready to go out. September had been a pretty nasty month weather-wise and people were starting to dress like winter had come and was here to stay. But Thursday night was hot and humid and we walked to Xoxlidaki, our favorite neighborhood ouzerie for some fried crawfish fritters. When we got there all of the tables that had been outside were gone except for two, both full. All the action had moved inside where it was sweltering. The manager came out to welcome us. Where were all the tables? "We put them in storage for the winter" he told us. He offered us a table inside by the door but it was smoky, hot and loud and we left on a journey that took us all over Nea Psyhico and home without food nor drink. Cafe-ouzeries that had been buzzing a couple weeks ago were now closed. Psistarias which should have had roasting chickens, kontosouvli and customers were empty and just selling souvlakia. And it was hot. The weather had tricked everyone into believing the summer had ended, but it had returned and all of Athens had already exchanged their colorful summer clothes for their dark winter outfits and our favorite ouzerie had put away all the outdoor tables.
Friday night in the Plaka was just as hot. We had planned to go to the Hard Rock Cafe to watch the Biden-Palin debates but it had completely slipped our minds. I went to the Plaka Taverna to have an ouzo and wait for Andrea and then we walked over to Thalasea in the platia on Kydathineon to have dinner. Its a beautiful restaurant in an old restored mansion. They actually fly lobsters in every Tuesday from the USA and half of their dishes have lobster as the main ingredient. The restaurant had been recommended by someone who uses my site as well as a couple friends who have eaten there. We ordered a lobster giovetsi which is like lobster-macaroni but with the small Greek noodles. The owner came out to say hi and sent out a couple dishes he wanted us to try including some grilled gavros appetiser and some kind of cheesy lobster tail. The food was fine though in my opinion the lobster was an unnecessary expense because any fish would have tasted good in those recipes. It did not have to be lobster, flown from America. The restaurant seems to be stuck in some kind of Greek licensing limbo. There is no sign and nothing to distinguish it in appearance from the cafes in the square. The rent has to be over ten thousand euros and as far as I could tell it was just us and another table eating on a Friday night. Anyway its not cheap, but you can get by cheaply if you order selectively. Its more of a splurge place for a special occasion but your special occasion better be soon because I don't know how long it will be in business, especially in that location unless all of Athens suddenly discovers it.
Kifissia and the American Club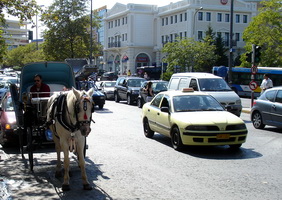 Saturday was a gorgeous day and I decided to take the bus to Kifissia and visit some of the places I used to hang out when I was a kid. The bus up Kifissia Ave from Faliron terminated right in the square. The park looked the same, with graffiti though, and the small hit that was a taverna on the corner had been torn down and replaced by a modern looking bank. There was some kind of mall and lots of traffic, on foot and in cars. The back streets were shaded by large trees and there were lots of cafes and restaurants and thousands of people walking around shopping in the fancy stores that had sprouted up everywhere. It was like a big outdoor mall in New England and the trees were even beginning to change color. I wandered up the streets that were still familiar even though they had been so completely transformed from residential to commercial. I passed several large old hotels with shaded gardens and cafes and walked past the church of Metamorfosi in Kefalari square and up past the old Hotel Cecil which is now some kind of business center, I couldn't tell.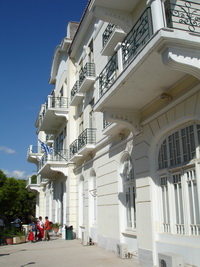 Next door is what used to be The American Club, sort of a home-away-from-home in the days when the USA ruled Greece and there were tens of thousands of Americans living, working and spying on the country. The American club had an American style restaurant where we would go for real hamburgers. It had a liquor store with tax-free booze and you could buy cigarettes at the front desk for twenty-five cents a pack if you had or knew someone with a ration card. There were hotel rooms upstairs for people who had just arrived or were leaving Greece. There was a big American style bar downstairs and a room with slot machines. There was a movie theater run by the military called the JUSMAG Theater run by my friend's dad Sgt Esco where you had to stand for the National Anthem before every movie and he would kick you out if you didn't. There was a big swimming pool and an American Youth Center. Like the theater it was in a big military metal hut kind of like an airplane hanger and inside were pinball machines, pool tables, a library, and they used to have dances here. Inside was also Sophie's Snack Bar run by the sweetest and friendliest old woman who we were all afraid was a narc because we were so paranoid. We would come in with the munchies and see her on the phone and we were sure she was calling the embassy on us. She would ask us questions and we would stutter our answers in total fear and then look at each other and say silently "She knows!" Never has such a harmless person caused more terror, but that was Greece in the early seventies.
The weirdest thing were the floors of the American club. It had been Nazi headquarters during the Second World War and on one floor the tiles were German flags and on another they were interconnecting swastikas. It was the kind of thing that us kids noticed right away but our parents who were fighting the cold war did not. Other than the US Embassy and the American Air Base this was the most visible symbol of the United States and here were all these swastikas with American soldiers and civilians walking on them daily and not even noticing them.
Now the American Club is an international school and there is very little American about it besides the classes being taught in English. A few years ago it had been Laverne College, until the real Laverne College in America cut off their funding and overnight put several dozen professors out of work and a few thousand students out of school. Somewhere within that time, someone looked at the floor and said "Hey wait a second. These are Nazi flags!" and re-tiled the lobby area. The swastikas were on the second floor. I wonder if they are still there.
There are a couple ravines that come down from Mount Pendeli which at certain times can be rivers. One American family was washed away in one on a very rainy winter night. There was a hermit that lived in a cave in one of the ravines. He used to wander around talking to himself. They said he used to be a professor. My friend Ward ran into him one day cutting through the ravine on his way to the American club and the hermit told him "Down with the Junta". There were also these bunkers and cave systems we used to go into. Now there are houses everywhere and I wonder if any of them have entrances to these caves in their basements.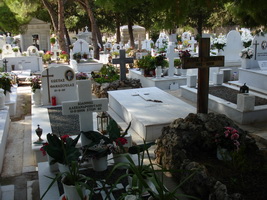 I decided to go visit my friend Dino in the Kifissia Nekrotafeio. I had not visited him since a year or so after he died. He was easy to find 15 years ago and I went to where I last remembered seeing the wooden cross that simply said 'Dino'. It wasn't there but maybe I was just mistaken about its location. There were a lot more graves too. Its amazing how many people have died since Dino and there was no room left for anyone who plans to die any time soon. I walked down every row, some rows more than once looking for my friend's grave. I asked the grave digger who told me the guy in the office would be here at 5pm and he had a list of where everyone was buried. I had an hour so to kill so I just keep searching, sure that the distinct wooden grave would jump out at me eventually. It never happened and the guy never showed up either. I even checked the boxes where they put the bones after so many years to make space for the next group of dead people and still no Dino. I finally gave up and went home.
The ACS Cruise to Nowhere
That night we were invited on the ACS Cruise to nowhere. It was a complimentary 3 hour cruise for the parents, teachers, staff and administration of the American Community School and we sailed from Pireaus to Cape Sounion and back. There was Megapanos Wine (one of my faves) and lots of food (which I didn't get because I waited for the line to end and when it did there was nothing left), and lots of attractive women, interesting people and a few old friends. We hung out with the new teachers who had just arrived from the USA and were trying to get acclimated to life in Greece with varying degrees of success. Most had come from other foreign schools and all were well traveled. Athens did not rate very high on their list of favorite cities but I assured them this would change as they were able to leave and go to the islands. Athens is the price you have to pay for being able to live in Greece year round. Sure it would be great to live on an island but what are you gonna do in the winter when it is cold and wet and all your foreign friends have gone home, and how are you going to make a living? Athens for all its hellish aspects is OK once you get used to it and being here gives you access to the beautiful places in Greece that are as different from Athens as Yosemite is to Baghdad. Afterwards we took the bus to ACS and walked around looking for Pizza which we finally found in Agia Paraskevis Square at a place called Tomato, owned by a Canadian woman. Almost 30 years ago the first pizza place opened in Agia Paraskevis Square called Porto-Fino Pizza. Two years later there were about 10 Porto-fino pizzas in the square and several others as well. Now there are pizza restaurants all over Greece and there are even Dominos and Pizza Hut delivery guys zooming all over the city on motorbikes. Athens has changed. But one thing hasn't. I still have not found pizza as good as the pizza you get in New York, or even as good as Pepper's Pizza in Chapel Hill. But the pizza at Tomato was pretty good, especially at 3am after a cruise to nowhere.
Pireaus and Flisvos Marina
Sunday was a pretty amazing day with a strong breeze and clear blue skies. I decided to do something. I was not sure what but I didn't want to hang out in Psyhico on such a glorious day. I got on the trolley for Athens and decided to make it up as I went. It was on the trolley that I saw my first pick-pocket incident ever. I know it happens in Athens as it does in any city but when you see it happen in front of you it is kind of sobering. We were at Akadmias and the door to the bus opened and a woman got on and a few other people. Then this young guy sort of stumbles on to the trolley and falls into the crowd and asks as if he is drunk if this is the #9. The people say no its the number thirteen and as the door closes another guy pulls him out. The woman sitting next to me says to the woman who has entered the bus at that stop that she should check her purse. "My wallet! I don't believe it! They took my wallet." Everyone on the bus starts yelling for the driver to stop and the woman jumps off and starts running back to Akadmias. As the bus pulls away everyone is chattering about the incident. Some said there were two of them, some said three. Some said they were Albanians and some said Gypsies. The bus driver stopped at the next corner and told a cop what had happened, and then continued on his route.
So what will happen? Well chances are that the woman went back to Akadmias and the thieves were long gone. But most likely they took the cash and threw the wallet in the trash since that's the only thing that can connect them to the crime. So if it happens to you go back to the scene and you may find your wallet. Forget about the money though.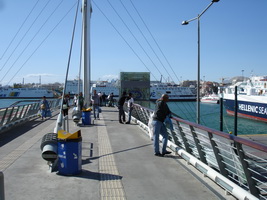 I decided to go to Pireaus and take photos of the pedestrian bridge that crosses the road from the metro station to the docks. Its really one of the most practical things they have built in the last ten years. You used to risk your life crossing that street. Now it is practically a tourist attraction with a terrific view of the harbor and the city. On Sunday there is a flea market that starts at the metro station in the small square and continues for about a mile along the tracks. Its the usual crowd of Africans and immigrants selling whatever they can and it is packed with people (so watch your wallet). Some stupid junkie girl put her hand over my camera when I was taking a photo of the bridge and ever since there has been a black dot in some of my photos in the upper left hand corner. I wanted to yell something at her in Greek as she walked away because really what was the point? It hard to imagine someone so pissed off at the world that they would lash out at everything, even a stranger on the street just taking a picture. But I guess not everyone loves tourists. I decided to take the metro back to Athens despite Pireaus being as beautiful as I had ever seen with little traffic and a strong wind blowing through the harbor that made the sea look turquoise instead of the normal brownish blue.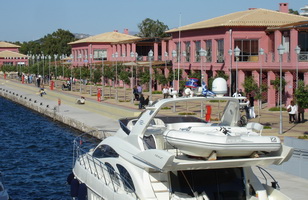 When we got to Faliron, the second stop, I changed my plans and crossed the pedestrian bright over the highway and took the tram along the coast and got off at Floisvos and walked along the beach for a mile or so. Its a great walk and lots of people were out and some were swimming. They have built an enormous park on the landfill and just beyond that is the Floisvos Marina where some of the largest and the most beautiful yachts in Greece (and the world) are docked side by side for several kilometers. If you want to see what money can buy take a trip here. It was obscene really. Boats well over 100 feet long and several stories high parked one after the other, all idle, some probably not even used for more than a couple weeks of the summer. I was thinking that the money spent on the fuel it would take to run one of these boats for a week could probably feed a village in Africa for a year or send your kid to college for a semester or two. The Floisvos Marina has a shopping area with cafes, restaurants and ouzeries and the whole area is landscaped and Southern California beautiful. It was full of Greek families and little kids on bicycles. Its a great place to come for a Sunday. Just outside the marina is the old dreadnought battleship the Averoff, historically the most important ship in Greece, which liberated the Eastern Aegean in the early twentieth century. For more see www.ahistoryofgreece.com/averoff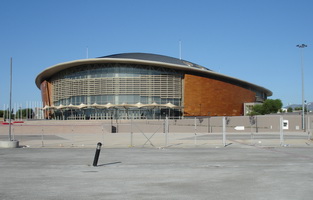 I continued walking past the Averoff and the ancient Greek Tireme to what was the handball stadium during the 2004 Olympics. The area is deserted and fenced off and the stone walkways and landscaped areas were pretty much empty since they only lead to other abandoned Olympic Venues. I crossed a giant pedestrian bridge that in some places the pavement was falling apart and looked in danger of collapsing on the cars that drove beneath. The bridge led to what used to be the hippodrome, the horse-racing track that they tore down and replaced with a giant garbage filled lot. It was pretty depressing. What was the point? Now people have to drive out to Marcopoulos if they want to play the horses or else hang out in the smoke filled gambling shops that are in every neighborhood. This country is a vast collection of blown opportunities. It took me half an hour to find a way to get across Syngrou Avenue to catch a bus going towards Athens. I was in a no-man's land of new modern buildings and old falling apart apartments. The area was more unfriendly than the barren lot of the former hippodrome and smack in the middle of it was the Hotel Metropolitan. Described as "centrally located... with a view of the Aegean Sea and the Acropolis... just 10 minutes away from Syntagma Square" I wondered why anyone would stay here who was not fooled by that description. Ten minutes from Syntagma by very fast racing car maybe. View of the Acropolis and the Aegean Sea? You could say the same thing about Aegina on a clear day. I guess if you have a family member in the Onassis Heart Center or need to speak directly to someone at EasyCruise, both across the street then this would be an 'ideal' place to stay. But it looks to me like this luxury hotel was built with a plan to bring the neighborhood into the future and the neighborhood decided not to follow. I stood at the bus stop for half an hour with a few baffled hotel guests while cars and taxis raced by at 120 kph just inches from us.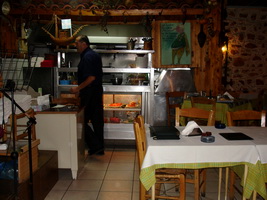 Somehow I ended my day in Kypseli where Andrea was working on the apartment, getting it ready for painters and floor-sanders and whatever. She was really excited because she had found this little hole in the wall taverna just off Fokionos Negri called H Folia Tis Kypselis. It was owned by a little old guy and his wife who had been running it for thirty years. Before that his father had it and it was a regular hangout for Theodorakis, Bithikotsis, Hadzidakis and Zambetas. Simple, home cooked food, one of the few old style neighborhood places left in Athens. We drank home made rose and had a delicious meal and as usual after a day of being on the front lines and asking myself what I was doing in this crazy country, I was happy again and know the answer. I spend my days wandering through the muck and chaos of modern Athens to find those special people and places to write about so that people who visit can find them without going through the same crap I had to. Some days I strike gold and some days I find nothing but abandoned Olympic stadiums and garbage strewn lots. But if at the end of the day I can have a nice meal with family and friends in some unspoiled neighborhood taverna then I have been rewarded for a days work. That along with a few pay-per-click ads on my website.