Diakofto, Peloponessos
Today we drove to the Peloponessos to look at some property. My friend Ana got some kind of paper from Alpha bank and there were three pieces in a small village called Katholikon near Diakofto, one with a house, that were being bid on and were expected to go for about 5000 euros each. For those of you who don't know how outrageous the price of land is in Greece that is really cheap. So cheap that I had to go and see what a 5000 euro piece of land looked like even if I did not really have an interest in buying and making my complicated life even more so. It was also a good excuse to get out of Athens and I had not been in my car in about two weeks and I wanted to drive again before I forgot how. So we got a nice early 11am start and got on the National Road and within an hour we had passed Corinth and were in the Peloponessos.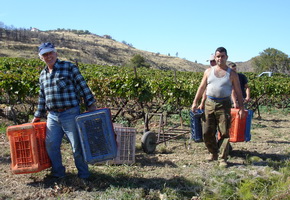 We took a turn off near Diakofto which is the terminal for the small railway that goes up to Kalavrita. Katholikon was near Ano Diakofto which was up in the mountains. When we got there we saw why the land was so cheap. The whole area had been burnt to a crisp in last summer's forest fires. Entire forests were charred cinders and many of the houses in Ano Diakofto were destroyed. Some were being rebuilt and others were abandoned. You could still smell the fires a year and a half later. We asked a man in the village if this was Katholikon. "Yes it is but we are all Orthodox" he told us with a wink. He gave us some directions which we followed up steep and muddy dirt roads and ended up next to a field where a whole family was harvesting their grapes to make wine. I took a few dozen photos and we asked directions again and they sent us back the way we came. At this point I asked Ana if she really wanted to live on the outskirts of a deep-fried village with no cafeneon and she said no and we blew off our property search and went in search of food. On the way out Apano Diakofto we passed a house with a sign that said wine for sale so we stopped. A woman brought us downstairs to the basement where she had several wood barrels and about fifty dusty bottles. She gave us a taste and offered us some tsipuro too which as the designated driver I had to decline. When we left with our liter bottle she told us to wait a minute and climbed on a cheer to cut us a giant cluster of grapes, so big they just barely fit in a plastic supermarket bag.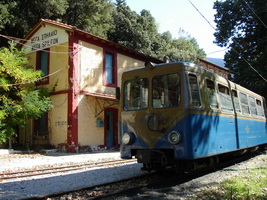 We drove past the Monastery of Mega Spillion (Big Cave) high on a the face of a giant rock and turned off for the small town of Zachlorou which is the halfway point for the train. The train was actually parked there on the siding and inside the small taverna next to the station were a dozen or so men drinking and talking. They looked like a convention of forest rangers or some other kind of rugged outdoorsmen, or maybe they were the crew from the train parked outside. We asked the taverna owner if we could sit outside but he said he could not serve us for at least a half an hour because he was the only one working and the entire group wanted hirini brizoles (pork steak) which could only be cooked 2 at a time because his grill was so small. The village was beautiful. Shaded by tall trees and the river was below us beneath the small bridge that served both the train and pedestrians, something you don't see very often.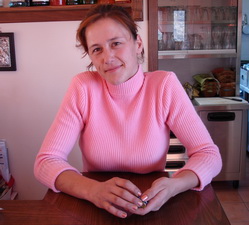 So we drove back down the mountain and stopped at a nice little taverna that overlooked the whole burnt valley of Ano Diakofto. It was called To Balkoni Tou Krassou and was owned by a beautiful young woman named Anthi Markopoulou who had learned English from 12 years of working at the famous Chris Paul Hotel in Diakofto down by the sea. (Not to be confused with Ano Diakofto which is up in the mountains). She had opened the restaurant last summer and two days later the fires began. She told us there was no water and no electricity and no way to protect the building and it was just luck that decided who was spared and who wasn't. The wind kept changing directions and you could sea places in the valley and surrounding hills where the fire stopped abruptly, leaving a line of pine trees intact. Despite the devastation the area really was spectacular. There was one mountain that looked like a giant un-climbable rock, but on the top I could see fields and houses and on the edge facing the Gulf of Corinth there were para-gliders floating around about 1000 meters or so above the valley. Anthi told us it is a club that goes to the town of Trapeza and jumps off the cliffs there where they float around on the air currents. It was pretty impressive. The restaurant was great. I had roast beef with fresh tomatoes, Ana had a grilled steak and Andrea had a very interesting fried tiropita that was sort of twisted and a saganaki with local cheese. We also had her delicious red wine which we forgot to buy, to go with the rose we had bought from the woman in the village below. Their menu was really one of the most interesting I have seen with things like rabbit stifado, village rooster, and some things I had never heard of, though it being mid-week and off-season they did not have everything. But I certainly recommend it for anyone going to Kalavrita or even on the road going between Patras and Athens. If you follow the signs to Kalavrita it should not take you more than 10 minutes out of your way from the highway.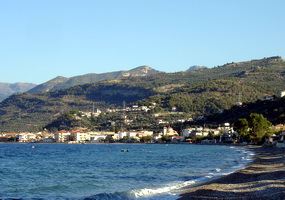 After driving down the mountain to the coast we took the small beach road rather than the highway because I was intent on not leaving the Peloponessos without going for a swim. We found a nice spot in the village of Krathio where the girls could sit in a cafe and have a coffee and I could hang out in the waters of the Corinthian Gulf. It was warmer than I expected, which means it was cold but not freezing and I saw around for about twenty minutes and totally revived myself for the long journey back to Athens. We continued on the coastal road. In the summer there is no way you could do this. The road would be full of traffic but in October most of the villages were almost empty and we could enjoy the scenery rather than be terrorized by Greek drivers on the highway above. Eventually though the girls got antsy and wanted me to get home the fastest way so just outside of Xilokastro we connected with E65, the Corinth-Patras highway and then to the National road and were it not for the massive traffic of Kifissia Ave in Athens we would have been home in an hour instead of an hour and a half.
If you are in Greece on a nice day in the off-season, preferably not a weekend, check out the north central coast of the Peloponessos on the Gulf of Corinth. One village follows another and when they are empty of their summer and weekend inhabitants its not only an enjoyable drive but there are plenty of nice beaches, cheap fish tavernas and cafes along the way. If you make it as far as Diakofto take the tiny train that goes up the mountain through some of the most beautiful terrain in Greece which will remind you of the Appalachians with forest of pine and rivers and streams surging through the canyon that the tracks follow.