Anavissos, Porto Rafti, Rafina, Schinas and Marathon
For all of those people who came in September and had lousy weather all I can say is.... ummmmm... too bad you came in September instead of now. The weather is BEAUTIFUL!!!!!
Sunday Andrea forced me to drive into Athens, to Kypseli to be exact, so I could fill my car with Greek paperback books to bring to ACS for their library. There was no traffic at all which was great, but because nobody was using their cars that meant there was nowhere to park. I finally found a spot a few blocks from the apartment and we filled bags with books and then brought them downstairs to the curb. Then I went and brought the car up and parked in a pedestrian street while we ran the bags of books down the street before I got yelled at by someone else who wanted to drive on a pedestrian street. Then Andrea and I jumped in the car and drove off with the afternoon free to do whatever we wanted. We decided to go and kidnap Loula, the wife of George the Famous Taxi Driver, and take her to Akroyiali, a fish taverna I like in Anavissos. She was really happy to come out with us. Her sons and husband were all out ferrying tourists around the mainland and Athens, her youngest son, Nikos had to stay home and man the phones and e-mail.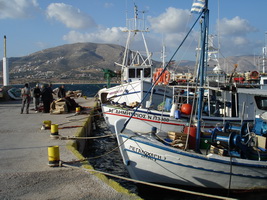 Anavissos is about a half hour drive from Glyfada, maybe an hour from Athens, less if there is no traffic, more if there is. The wind was blowing and there were dozens of windsurfers on the beach. The restaurant was busy but not full, mostly with families and older people doing their Sunday thing. In Greece because the shops are closed on Sunday it forces people to find other things to do like have long family lunches by the sea, or walk around the archaeological park by the Acropolis, or take a daytrip to Aegina or somewhere in Attika. We had barbounia, grilled octopus, the best taramasalata, fried kalamarikia, marinated anchovies, salad, horta and maybe some more stuff. We split a small bottle of ouzo three ways and only drank half. That's the problem with having a car. I can't drink as much as I would like when I go to the seaside. When we finished and asked for the bill, the owner, Panayotis said it was on him. Its wonderful when a restaurant gives me a complimentary meal. Some people think I get money from the restaurants I review but actually I don't. Once a restaurant has given me a handful of bills and said this is for you as a thank you. Your site has been very good for me and your customers are very special. How could I argue? But most places I am lucky if they give me a cup of coffee or some fruit when I come in for dinner. Most restaurants on my website don't even know who I am. Byzantino in the Plaka always invite me for a coffee or a drink. The same with the Plaka Taverna right next door, who comped me an ouzo and meze last week. Actually when we were making the Chinese site and reallized how expensive it was going to be we asked the restaurants to contribute since they were going to get tons of business. The Plaka Taverna was the first to donate, and they gave us 500 euros I think. Then To Xani gave us the same as did Platia Iroon in Psiri. That was it. But it more than paid for the translation of the restaurants page in the Chinese version of the Athens Guide so I can't complain. Anyway the point is that it is rare that a restaurant picks up my tab and when they do I think it should go rewarded. So when you go to Sounion stop on the way there or back in Anavissos at the AKROYIALI PSAROTAVERNA. Not just because they treated me but also because it is the best and certainly the cleanest of the group, in my opinion.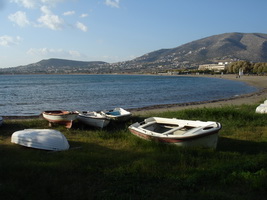 So after lunch we went for a walk down to the harbor to see the fishing boats and along the small park they have built along the bay. Its really a nice little area with palm trees and green grass and park benches and on Sunday there were a handful of Pakistanis selling stuff, flea market style. I walked around photographing everything, which means that someday I will probably have an Anavissos page, while Andrea and Loula walked and talked together, probably complaining about their husbands, insane relatives, and problems with the washing machine, as Greek women do when they get together. When we got back to the car Andrea realized she had lost the button on her favorite coat and retraced every step she took. It was amazing, like watching my sister's neurotic German Shephard search endlessly back and forth for the rock we had thrown into the lake. After half an hour of looking she gave up and came back to the car. I told her not to worry because I had photographed every inch of the park and the dock and we could go home and enlarge them on the computer and maybe we would find her button. She thought I was being serious. But then I realized I could look at the photos and see when her jacket had the button and when it didn't and narrow down the area where she lost it. But then she would make me go back to Anavissos to look for it again so maybe I will just let it go.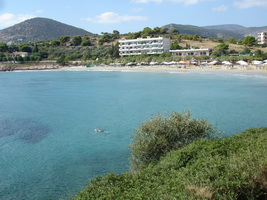 Yesterday Amarandi missed the school bus so I drove her through the suburban Athens traffic which is worse than Athens traffic and dropped her (and the books) off at ACS and then continued driving, without a plan but drawn towards the sea. I decided to go check out the places I used to swim at when I was living in Agia Paraskevis thirty something years ago. I remembered this little beach called Avlaki, that my parents loved because it had a nice taverna on it. It was in a sheltered cove on the southeast side of Porto Rafti, and it was just like being on a remote beach on a distant island. Not any more. There was a big fence around it, cabanas, snack bars and a 6 euro admission. There was a parking lot out front that could fit 50 buses and a few hundred cars and even a hotel. The hills around it were now covered in summer homes. But they let me in for free to take pictures and it was still a nice beach. There is even a ramp for wheelchairs. The last time I was here I think I came with my friend Kosta Los, one of only three friends with a car and the only one who liked to drive around with his pals. I had a pet duck and he used to go up to the roof to keep my sister's rabbit company and one day he jumped off. It was quite a fall and the duck couldn't walk after that. He just sat in one place and ate and shit. We would have to move him every so often. But there did not seem to be anything wrong with his legs. They weren't broken or shattered. So one day Kosta and I took the duck to the beach and I carried him into the water and walked out a little bit before putting him down. He swam around perfectly, like any non-handicapped duck would. After awhile we swam back to shore and then he marched right out of the sea as if nothing had ever been wrong with him. It was like a miracle. Unfortunately he was later ripped apart by some kind of wild Greek mongoose creature but I have been thinking about and missing that duck since yesterday. I don't think he had a name. None of our ducks did. They were just our ducks and they lived in a lion cage in our back yard. I know you think I am making this stuff up but its true. The people who lived in our house before we did had a lion. It gets better. Between the lion family and our family moving in the house had been a taverna. There was a dumbwaiter that led to my room in the basement, which was this special room for these officers from the military base next door, where they could eat and drink and have privacy while they schemed. And what were they scheming about? They were planning to overthrow the Greek government. In fact they did on April 21st 1967. The military dictatorship was planned in my bedroom!
Well, that's the story that was going around the neighborhood. I never found out if it was really true. There was this old guy named Anastas who was Armenian, and sort of the character of Agia Paraskevis and that's who told us this. He was an old guy back then, well, probably the age I am now. But last year I went back to Agia Paraskevis to find him and ask him if this was true and he had died the month before.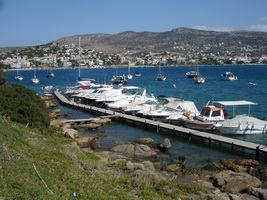 So what was I talking about? Oh yeah, my trip. Well I could go on but the rest of the day I spent taking photos of places like Porto Rafti and Loutsa and trying to make them look appealing. Actually they were appealing because the summer throngs were gone and the beaches were empty. Porto Rafti had a couple tavernas on the dock. There was a guy in a kiosk who told me to eat at To Limani but it was way to early. Porto Rafti was a sea of apartment buildings but not a bad place to swim when it was not windy and the waves aren't 7 feet tall. Loutsa had a line of nice fish tavernas along their beach but it was still to early to eat. I looked in and there were a handful of people eating and they seemed happy and they were all Greek. One year we came here from the airport with George the Famous Taxi Driver, to have lunch rather than go right into the city.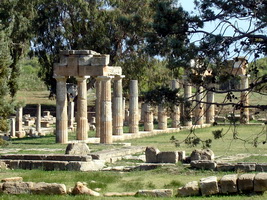 In between Loutsa and Porto Rafti is the town of Vravrona, known for the giant resort hotel Mare Nostrum. Its also known for the Temple of Artemonas in a beautiful setting right by the crossroads from Markopoulo. Being Monday it was closed, in fact I must always go by there on Mondays because the last three times I have seen it I have had to take photos from the other side of the fence. But it is one of those quiet magical places you find around Greece and to make it even more attractive the area around it has very little if any development. Its all farms, vinyards, olive and fig trees as well as rocks and bushes, trees and wild plants and looks like much of Attika used to look like. If you have some extra time in Athens I would suggest maybe visiting a winery or two, taking a swim at Avlaki, stopping at the temple and then having lunch either in Loutsa (also called Artemida after the temple and sanctuary). Actually if you have a stopover for 4 or 5 hours you could probably do this in about three hours with George. (See www.greecetravel.com/taxi) I would say just grab a cab at the airport but then if you could not find one for the return trip and you missed your flight then I would feel like it was my fault.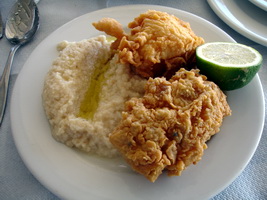 I decided to have lunch in Rafina. At least if the food was bad I could watch the ships and the people go by. When I got there it was like a refugee scene from a movie. The wind was blowing like crazy and the highspeed was cancelled so the cafes and restaurants were full of impatient travelers. The waiter at told me they would life the Apagoreftiko (means ships are forbidden to leave the harbor) soon if they hadn't already. I sat down in the Agoni Grammi fish restaurant because I thought it was one I had not been too before and the last place I ate at in Rafina was awful and I thought that was the one I had written about several years ago. There was a couple at the next table reading the International Herald Tribune and after awhile the woman turned around and asked if I was Matt Barrett. I was kind of shocked. Its one thing when I meet people from my site in Plaka or at the rooftop bar in the Attalos. But in Rafina? She told me they had been following my site religiously. "Even here?" I asked. "Yes, we came to this restaurant because of you" and she showed me a print out of my Rafina page from the Athens Guide and sure enough this was the restaurant I had reviewed. Maybe I should use my site more often when I want to find somewhere to eat. Anyway I had bakaliaro with skordalia and it was excellent so Agoni Grammi still gets the thumbs up and I don't know what that other place was where the food was lousy. Maybe I have it in an earlier blog?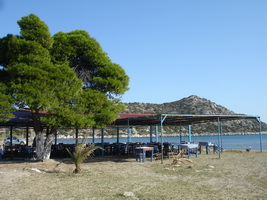 After lunch I felt disgusting as I normally do after eating half a pound of fried fish and a mountain of garlic-mashed potatoes (skordalia ingredients) and decided the only way I was going to feel better was if I went for a swim, like washing my sins away. Kind of like how a shower makes you feel better when you have a hangover. The best place to swim, I decided was Schinias which was about a twenty minute drive from Rafina on the Marathon road. On the way there while stopped at a traffic light I had an only-in-Greece experience. Only in Greece will you be at a traffic light and the guy in the next car strikes up a casual conversation with you. We had been held up for a few minutes a mile or so back by some construction work and he just wanted to tell someone his deepest most profound thoughts about the situation and I was within earshot. But does that happen anywhere else except in Greece? Maybe it is because we spend so much time sitting in traffic. But we went our seperate ways and when I got to Schinias the sea was calm and except for maybe 5 or 6 people the beach was empty. The last few tavernas were obviously closed until next summer. There were a couple women looking for seashells or who knows what. I didn't see anything of interest but they were infatuated with the sand for some reason. Down the beach there were some little blonde kids swimming and it sounded like they were yelling in English. It figures the only people swimming today would be Americans. The sea was actually not too cold and I paddled around for about 15 minutes, but it was also very shallow and half the time I was crawling, not willing to swim out to deeper water because in the far end of Schinias you can walk forever before it gets to your waist and probably deeper water would be much colder, maybe. Anyway I just wanted to be wet and I was now wet.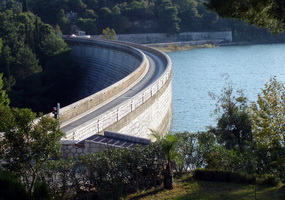 On the way home I stopped at Marathon Lake. Its really an amazing spectacle. Probably when the Americans were building it they were thinking it would rival the Acropolis. It almost does. The dam could be one of the new seven wonders of the world if more people knew about it. Its made of concerte but sheathed entirely in Pendeli marble just like the Parthenon and other ancient buildings. It was built by Ulen and Company and completed in 1931 and was meant to supply the needs of Athens after its population grew with all the Greeks who came from Asia Minor in 1922. It actually took my breath away when I looked over the edge and saw the marble face. The lake looks like a scene in New England or Canada and there is a cafe bar above it called Fragma (which means dam) with a beautiful view and one of the top ten places to have a cup of coffee in Greece, in my opinion. There is a road that crosses the dam that can only take cars from one direction at a time so there are synchronized traffic lights on each end. There is a small sidewalk so you can also walk across and take photos along the way. If you wanted to do a really cool day trip then drive to the ancient site of Ramnous, then go to Schinias for a swim and lunch and then stop here on the way back for a coffee and to admire this architectural feat. To make it even more exciting there was a couple that looked exactly like Susan Sarandon and Tim Robbins sitting on the deck drinking coffee. Maybe they are in Greece. I know if I were them that is where I would have been at that hour on such a beautiful October day.
For those still interested I finally finished the new Thessaloniki site. Its at www.greecetravel.com/thessaloniki