Mount Parnitha, Oropos, the Debates and Kea
General strike today. That means no buses, metro, trolleys and traffic backed up from the demonstrations downtown. I was not planning to go downtown anyway. Also Olympic is on strike and maybe the air-traffic controllers too. But I was not planning on flying anywhere today either. Luckily the tavernas are not on strike because I am planning on eating today and it looks like I will be doing that in the neighborhood.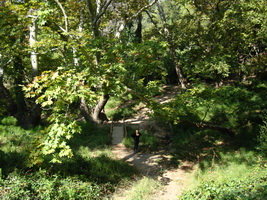 Andrea and I drove up to Parnitha a few days ago. That's the big mountain to the north of Athens that was undeveloped and had the big forest fire last summer, or maybe the summer before and they said that it would raise the temperature of Athens in the summer by several degrees because the trees had been keeping the sea breezes from getting hot before they reached Athens. They also said the loss of the forests would create more flash floods in the rainy season. The government said they would reforest and not allow development, but apparently they are going back on their word and doing some kind of office-park or shopping center or some kind of nonsense. People are pretty annoyed about it. To get there we had to drive to the Attiki Odos and then the Ethniki Odos and then turn off on the Tatoi road but I missed a turnoff because a sign was pointing the wrong way and ended up in an area of factories and dead ends and had to improvise my way back to the road I was supposed to be on. Once we found it the buildings disappeared pretty quickly and we found ourselves in the forest. The Mediterranean Garden Society had sent out plans of their next walk so we just did it earlier without other society members to slow us down. We passed the sign for Dekelias, in fact we were on the road called Dekelias but we never found the actual site. For those of you who have not kept up on your history of the Peloponesian war Dekelias was a fort the Spartans built so they could spend more time destroying the Athenian countryside and not have to go back home to Sparta all the time.
We also took the Tatoi Road and for those of you who know your modern Greek history Tatoi is where the Royal Family had its summer residence. Its a very big piece of property and probably quite beautiful. But we did not find that either. We did find the Greek Airforce Museum and that looked pretty cool but I did not even suggest we stop there since the whole idea was to go into the forest and look at wildflowers and mushrooms, not warplanes and missles. We finally found a spot that looked like the spot we were searching for. There were a couple cars parked there and two dogs that looked like someone had been coming daily to feed them. They were friendly and healthy-looking and spent the day laying in the shade or chasing passing cars and motorcycles. We found a trail and followed it into the woods to a big deserted building and some giant swaths that had been cut out of the forest to keep fires contained. It was strange to be so surrounded by mountains, forests and the sound of birds instead of apartment buildings and traffic and so close to Athens. Eventually we found the sping and a small bridge, but not much in the way of wildflowers. There was a big tortoise that we befriended though how much time can you hang out looking at a tortoise? I wanted to keep driving and find somewhere more interesting, Andrea wanted to find a psistaria(grill house) and have lunch even though she does not even eat meat.
Instead we drove over the mountain to the far north part of Attika and crossed the National Road at Malakassa and went to the port of Oropos, where you catch the ferry to Eretria in Evia. Andrea found a guy in a pickup truck selling these giant cloves of garlic tied together. (We bought about 25 cloves of fresh garlic and they are now hanging in our kitchen and finding their way into everything we cook. Our friends have stopped calling us and we have the back of the bus to ourselves because everyone moves forward when we get on.) Oropos is kind of an ugly town with apartment-style buildings and a very busy waterfront but if you go towards the outskirts there is a long pebble beach and a row of tavernas. We chose one and had a lunch of koutsomoures and they even snuck a couple of barbounia in. I took a swim while we waited for the food to come. The sea was not that much colder than it was this summer. From there we drove down the coast to the next town, Ag Apostoli, also known as Kalamou. Its a beautiful coast of pebble beaches and pine and tamarisk trees that go right down to the sea. Much of it is built up though not as bad as other parts of the Attika coast and there were lots of small farms and houses with beautiful gardens. Its a nice drive this time of year because all the summer renters and tourists are gone and there are a few surprises along the way. We saw a strange creature that looked like a fox though it had a rat like tail instead of a bushy one. It was kind of a pathetic looking animal and everytime we drove by it hid in the woods and came out when we had passed and watched us turn around and then disappeared again. Click here for a photo and tell me if you have any idea what it is.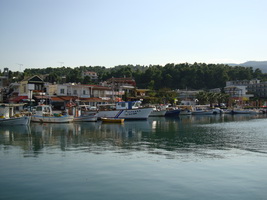 We stopped in the port of Ag Apostolis for a coffee but all the electricity was off so we bought some fresh eggs and drove back to Athens. On the National road we hit a massive traffic jam and in trying to avoid it Iended up in a worse one and once again I had to improvise, but this time I was in the narrow streets of Nea Philadelphia with little idea of what dirrection to go in. Somehow I ended up at the Iraklio metro station and worked my way to the Olympic Stadium and then home. Andrea had become so flustered with the map and the traffic that she declared that she had a headache and went to sleep like we were an old married couple in bed and I pretty much had to do it on my own. She was impressed when she discovered I had gotten us back to Psyhico in about the same time as it would have taken if we had not taken any wrong turns. I told her she missed Iraklio which was a really nice town of small tree-shaded streets and parks. If you get a chance take the Pireaus-Kifissia train and check it out sometime.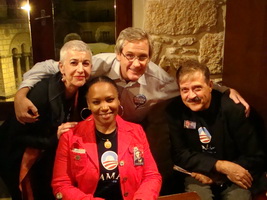 Thursday night we went to the Hardrock Cafe where the local Democrats where watching the Obama-McCain debates. For 10 euro we got a glass of wine and a bowl of chips and salsa or wings. Brady Kiesling was the master-of-ceremonies and for those who don't know he was the guy who resigned from the US State Department in protest of the invasion of Iraq. He is something of a hero to those of us who dislike the policies of the Bush administration and he later went on to write a book called Lessons for an Unloved Superpower which didn't reach the NY Times Bestseller list hut did enable him to travel around signing copies and meeting like-minded people on college campuses and in book stores. Brady is a nice guy, sort of on the nerdy side of the diplomat personality chart which is usually dominated by jocks, at least when the Republicans are in power. If or when Obama gets elected I am expecting something really go to happen for Brady. Personal acts of courage and selflessness, for instance quitting a really cushy job in protest of a war, should not go unrewarded when the tides of history turn and I expect that he will be rehired and named Ambassador to Greece or something. So those of you Republicans in the foreign service in Athens who read this blog you may want to start inviting him to your cocktail parties if you haven't already. And if you invite me I will put in a good word for you too. The other 'celebrity' at the debates was Yvette Jarvis who has taken on the role of running the Obama campaign in Greece and has been doing such a great job they may just rescue her from political oblivion and bring her back to America. It will be our loss. Yvette, besides being a talented basketball player and singer, has been an important voice for the rights of immigrants in Athens and could probably run for mayor of this city and win, no small feat for an African-American from Brooklyn.
I spent the debates scrunched against the wall with my friend Stephen Papadopoulos' mom and sister and another woman named Barbara who owns a restaurant called The Food Company at 63-65 Benaki street in Exarchia that I want to go and visit. My old friend Elizabeth Boleman-Herring was there with her jazz musician husband. She lives in NYC, well New Jersey actually and would love to move back here but he husband is doing well musically in New York, and if I was doing well musically in NY I certainly would not be here writing this. If you have not read her book Greece Unorthodox then you need to. It is made up of her collumns from the Athenian Magazine during the seventies and eighties and are the funniest and most honest depiction of life in Greece from that period. You can order it from www.greektravel.com/books and I think it is in the 'General' section. I should probably put Brady's book in there too. Anyway to wrap up this part the night was great and I wish there were going to be more debates and elections so I could meet more Ex-pats. But on the way home I saw my friend George's motorcycle was parked outside Fantasy Travel which meant that he was in town somewhere, probably eating in the rooftop restaurant of the Electra Palace, and since I had been unable to eat wings without a table, with the bowl in my lap and a glass of wine in one hand I sent him a text message which he replied to right away to stay he was at this restaurant in the Plaka that he likes (and I don't.) I found them pretty easily since he and his friends were the only ones left in the place and while we were sitting there a school trip of about 300 kids from Serbia came walking down Kydathineon Street, obviously from one of the big tavernas that has Greek dancing and no age requirements for drinking because many were obviously drunk. One of them, a big lunky kid came up to our table and actually tried to pick a fight with us using the old Robert Deniro "You lookin at me?" method. We didn't take the bait and his friends whisked him away and a moment later a teacher came over and apologized profusely. I thought we handled it pretty well. We didn't jump up and get in his face or break an ouzo bottle over his head, but I could not help but think that we had come very close to getting into a violent altercation over nothing. It was just some random act that came out of nowhere and it made me realize that if you go through life, never having really gotten into a fight or having the shit beat out of you then its really just a matter of luck, fate or being able to run really fast.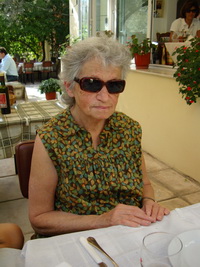 Friday my mother (photo), brother and three-year-old niece came to Athens from the USA. I picked them up at the airport, brought them to our house, had lunch with them, and then put them in a taxi so they could go to Lesvos for two weeks where my brother had just bought a house. When they were gone it was as if they were never there. To have your family visit you for 3 hours after not seeing them for 6 months is kind of surreal. She says she will come and stay with us for a week at the end of her trip. Her purpose is to assist my brother by baby-sitting for his daughter while he works on the house. I hope she is getting a free trip out of the deal. When the taxi came the driver looked at their luggage and began complaining. He was ready to leave. It was the first time I had called a radio taxi instead of using George because I did not think my brother would be willing to spend the extra money, but my mother told me later that the driver was such a jerk and David was so annoyed with him that now even he may break down and use transfers instead of street taxis. By the way we found a really great restaurant in Nea Psyhiko called O Takis which specializes in Good Homecooked food. In fact the restaurant is in their home, taking up the bottom floor while the family who works there lives upstairs. Takis, the owner runs from table to table and the logo is a caricture of him in motion. The food is the best I have eaten in Athens yet. Its in N Psyhico and is only open for lunch. If you want directions send me an e-mail.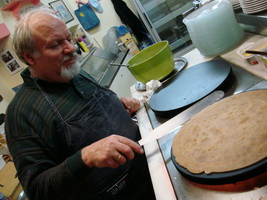 Friday night we drove to Lavrion and took the 8:30 ferry to Kea for the weekend. My two favorite restaurants had been closed by 'the authorities' which usually means another restaurant complained about them. In Rolando's case he was told he did not have the correct license for the last 12 years. I think he only had a license to serve bad food and he was serving good food. So we had to come to have a last meal or two with him because what if he decides not to open next summer? Thalia, who owned the other restaurant that had been closed, just moved over to her son's cafe and changed the menu a little bit to comply with the law. We had two of Amarandi's friends with us as well and they kept everything in high gear. It was kind of damp and cloudy and on Sunday we woke up to rain but it was a wonderful weekend. We met some French journalists on the boat and they ended up staying at Red Tractor Farms. Actually it was pretty funny because they said they had nowhere to stay so I called Kostis and he told me he was not on the island, he was on the ferry. "Where are you?" I asked him. "Upstairs". "I'll be right there" I told him. We introduced him to the French couple and they spent the weekend with him. By coincidence they were writing about Eco-tourism which is what Kostis does at Red Tractor Farms. On the way to the ferry we had a couple hours to kill in Lavrion so we went to the ouzerie at the fish market where we ran into Markos, the skipper that you may remember from our trip to Serifos and Kythnos. We had a couple ouzos and some fried shrimp and then I bought a kilo of fresh barbounia for Rolando. When we got off the ferry in Kea I went straight to Rolando's and started my Friday evening without even going to the house to leave my bag. We ate half the barbounia and gave the other half to Rolando and Chrisoula. For five years Rolando has been saying he wanted to buy some barbounia for us but he never found any fresh enough. These had just come off the boat. If it turns out Rolando is closed forever at least we finally brought closure to the barbounia situation. But hopefully he will be back. Especially since he finally got his crepe stove working after it just sat taking up space for the entire summer.
Anyway the best thing about being in Athens is being able to jump in the car and drive to Lavrion and go to Kea. Its a good way to recharge my batteries and when you live in Athens a fully charged battery is essential.