Watching the US Elections in Greece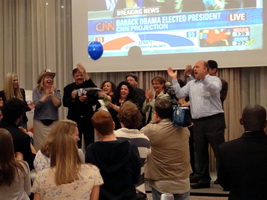 So the election is finally over and unless you are living in a cave in Tora Bora you probably know that Barak Obama won. Last night we went to the Hilton where the Democrats Abroad had an election night party with a giant screen where we could watch CNN as the results began to come in at about 2am. I tried to pace myself all day which was not easy because my mother and brother and neice were in Athens and Tuesday was their last day so I went to lunch with them at Vizantino in the Plaka which is a nice place to be on a warm sunny fall day that feels more like the end of summer. We went next door to the Oinas cafe and I had a double espresso (with hot milk on the side as usual) and by 8pm I was a neurotic-paranoid shadow of my normal self, convinced that the night would end in disaster for Obama. I had gone to www.truthout.org that morning and Greg Palast had a very convincing article about how the Republicans would win (steal) this election and I was so convinced it was a done deal I considered taking a valium before leaving the house just so my fearful thoughts would not cause me to raise a scene and maybe create a panic on the trolley going downtown. As it turned out it was just a momentary lapse of sanity and once I got to the Hilton I forgot the possibility of an Obama loss after or sometime during my first glass of wine.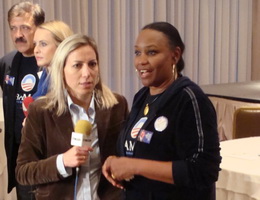 I made a bunch of interesting new friends and ran into some old friends as well. Brady Kiesling and Yvette Jarvis were being interviewed by numerous TV channels and I felt like I was on the farthest-most fringes of Washington DC with all the US Embassy and Greek political figures wandering around. I talked to Panayotis Fasoulas who used to play basketball at North Carolina State University and is now the mayor of Pireaus. We talked about basketball and North Carolina and Jim Valvano and the Fasoulas wigs the NC State fans used to wear that looked like the floppy hairstyle he used to have. My old pal Tom Mazarakis was here, now the coach of the Greek National Baseball team. My old girlfriend Ana Christopoulos was here too. She is a practicing psychiatrist in Athens where she has been since she left NYU twent years ago to move back to Greece. Manny Stefanakis was there, no longer the President of the Thessaloniki Farm School but working on an environmental project for ACS (American Communicty School of Athens). Tony and Kelly were back from their extended summer in Sifnos. There was a great band of ex-pats doing flawless covers of popular songs from the seventies. I have to say they did a good job of keeping us entertained for the hours it took before any meaningful results came in. It was something like a highschool dance and a reunion and political rally rolled into one. Yvette was running around keeping things organized, wearing a sweatsuit and Obama pins. At one point I looked at the Greek television and there was a live studio shot of her in a political talk show but wearing something like an evening gown. Half an hour later she was back in her sweats running back and forth through the crowd.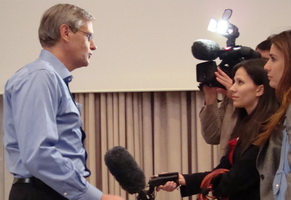 I am so tired I am having trouble putting my thoughts together to write this. So to make a long boring story short it was a fun party and like everyone in the USA we had a pretty good idea that when they called Ohio and Pennsylvania for Obama that it was clear he was going to win and the election would not be stolen. When the polls closed on the West Coast and they announced Obama as the projected President of the United States the whole place went crazy. But it was now 5am and starting to get light outside. I watched for awhile longer to see what North Carolina would vote, (but its now 4pm and I am still waiting). There were still a handful of people watching McCain's concession speech when I left, climbing over a sea of wires belonging to the Greek TV channels who were interviewing Yvette and Brady again to get their response to the Obama victory. I can't imagine anyone doing more for the Obama campaign than Yvette Jarvis whose e-mails greeted me every morning when I opened my mailbox, usually quotes and collections of links to articles and videos about Obama. I wonder if he will reward her in some way. And Brady too who is a symbol of resistance to the war in Iraq, having quit his job at the embassy in protest several years ago. I sort of have the feeling about them that kids in Liverpool had when they realized the Beatles were going to be big stars and would no longer belong exclusively to them, but to the whole world. Maybe Brady will become ambassador to Greece or some other high profile job and Yvette will get a job in Washington. Or maybe they will both stay here and become the faces of the new administration.
When I left the Hilton I was kind of surprised to be in Athens, like I thought I would walk out the door and be in North Carolina. It was a shock. Traffic as usual, buses, trolleys, taxis and cars going every which way and the smell of exhaust. I started to go home to Psyhico but changed my mind and took the metro to Monastiraki and walked to the Attalos Hotel to say goodbye to my mom, my brother and his daughter Anastasia who were flying back to the states in a couple hours and just getting up. Then I got back on the metro and switched to the trolley and arrived home in time to see Amarandi off to school. I watched a little more of the election results and then slept for a couple hours. I woke up wanting to go home. I still feel that way. Obama won and I am happy but with the election over I feel a kind of emptiness and sadness, probably having to do more with my family leaving. I had to force myself to write this today because otherwise I would just pull the covers over my head and go to sleep and hope I woke up in Chapel Hill, where they are still trying to figure out who won the election in North Carolina.
But I may as well stick around because judging from the reaction of every Greek I have spoken to, suddenly its cool to be American again.