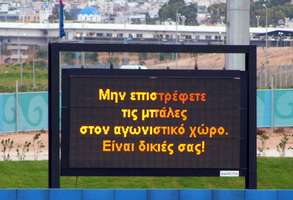 So I am writing this blog today to invite all able bodied young men in Greece who can play baseball and even some older men who believe they can still play to contact Tom Mazarakis. Its a weekend thing since it gets too dark to practice after work during the week and though the fields have lights, there is no money to pay the electric bill to turn them on. Regardless the fields are in good shape. Not only that but there are dugouts, locker rooms, a fully equipped weight room and eight pitching machines that can throw up to 90mph. Not that I think there is anyone in Greece that can hit a 90mph fastball, but you can easily set it to 70 mph which is about the fastest pitch you will see in these leagues.
It is my hope that we can get enough people playing and even attract some sponsors and get a serious league going, which may lead to other things, like Little League for example.
So if you want to be a part of Greek baseball get in touch with Tom right now at tommazarakis@hotmail.com or phone him at 693 916 2014.