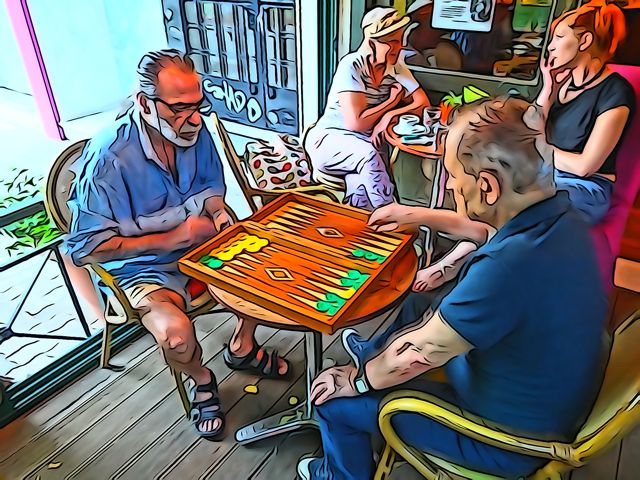 Getting ready to make the move from Psyhico to Kypseli. The apartment will be done in around 10 days though I won't have much time to enjoy it because Amarandi and I are going back to North Carolina for Christmas on the 16th of December. I have not really felt the pangs of homesickness lately except when I happened to check out how the Tarheel Basketball team was doing. Athens grows on you and all the things that were bugging me like the traffic for example have sort of faded into the background. We found a great cafe-bar to hang out at in Kypseli on Fokionos Negri, called Foibos. Andrea found it actually. Its owned by a Greek-Australian woman named Julia and her two sons. Unlike the fancy places across the park (Fokionos Negri is a former avenue that has been turned into a park with cafes and restaurants on both sides) Foibos is the kind of place people go to Paris to experience. It gets afternoon sun which feels great in the winter. They play classical music and some jazz too, rather than pop and disco hits like most other cafes do. And they don't have a TV! Or if they do it is hidden and not used very often. The people who hang out there seem to be musicians, artists and writers. Julia lent me a book on reincarnation called 'Journey of Souls' by Michael Newton PHD. Actually it is more about what happens between lives and is mae up of case studies of people under hypnosis.
Another great place we found is called Stou Giorgou, a fish taverna in the neighborhood of Panormou which is pretty eay to reach by metro. I kind of stumbled upon it when I was walking to the metro because last week the traffic was so bad that it was faster to walk than take the bus. Its owned by a Greek from Toronto who inherited it from his father and it is what you might call the perfect neighborhood taverna. We sat upstairs where it was quiet but downstairs there was a two-piece band playing rembetika and the atmosphere was more like a party with people singing along andf for all I know dancing. The had fish and meat entrees and lots of side dishes. We had sauteed mushrooms and a dish of mussels and shrimp in spinach and tomato sauce. Good wine too and great service. A very friendly place. If you take the metro to Panormou get off at the Panormou stairway and then walk up the street one block to Larisis St and go right and walk 2 blocks to Gennimata abnd it is #3. If you get lost or want to make sure they are open call 210 6994250. On Tues and Weds they hang out and watch Panathiniakos football and they are open Sunday day so they close at night.
Another great discovery for Sunday.... take the old metro from Monastiraki to Petralona and cross over the tracks and walk up Dorien Street or Dryopon Street and make a left on Troon street and walk about three blocks and you will come to an area where there are several ouzeries, mezedopoulions and cafes in a quiet neighborhood. All of them are good but try Pliades at #34 Troon and order the meze platter, or if you are not super hungy just get the baked potato and cheese and the keftedes(meatballs) or loukaniko(sausage). Order an ouzo and plan to spend a few hours there. When you leave go another 2 blocks down Troon and turn right and go uphill on Palinaon Street until you find the path to the road that goes around Mount Filipapou and if you go right you can walk all the way to the front of the Acropolis and work off your meal. If you go left it is a much shorter walk to Thission and Monastiraki.
Anyway if you have any tips for Paris or are going to be there next week let me know. I will try to write about my exploits but that will depend on the weather too.