A Night in Psiri (after the riots)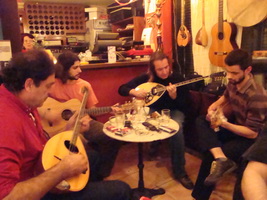 So after a week of rioting, looting and demonstrations the death toll is now at..... One. The same one as before the riots began. In other words even though it looks to the world as if Athens has become a living hell, the only fatality has been Alexis Grigorarides, the teenager whose shooting sparked this entire mess. I went down to Psiri on Friday night to buy the bags I had forgotten to get the day before and to go to Cafe Evi and have some ouzo and mezedes. I stopped at Pandelis Melissinos sandal shop and got the latest neighborhood update. Its been pretty quiet in Psiri. Dead actually. Like a ghost town. The big 5 story burned out building does not really help the atmosphere but at this point it is more of a tourist attraction. Three of the burned out cars were still parked in front of it. Gypsies had taken some parts off them and had gone into the basement to discover that it was intact and left with loads of sneakers. The last couple nights they have come into the city with their pickup trucks in case there was any more looting going on but they left disappointed. A friend of mine told me that she did not know anything was going on. She went to the bakery to buy bread on Sunday morning and saw this giant smoldering building. Some of my girlfriends don't even watch these events on TV. For them the problems don't exist and in a city like Athens which is so spread out, in a way they don't have to. If you lived outside of the center and did not watch tv or listen to the radio, use the internet or talk to anyone you might be totally oblivious to whats been happening here. But the important thing is that for all the damage and all the bad press and all the money lost, there has been no more loss of life. Someone deserves credit for that.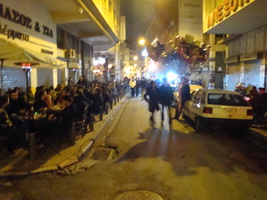 My friend Patty told me an interesting story. She was walking in Psiri and a kid ran past her holding one of those small megaphones that the Pakistanis sell (along with flashlights, screwdrivers, umbrellas etc) and he was being chased by two older Greek men who caught him right near her. The guy had stolen the megaphone from a Pakistani. "Aren't you ashamed?" they asked the guy as they wrestled away the megaphone from him. 'Stealing from the poorest of the poor?" The guy was not ashamed in the least and tried to provoke them to hit him but they just shook their heads in disgust and took the megaphone back and left the guy. It was kind of a beautiful story because here you had this valueless kid, being run down and caught by a couple people who would not tolerate the injustice of stealing from the poor. On the other hand you have refugees who are taking advantage of the chaos and looting when they can. Those first couple nights when most of the looting and burning occured one woman who owned a shop downtown said the looters seemed to be foreigners but they were directed by people on the street outside the shops, being told which stores to break into and what to take.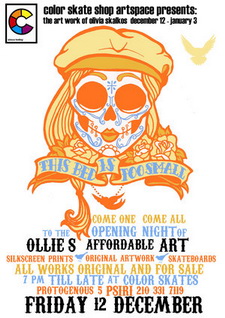 But Psiri was very quiet. Some of the restaurants had people and live music. I think it was the first night that most of them had reopened since the rioting, though the damage was all outside of Psiri. We went to Platia Iroon where Nikos and his band were playing to one table, and us. It actually reminded me of the stories I had read about what Athens was like during the war and occupation. But outside you could see people on their cell phones calling their friends and saying "No really, its OK. Come on down. Its safe." Most people if they were not staying home then they were staying in their own neighborhood. Probably by Saturday night more people went downtown. We actually stopped at an opening for an artist named Olivia Skalkos at this cool little skateboard shop called Color on tiny Protogenous Street, right next to the Hotel Attalos, sort of the secret entrance to Psiri. Olivia's art was really cool, sort of comic-book inspired counter culture stuff. I really liked it. My daughter would have absolutely loved it but she was not with us. Then it turned out that she is the daughter of a kid I went to highschool with. Well, not a kid anymore but since I have not seen Pete Skalkos since ACS thats how I think of him. Anyway you can see her stuff at www.thisbedistoosmall.deviantart.com/ and if you are in Athens go to the gallery which is right upstairs from the Skateshop at #5 Protogenous which is also worth checking out. Its interesting because I think that when they began Psiri they wanted to create this kind of atmosphere that Plaka had about thirty years ago with these upscale traditional ouzeries with bands playing electrified laika and rembetika songs that all the Greek yuppies and tourists could sing along with and dance too if they got drunk enough, but I think it may end up being the realm of the skateboarders and young artists, a sort of kinder-gentler Exarchia. Like Exarchia without the teargas and petrol bombs. Oh year, the gallery is Ollie's Affordable Art and after Olivia's show is gone there will be another so you should go down and check it out. (The painting on the top of the page on the right is Olivia's and you can click to see it larger)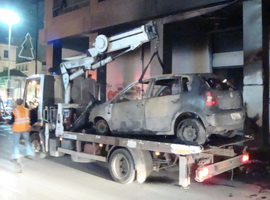 When we left Psiri at midnight the cafes and streets were starting to come alive again and they were removing the last charred car and motorcycle from the wreckage of the building on Ermou street. Pandelis told us that he was there when the owners of a couple of the cars returned to find them in flames after going to Psiri for a drink last Saturday night.
I flashed on that the next day when we began to move our stuff from Psyhico to our apartment in Kypseli, just a few blocks from Exarchia. Its stressful enough moving but its worse when you are afraid you may take a wrong turn and end up in the middle of a battle between anarchists and cops, and it is not unusual for people to be asked to get out of their cars so they can torch them and use them as barricades. After bringing a big load to our new apartment we decided to have dinner in out new neighborhood at this little taverna called H Folia tis Kypselis, run by a little old man and his wife, the former hangout of Theodorakis, Zambetas, Mbithikotsis and Hatzidakis. Usually there are about two tables there but I guess we had never been there on a Saturday night because the place was hopping and we were the youngest people by at least 10 or 20 years. There were two guys playing, one on bouzoukia and the other singing these old favorite laika songs from the sixties, with such passion that Dorian wanted to leave as soon as he arrived. But it was such a charming little scene and there were these three old women, they had to be in their seventies at least, all dressed up and made up, like they were in their twenties, gazing longingly at the singer, practically with tears in their eyes, hearing the songs that reminded them of the good old days. It was the Athens I love, or the Athens my parents loved I guess would be more accurate.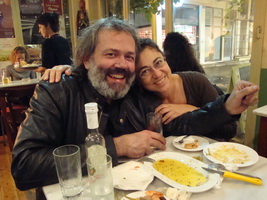 When we left we gave my friend Tony a ride and he said that it was time for me to buy a new car. "Didn't you hear? They are only going to torch SUVs now". Thats not fair! The Grand Vitara has a small engine. Its not like those other gas guzzling monster SUVs. Its not bigger than a Honda accord. But probably anarchists don't care. If it looks like an SUV then it is one and it gets torched. Well as long as we stayed clear of Exarchia we would be OK. But then we took a wrong turn and ended up going right exactly where we didn't want to go, and the first thing I saw was a burned up Nissan Pathfinder. "Oh no! Let's get outta here!" Just then a cop's flashing blue light appeared behind us. I knew we were not being pulled because cops never pull you in Greece, so I moved to the side and let him pass. "Let's just follow him and we will be safe", I said as a joke. But we made it home without any events. Today we made two trips with the car full of stuff and again I was a little nervous about parking my car and finding a smoldering wreck when I returned, so I put it in a garage for the night. Tomorrow I will stick it in Elia's garage at Swift because on Tuesday I am going to the states for three weeks. Yeah, deserting the sinking ship, and leaving Andrea behind at that, but we booked this before the fun began and though I would love to stick around and see how this whole thing ends up, I have to go.
Oh yeah. Nick Gravanites is playing at Kitaro on Tuesday night. If you are reading this and are in Athens you should go. Its near Platia Victoria.