Our Trip to Paris from Athens
OK. This morning I am forcing myself to sit down and write, something I have not done in awhile, except for answering e-mails every day of course. Today's topic will be my trip to Paris which I am still recovering from. It all began a few weeks ago....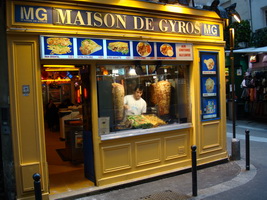 Anyone who has a teenager knows that family holidays can be stress filled catastrophes even with the best of planning. Amarandi had a 5 day thanksgiving holiday and though I wanted to go to Crete, we assumed correctly that she would have no interest in going anywhere in Greece with us. But when I suggested Paris she showed some interest, enough to send me to the computer looking for flights and affordable hotels. Luckily enough Aegean Airways had just started service to Paris in November and a round trip ticket from Athens cost about 180 euros. Then I went to my Paris website (www.aparisguide.com) and spent 3 days looking for the right hotel. Amarandi refuses to share a room with us so we needed a double and a single which I found on the booking page of my own site that I do as a partnership with booking.com. It was the Hotel Europe St Severin right off Blvd St Michel and for 5 nights cost 1100 euros. (Plus I got a 60 euro commission by booking off my own site). So we called Loula and she sent John, one of George's drivers, the one everyone loves because he speaks like he just got off the plane from New Jersey, who drove us to the airport and after a very comfortable 3 hour flight in a brand new Airbus Jet we were in Paris.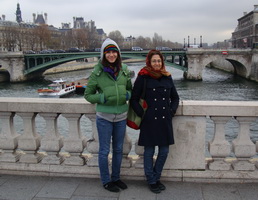 Paris was cold. I was OK with it because my jacket kept me warm and I think I am more tolerant of it, but Amarandi was freezing and dismayed at the thought of being in such a cold place for the next 5 days. The hotel was great. I recommend it. It was located on a cobbled pedestrian street, among many other cobbled pedestrian streets in a neighborhood of small restaurants, fast food places, cafes, bars and tourist shops, sort of the Psiri-Plaka of Paris. It was also the neighborhood with a great many Greek restaurants, some with delicious looking displays of food in the window. One had a whole, leg of lamb turning on a spit while the fats and juices dripped down into a big pan of roasting potatoes. It was the most effective advertising I had ever seen. Here I had just stepped off a flight from Athens and I was ready to walk into a Greek restaurant when I had all the bistros and brasseries of the most food oriented city in the world. Of course Andrea would not hear of it even though the first person I met upon walking out of the hotel was named Fotis and spoke to me in Greek, which to me was some kind of sign. We wandered up Blvd St Michel to the area of the Sorbonne and found the most simple cafe-brasserie we could and attempted to make ourselves understood with our limited French which consisted of useful phrases like I Love You and Please, Thank You and Good day. It did not help that we had gone to a place which had nobody that spoke English and a menu that was only in French. We were so hopeless tourists, a humbling state to be in when you are used to giving advice to tourists. Amarandi rolled her eyes with our attempts to speak French, using the limited dictionary of our Lonely Planet Paris Encounter (I did not even find the section on the different kinds of coffee until I sat down to write this in Athens because it was buried in the section on Belleville which we did not even visit until our last night.) As the sun set it got colder and Amarandi went to her hotel room where she spent most of the trip, watching French Television and IMing her friends about how boring Paris is. Andrea and I went to Shakespeare and Company Bookstore where there were more good books per square foot than perhaps anywhere in the world. For those who don't know, this bookstore is to Paris as City Lights is to San Francisco and many of the same writers have visited or in the case of Paris even slept on the floor of the library upstairs where over 50 books have been written and researched, including William Burroughs Naked Lunch.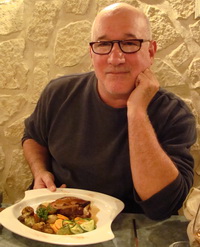 Our first night we ate at a small Bistro called Le Lutin dans le Javulin on rue Git-le-Coeur, a tiny street that runs between Rue Andre-des-Arts and the river, about a block from the giant statue of St Michel killing the dragon, called Place de St Michel. There was one other couple there and the young waiter had plenty of time to explain what everything was in English. It was a very nice dinner for a first night in Paris and the fact that Amarandi refused to leave the hotel with us made it easier to fumble along, making mistakes in French, without her getting mad at us because when we spoke English to the waiter we did so with a French accent. I thought I was just trying to speak slowly so people could understand but apparently I was compensating for the fact that I did not speak French by pretending I was French by speaking English with a French accent. Before we had gone to the restaurant we had a glass of wine in the Cafe St-Michel and I was looking in the Lonely Planet Guidebook and then put it off the table. "Can you take the book off the table and put it in your pocket?" Andrea asked me. "Its like a sign that says you are a tourist".
"But I am a tourist! Why do I have to hide it?"
Its funny how humbling an experience it is to be in a country where your level of communication is about the same as a caveman. In Greece I can get around just fine. My Greek may be lousy but I am pretty confident that I can understand and be understood in most situations. But in Paris my confidence is non-existent and even ordering a coffee made me anxious. I guess other people feel the same because while the cafes all had plenty of empty tables there were lines at all the Starbucks and nowhere to sit. But the old story that Parisians refuse to speak English and look down their noses at you if you speak bad French seemed like nonsense to me. We would always attempt to order in French and the waiters would always come to our rescue in English. So after awhile it was kind of a game and really after the first night we pretty much knew what we were eating before we ordered it.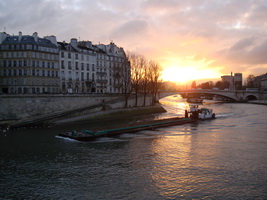 As I often do in a new place I woke up very early, around sunrise, and feeling like any time spent in bed is a waste of time I got dressed and hit the streets. I walked across the across the bridge to the Isle de la Cite which is the oldest part of Paris and besides the Cathedral of Notre Dame also has many of the massive public buildings including the headquarters of the Police. While standing on the Rue De Letuce (Letucia is the ancient name of Paris) two small cars came from opposite directions and met in front of the police station and several heavily armed masked men jumped out of the cars escorting a very large man into the building. I was tempted to take a picture but decided that the risks outweighed the benefits and that really there are not many sections that would be appropriate for such a photo in aparisguide.com so I just sort of took it in and then moved on to explore the island and the Ile St-Louis across the next bridge as well as the Hotel d Ville, the giant neo-Renaissance town hall of Paris.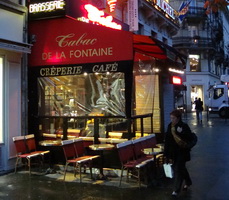 When the girls woke up we had breakfast at the Brasserie De La Fontaine, being helped through the ordering process by a very friendly and professional waiter. This place was a tobac cafe which is sort of like a cross between a cafe and a Greek periptero (kiosk). It has a bar for drinks or coffee, a few tables indoors and out and sells cigarettes, cigars and some of the things you would find in a periptero in Athens. But unlike Greece, Paris passed a smoking ban so if you want to smoke a cigarette with your coffee, as many people do, you sit outside in a space that is usually heated by big gas heaters, and sometimes enclosed in plastic. Personally I would have rather been outside with the smokers because the heaters really work well and I like to watch the people walk by. But Andrea was so pleased to be in cafes where she was not the only one without a cigarette that it did not seem fair to go out of my way to sit with the smokers. But Andrea only has another year of suffering to go because in 2010 Greece will have to enforce the same smoking ban in cafes and restaurants which should create a lot of available seats.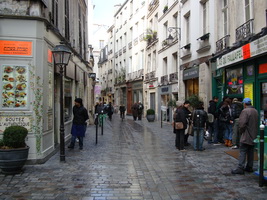 Andrea was taking Amarandi shopping for her birthday in the Marais which is this shopping, drinking and eating area of small streets across the river from us. We wandered around and they looked in clothing shops while I looked at people, food and buildings and took photos. We started by walking up Blvd de Sebastopol and stopping at what used to be the central market of Paris which was knocked down to create the world's strangest looking mall that looked like some multidimensional caterpillar, outdone only by the Centre Pompidou, the worlds strangest looking modern art museum, a cross between NY's Shea Stadium and a recurring nightmare of an unbalanced plumber. Both buildings were impressive really for their lack of charm in a city where charm resides full time. But neither really interested me because it was a pretty nice day, not too cold and not raining so I did not want to waste it indoors, either looking at art or shopping for clothes. So when the girls went into the first clothing store that Amarandi had researched on the net and put on her list, I took off to explore on my own. I wandered the small streets of the Marais, looking at the various Jewish shops on Rue des Rosiers and after sitting in the sun in the middle of the Place des Vosges, a large square surrounded by a series of 17th Century mansions, all connected as if they are one big arcaded building, and included, besides the home and museum of Victor Hugo, a number of galleries and fancy and not-so-fancy restaurants. I was looking for the Picasso Museum and kept seeing signs but it never materialized.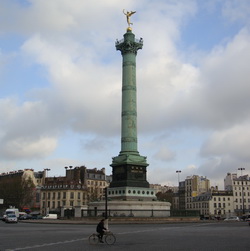 Somehow I ended up at the Bastille or the Place de la Bastille since the actual building was torn down to inaugurate the French Revolution on July 14th 1789. Now it is a big traffic circle with a giant bronze column topped by a statue of Lady Liberty. There are several cafes surrounding the monument and even more interesting is the park area that overlooks the boats on the Port de Plaisance de Paris Arsenal which is a canal that branches off the river Seine. What makes it so interesting is that though the canal appears to end at the Bastille on the maps, it actually continues underground and emerges at Rue de Faubourg de Temple about a mile away. The canal for some odd reason was covered to create a park area that runs next to Blvd Richard Lenoir. Where the canal begins again it becomes the Canal St Martins and besides the tours that run from one end to the other there are shops, parks, cafes, and even clubs on several boats docked there. You can see boats using the locks to get from one level to the next and there is even a Holiday Inn Express right on the water at the Bassin de la Villette. Eventually I ended up at the Place de la Republique and managed to drag my sore body and my tired feet all the way down Ru du Temple and back to the Ile de Cite where I met Andrea and Amarandi in front of the Cathedral of Notre Dame. We were using our cell phones to send SMS messages to each other the whole trip so we were always able to find a central meeting point. From there we went to the Cafe Panis on Square Rue Viviani, a great place to people watch both inside and out.
Amarandi's first experience with French cuisine was not so positive that she wanted a second and we broke down and went for Sushi at a Japanese Restaurant called Matsuya at 39 Rue Galande. It was pretty good, being so far from the places we normally associate with sushi like New York and Japan but Paris has a large number of Japanese places. In fact if you walk up Blvd St-Michel and turn right at Rue Monsieur de Prince there is a street full of them.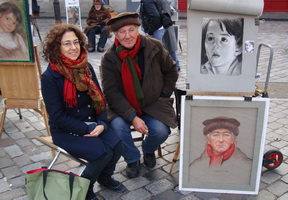 Thursday we took the #4 metro to Chateau Rouge and after walking through an African-Caribbean street market we climbed Montmartre to the Basilique du Sacre-Coeur, the big white cathedral on the top of the highest mountain in Paris. Actually it is the only hill in Paris that could be called a mountain and the view of the city from here is terrific, though we were looking straight into the sun on a hazy day and it did not make very good pictures. While we were on the mountain the clouds began to fill the sky and the temperature dropped several degrees. In the main square of the upper village there are dozens of artists who sell their paintings as they work on others. Some of them are quite good. Actually they all were. It seemed like the visual equivalent of busking, where you are playing guitar on the street for money and it does not matter how much you make because if you were playing guitar in your room you would not be making anything and at least you are playing and hopefully getting better at it so one day you won't have to play on the street. The same with these artists who practice their art while at the same time are involved in the commercial aspect of being an artist. We met one, a fellow Greek named Christos Karamisaris who was originally from Thessaloniki but has been in Paris for thirty years. He has exhibited his watercolors internationally including in the USA for the last 40 years but in Montemarte he was doing while-you-wait portraits for thirty euros. He gave us a few tips about Montmartre, among them to go to the Museum and see the exhibit of Jean Marais, the famous actor, artist, painter and all around Renaissance man, which we did, and to eat at the Le Vieux Chalet, the last truly authentic restaurant at the top of the mountain, the only one that still has the original owners, which we didn't go to because Amarandi wanted to see the Salvador Dali Museum and it was getting colder by the second.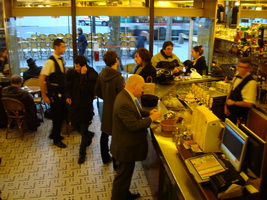 Gradually we made our way down the mountain and took the metro to St-Germain des Pres where we met our friend Ana Kamais who had arrived from Greece, and went to my favorite place, the Cafe Marie in the square at St Sulpice for a snack and some wine. I rarely drink wine in the daytime, even in Athens but in Paris I felt like it was necessary and once I did it and discovered that I could continue without getting that draggy feeling that often follows drinking wine in the afternoon, I did it regularly. I found that the true meaning of happiness was to be sitting with a glass of Bordeaux in the front section of Cafe Marie reading the International Herald Tribune while my wife happily spent my money on the Rue de Rennes nearby. After reading the paper I would take my camera and walk around the city for a few more hours taking photos and working up an appetite for dinner. I became so obsessive about it that when I dropped my camera and shattered the lens in the Place du Concorde on my last full day I spent 6 hours and walked miles to find a replacement.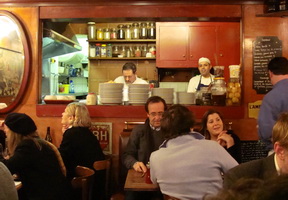 The best meal of the trip was at the Bistro d' Henri on Rue Princesse, a small street in between Saint Suplice and Rue du Four. Actually this was the best area for food and nightlife. Its several streets which include Rue des Cannettes and there are a number of small bistros, a nice Italian restaurant, a beerhall, a jazz club and the excellent Village Voice Bookstore. Its a neighborhood many people miss because its not that easy to find if you are sticking to the main avenues. Bistro d' Henri was the kind of French place you wish was in your town, no matter where you live. The dining area probably had 8 tables so your closest neighbor is close enough so that you may as well be at the same table and share food, which is what happened to us. We made friends with the party next to us, all Parisians, who insisted I taste some of the things they had ordered including some kind of grilled spleen or kidney of a large animal. It was really like a fun dinner party and conversations were not confined to your table. Everyone interacted like in a Greek taverna where you can become friends for life with the party at the next table.
More tomorrow (maybe)