Our Trip to Paris Part 2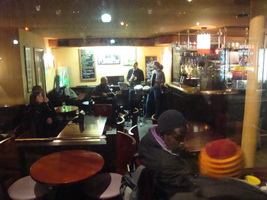 Paris would be a great place to be a musician. Wait. Let me restate that. Paris would be a great place to be a good musician. Like anywhere there are more than enough musicians whose talent does not reach the level of their ego and winter on the streets of Paris singing Hotel California for a few euros a day is no way to make a living, much less earn the fare home to Nebraska. But if you can really play an instrument well enough to jam and impress other musicians, or are the kind of whole package talent that can entertain with your songs or some authentic traditional blues and maybe even country, playing in some dive for six months or more would not only be interesting but it would add to your resume, even if you only made enough to scrape by. You have to wonder if Jim Morrison had not died would he have stayed in Paris and read his poetry and maybe played a guitar in some little artist cafe, not caring how much he made because he had already made it. It kind of makes me wonder about all these musicians who really had talent but for one reason or another dropped out of the music scene and made money doing realestate or investment banking, why they are not packing up their guitars and moving to Paris, or Berlin or Dublin or some romantic music friendly place and doing their music again while living off the interest of the money they have put in the bank. (Oh, well. I guess its too late for that.) I guess I am asking myself, if I did not have the responsibilities of a parent, do I still have the courage to chuck everything and go to Paris and sing and play my songs, an aging relic who never made it and never will, taking up the space on a stage that some young kid with passion, desire and maybe more talent might be filling. Probably not, and probably for the same reason that the blues-guitarist realestate agent won't quit his job no matter how bad the economy gets and move to Paris to gig again. Lack of motivation, courage, passion and a fear of losing what we already have. But if I could get a gig like my friend George Hamilton V who played country music for a couple years at Euro-Disney I probably would not turn it down.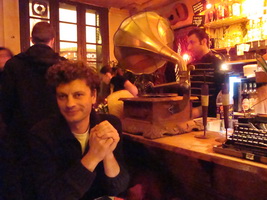 The last night in Paris we wandered through the neighborhood of Belleville which is today, probably what the Latin Quarter was before it became the number 1 tourist destination in Paris if not the world. A mixture of immigrants, artists, students and working class people who in the next few years barring a total economic breakdown, may be forced further out to the fringes of Paris as the area becomes what the Latin Quarter is now. But for now you can wander around and hear live music of all sorts coming out of small cafes and bars. This is the Paris that musicians younger than me come looking for. Not just musicians either. Several bars and clubs had crowds flowing out into the street that we had to force our way through on our journey to a small brasserie called Zanzibar where our Parisian pal Phillipe, who used to live in Chapel Hill, took us for a French meal that was more Latin-American than Latin Quarter. On the way we stopped for a glass of wine at another place called Cafe de L'Industrie which looked and felt like Paris in the nineteen-thirties where I would have been happy spending the next two hours or the next several years.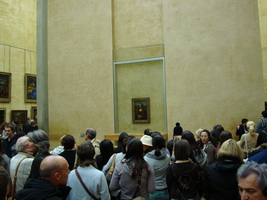 So anyway without going into too much detail the last couple days in Paris we went to the Louvre Museum of course and rather than pick up where we left off on our last visit to France we just saw the same exact stuff all over again. We started by passing through the Greek and Roman sculpture (kind of like being home) and then the large French paintings, 13th to 18th century Italians and Renaissance and ending exhausted and miles away from the exit in the Spanish section with no way back but to walk the way we had come. You would have to make a lot of trips to the Louvre to see it all. I think you probably would need to live in Paris because unless you are a total art fanatic there is no way you could spend a week looking at one painting or sculpture after another during a holiday. After awhile your senses would be numbed to what you were seeing. The Mona Lisa, Venus de Milo, Michelangelo's Dying Slave and other great works of art just become a blur when you see too much at once. The star of the museum was the Mona Lisa. Since we were last here they have added more security and pushed people further away using a sort of laser system which beams light into a kind of force field that causes a taser-like pain if you cross it, much like an electric fence does to a cow, though the effects don't last more than a few minutes once you are able to get back on your feet. I am kidding of course but when we were there we found an impenetrable barrier of Chinese tourists all taking photos of the head in front of them.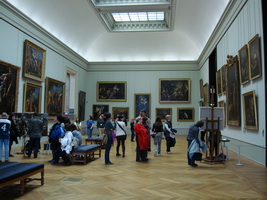 Photos are allowed in the Louvre which I found to be very generous coming from Athens where they would stop you from photographing the Acropolis if they had enough guards to enforce it. The only rules are no flash, though you see them going off everywhere, and you can't photograph the temporary exhibits. You can't use cell phones or bring in food either but I saw people doing both. One thing I found interesting where the artists who were scattered around the museum, painting copies of the masterpieces, and they had little signs on their easels that said "No Photo" or a camera with a line going through it. Seemed kind of unfair that they were allowed to make copies of a museum piece and yet we were not permitted to photograph their copies or them painting their copies. But from my History of European Art course I knew that many of the great painters spent years in the Louvre, copying the masters, sort of like a musician jamming with his favorite bands CDs. Sometimes when walking through the Louvre you forget where you are because you are lost in the art and you look up and see a spectacular mural on the ceiling or realize the exhibition hall you have just walked down is a quarter of a mile long.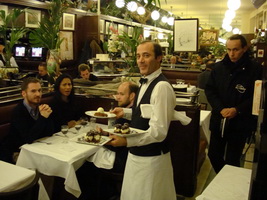 Friday night we met some friends from Kea who took us to the Brasserie Balzar on Rue des Ecoles near the Sorbonne and it was nice having people with us that could tell us what everything on the menu was instead of having to pick just one or two things to ask the waiter and choose from those. The restaurant is something of Paris institution and was along with Bistro Henri, the best place we ate in. Historically it has been around since the thirties and there are old black and white photos of it on the wall. From their website(www.brasseriebalzar.com) I pulled this...
Paris, 1947. Western Europe threatened by a soviet invasion.
Albert Camus and Jean-Paul Sartre are lunching at the Balzar.
- What will you do if the soviets attack? asks Sartre.
- I'll join the resistance. Like Malraux. What about you?
- I will not shoot against the proletariat replied Sartre.
History has not recorded what they were eating
You can actually book on-line which I recommend because they are usually full. Not as full as the place in Place d Vosges that Phillipe showed us where you have to make reservations six months in advance. Imagine waiting that long and the day you are supposed to go all you are really in the mood for is pizza or you have just had a fight with your wife and you are not speaking.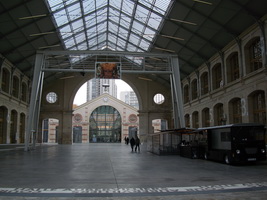 The last full day I spent getting acquainted with the metro, having done most of my exploring on foot. While Andrea shopped and Amarandi slept, Ana and I went to the Rue d Crimee, as far as you could go on the map and wandered around this ethnically diverse neighborhood. One of our discoveries was the Centquatre, an enormous building that has been renovated and set up as an exhibition hall. It was originally the Municipal Funeral Hall. During its heyday 27,000 hearses left the building every year and 1,400 people worked there. The Municipal funeral service employed woodworkers, cabinetmakers, coachbuilders, mechanics, seamstresses, painters and masons and the city held a monopoly on funerals until 1993. (You can read about its history and upcoming events and exhibits at www.104.fr). We planned to meet Andrea at the Orsay Museum and took the metro to the Place de la Concorde, where a steady rain was falling and that's where I dropped my camera, setting my plans into disarray. Actually the event added some focus to my adventure and for the rest of the day I searched for a replacement for it. I was intent on getting the same camera, a Sony Cybershot DSC W-300 because it took great photos at night without a flash. But the two major electronic shops on Blvd St Germain did not carry it so I asked the girl at the desk of my hotel and she showed me on the map how to get to the Rue Montgallet somewhere between the 11th and 12th arrondissemonts. I only wish I had a camera to photograph the street that I had come to buy one. There were small shops one after another covered in advertisements for laptops, harddrives, computer components and cameras, each shop owned by Chinese, all packed with people, some with lines out the door. The street was full of Chinese as well. I asked in almost every shop and none of them carried my camera. But on the walk back I stumbled upon the Prominade Plantee which is an old railway viaduct that has been turned into a long walking park where you can see the whole area from 4 stories up. Its better in the spring of course when the trees have leaves on them of course and flowers are in bloom, but even in the winter its a good way to escape the city if you need to go from the Bastille to Rue Montgallet for computer parts. Anyway I ended up back on the Rue de Rivoli and bought a cheaper version of my camera which actually was OK, and I may even keep it.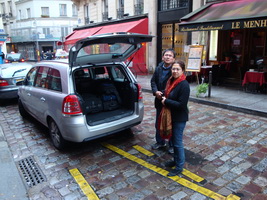 When Sunday came and it was time to leave I was kind of amazed at how much time had passed and how little we had seen as compared to what there was left to see. I wanted to take my daughter up on the Eiffel Tower but if she was cold on the ground imagine how miserable she would have been up there. Anyway I had done that on my last trip, in fact I had walked up the steps because there was a 20 minute line for the elevator. We had breakfast at the hotel as we had for the previous 3 days when we discovered the bottomless cups of strong hotel coffee would have cost us about 20 euros a day in cafes, not to mention all the croissants, baguettes, cheeses, yogurt, fruit and cereal we could eat. Probably eating breakfast at the hotel for 10 euros a day saved us about thirty because we really did not need to eat lunch and whatever coffee we drank in the course of the day was just an excuse to sit in a cafe. In fact a glass of wine was more of a requirement for my wired state than more coffee. The hotel called a taxi and 40 euros and 40 minutes later we were on the Aegean Airways line and not long after that on the plane. They showed the movie Mama Mia on the journey back to Athens and I found myself crying for my lost youth put to the music of Abba. Yannis picked us up at the airport and told us the weather had been beautiful all week, and it still is. (Today is sunny and maybe about 70f and I started this at 8am so I can go out and enjoy it).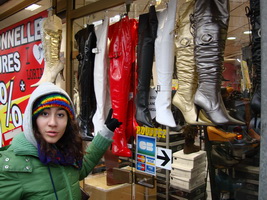 So that was my trip to Paris. I had a great time but I usually do since it does not take much to make me happy. I just need a city to walk around and take photos of until it is time for wine and dinner and Paris certainly provides that. But our purpose was to go there for Amarandi and she did not have the kind of experience we had hoped for her. You imagine your family walking happily through the Paris streets, laughing and pointing out interesting sites like the typical American family in television commercials but the reality is often the parents trying to make things interesting for a child that does not want to be interested, that is only happy when sitting in front of a computer, doing her Myspace thing, watching TV and maybe going out for Sushi because she has decided it is easier to hate French food than to understand it. But I think a lot of teenagers are like this. I don't think I would have agreed to go with my parents to Paris at the age of 16. Amsterdam? Maybe. In fact that gives me a good idea for Amarandi's next school holiday. And actually she did see a lot of Paris when she was out shopping with her birthday money and she even tracked down her mother and found the Museum Orsay from the hotel when she woke up late on Saturday and you have to give her a lot of credit for that. And I bet if it had not been so cold she would have done a lot more. So in the end it I think it was a successful trip and when we got back to Athens she announced that she wanted to go back to America. 'I hate Athens' is not the same as 'I love Paris', even for a teenager. But I am hoping that a seed was planted and the next time she goes she will feel like she is returning to a familiar place, and she will remember the good times, eating and shopping and not the times she wandered the cold wet streets of Paris with her annoying parents or the hours spent in her room trying to get away from them.