The Greek-American Curse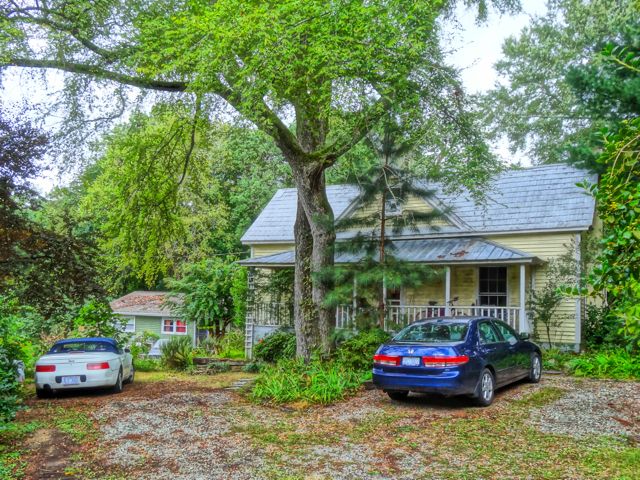 I wish I was my cat. Everything is new to him. He goes out into the yard and looks at the garden hose. He has seen it a hundred times but its like he has never seen it before. He walks by a plant and swipes with his paw at a dangling leaf hoping it will swipe back. He has seen a thousand plants and swiped at them and never have they swiped back more than once but he still tries to coax some fun out of this one. Our tiny backyard is like a massive amusement park for him, there is so much to see and do, and when he gets tired or hungry he comes in and stands by the food bowl waiting for me to give him something better than whatever is in it, or he takes a nap in one of his many little spots where I come across him when I am doing my chores. I never know where he is going to turn up.
Now let's look at me. I have been in Carrboro, North Carolina for a quarter of a century and nothing is new, not even the new stuff. "Take a walk". Andrea tells me. "Get some exercise". But I have done this walk so many times that it makes me tired to even think about it. There are not that many places to walk to and to just walk in a big circle seems so tedious, like going nowhere and coming back to where you started from. "Lets go out tonight." Andrea says. But I have eaten in every restaurant I ever wanted to and the music in my town is geared for people 30 years younger than me. I can feel myself getting old in Carrboro, North Carolina.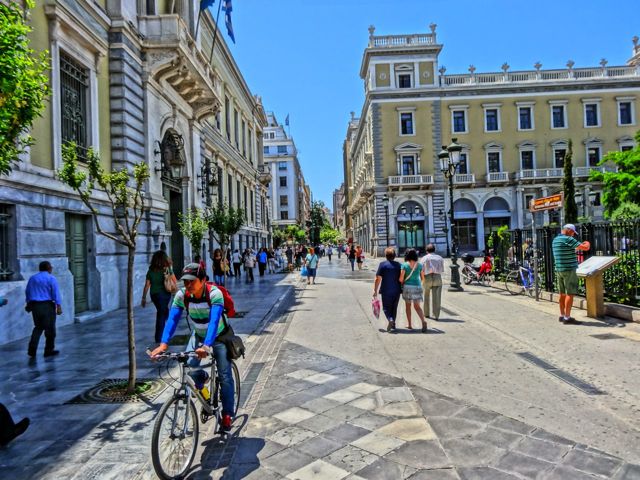 Then before I know it, it is time to go to Greece. We close up the house, say goodbye to the cat and the guina pig and get on the dreaded, yet somehow never as bad as I expect, flight to Athens. Suddenly I am walking 15 kilometers a day, easily. "Lets go visit my father in Kypseli" says Andrea on the first day a few hours after a 10 hour flight. "OK. Lets walk" I say, and not only do we walk there, we walk back to the Attalos Hotel, maybe a 6 kilometer round-trip. Andrea lays down on the bed and I take my laptop to the computer room and answer e-mail for a couple hours until my cell phone begins ringing. "Want to meet for coffee? Ouzo? Dinner?" Yes to everything! Lets walk to Gazi. Another 5 kilometers round trip. Stop in at James Joyce Pub for a beer or two and in bed by 4am.
Wake up in the morning with no hangover, take a shower, drink a double espresso with hot milk on the side and then walk around for 6 hours straight taking pictures of everything and anything, getting ideas for new web pages and having material for ideas that may come later when I eventually look at all the photos I have taken. More cell calls in the afternoon while I am on the streets. Lunch by the sea? In the Plaka? At some little dive that Elias discovered while I was in America? Wine or ouzo? Anything. Everything. Eating, drinking, talking and laughing until 5pm and then stopping at the new gigantic Public Computer store in Syntagma Square on the way back to the hotel to see hundreds of new laptops and then home to try and squeeze in a couple hours of e-mail answering. More cell phone calls. Ouzo at Elvis Costello's with Pandelis Melissinos: Son of the Poet. More calls. Meeting Fantasy George, Tony from the Old Captain, Dorian, Ana and the guys from Byzantino Jewelry at Saita Taverna in the Plaka for dinner at 10pm. Its now 2am and Tony wants to take me to Rembetika at Stoa Athanaton in the Agora. "Its just my second night so I need to take it easy" I tell him. Hang out at the front desk of the Attalos with Yiannis and the beautiful film director from Hollywood, me giving free travel advice in person instead of by e-mail. I'm in bed by four. Good boy. A few more days of this and then pick up the car and drive to the ferry in Lavrion to go to Kea: beaches, mountains, fish tavernas, cows, goats, chickens, sheep Rolando's Ouzerie and our Greek Island home.
So what is my point?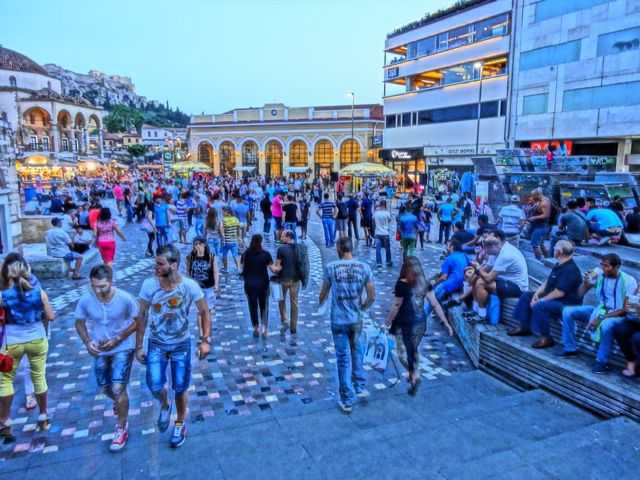 How can I, a Greek-American, but an American nonetheless, feel so out of sorts, so bored and such an alien in this little North Carolina college town I have spent the last thirty years? And why is it that as soon as I get to Greece I come alive? And which will enable me to live longer? My sedated life in America where my wife has to tell me to take walks just to have some activity besides typing away on a computer, or my kinetic active life in Greece where I have to squeeze meals, friends, work and play into a day that does not have enough hours in it.
You are what you eat and that goes for sensation, thoughts and words too. Living in Greece is a fulfilling experience because it is a barrage of impressions. You can't walk down the street without seeing something that makes you take notice and awakens you for a moment or longer. If I was my cat I could just stay here in America and the familiar would always be new and everything would be OK. I would not even have to leave my backyard to be perfectly content. Just as long as someone remembered to feed me.