Meteora to Thessaloniki
So back to my journey....
Sunday July 6th Kalambaka to Thessaloniki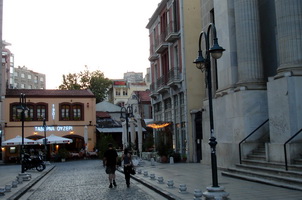 I woke up feeling much better than I felt that night, sweating in the crummy air-conditioning, my stomach rejecting the kokoretsi and me refusing to just throw up and end my suffering because I don't want to admit it was the kokoretsi because I don't want to live my life without kokoretsi. Once we got in the car and started driving I was fine. We decided to go straight to Thessaloniki and see the northwest part of Greece in August some other time, which probably won't happen but it seemed like a good rationalization. From Kalambaka to Larissa the roads are new and wide and from Larissa to Thessaloniki they are even better until you get to the pass through the mountains at Tempe where the road narrows to one lane each way and cuts through a gorge. This is the most dangerous driving area in Greece and the side of the road is full of crosses and shrines including one to a bus full of schoolchildren that crashed here several years ago killing 23 of them. But today traffic through the pass was going at a steady 2 kilometers an hour and any accidents were unlikely to be fatal. There is a large parking area half way down with a view of the river below but we did not stop, fearing if we lost our place in the line we might never be allowed back in. Eventually the road opened up again and we saw the sea for the first time since we left Kea.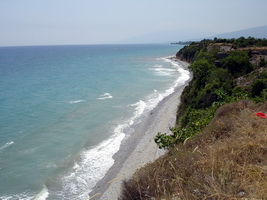 The east coast from Larissa north is a line of beautiful sandy beaches below the enormous Mount Olympus, home of the ancient Greek gods. Today being Sunday the main beaches were all packed so we just stopped a couple times to take pictures of the ones that weren't and then continued on our journey. After the beaches is an enormous area of wetlands and river deltas where we saw cows standing on grassy islands that made us wonder if cows could swim. Eventually fields and farms give way to factories and buildings and before we knew it we were in Thessaloniki. We drove all the way through the city to the suburb called Kalimaria (not squid-that would be kalamari) where we found a parking place in front of a small green park above the marina and while Andrea chased a small funny looking bird trying to take its picture I found a really great mezodopouleion-fish taverna called To Taxidi (The Journey) where we had a light lunch of a green salad served in a fried bowl made of parmesan cheese (like in Mexican restaurants when you get a salad in a bowl shaped fried tortilla), smoked grilled eel, really nice tarama salata, and then we watched the waiters as they walked by carrying all the things we should have ordered. Giant grilled octopus, stuffed kalamari, clams, mussels, barbounia, koutsomoura served to couple with two small children who seemed to only eat the fried potatoes as more and more food arrived at each table. "We have to come back here and really eat", I told Andrea. Outside it was about 38c but they did not spare the airconditioning in the restaurant and Andrea actually had to change seats with me because she was cold. They offered us a complimentary ice-cream desert which we declined. In Thessaloniki every restaurant we ate at gave ice-cream as a complimentary desert.
We drove back into Thessaloniki and found the port and the shops with the boat schedules. There was a boat leaving Monday at midnight and another on Tuesday at 7pm. No boats today. If there had been we would have taken it. We were hot and tired and it was hard to believe this was only the third day of our journey. It seemed like we were traveling a week. We wanted to go to the cool breezes of the mountain villages of Lesvos and swim in the cold sea at Sigri. There was a heat wave coming on Tuesday that would cover all of Greece, people were saying. I did not want to be in a big city or in an unfamiliar area. I wanted to be somewhere I knew how to stay cool.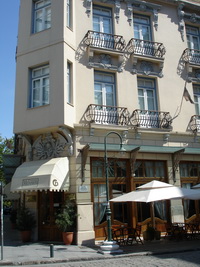 I had parked the car on a small street next to a park which had been converted into a parking lot. Don't ask me why I did not park in the parking lot. I guess I thought I would only be there long enough to see the ferry schedules and did not want to go through the hassle of using the automated parking machines. But half a block from the car we found the beautiful boutique Capsis Bristol Hotel, right in the neighborhood of Ladadika which is to Thessaloniki as Psiri is to Athens, with traditional ouzeries, tavernas and cafes in an old restored neighborhood full of amazing buildings. It used to be the red light district. The Hotel Capsis Bristol had rooms for 155 euros a night which was half the price it charges in September. "This is our slow season" the woman at the desk told me. It sure was. I didn't see another guest in the place. The hotel was like a small version of the Grande Bretagne in Athens. The rooms might have been even better with beautiful wood furniture, a big desk for me, a giant king size bed, state-of-the-art bathroom and shower big enough for the starting five of the Greek National Basketball team and a powerful airconditioner. It was by far the best hotel of the trip and one of the best I have every stayed at in Greece. Our room overlooked the tables and chairs of the restaurants in the main square of Ladatika. Of course this being Greece you can't expect everything to be perfect and the wireless did not work in my room but they had a big space in the center of the hotel where I could plus directly into the DSL and get all my e-mail and answer it until it was cool enough to venture out on the streets.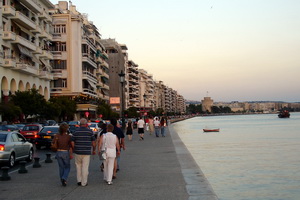 On a hot Sunday afternoon the streets of Thessalaloniki were mostly empty but as the sun began to set people leave their apartments and head for the long waterfront where they can do the evening volta (stroll) for miles from the port to beyond the Aspro Pirgos (White Tower).It was Navy week and there were a couple ships, one a troop and tank transport and the other a guided missile cruiser that were giving free tours which we took. How often do you get to walk around a fully armed guided missile cruiser? Outside the ship there was a guy on stilts dressed like an American revolutionary war hero and three circus clowns yelling to the crowd through a distorted public address system, also a part of Navy day though I don't really understand what clowns and a guy who looks like Paul Revere has to do with Greek military preparedness. There was a small museum with a history of the Greek Navy and merchant marine, with models and lots of paintings and photos, some of the old ferry boats I remember from my childhood like the Kanaris and the Kariaskakis. In one of the old port buildings there was a beautiful cafe-restaurant called the Kitchen Bar with a modern menu and seats right on the dock with a view of the city.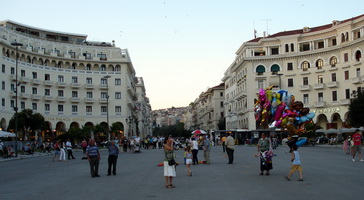 Aristotelous Square is surrounded by cafes and bars and fills with people in the evening. Old folks taking a walk or sitting with their friends in the cafe, Gypsies, Africans and Xanthians selling balloons, toys, bootleg CDs and DVDs, teens on skateboards and boys and girls in groups flirting with one another make this big old platia the place to be in the evening. The large 19th century buildings on one side of the square mirror those on the other side. The square continues up the hill as a large pedestrian avenue with shops and cafes and the famous Electra Palace Hotel which is the Grande Bretagne of Thessaloniki. If you walk up Aristotelous you come to the Ancient Agora Square and then the Roman Agora. Thessaloniki is the most important port in the Balkans. It used to be dominated by its Jewish community which came from Spain in 1492. The predominant language of the city used to be Spanish. But the entire Jewish community was shipped off to the concentration camps where all but a few thousand were exterminated within hours of their arrival. What had been the Jewish Cemetery is now the University and the International Fairgrounds for the yearly Thessaloniki Trade Fair. Athenians think that Thessalonikians are provincial but I think it may be somewhat of an inferiority complex. Thessaloniki was a thriving city for centuries while Athens was a backwater and even today the locals seem more sophisticated and friendlier than their neighbors to the south. The city does not feel provincial. It feels like a big modern European city, cleaner and more organized and more livable than Athens. They are also building a metro which should make it even better, the way the Attiki Metro improved life in Athens.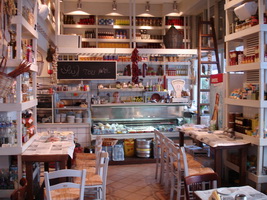 It was a tough decision on where to eat in Ladadika. I had called Grigoris Moisaides who is the taxi driver in Thessaloniki that most travelers use for transfers and tours, to see if he would meet us for dinner but he was beat from a day of driving. He recommended Zythos, right across the street from our hotel, one of the first and best restaurants in the neighborhood. But our eyes were attracted to a place right across the square that was decorated like a traditional old grocery store called Foul tou Meze with food much better than its name implied. The restaurant had a long list of smoked, salted and pickled mezes which includes filet sardines from Spain, smoked grilled skoumbri(mackerel) which was the best fish meze I have ever had, smoked and pickled herring, pickled lakerda (tuna), pickled anchovies, at least a dozen different cheeses from all over Greece, twenty different salads ranging from the two different flavors of tarama salata (3 if you include the rare tarama from Messolonghi), fava, the spicy cabbage and carrot politiki salad which we found at most restaurants, meatballs made from beef as well as octopus, zucchini, chickpeas, octopus grilled or in wine, kalamari stuffed and baked, or fried or grilled and various meat, pasta and vegetable dishes as well as all the typical dishes from Thessaloniki and northern Greece. They had twenty varieties of ouzo, and equal number of tsipuro and twenty or thirty different bottled wine and an excellent white xima (barrel supposedly bus actually it comes in a box) which was their house wine from the island of Limnos. It was the best culinary experience of the trip and could not be any more convenient to out hotel which was right across the street. I highly recommend this place. There may be better in the area but they will have to wait for my next visit.
Suzuki Held Hostage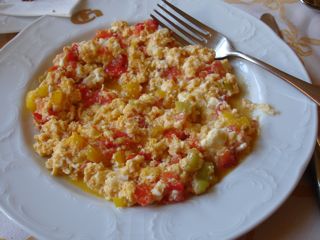 The next morning we had breakfast at the hotel, included in our 155 euros. It was actually a pretty amazing breakfast. Espresso, cappuccino or whatever kind of coffee you like, a basket of different kinds of breads, cakes and croissants, fresh squeezed OJ, and a choice of any kind of eggs. I had the strapadsada which is scrambled eggs with feta cheese, tomatoes, peppers and onions. Afterwards we went to check on the car and make sure our spot was legal. It seemed to be. It was in front of a bank but there was not a no-parking sign (a circle with an X) so it seemed silly to move it, so we went for a walk to Germanos Electronics to ask about the Cosmote Internet On the Go which would enable me to keep up with my e-mail no matter how far into the boonies we went, or so I thought. Twenty minutes later when we returned to the hotel to get Andrea's tax number which we needed to get a yearly contract, there was a ticket on my car. I left it and went to get our bags. I asked the woman at the desk what we should do about it. She said not to worry if it was a rental car because they don't really care. But when I told her I was parked in front of the bank she looked concerned. "In that case they may have taken your license plates". I went back to the car. They had taken them. Now what do we do?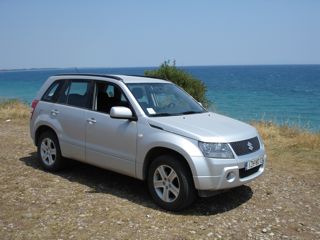 The woman found the address we needed to go to somewhere behind the train station and after much trial and error (yes we drove the plate-less car: you can do that... I think) we found the police station and gave the policewoman at the desk the ticket and the rental agreement from Swift. The problem was that the rental was for June and it was now July so to prove we had not stolen the car we needed Swift to send us a new agreement by fax. I called Elias and he replied cheerily that it was on its way. The fax machine was upstairs two floors and the main desk was on the main floor so the woman told us to wait upstairs. The hall and offices were full of people who looked like they were in a lot worse trouble than we were and after twenty minutes we heard the sound of the fax. It came out of the machine totally black and unreadable except you could barely make out the Swift logo on the top. I called Elias and asked him to send it again. He tried several times from several machines but nothing was coming through. (The date on the fax said March 25 1995) I could see fax machines in other offices but the woman in charge of our machine told us it was the only one. Finally the fax came through and clear enough for them to see that we had not stolen the car. But we needed to make a copy down the street because they needed one for their records and it was illegal for me to drive without one. There was a small copy center around the corner and the guy made the copy. "Eight cents" he told me. How do these guys make any money? When I got back to the police station Andrea was gone and so was the woman at the front desk. Where was she? Had they taken her away to interrogate her just for the hell of it? I started to panic. Plus there was a cop on the street giving tickets to the line of cars parked in front of the police station of which mine was one. What was the penalty for a second offense? What do they take if there are no plates? The tires? How come everything is so complicated in Greece. My phone rang. It was Andrea. When she went to pay our parking ticket the woman told her that we had to mail it in because they can't take money at the police station. She needed to go to the post office in the train station (which is being renovated by the way), then get a receipt that she had paid it and they would give us the plates. Finally she returned and we got our plates wrapped in a nice plastic bag. Of course they don't give you a screwdriver so we had to make due with this nail file thing Andrea had and took a photo to commemorate the event, (which got deleted with all the rest of Andrea's photos when she pressed the wrong button while showing them to her sister). Then we got in the car and drove the hell out of Thessaloniki.
But I will be back.... check out the Capsis Bristol Hotel and if you are going to Thessaloniki stay there.