Halkidiki
You will have to bear with me on this section because I am in our nice new house in Xidera, cool without even having air conditioning, where I am happily working on my computer updating my blog because I don't have e-mail. But my maps are in my car which is parked in a beautiful olive grove just outside the village and though it is only a 5 minute walk it is about 95 degrees out there and I am not going anywhere. That means I have to remember the names of all the places we visited in Halkidiki which won't be easy. Anyway there were not that many of them. Just this place that began with the letter V where we stayed and another that was called something that started with the letter S that we did not stay at but I wanted to. I will get to that later. But eventually this info will be part of the Halkidiki section at www.greecetravel.com/thessaloniki and I promise by then to have the names of all the places we visited.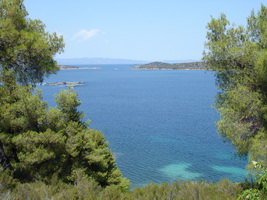 We had booked our ferry tickets for Tuesday night at 7pm from Thessaloniki so we had almost two days to explore the Halkidiki Peninsula. We took the highway south that went past the first peninsula called Cassandra which was totally built up with resorts and tourist beaches that used to be full of Eastern Europeans and people from the Balkans who can drive there easily. Now the area is hurting because most people don't have money to go on vacation. But we were going to the middle peninsula called Sithonia which used to belong to Mount Athos, the third peninsula, inhabited by monks in monasteries and a state in and of itself just like the Vatican in Rome. Except the Greek government seized much of the land, and the state of Agio Oros as it is called, unlike other countries with armies had no way to resist. So unlike many places in Greece where you find traditional villages in the midst of heavy tourist development, there are few villages in Sithonia. Its a beautiful pine covered peninsula with some really nice secluded beaches and a few long not so secluded ones.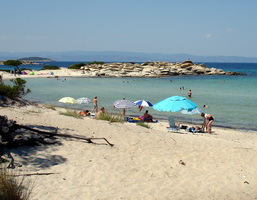 Our fist stop was Vourvourou (the place with the V.... I just found a card from a restaurant there) which was a pine forested community in a bay sheltered by some small islands. There was no real town here, just houses and hotels and rooms to rent scattered around. Originally this land belonged to one of the Athos Monasteries and the Greek government took it to make summer homes for professors from the University of Thessaloniki. There are all sorts of houses and dwellings here, some in incredibly bad taste and others kind of nice. There were a couple hotels that were mentioned in Rough Guide and one or two tavernas too but the only reason we chose this place is because Andrea's friend Athina, known as Doctor G to her patients in Durham and Chapel Hill, North Carolina, spends the summer here.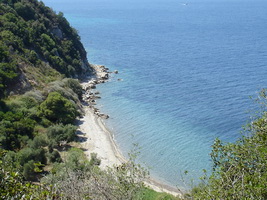 Unfortunately Dr G was not answering her cell phone so we drove down the coast looking for a couple of these secluded beaches that the guidebook spoke of. We found one right away down this dirt road that was in such disrepair that nothing but a jeep or a Suzuki Grand Vitara would make it to the bottom. We had the latter and got there quite easily. There was a small olive grove on a stone beach, the whole area covered in pine trees. It sort of surprised me that there was nobody there but us until I got into the sea with my mask and flippers and found more archinoos (sea urchins) per square inch than I had ever seen. Once you were swimming it was fine but getting in and out of the sea was the problem. Andrea sat on the shore while I looked for a safe route into the water for her but I never found one. We left after an hour. If you go there and find this remote beach there is a small wooden swing hanging from an old olive tree which serves as a warning to all who use this website: Danger-Sea Urchins!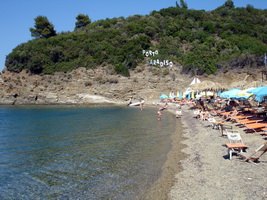 We tried the next road which had a sign that said Porto Paradiso. The road split and we took the one that did not have a guy in a guard booth and drove for about 15 minutes until we reached Porto Paradiso which was another little cove but this one with a beach bar blaring reggae music and wall to wall beach beds and umbrellas, only about a tenth of them filled. I stepped on chewing gum so I was immediately down on the place and refused to swim or do anything that might change my mind. Instead I sat in the shade of a pine tree with a rock trying to scrape it off so I would not get it all over my foot pedals. It had already destroyed the beer bottle opener that is on the bottom of my flip-flops, an innovation by the reef company, though instead of having two openers they could have had one side a lighter or tweezers or something. Andrea did not take a long swim and we were back on the road heading south to another beach. The next one (I would not remember the names even if I had a map because there were a lot of them) there was another guard house and a beautiful north European girl in it. "May I have your passport please?" she asked us. I had never heard of giving your passport to go to the beach before. Its not like its another country. "Why do you need our passports if we are just going to take a swim?" I asked her.
"We return your passport when you leave. It is free for the day but if you stay overnight you have to pay."
That seemed to make sense. You could enter this gate and then disappear into the woods and camp for months before anyone discovered you.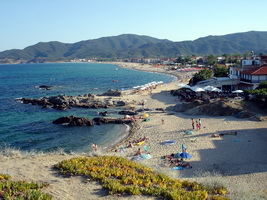 It seemed like too much of a hassle to see a beach so we just turned around and went to the next town which started with an S and was a full blown beach town full of rooms to rent, hotels, fish tavernas and cafes. Actually it was pretty spectacular in my opinion. There was one long sandy beach full of people and umbrellas and then there were these other parts separated by rocks, making these small coves. In the distance you could see Mount Athos across the sea between the two peninsulas. There was a cool breeze blowing and we sat in one of the beach cafes where we met a Greek-American guy from Tennessee with his two daughters who had been coming here for the last thirty years. He was telling us how great the fish tavernas were here and the more he said the more I wanted to stay here for the nigh. But Andrea wanted to go back to Dr G's village. She finally reached Dr G who said she would meet us for dinner anywhere we wanted. Andrea still wanted to go back to the murky seas of Vourvourou and finally I gave in.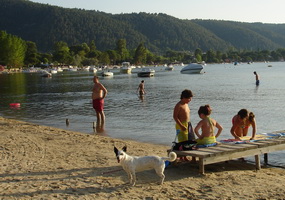 When we got to Vourvourou it was hot and humid with no breeze whatsoever. We drove around the area to get a feel for it and where we should stay but with no waterfront town it was not easy. We checked one hotel called the Elies Eko or something like that. The lobby had a giant log that looked like a telephone pole which was supposed to be a bench. It didn't look very comfortable and the girl at the desk looked at us like she did not even want us to stay there. The price was 155 euros, same as the Capsis Bristol but all I wanted was a simple room with a good airconditioner. I didn't need manicured gardens and a giant log bench and a beach on a sheltered bay that looked like a North Carolina swamp. We drove further. There was one hotel that was decorated so pretentiously that it made the house in My Big Fat Greek Wedding look like Abraham Lincoln's Log Cabin. Giant columns and blue vases, neon stars, it looked like an antebellum mansion had collided with a Mississippi riverboat. The best part of all was a big ornate iron gate with a great big padlock on it. All it needed was a sign that said KEEP OUT. "We have to stay here" I said to Andrea. "I have to know what the inside looks like. But when she went in she could not find an office or anyone that knew anyone who worked there. Another place looked like a Yugoslavian train station. I was getting pissed off at Andrea. The place that began with an S was like paradise and this was a hell hole of swamps, mosquitoes and bad taste. Finally we found the Hotel Vourvourou and one look at the owner I knew this was the place we would stay. He was from Thessaloniki and had set up a little desk outside the front of the hotel. Nothing fancy. Two floors of simple rooms overlooking the bay and a great airconditioner. This was home enough for me. Now we needed to get a drink before we killed each other.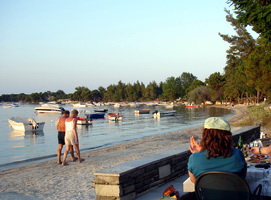 The owner's son recommended the Gorgona h Poulman a fish taverna about a fifteen minute walk down the main road. It was also mentioned in the Rough Guide so we went to check it out. It was hot as hell even though the restaurant was right on the beach, but this was the heat wave the people had been expecting. I ordered an ouzo and waded into the water and immediately felt better. When I got back to the table I was a lot more comfortable and after a couple sips of ouzo I felt great. The food was excellent. Once again I got to have grilled smoked skoumbri. We also had some kind of roasted peppers and cheese dish, a baked eggplant dish similar to what Thalia makes in Kea. I don't remember what else we had but eventually Dr G showed up with her friend and ordered two fish that cost about fifty euros. While we were sitting there people were arriving not only by car and on foot but in small boats which they would tie up outside the restaurant and come in, entire families, some from yachts and others from homes across the bay. I have to say that the Gorgona or Poulman (whatever that name is supposed to mean) changed my opinion of Vourvourou. Actually this would be a pretty good place to stay if you are a family with small children. The sheltered bay is not my idea of a good time but you can drive for five minutes and be on a pine shaded sandy beach on the open sea and there is a much to be said for a town where you can walk down the street in the shade.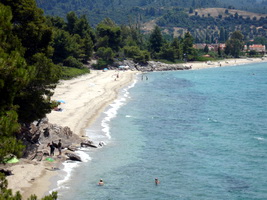 The next day we woke up early. We could tell it was going to be hot and I wanted to see as much of Sithonia as I could before heading to Thessaloniki to catch our ferry to Mytilini. We passed the place that began with an S and found another beach towards the bottom of the peninsula. Actually we found a series of beautiful sandy beaches some with people on them and others secluded and either empty or practically empty. The further south you go the less trees there are and in the end it looks like the Cyclades except there are no white geometric villages. On the way north we stopped in a large sheltered bay with a big lagoon and a small town, another row of beaches and towns and finally the Porto Carras Resort, one of the largest and best known in Greece. Actually I had hoped to stay there because I had been invited by the director of marketing who I met at the NY Times Travel Show in March. But when I called her from Thessaloniki she asked if I could come back in September because the place was totally full. Carras was a shipowner who turned to wine-making and then went broke building his resort. I don't know who owns it. They say he died a pauper though few multi-millionaires actually die paupers. Even when they lose everything there is usually something left over for a rainy day, except for my grandfather, but that's a long story. The hills around the resort are full of grape vines with signs that have warnings not to spray in the area because they are organic.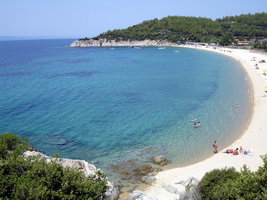 We left Sithonia and headed back to Thessaloniki, stopping at a small furniture store to buy an imitation zero-gravity chair and some real fruit from one of the stands along the highway. While we were buying the chair a car full of nuns from one of the convents pulled up and the shop owner dropped the foreign customers she was working with like a handful of hot potatoes and ran to assist the nuns. Whether it was because she was a religious woman or hope to furnish the entire convent with outdoor tables and deck chairs I don't know. We took the upper road back through the mountains rather than the coast road and it had no traffic on it at all. We saw maybe a dozen other cars. When we got to the outskirts of Thessaloniki we took the road to Kalimaria so we could find a fan and buy the Cosmote Internet on the Go, which does not work in Xidera which is why I have been able to bring you totally up to date. Its almost time to go to the village of Vatousa for ouzo and to share my sardelles pastes with the old men and Yorgo the retired narcotics detective who wants to get me drunk so he can figure out what my evil game is. Somebody who gets an entire summer off must be some kind of drug dealer or something, right? Anyway I have to admit that Sithonia is a pretty nice place to visit. You have to have a car otherwise going there is pointless. But if you are the type who likes sandy beaches, pine shaded or bare, crowded or empty, with sea urchins or without, then its worth a trip, especially if you are also going to Thessaloniki. If you have a camper then this is the place to go. You can stay at the pay campsites or find a nice secluded beach and make it home until somebody tells you to leave.