Skala Eressos vs Xidira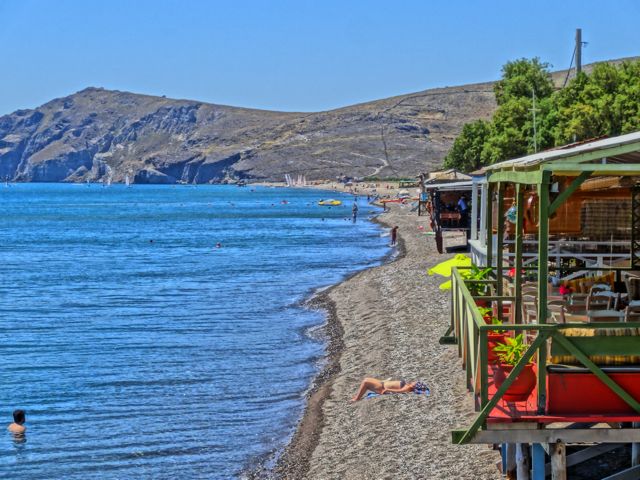 Yesterday Andrea and Pam went into Kaloni to shop. They came back with a car full of toys. A table for the garden. A Miele vacuum-cleaner, pots and pans and a shiny new garbage pail that you step on the foot pedal to open. They stopped at the Medusa Fish Taverna and Manolis gave them a fresh new batch of sardeles pastes for me. In case you don't know what sardeles pastes are (most people who use my sites know by now) they are the small sardines caught mostly in July which are salted right away and then eaten that night like sushi, with ouzo. If you go to www.mattbarrett.net/spearfishing there is a whole section called "In Search of Sardelles Pastes" about my journey around the island looking for the best fresh sardines. I also write about it a lot on www.lesvos.com and in Greecefoods.com. It was pretty hot in Kaloni as it usually is in the summer. While they were sweating it out and running around looking for essentials I took Amarandi and our friend Nancy to Skala Eressos to have lunch and swim though Amarandi and I both knew the real reason we were going.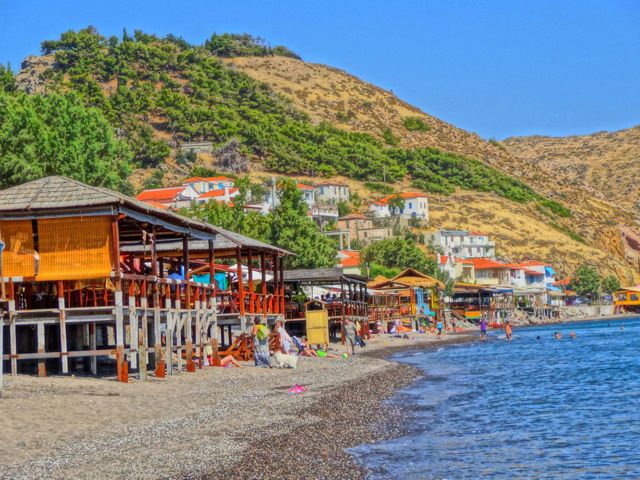 The beach at Skala Eressos is a long stretch of sand that goes for a couple miles. At one end is the luxury Aeolian Village Hotel that caters to package tourists groups from England and Scandinavia who want everything included in their holiday including meals. At the other end of the beach is a small fishing harbor. In between is a long stretch of beach and the village which goes right down to the sea. There is a row of tavernas and cafes on a sort of concrete boardwalk closed to cars and each place has a wooden deck that sits above the sand and sea. At least two of these places, the Hotel Sappho and the Aqua Cafe restaurant have free highspeed wireless. So Amarandi and I both had our laptops. Me to get my e-mail and try to upload new pages and changes to my website. Amarandi to go to myspace and facebook to see what was new in her world.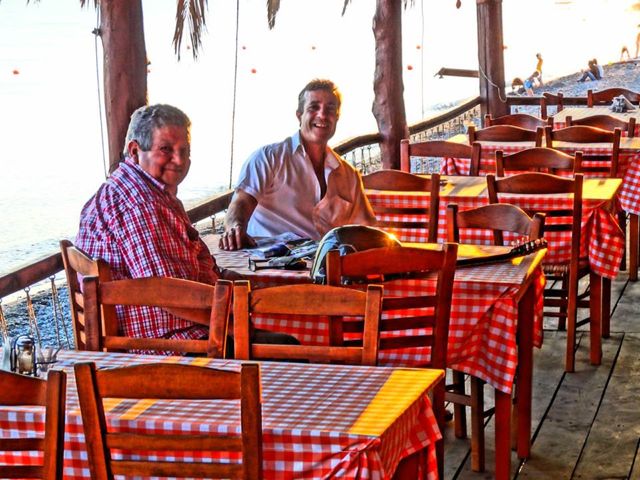 Skala Eressos was quiet compared to Sunday when it was packed with Athenians and Thessalonikians on holiday around the island as well as locals from the villages and towns. Most of the people we saw yesterday were tourists and a lot of regulars because it's the kind of place that you come to once and you are hooked. All the seafood restaurants are of high quality with fresh fish and lots of other standard restaurant fare that tourists want like mousaka, spaghetti, grilled meats and oven cooked vegetables. We usually go to Adonis, run by our friend Nikos which is right next to Aqua and I can listen to Greek music and do my work. Aqua plays a variation of classical, opera and new age. It is run by the women who used to have the Hotel-Restaurant-Cafe Sappho the Eressian which was the unofficial center for lesbian activities in Eressos, in this case the word meaning sexual preference and not where you are from. They lost their lease on the building and moved to a new spot. They don't have the kitchen facilities they had at the hotel but like the old place it is a great place to eat when you tire of Greek food regardless of your nationality or sexual preference. So after three hours of internet fun we had a nice lunch of bruchetta, spaghetti carbonara, sausage pizza and Amarandi got a giant baked potato stuffed with chili con carne and sourcream (or maybe yogurt). It was a ton of food and good too. We brought half the pizza home for Amarandi's yaya (grandmother) though it is so spicy it will probably make her sick. She will eat in anyway and complain later. After lunch we waited the obligatory hour and then swim for an hour or so before driving back to Xidera which is like going back another century.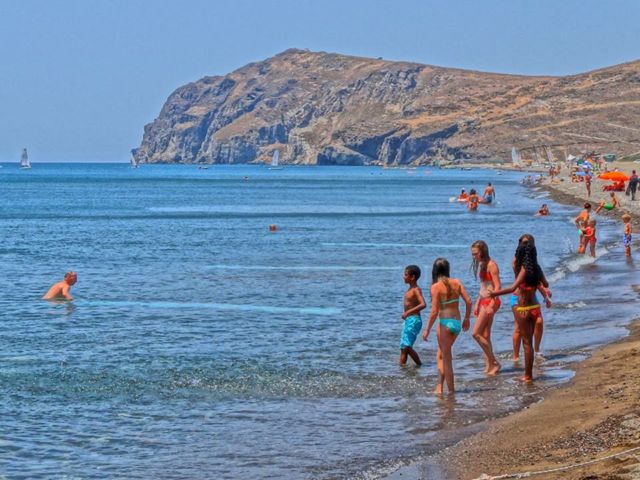 Skala Eressos has that feeling of paradise-at-the-end-of-the-world. Its about an hour and a half drive from Mytilini through some of the most barren wasteland you can imagine. In the end you arrive in a lush green valley of farms and trees and hills with the main town of Eressos in the hills at the top of the valley and Skala Eressos on the beach at the bottom of the valley. Mecca for lesbians (sexual) for the last 20 years, it is home to some ex-Rajneeshians and other spiritually minded women and signs abound for massage, yoga classes and various therapies. But it is also a family destination as well as honeymooners and even a smattering of singles. The bars advertise parties on special nights (Monday is Karaoke Night at Aqua). Its really one of the best places to go for the summer, not just on Lesvos but in Greece. Its like Mykonos was when it was just hippies. Free camping is illegal has it is in most places in Greece but that has not kept a colony of tents from sprouting up in the woods by the small river that is home to thousands of turtles that come to the shore as soon as they see people approaching, in the hopes of getting bread. In September they hold the International Women's Festival and hundreds of gay women come from around the world to celebrate feminism or whatever it is they do at these things.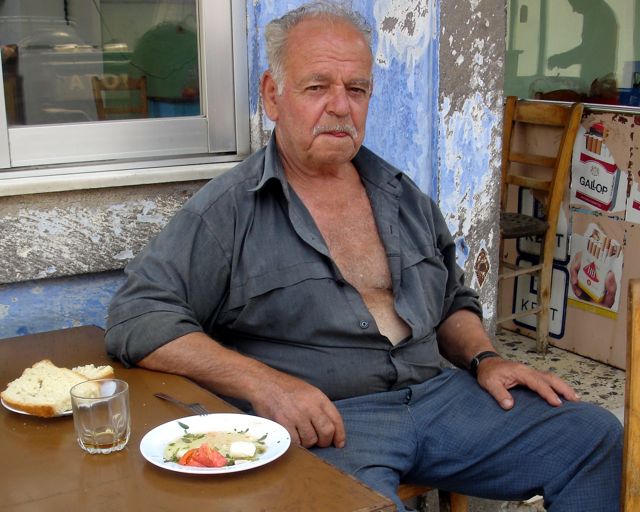 On the opposite side of the spectrum is our village of Xidera. A traditional agricultural village that is largely self-sufficient, you barely see the women who only come out around sunset and sit on the pavement outside the gates of their homes which are all behind high walls. The men, like our cousin Panayotis in the photo, tend sheep, farm and mostly hang out in the cafeneons of which there are nine, for a community of about 300 people. One of these 300 is the father of my friend Yiannis Lambrou. Yannis runs the Methymnaos winery in Xidera, the first wine from the island since the Byzantine Empire when Lesvos was known for having the best. His father, Dimitris, introduced a strain of grape that was resistant to the night that had wiped out the island's vines centuries ago, and built the state of the art winery in the village, importing machinery and wooden barrels from France. Methymnaos is currently my favorite wine. The white is light and tasty and you can drink it like water. The red is dark and perfect for when the weather gets cool. But currently Yannis father is known more for his court case against the Greek Lesbian organization over the use of the word 'Lesbian' which he feels should refer only to those who are from the island of Lesvos. Why should the women of the island have to explain that they are not gay when they say "I am a Lesbian"? A valid point. Of course they could call themselves Lesvians but that only works in English where b is not v as in Greek. Whatever, its good press for the island which before this many people had never heard of.
I bought my tickets for Pireaus from Wendy at Sappho Travel in Skala Eressos. I have friends coming from the UK and USA and we are meeting on Sifnos on the 18th. The Nissos Chios leaves Mytilini at 10:30pm and arrives in Pireaus at 6:45am. The first boat to Sifnos leaves at 7am and there are three or four boats between 7 and 7:30 and no more until 4pm when there are three more. Why can't they spread them out during the day? Why not have a 9am boat and maybe a noon boat so you don't have to kill yourself to catch one of the four ferries that leave before 7:30am? This is the pattern of Greek business. You don't try to find your niche. You attack your competitor. Then nobody makes any money. If my neighbor opens a souvlaki stand then I will open one right next door. If he adds squid-burgers then so will I. Its aggressive behavior applied to business. But they have not fought a war in sixty years and we Americans with all our ethics are fighting several at once, and have been continuously since WWII.