Village Life in Lesvos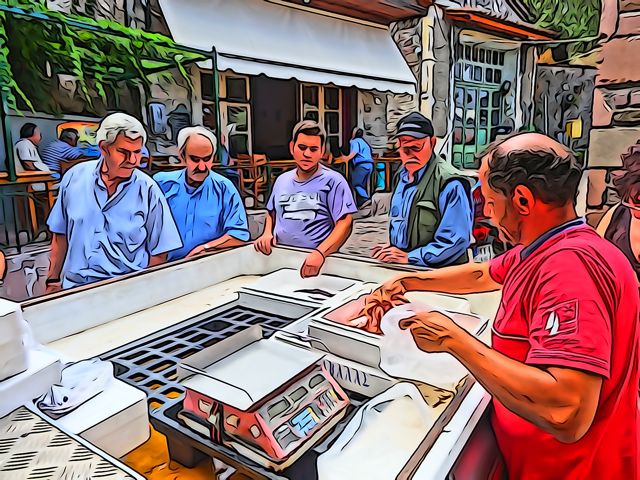 Xidera really has no shops to speak of. There is the small shop of Old Stefanos which sells cigarettes, some cans of stuff and a few essentials. There is the shop that sells saddles and equipment for horses, donkeys and mules which is never open, and supposedly there is another shop, a pandepoleon (everything store) in the upper village that sells, well.... everything that you would need in a self sufficient village that is not grown here. The real shops are the trucks that come through town every morning, loudspeakers blaring with distorted music and announcing to the village whatever it is they have to sell. Yesterday there was a truck that sold all types of plastic and glass things for the house. Fly-swatters, cups, place-mats, plates, glasses, all crammed into the back of a pick-up truck. They park in the village or on one of the streets and the women come out of their courtyards to buy but usually only to look. Yesterday a gypsy came with some new clothes, dresses and nightgowns for women, each in a plastic bag which when removed was taken by the wind and blown down the street. The fish men come every day, several a day, always with sardines, gavros (anchovies), kolios (mackeral) and whatever else they happened to catch. The cafe owners never buy fish for their mezedes. People buy fish for the home meals. They gather around the truck and examine the fish asking questions about it, where it came from, when it was caught. The cats usually hang around the fish truck. Yesterday I saw one sitting patiently for half an hour while the villagers bought their fish, or discussed the merits of each fish. When the fishmonger was through he tossed the cat a sardine and drove away. Some trucks come with fruits and vegetables but everyone in Xidera has a garden and grows their own. Twice, once in Tryphons Taverna in Vatousa and yesterday in the square in Xidera, I have received giant cucumbers as gifts. There are five in all, each weighing about a pound or more. Ten pounds of cucumbers and no oil, salt, pepper, vinegar or anything to eat them with. We end up giving them to someone else who already has a garden and cucumbers of their own, like bringing coals to Newscastle.
The mezedes served in the cafeneon is all home grown from the gardens. The meat comes from their sheep or goats. The food is given away with every glass or bottle of ouzo ordered. That's why the cafeneons don't buy fish. That would make no sense to buy food to give away when you can grow it. They serve the same thing in the summer. A small salad of tomatoes, cucumbers, onions and if you go to Nikokiris cafe by the big platanos tree in the square you get spicy peppers, too hot for all but a few of the villagers but he puts them on my salad because I brought him the seeds about 10 years ago. They were Anaheim chiles, not even supposed to be spicy but something about the richness of the volcanic soil here turns anything into a super vegetable. He asked me for more tomato seeds, heirloom, because the standard packaged seeds are genetically engineered and you can't save the seeds from the tomatoes to plant the next year because they are sterile, he tells me. That's a scary thought. They also serve koukia which are giant fava beans, dried and then boiled. They don't let the children eat them because they are poisonous if you are young. I don't know if this is fact or fiction but beans do have traces of arsenic I have heard somewhere. They also serve home made feta cheese and another soft cheese called katiki which looks like cottage cheese and tastes like sour feta.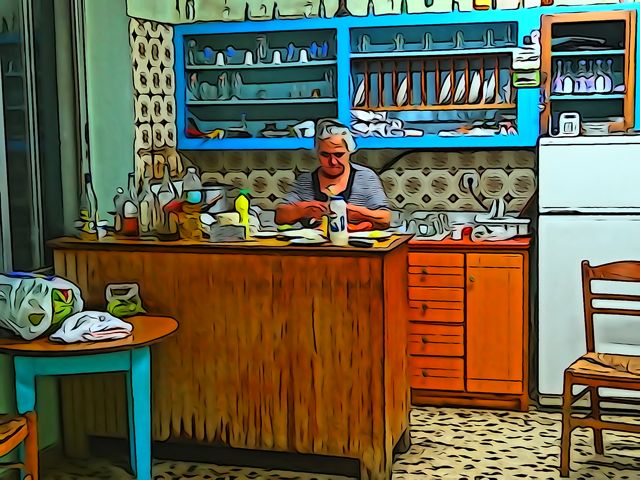 Aglaia is married to the old butcher-Panayotis and her son is Stavros, the new butcher and current mayor, called the President of the village, so she also makes meatballs from ground lamb, and the famous sikotia which is the stuff people leave behind when they have Stavros slaughter their animals. Its a stew made from livers, kidneys, spleens and whatever other organs are laying around after the carnage is over. It goes well with ouzo. Everyone here drinks Kefi or Veto. I bought a bottle of Samara, their new distilled variety in a bright red bottle. "What is that stuff you are drinking?" asked Spiro Cooper, the Albanian stone mason who has lived in Vatousa for the last 15 years. I had this thing for distilled ouzo, called apostagmeno, which is supposed to be more pure, but really Kefi and Veto taste better. In other parts of the island they favor other brands of ouzo. Most major villages have or used to have their own variety from their own local ouzo factory.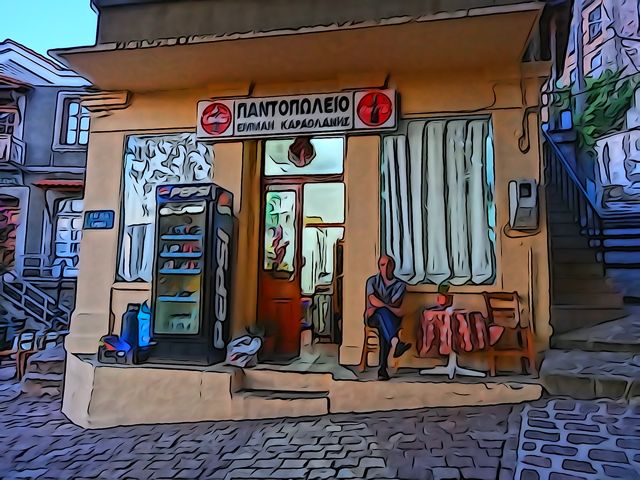 Vatousa is right down the street, well actually it's a 10 minute drive down the mountain and up another mountain. Its supposedly a more sophisticated village, based on its past. There are mansions, an old boarding school for the islands elite, now the village primary school, some crumbling old factories and warehouses, and a couple historic churches. Manolis, the owner of the village 'supermarket' is building a factory to make carbonated orange and lemon soda. There was a smelly cheese factory across the street, dumping tons of cheese waste into the riverbed that is otherwise dry in the summer. But this moved to a new modern building between Vatousa and Skalohori where they hopefully won't dump cheese waste. There is a cheese factory in Xidera too and you have to hold your nose when you drive by. Yesterday when we were driving to Skala Eressos there were some men taking photos off the bridge by the nearly deserted village of Zithra (where they say all the islands prostitutes came from at one time). Its where the runoff from Xidera comes and there are pools of black smelly water. Maybe they were from the government. I hope so. But usually when a company gets fined for polluting they just pay a bribe to the guy issuing the fine and the matter is settled.
About ten years ago I was here with my friend Mike Constantinou and Lena from Eressos Travel got us an audience with the Mayor of Mytilini. I call it an audience because that is exactly what it was and the mayor is more like a governor. I wanted to complain about the Vatousa cheese factory waste killing all the giant platanos trees in the riverbed, creating a stench along the road for miles and polluting the farms of Campo Antissa. We walked in, shook hands and sat down. I started to speak and the mayor held up his hand to silence me. "No. I know why you have come", he said and then gave a 45 minute lecture on the importance of his position under the new Kapodostrias style of government, the future of the island and the importance of tourism, and then stood up, thanked us for coming and sent us out the door. Mike looked at me and asked "Do you believe what just happened?" How do we know he knew what we were there for? We never even told him. Of course nothing happened. The cheese factory continued stinking up the place until they moved. It still smells but at least the trees are coming back to life.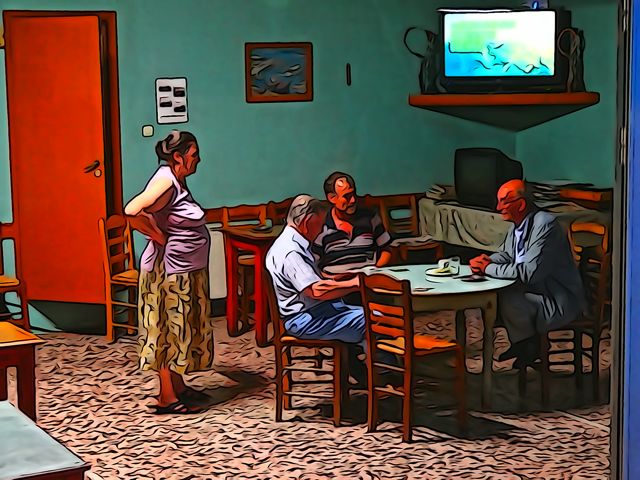 The marriage between tourism and industry is an uneasy one. Villages like Vatousa don't get tourists so they need factories and light industry. Islands like Mykonos have one industry which is tourism. But islands like Lesvos, Chios, Crete, Rhodes, Corfu have a population where not everybody lives off the fruits of tourism. It makes for a much more real experience for the traveler too. Mykonos is as Greek as Las Vegas is American. But on these larger islands you can't allow the tourism to destroy the local industry and agriculture and you can't allow the industry to destroy the tourism. You have to have a balance and to maintain such a balance you need responsible leaders and a population that is aware of the problems and willing to work for a solution. Hopefully Lesvos is moving in that direction. They seem to be.