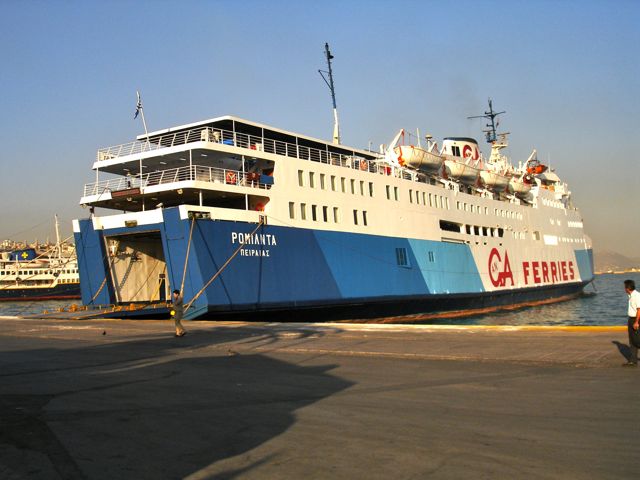 It was pretty sad. We had come so close. One of the port policeman offered to take me on his motorbike to the ticket office so I could leave the car and buy a ticket for the Romilda, leaving at 3pm. I thanked him but we decided to go to Athens and we could pick up the tickets on the way. We drove back a couple entrances to gate 7 at Kariaskakis Square where there are the ticket offices. No tickets left on the Speedrunner. The Highspeed only had VIP class which were 95 euros. With the car it would have cost us $500 one way to Sifnos! The Romilda, a stinking rustbucket, one of the oldest ships in Greece would take 8 hours. The same as our trip from Lesvos, to cover a third of the distance.
I sent a text message to my friend Tony. "How bad is the Romilda?"
His answer: "In Sifnos they call it the Voyage of the Damned".
We drove to Athens and parked at the lot on Filenninon Street. I called George at Fantasy Travel and told him we would be in Athens tonight and the Attalos was full. He booked us a room at the Electra Palace right around the corner. So while Andrea and Amarandi went shopping I went to Fantasy and Nick gave me a desk so I could answer my e-mail. And that's where I am right now.
The girls just walked in. Time to go eat.
Anyway we are in Athens at least for Friday night, staying at a suite at the beautiful Electra Palace Hotel courtesy of George at Fantasy Travel. It also happens to be right above one of my favorite restaurants, the Paradosiako Cafeneon on Voulis street where we just had lunch. Andrea went off to the street with all the shops that sell doorknobs. Amarandi went out and brought home a bag full of Chinese food. I am trying to decide what to do about Sifnos. My instinct is to just go back to Kea and sleep for a week.