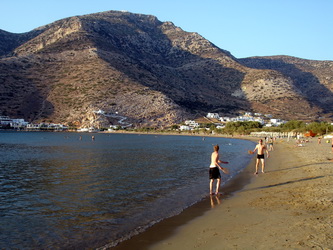 Just another typical visit to Sifnos after an absence of two years. I came because my friend Steve Vagnina was meeting these two guys, Derek and Trevor who we had befriended in Plaka almost 40 years ago when we were American high school students and they were English musicians traveling around Greece in a VW Van. Dorian was supposed to be here too but I had to practically bribe him to come, buying his ticket on the highspeed and giving him 100 euros advance for an article that he will hopefully write for me, maybe about someone's nightmare in the Greek bureaucracy. Luckily for Dorian we had moved from the hotel we had gotten from Aegean Thesaurus because it was on the far side of Kamares, to the Hotel Stavros right in the port, mainly because Andrea did not want to walk back and forth for a mile every time she needed something from the room. I had called him Sunday morning and told him I had a luxury room for him and that was enough to get him out of Athens for the first time in two summers.
We were sitting at Margarita's eating a grilled octopus and drinking ouzo when Dorian arrived off the Speedrunner on his motorcycle and joined our table like a black cloud. "That was the worst boat trip I have ever taken. It was so boring. What am I doing here? I am losing money. I am spending money. For what?"
"To see some of your oldest and best friends, some of whom you have not seen in more than thirty years" I told him.
That seemed to calm him for awhile but every time there was a lull in the conversation he started in again questioning the sanity of his being on Sifnos in his insane way.
We walked across the bay to Argiris Taverna. "I hate this restaurant!" exclaimed Dorian. "Its the worst taverna in Sifnos. I need gas. I have to find a gas station. I don't understand where my hotel is". (Andrea had taken him there three minutes earlier). And just like that Dorian was gone, off on his motorcycle and we were left in awe of the peaceful void his disappearance had created.
Trev was visibly shaken. "Is he always like that?"
"Not always. Just usually and especially when he is taken out of his element which is a tiny apartment in the noisiest and most polluted part of Athens. I think there is too much peace here for Dorian" I said.

Not entirely true though. Sifnos was very busy and un-peaceful for a Sunday not in August and it was a hot and humid night and everyone who was not drinking yet was uncomfortable and irritable. Argiris Taverna was busy and understaffed and we were left at a table too small for us and then forgotten about. We did the taverna countdown which means you pick a period of time, say five minutes, and count down and if you are not approached by a waiter you walk out and go somewhere else. We left and walked back into Kamares and Andrea went to scout all the other tavernas on the dock which were filled with Athenians who were dragging one more night out of their weekend before they had to return to work in Athens either on a late Sunday night boat or an early Monday boat. The plastic sheets were pulled down, protecting the more spoiled Athenians (who find any kind of breeze cold and painful-they hate air-conditioning too except in extreme situations) from the light breeze coming off the sea.
Andrea asked Margaritta why they had the plastic down at the taverna next door.
"They pull it down because when it is windy the Athenians complain about the sand". Margaritta told her.
But there was not a breeze strong enough to stir a grain of sand so why was the plastic down? Maybe they pulled it down in the afternoon and forgot about it. Its typical though. I can just imagine that one day after a meltemi wind had blown sand into the rivithia of some Athenian and he refused to pay, one of the tavernas bought the plastic sheets that most seaside tavernas only use in the winter when the air off the sea is cold but you still want to have the feeling that you are on the sea. Then the next taverna got worried that if he did not have plastic then he would lose business to the taverna that had it so he bought plastic too. Then all the tavernas had plastic and here we are on a hot summer night and they all had their plastic down and people are sweltering in plastic enclosed tavernas on the sea. And we are the only ones who think that this was completely crazy.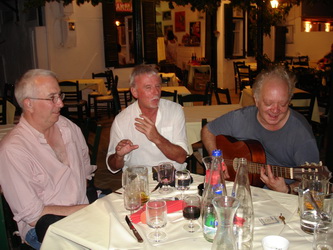 Heat, lack of wind and an over abundance of Athenians. It was not a good night to be in Kamares but luckily we found a table at Claudio's Italian restaurant again and after a little while a nice breeze found us, as did Dorian who was in panic mode because he had driven all the way to Apollonia to find a gas station and it was closed. Again he began with his anguish about being away from his polluted city.
"Can anyone tell me what the hell I am doing here?" he asked.

I started to sing:
"When I get old and loosing my hair, many years from now
will you still be sending me a valentine
birthday greeting bottle of wine..."

Dorian joined in as I knew he would and so did everyone else. A guitar appeared out of nowhere and Dorian was his old musical self.
"Nice move." Steve said to me.
Dorian is not a hopeless case. He just has a high functioning brain that is able to find misery in any pleasant situation. But put him on the stage and he is happy. Not only that, he is quite entertaining and attracts new friends like a magnet. After showing him his room again I went to the Old Captain Bar for a beer with Dave before going to bed. The bar was full of American college girls and Lefteris was trying to keep them happy with upbeat dance music played loud enough to wake everyone in the Hotel Stavros who had not closed their balcony door and turned on the AC. They had heard us singing in the Italian Restaurant and invited us to a beach party the next night. Dorian, Trev, Dave, Steve and Kelly from the bar showed up but the American girls didn't. But Dorian was at his best and they all had a good time.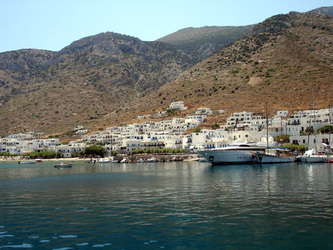 I had to make separate deals with Andrea and Amarandi to get them to come to Sifnos. Amarandi's deal was that she would stay one night and then leave with Lue, her Godmother, who also happened to be on Sifnos, and spend a night in Athens and then go to Kea. Andrea's deal was that we would only stay until Tuesday and then go to Serifos for one night to explore the beaches, and then to Kythnos where neither of us had ever been, and then take the Panagia Hozovotissa to Kea. So after Saturday and Sunday with my pals we only had Monday to drive around Sifnos and check out this pottery shop in Agia Anna, above Artemona that she had heard about. It was run by the Kalogirou family. The father had run a ceramics company in the USA, first in New Jersey and then when they limited his petrol for the kilns during the gas crisis of the seventies, he moved to Kansas because it had a good supply of natural gas and was centrally located. He later retired and moved back home to Sifnos where his family had been potters for generations. His son who had a degree in engineering decided to be a potter instead and his mother, who weaved on a hand loom was also part of the business. We took a tour of their workshop and then drove a little further to the pottery shop of Nikos Lempesi, who still used the traditional methods and local Sifnos clay where we bought a big pot to cook mastela in, the local stew which the island is famous for. (When we got home it was too big for the oven). Then we drove down to Platiyialos for a swim and lunch at Mama-Mia's, our third (and best) Italian meal in three days. There was a new marina in Platiyialos and something looked different on the beach but I could not figure out what.
The next day I had breakfast with Apostolis, the owner of Aegean Thesaurus Travel and we traded complaints about the world of Greek tourism and the ferry companies.
"I have got the worst story of all. Have you been to Platiyialos yet?" he asked me.
"Yes. I saw the new marina but it didn't look so bad to me." I replied.
"I am talking about something that is missing. They have cut down all the trees on the beach!"
"That's crazy even by Greek standards. Why?" I asked.
"Because they wanted to rent umbrellas".
Can I go home now?