Serifos, Greece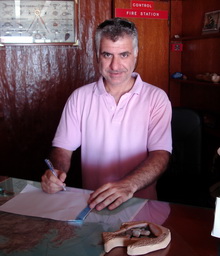 The highspeed ferry from Sifnos to Serifos takes only about twenty minutes, barely enough time to park the car, go upstairs for a cup of coffee and then go back down to the garage to drive off the ship. Our purpose on Serifos is a simple one. We are going to meet Bobbis Bobolis, the unofficial minister of Serifos tourism who loves the island's beaches the way a mother hen loves her chicks. Once we make contact we will get one of his famous hand written maps so we can drive around and photograph all the beaches, something we did not do on our last visit here. Babbis runs the Maistrali Hotel on the long beach in the port (which is called Livadi). Andrea loves this hotel because it looks like the apartments we grew up in in Athens in the late sixties and early seventies. Same marble floors, giant wooden doors, old elevator (how many island hotels have elevators?!), big balconies with a view of either the sea or the Hora (village) of Serifos that climbs the mountain behind us. The bathrooms are large, not the usual island style where they squeeze everything into a five by five foot room that seem like an afterthought or antidote to an age when the toilets were down the hall and shared. The hotel has free wireless internet in the lobby and breakfast room and when we walked in there were several Greek university professor types busy typing away. Bobbis remembered me from two years ago. We had gotten there in the late afternoon and left the next morning which had given us enough time to visit the port and the Hora and have a couple ouzos and dinner. Now we had a full 24 hours to explore and Bobbis printed out one of his little handwritten guides and maps that he gives to his guests which tell you where to go and what to see on Serifos.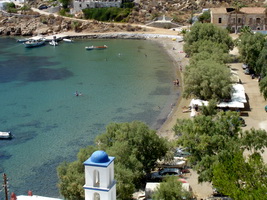 We left the hotel and went back through the center of Livadi and drove south west and ended up on a very small dirt road that Babbis had told us was excellent and had spectacular views. The views were spectacular but the road was not excellent, in fact any less than a 4by4 we would have been in trouble. We realized why when we reached the end where there was a large fish farm in a secluded bay. We were on the wrong road, so we went back and indeed we did find an excellent dirt road with beautiful views of some spectacular beaches like Kalo Ambeli (Bobbis favorite), and Koutalas Bay which had several sandy beaches. By this time we were hungry and Bobbis had suggested we go to Megalo Livadi(photo) where there was an excellent fish taverna on the beach called Cyclops. Megalo Livadi was an old mining town in a long bay. Not the greatest beach by Serifos standards, but nice enough and the abandoned loading docks and tracks for the cars that brought the ore to the ships gave us a wild west feeling.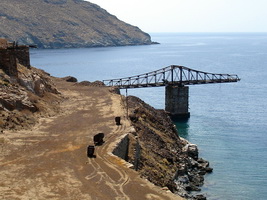 There was a giant neo-classical house which had belonged to the owner of the mines, now falling into ruin and there were a row of giant palm trees, from a time when Megalo Livadi had been a thriving community. The Cyclops was one of two restaurants in the shade of some giant tamarisks (like the ones they cut down in Sifnos so they could rent umbrellas to the tourists.) Both restaurants were packed with young people including one table of about thirty university students who had come on the bus. The food was all home grown vegetables, goat, lamb, beef and chicken from the family farm and fresh fish, served in portions so big I had to finish Andrea's grilled mackerel, after my giant hunk of goat, just to not appear wasteful. Of course as soon as we sat down at a table closest to the sea with a cool breeze blowing, some young people plopped down at the next table and immediately began smoking one cigarette after another so Andrea had to move to avoid the clouds of smoke that seem to always find her. (I don't even notice it). We also had a big plate of boiled fasolia (green beans) and a large horiatiki salata with the local misithra cheese which is like a crumbly soft feta, more like cottage cheese. The Cyclops was the perfect example of the sought after unspoiled family run Greek seaside taverna with the sons all waiting tables, mothers, wives and aunts in the kitchen and the grandfather peeling potatoes.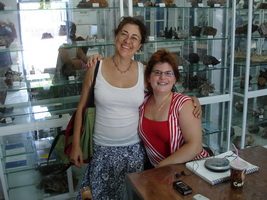 As we were leaving Megalo Livadi Andrea screamed "Stop the car!". I thought I had run over a lizard or a small child but Andrea had noticed a tiny mineral museum and forced me to come inside. Actually this would be a good place to point out that if it were not for Andrea insisting that I stop at museums, Byzantine churches and ancient sites that to me seem like little more than scattered pieces of marble, my guides would be about eating, drinking and driving, with little of academic interest. And as is usually the case when I reluctantly stop, the museum was very interesting, full of samples of minerals, old photos, mining equipment, free mineral posters and the sweetest young girl who was as happy to see us as if she had been alone on a desert island for six months and we were her rescuers. She spoke the most charming English in such a simple way that it was a pleasure to listen to her and she seemed to enjoy practicing it on us. We left the museum with free samples, some kind of rock we bought for fifty cents, and a giant poster of all the minerals found on Serifos. As we left Megalo Livadi and drove towards the center of the island to get to the beaches on the north we noticed many more abandoned mines and equipment.
Serifos is a rocky and barren island except for the large valleys that lead to the sea which are green with kalamia (reeds) and small farms. We crossed the island in about twenty minutes and came to the small agricultural village of Panagia and then drove down to the long beach of Sikamia where at a small taverna in the kalamia we found a pig turning on a spit with a look in its eyes that seemed to say "What the hell happened?" There is nothing that makes me more hungry than the site of a roast suckling pig, and nothing that makes Andrea more sick, so since we had just finished a giant meal there was no point in hanging around. I wanted to photograph as many of the beaches as I could and save the best for last and swim there. We stopped at the Taxiarichis Monastery between the villages of Galani and Kentarhos and above Platis Yialos beach we were stopped in the road by a herd of white turkeys which refused to let us pass until after they had shown us all their dance moves and even then I hadto blast them with the car horn to show them that I meant business.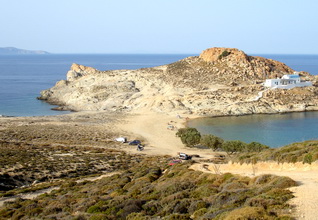 It was now about 7pm and we stopped on the road above Psili Ammos which is said to be the best of all the beaches on Serifos. It may have been for those who seek fine white sand. There were a couple tavernas on the beach and a large number of cars so I decided we would come back the next day to swim there and headed for Agios Sostis(photo), a narrow stretch of sand with sea on both sides that leads to a penisula with a small white church. There were just a handful of people on it, mainly because of the helacious twin roads that forced people with normal cars and motorbikes to park above and walk. We joined a couple other jeep type vehicles and made the steep trip down the mountain easily. When you drive a Suzuki Grande Vitara, getting to these remote beaches on rocky dirt roads that have been washed away by the winter rains is more fun than the beaches themselves. But Ag Sostis was one of those perfect beaches that travelers to Greece seek. Today, the last week of July there were one or two couples and some young people, again university student age, sitting under a tree talking and singing. In September this and many of the other beaches are probably empty. In fact they are probably empty all but the last couple weeks of July and the month of August, like our favorite beaches on the back side of Kea.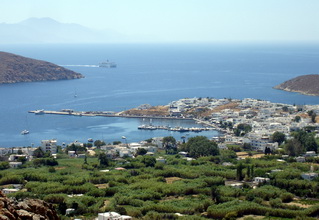 Surprisingly it was just a 5 minute drive back to the Hotel Maistrali where we showered and then walked over to The Yacht Club, a former cafeneon that has been spiffed up and filled with interesting art and antiques. I had an ouzo with a simple meze of cucumbers and capers. Capers seem to be the most important food on the island, growing wild everywhere, served as meze and sold in jars in many of the shops. You can buy the small pickled capers which most people are familiar with, the pickled leaves and caper berries which are like big capers. The Yacht Club is a nice spot to watch the boats and the people walking by. Last time we were in Serifos the port road was unpaved and restaurants like Manolis Taverna further down had to wet it down in the evening to keep dust from covering the customers. Now it is concrete. There is a row of fish tavernas and a pizza restaurant or two that have tables across the street going right down to the water. There are a couple bars mixed in and the sound of rembetika mixes with U2.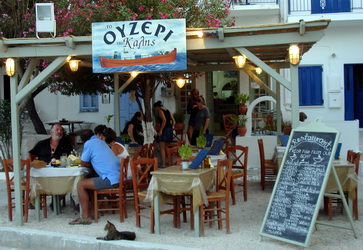 Bobbis had recommended we try the Aloni Traditional Restaurant which was half way up the mountain to Hora and had a spectacular view of the port and the valley. But Apostolis from Aegean Thesaurus had sent me a text message on my phone to go to a Ouzerie-Mezodopoulion called Kali's and that the owner, a woman named Kali, was expecting us. It did not really matter to me because I was tired from driving around all day and still full from lunch. But we decided to just go to Kali so we would not have to get back in the car. There was only one table by the sea and the chairs were tilted up against it which is the symbol for reserved. The tables across the street close to the restaurant itself were too hot without the sea breeze. Kali apologized for not having another table. I told her that it was OK and maybe we would come back later because our friend Apostolis from Sifnos had recommended her. She immediately took us to the table by the sea. "This is reserved for you. Apostolis said to order anything you want and the meal is on him." We looked around and saw steaming plates of macaroni with giant shrimps and lobster and looked at the menu, the most interesting and diverse that we had seen since Thessaloniki. Just our luck. An all-expense paid meal at one of the best ouzerie-restaurants in Greece and neither of us was even hungry. I ordered an ouzo. Maybe that would get my appetite going. They had all my favorites from Lesvos and I ordered a Veto. The couple next door were eating a giant seafood paella. It is torture to be desireless in a place where everything is desirable. I ordered a small plate of marinated gavros (anchovies)and Andrea got a sampler of fried tomato-keftedes (tomato-balls), kolokithia-keftedes (zuchini-balls)pastourma-keftedes (seasoned dried meat like pastrami made into balls and fried), cheese-balls and a plate of giant grilled shrimp. Probably we ate as much as we would have if we had gotten the pasta and the paella. Kali kept coming back to ask us if we were OK and if we wanted anything else. Everything was delicious and it was a tragedy we did not have more of an appetite. Especially since the next time we come it won't be free.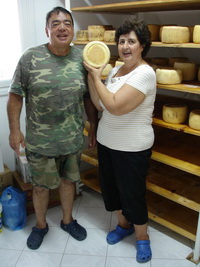 The next day I answered some of my e-mail in my room and then went down for coffee. I went to the desk to pay and Bobbis refused to take my money. "I am very happy to see you here. You do good things for Greece and I am pleased to have you as my guest." Wow. Being me has its benefits. We asked Bobbis about a traditional cheese shop we had seen signs for on the main road and he drew one of his famous maps. We followed it to a large building next to the island's electric plant (DEH) where there was a pen full of goats and a small shop full of capers, sun-dried tomatoes, marmalades and fruit preserves and lots of cheese. Rita Pareskevopoulou and her husband welcomed us and gave us a small tour. "Do you want to milk a goat" her husband asked me. "Or maybe you would rather try my homemade souma?" He poured Andrea and I a glass and then cut up a tomato and gave us a slice of homemade tiropita and a handful of capers. Souma is the tsipouro of Serifos and unlike the souma of Chios which is made with figs, this is made from grapes. "Our souma is not so strong. Just 42% which is the minimum that it can be and not go bad". At least that is what I think he said. In the back room was a wall of shelves with wheels of cheese. This shelf is from March, this is from April, this is from May and this from June. We took a cheese from June which weighed about 3 kilos. We also bought capers, sun-dried tomatoes, a bottle of tsipuro and some orange marmelade and then said goodbye because we had to catch our ferry to Kythnos. Rita gave me a colorful flyer advertising her cooking lessons which she does with Giada Saint Amour Di Chanaz, another chef and Phd. researcher of world food. Rita has written a book on Serifos cooking and had won a national cookery prize. (You can find out about classes by calling 30 694 164 5035).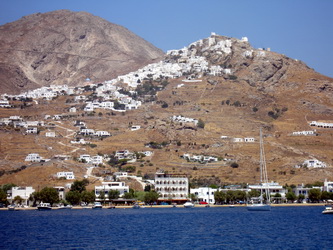 Of course when we got to the harbor the ferry was delayed two hours. We left the car in line and wandered back into town where we happened to meet Markos, my brother David's favorite Greek skipper (see www.greecetravel.com/sailing/alba/index.htm ) who was on a sailing trip with an American family that had been using my site. Markos gave us a tour of his boat and we hung out and talked about what the family had seen and where they were going next, until it was time to go back and catch the ferry which finally arrived. We had planned to meet Steve, Dave and Trevor on the boat. Dave and Trevor were going back to Athens and Steve was going to come to Kythnos with Andrea and I. As the ferry closed its garage door a woman was screaming and crying that her daughter had gone back to town for a tiropita and they had to stop the boat. The officer told her that there was no way they were stopping the boat for someone who went into town for a tiropita as the big metal door closed like a bridge-door over a medieval castle moat. The woman was tearing at her hair and crying as she frantically tried to call her daughter on her cell phone to figure out what to do next. Just another typical crisis in Greece. I went upstairs and found my friends. Dorian was on the boat somewhere sleeping. He had told Steve that Kythnos was the worst island in the world. Not that he had ever been there but with Dorian it is always the negative superlative. An hour later we were in Kythnos, certainly not the worst island in the world. In fact quite the opposite.
For more on Serifos see www.greektravel.com/greekislands/serifos