Kythnos, Greece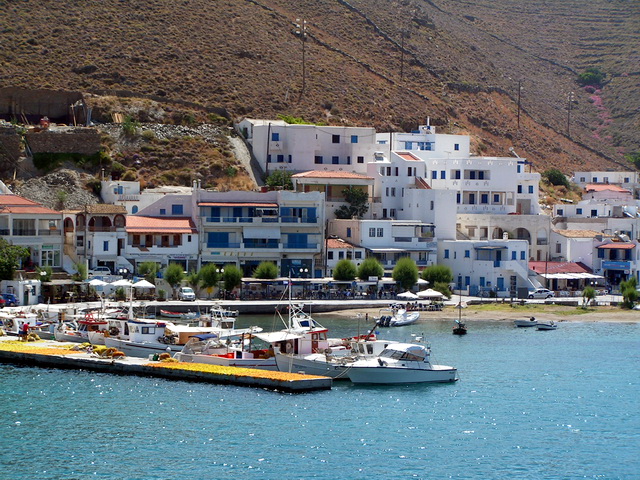 On a twenty day roadtrip that took us 2200 kilometers and on and off 7 ferry boats there where several surprise places that were so nice I vowed to return. The first was Karpenissi, well not Karpenissi exactly but the nearby towns of Megalo Chorio, Micro Chorio and Gavros. The second was Trikala with its trout filled river and gardens that cut right through the center of the mostly agricultural-industrial city. The third was the Ladadika district of Thessaloniki with its hip restaurants, bars and ouzeries. The fourth was Kythnos where we spent the last night of our journey. I had been here dozens of times. Just about every boat to and from Sifnos stopped in Kythnos. OK, so I never actually got off the boat but if you sail into a harbor enough times it can become very familiar, and when you sail around an island you can sort of convince yourself that you have an understanding of it. Small round harbor with a few fish tavernas and some unattractive polikatekion (apartment house style) hotels, surrounded by a brown rock island with nothing on it.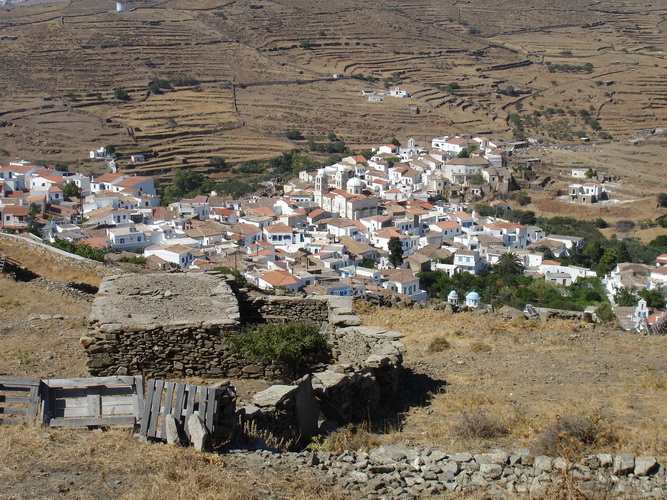 But Andrea had this old photograph hanging in our house in Kea that had always intrigued her. It appeared to be a trip to an island by a group of people from Kea and somehow she had figured out that the island was Kythnos and the town was Driopis and the date of the trip was sometime in the mid-1800s. So as we drove off the ferry and through the port we stopped at the big road sign with the names of all the towns and beaches and took the road to Driopis which turned out to be about 10 minutes away. It was 3pm and there were only a handful of people around. A woman was sitting outside her ceramics shop and there were a couple people sitting in the shade outside the local supermarket in the main square. Andrea talked to the ceramics woman who told her that there had been a pottery factory until the owner died and it closed down. Now she was reintroducing pottery to the island. We wandered around the back streets of the whitewashed village. There was a large cathedral, the same one we had seen in the old photograph, surrounded by cafes and restaurants. Above the village is a monastery and some windmills with a view Driopis and much of the island. I assumed Driopis was the main town (Hora) of the island and at this point we were still map-less. But in the distance I could see an even larger town, the town known as Kythnos which is in such competition with Driopis that they refuse to make a road between the two. You have to go back to the port of Merichas where we had arrived, and out the other side, along the coast, past the beautiful sandy beach of Episkopi, the ancient site of Vriokastro, founded in the 10th Century BC and deserted in the 6th Century AD, and then inland.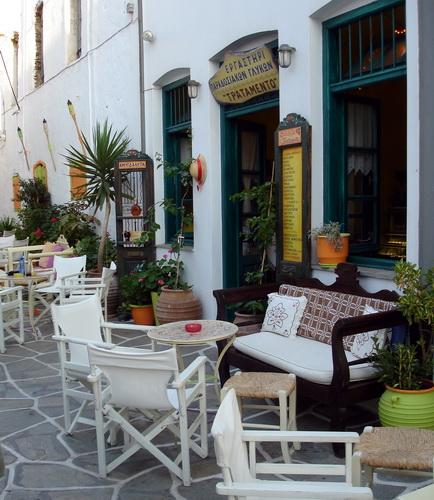 Hora is a beautiful cycladic town, unique in that it is built on an agricultural plain and is relatively flat. We parked in front of the Filoxenia Studios, an attractive hotel with the only seven rooms in the entire village, and wandered into Kythnos town, following the tiny main street, too narrow for anything but foot traffic, human or donkey, to a world of colorful cafes, tavernas, shops and white houses. I suppose I was expecting something closer to the hora of Serifos, not-yet-ready-for-prime-time with a bar or two and a world of potential but Kythnos was more like Apollonia, in Sifnos, a sort of miniaturised inland Mykonos town, tasteful and attractive and though quiet at four in the afternoon when nearly everyone was either at the beach or sleeping, probably jumping at night. I wanted to stay here but before I committed we had to check out Loutra since that was where both Marcos and BJ, our sailing skippers who stopped here regularly, told us we should stay.
Loutra was just another 5 kilometers drive, past farms and cows and the island's electric company that seemed to be experimenting with banks of solar panels and the windpark, an area on a hill with a number of those giant windmills that are popping up all over Greece. The island of Serifos had been considered a good place to create a windpark, by the Greek government. They estimated that it could supply a city the size of Lavrion with electricity. But the people of Serifos had rejected this plan. They didn't want their views spoiled by giant windmills that looked like they had come off the set of Starwars. Perhaps they believed it would spoil their prospect for tourism in the future. I think it was a miscalculation. These windmills are impressive, even just seeing one on a mountaintop causes me to stop the car and marvel at it. I think a windpark would not deter tourism but the opposite, it would become a tourist attraction. But Serifos' loss may be Kythnos gain and if they want to create a massive windpark and promote alternative energy then I will do my part in promoting windparks as tourist attractions.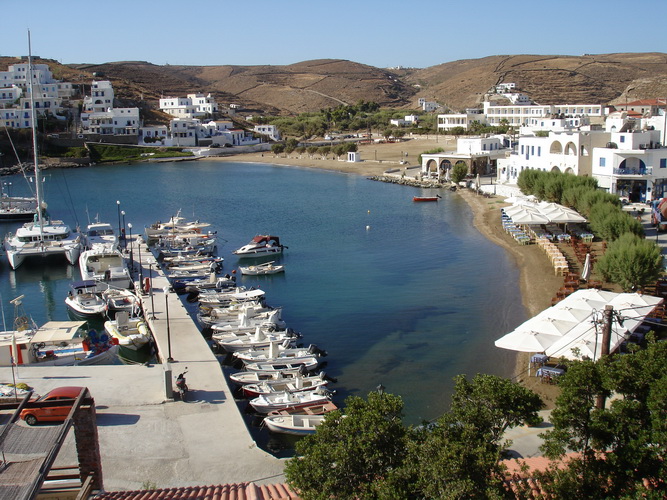 Loutra was one of several coves in a larger bay, a near perfect place for sailboats of which there were many in the marina there. A small beach right at the beginning of the town was full of old people who came to swim and to heal themselves in the hot mineral springs that have been used since antiquity. There are formal baths in a 19th century bathhouse, used by King Otto and Queen Amalias at the dawn of modern Greek history and an old hotel, originally built by the architect Schiller who is famous for a number of historical buildings in Athens as well as the Town Halls of both Serifos and Kea. Unfortunately the old hotel is closed but you can see how sometime in the not too distant past, probably during the junta when just about anything went in terms of architecture, they had added a second floor to this grand old marble hotel, using cement and a style that was more suitable for the building of culverts or cisterns. Inside the baths themselves are several older women who keep the bathrooms clean and supply guests with towels and whatever else you need when you are taking a hot mineral bath in a big 19th century bathtub. Hot spring water also runs through channels to the beach where it empties into the sea. People have taken rocks and piled them up to make a small contained area where the hot spring water can mix with seawater so the temperature is bareable. My hand had been bothering me and I sat in the sea letting the hot water cover my hand for about twenty minutes, at the end of which I had a red hand that still hurt. But if you are suffering from rhuemetisim, arthritis or gynaecological diseases the springs of Loutra may be helpful.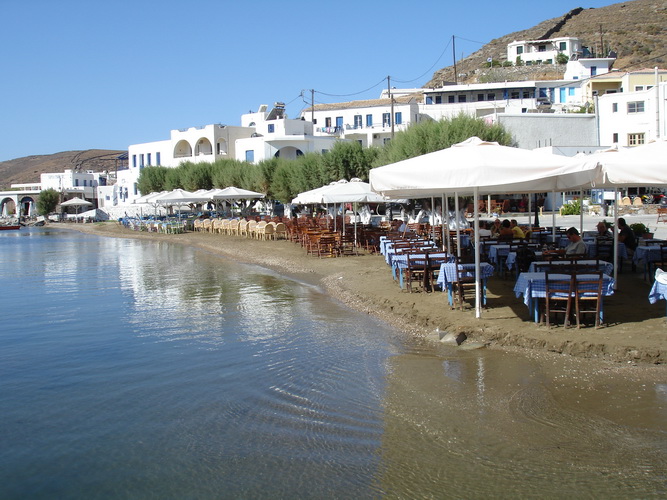 The shore of Loutra has several fish tavernas and a cafe or two with tables that went right down to the sea. On the far side of the village was an old loading dock for the old mines, still intact. Across the bay is a castle, called the Castle of Oria, or Katafefalou whose origins depend on who you ask and is now surrounded by a cluster of summer homes and apartments that look out of place and disorganized in the day but surprisingly attractive at night. In the big square at the entrance of the port which is more like a parking lot but will hopefully one day be a platia, is a state-of-the-art dive shop and scuba center, said to be one of the best in Greece. The center is run by Manthos who on earth is confined to a wheelchair due to a car accident, but in the sea is considered more fish than human. We met a Dutch guy who comes several times a year to dive with Manthos, visiting the underwater caves, sunken ships and exploring the coast of Kythnos which is said to be full of fish unlike some of its neighboring islands. For info you can e-mail Manthos at dive@aquateam.gr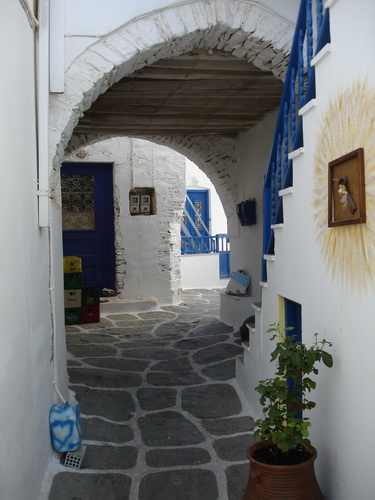 After wandering around Loutra for an hour, swimming, and then having a coffee in one of the cafes we had to decide where to stay that night. We had checked out the Aphrodite Apartments which were brand new, had air-conditioning (it was hot), and cost about 75 euros a night for a double we decided that rather than stay in Loutra with its yachting scene, bars and macaroni with lobster seafood restaurants, we would go back to Hora for its more traditional nightlife. That's when we discovered that there were only 7 rooms in the village, all in the Filoxenia Studios and all full. It was a shame too because the sun was setting and people were in the cafes and on the streets and the town had come alive. We stopped in the Tratsamento Traditional Sweets and Drinks shop where we met Irini Paganeli, the owner who gave us a taste of the local amigdelota, almond cookees, covered in confectionaire sugar and so good we bought two boxes, one as a gift for our friend Krissa in Kea and the other for ourselves, and ate both of them. I wanted to have dinner at the Messaria Restaurant, right next to the Filoxenia, which looked like my kind of place, a traditional homecooking taverna with a large and interesting menu, but it was nowhere near dinner time and we still did not have a place to stay. My impulse was to go to a cafeneon, have an ouzo and a meze and worry about it later but right then a public bus came into the square and made it clear to me that I was parked in the place he usually turns around in. So our decision was made for us and we drove back to Loutra to check out a hotel at a small beach called Agia Irini, just a kilometer from Loutra.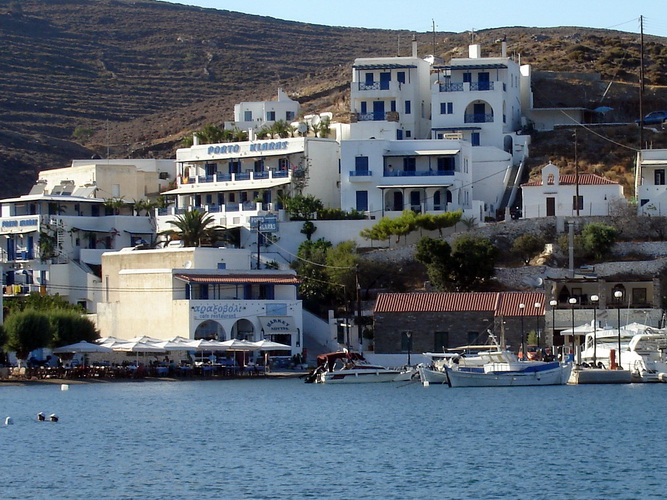 When we got to Agia Irini there was nothing that looked anything like a hotel, just a small restaurant decorated with crazy Kythnos modern folk art on a tiny remote beach in a forgotten cove. The restaurant was called Arias which strangely enough was the name of the hotel that Apostolis had recommended in the last text message he had sent me. I went back to my phone to double check this and found a new message from him that said "I thought you were asking about tavernas and that is what I sent you. For a nice hotel try the Porto Klaras". Funny enough it was the same hotel that Irini Paganeli had recommended so we drove back into Loutra. I asked one of the waiters how to get to the Hotel and told me to take the next left. I did, up a giant hill which left me at the entrance with nowhere to turn around. "Don't worry", Maki, the owner told us. "I will guide you down the hill." He sent his son who spoke perfect English to show us the rooms. They were great. Steve took a simple room and Andrea and I got a suite which was more like a very large room with a big double bed and a kitchen, for 90 euros. Then Maki guided me down the hill which was not as difficult as I had imagined. I parked the car and Steve and I went to the first taverna we saw, the Araxovoli, and ordered a bottle of Barbayannis Ouzo, homemade tarama salata, tomato balls, and a number of other mezedes and main dishes, all delicious. Andrea joined us after about twenty minutes. "Makis said you are a very good driver and invited us to drink raki with him after dinner". That sounded like a good plan and after several hours of talking about the good old days and the merits of Mytilini ouzo, we made our way back up the hill where Makis had set up a little cafe table outside the hotel office under a big palm tree and drank shots of raki. Makis was an interesting guy. He told us he had gone to America in the seventies as a sailor in the Greek Navy to pick up an old US destroyer that Greece had bought. While he was in New York he met some Astoria Greeks who invited him to go to Shea stadium to sell pretzels during a Mets game. What an amazing coincidence because while I had my hand in the hot spring Steve and I met an old Greek man wearing a NY Mets cap like mine. He had retired and moved back to Greece and was a Mets fan. I assumed he worked in or owned a restaurant but when I asked him where he worked he said "Wall Street". Steve asked me how a guy who could barely speak English be a broker on Wall Street. I pointed out that the man didn't tell us what he did on Wall Street and for all we knew he was selling pretzels. Now Makis was telling us he sold pretzels in Shea Stadium. Do you need more proof of a hidden order in the universe?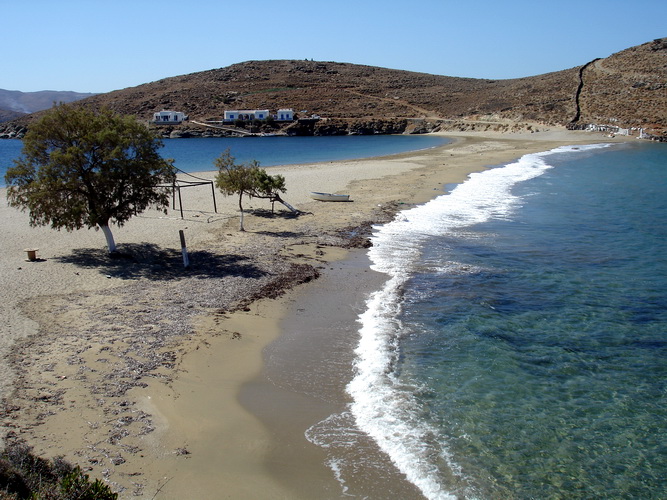 The next morning we woke up but Makis didn't so we had to pay the maid so we could leave and explore the rest of the island. For breakfast we ate the first box of amigdelota while we drove to the beach of Apokrousi just a few kilometers from Hora. Our primary destination though was the beach of Kolona, a narrow stretch of sand similar to Ag Sostis in Serifos though much more spectacular. But where Ag Sostis was a 5 minute drive on a paved road, Kolona was a 20 minute drive on a precarious dirt road that if we were unlucky enough to run into someone coming from the opposite direction, one of us would have to drive backwards for a quarter of a mile on a narrow, winding, rocky section on the edge of a cliff above the sea. The whole time driving there I was dreading the trip back and the possibility of this happening, and even while we stood on the hill overlooking Kolona, one of the most beautiful beaches I had ever seen in Greece, the trip back was still hovering in the recesses of my mind. Andrea and I took a nice swim while Steve walked along the beach. There was a taverna on each end with a truck parked at one, and a car parked at the other though the car looked like it had been parked there several years ago. When another jeep came over the hill I started worrying that I would be leaving at the time that people would be coming to the beach and how many times would I be forced to back up the deadly quarter mile until I finally made it through. As it turned out we passed one car and in a place where we could get by each other fairly easily. As the car inched by me he laughed and asked me if I was OK. "As long as I am not in the sea with my car I am OK" I told him.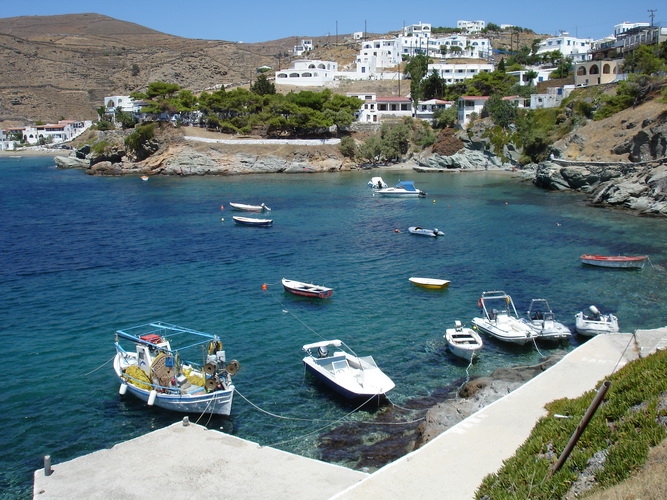 We drove back through the port of Merichas, again through Driopis and on to Panagia Kanala which looked to me like the place that if I could squeeze one more town into this short trip this should be the one. We had about two hours before our ferry came to take us away to Kea. Panagia Kanala is an odd place. The town is dominated by a monastery surrounded by a pine forest, above three beaches, one a long sandy one, the other a small sandy cove and the third we never saw. Around the monastery were rental rooms, I assume that were owned by the church. Andrea met a woman coming out of one and asked her. "The church takes everything from the people and what do they give in return? The false promise of salvation? An afterlife? And what do the priests do but make themselves fat and rich like the parasites that they are!" This was not the answer Andrea expected and the woman went on for twenty minutes without ever actually telling us whether or not the church rented the rooms. But regardless of the nature of the clergy in the Orthodox religion they had created a nice little setting with a tree-shaded square and a small taverna overlooking the sea on the grounds of the Panagia of Kanala which has a miracle working icon of the Virgin Mary, or so they say. Kanala is the location of the major festivities on the 15th of August, the holy day of the Virgin Mary.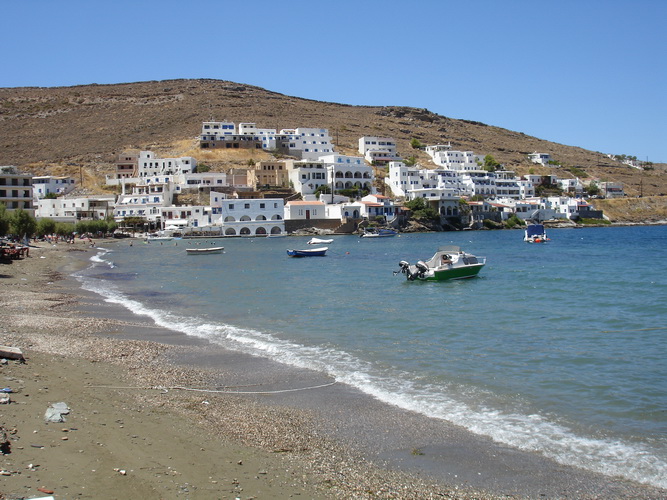 We got back to Merichas in time to buy our ferry tickets and have lunch at the Ostria Taverna, the closest restaurant to the ferry dock and according to my friend Judy who we happened to run in there, the best. We had the Kythnos version of fried cheese-balls which were called sfougatto, appropriate because sfougari means sponge and these are spongy cheeseballs. We also had what may have been the best grilled sardines of the summer. While we were waiting for the boat we once again ran into Markos, on his way back to Lavrion to end this charter and begin another one on Saturday. "You missed an exciting night in Serifos", he told us. "The wind changed and took everyone but us by surprise and boats were breaking loose of their moorings and the port was in Chaos". As he is telling us this we are watching a sailboat unsuccessfully trying to land. "Bareboaters. They think they know how to sail until they come to Greece."
Why would a company rent a sailboat to someone who does not really know how to sail?" I asked.
Well it is not so dangerous as not knowing how to drive and going on the highway and by the time the trip is over they figure it out. And anyway, the boats are insured. If they destroy them the owners will buy another one, even better." Then Markos got up to yell encouragement to the new sailors trying to dock and then actually guide them in, yelling instructions to the 'skipper'. He returned to our table. "They are from Thessaloniki and have never sailed before."
Well you have to give them credit. They got this far.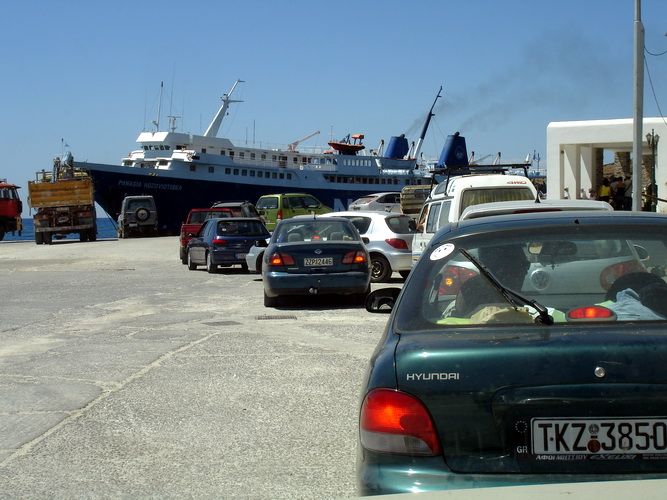 Eventually the Panagia Hozovitissa on its never ending trip around the Cyclades arrived and we boarded. I found a seat by the air-conditioner and caught up on my e-mail and before I knew it we were in Kea. Home sweet home. Tonight we will have dinner at Rolando's. Our twenty day journey through Greece is over, (thank God). Sometimes I wish I just came here for a couple weeks like a normal person and went to a couple popular islands like Mykonos and Santorini, stayed in the best hotels, ate in the best restaurants and danced all night in the discos and then went home to America to an ordinary life. I mean 90% of the people who use my site are only going to visit Mykonos, Santorini and maybe Rhodes, Crete or Sifnos. How many people are going to go to Karpenissi? Or Kythnos? Or Serifos? One percent? A dozen or two people a year at the most. And yet I have this compulsion to see these places, to find new beaches, towns, islands, restaurants and write about them and in a week or so I will get bored with Kea and want to go somewhere else new and start all over again. "For a travel writer you don't seem to like to travel very much" someone once told me. I guess not. But I sure like writing about it. So unlike real travel writers who see their writing as their payment for a life that allows them to travel, I see my travel as the dues I have to pay which allows me to write. And it ain't all bad. For every unpleasant place I have been there is an enjoyable one. And the thing about an unpleasant place be it a tourist infested resort town or some polluted agricultural-industrial backwater, is that all you need to do is find a nice cafeneon or restaurant, have an ouzo or two or a few glasses of wine, and make friends with the people at the next table or the guy who owns the place (or your wife), and you are in paradise. When you are surrounded by friends, good food and wine, it does not matter where you are, be it heaven or hell.
(By the way you can click on these photos to see them larger.)
See my Kythnos page at www.greektravel.com/greekislands/kythnos
For the Hotel Porto Klaras see http://www.hotelsofgreece.com/cyclades/kythnos/porto-klaras/index.htm