But when you have three months in Greece there is no urgency and that can be a curse as well as a luxury. I went to bed last night in Kea thinking that right now I would be on the road to Karpenissi, in the foothills of Mount Tymfristos near the Sperhios River and beautiful Lake Kremasta. Yet here I am in my living room answering e-mail and updating my blog while Andrea goes through the mountains of old books in the house. So what happened?
Its like this. My mother-in-law is flying to Lesvos on Friday. To do this she has to go from our house in Hora, to the port, stay overnight with her ex-husband and his wife, take the noon ferry to Lavrion, get picked up by George the Famous Taxi Driver or one of his sons, go to the airport hopefully in time for her flight. She seemed a little nervous about it, being 80 years old and all, so I decided to delay our trip a day or another day (actually I planned to go on Monday and its now Thursday) and just drop her off at the airport myself. But hold the applause... because I also found out that the American community of Athens is having a July 4th picnic and voter registration complete with hot-dogs, Frisbee and touch football in the 100 degree heat on the beach at Lagonissi outside of Athens. Since we will be here for a year this would be a great opportunity to meet my fellow ex-pats including the famous Yvette Jarvis (singer, basketball star and special advisor to the mayor of Athens) and Brady Kiesling (remember the guy who resigned his cushy state-department job as a protest against our invasion of Iraq). Surprisingly Andrea thought it was a good idea and liked it even more when I said we would stop at the giant Kotsobolos Electronics Department store at the airport so she can buy a fan and I can buy the new OTE wireless internet modem which will enable me to get online anywhere in Greece. I hope.
So that's tomorrow. As for the last week let me fill you in on what's been happening. The weather has been spectacular. Windy during the day and nice waves at whatever beach faces it. The nights are perfect. Still swimming just about every day for an hour or so. At last I can feel muscle beneath my fat. If only I did not like eating and drinking so much I would look like a God by now. The bad news is that across the narrow straits where I can see Athens in the distance it is hot as hell and it is not even a kafsona(heat wave). They said last year that with the burin of the forests on Mount Parnes, the city had lost its insulation from the summer heat and the cool winds from the north would just be heated by the sun baked rocks below, raising the temperature in Athens by two or three degrees-Celsius. I didn't believe them of course. Maybe I thought they were just trying to alarm us. They also warned of flash floods. It didn't rain much here last winter so they were spared the flash floods as far as I know, but so far its a long hot summer in Athens and it is only the 3rd of July. Today its hazy and the wind has died down so its hotter but still not unpleasant here in Kea. But it must be awful in Athens. I guess if you are coming this summer plan to do your sightseeing early in the morning and maybe limit your Athens time to a day at either end and go to the islands or to the country.
The DSL has been working sporadically. When it stops I have to dial 121 and report the problem and then anywhere from a few minutes til an hour later it works, until the next time it stops. They always speak English on the other end which is great. Just now I let Andrea call so she can see how it feels but she gave up and handed me the phone. The woman asked for a cell phone number so the technicians could contact me.
"They can contact me on this number that I am talking to you on which is the same as the DSL".
"Yes but we need a cell number so they can contact you."
"Why? They have never called me back before".
"They have never called you back before? How can this be?" she asked in a voice so innocent I wanted to hug her.
"Because this is Greece". I said, and she did not argue.
I sure hope the mobile laptop thing works better than my DSL.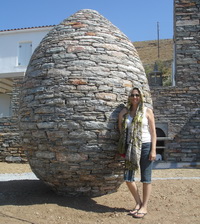 Kostis and Marcie have opened their hotel at the Red Tractor Farms and gave us a tour. Just like the Olympics everything came together at the last instant. The day before the guests arrived they finally had water, electricity, gas and whatever else they were waiting for. The rooms are beautiful, with small kitchens, out-door patios and barbecues, and a massive stone egg that greets you when you follow the trail through the olive groves to the apartments. They will be open year-round since Kea is one of those islands you can go to anytime because it is close to Athens and has a large year-round population. Have a look at www.hotelsofgreece.com/cyclades/kea/red-tractor-farm
They also convinced us to break away from Rolando's for one night to go to a new wine bar in Vourkari above the Vinylio Cafe Bar. Its a one man show and the one man is Sally's son Nicholas who is a trained chef and serves international dishes to go with a wine list a mile long. Its really the only non-Greek restaurant on the island with the exception of some of the pizza places, so its nice to have a change and the food was great. I had a curry pasta with shrimp as did everyone. Actually it is the first time I ever went to a restaurant where we all ordered the same entree, though we had several salads and appetizers and drank gallons of wine with little or no unpleasant after-effects. Nice view of the bay and the boats of which there were very few for this time of year though the wind may have something to do with that.
George the Famous Taxi Driver and his wife Loula came for a visit last Sunday. They left the taxi in Lavrion so I got to play taxi and chauffeur to them and show them the whole island. This is a synopsis of the quick one day Kea tour I gave them. I picked them up at the port and we drove to Otzias Bay for a swim. George and I were bobbing around in the sea for an hour talking about the tourist season, hotels in Kalambaka and other touristic things when I realized that it was the first time I had talked business all year and I was doing it while submerged. If it had been at a public beach I could have written it off my taxes. Next we drove up to Chora and showed them our house. George was amazed by the old books and studied them for half an hour. Then we were going to Thalias to eat and drink ouzo but George wanted to see more of the island so we drove to the other side and all the way around it. My mother-in-law had joined us thinking we were just going for lunch and now found herself a hostage in the back seat feeling more nauseous with every turn and suffering her famous back spasms for the last quarter of the trip on the bumpy dirt roads. For Andrea's part of the trip she showed Loula the family church of Agios Konstantinos, only her key did not work so she and Loula had to climb over the gate, probably not something that would happen on a real tour if I were ever to give one. Finally we got to Thalia's Ouzeri in Vourkari and ate fried baby squid, bakaliaro (cod) with skordalia (garlic sauce), grilled octopus, fried whole shrimp, sardelles pandremenos (it means 'married sardines' and it is because they are stuffed and look pregnant), Thalia's famous salad which is a mixture of tomatoes, onions, eggplant and sadziki, and her delicious grilled eggplant which is like a melitzana salata put back in the grilled whole eggplant shell. And of course we drank ouzo. When we went for coffee and to wait for their 7pm ferry George found a bench in the tiny park and took a little snooze. After they left for Athens I realized I was exhausted. Being a tour guide is hard work. I drove Andrea and her mom back to the village and I continued on to the beach at Pisses and dived in. Its amazing that no matter how tired I am as soon as I am in the sea I am rejuvenated. I had enough energy for another night of eating, drinking and talking at Rolandos.
Now I see why everyone loves George. He wanted to know everything about the island so he could come back with his clients fully informed. He is really a dedicated guy. Way more than me and he is a taxi driver and I am a travel writer. If I was more like George my website would be about 30,000 pages and I would be branching into new countries because I would have seen every inch of Greece. But like a history teacher as long as you are one step ahead of the students you can teach a class. As long as I come to Greece every year and visit at least one new place I should be able to stay ahead of most of the people who use my site. And hopefully the people who do know more than me but still use my site do so because they like it.
My new hobby is underwater photography. Its not really a hobby yet. Its just something I do when there are no fish big enough to eat for me to shoot. Here are a few samples. You can click on them to see them full size. I have not mastered the art yet. About one photo out of 50 looks good.