Kea Panigiri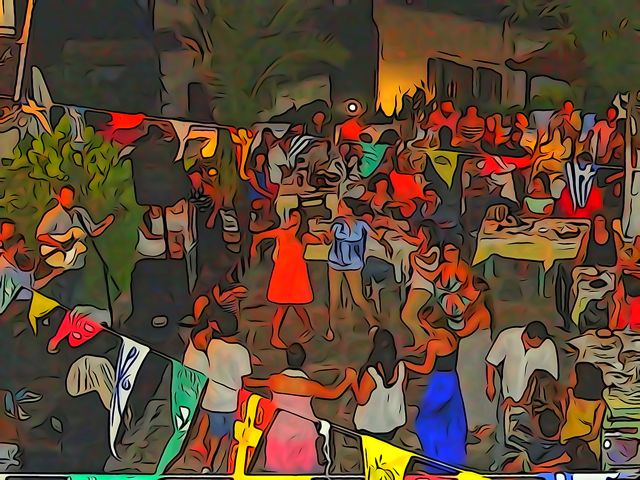 Finally the wind stopped and as anyone who has spent August in the Greek islands knows that means two things. The sea will be calmer and the air will be hotter. Its pretty odd that the first 2 weeks of August would be Meltemi but I suppose it has to happen sooner or later. For me it does not matter. There is a stomach virus going around and though I won'tget onto the specific symptoms of the disease, leave it to say I can't stray far from the house and my drinking and eating has been drastically curtailed, probably not a bad thing since the Albanian worker who fixed our roof told me I need to go on a diet. Its one thing when your wife says it but when the Albanian worker says it its time for a reality check.
Unfortunately my illness and diet coincided with an invitation to lunch with famed chef and cookbook writer Aglaia Kremezi and her husband Kostas who have a beautiful house in this hidden valley in the same neighborhood as Kosta-Gavras and always serve the most interesting and delicious Greek meals to their friends and guests, many who are here for her Culinary Tours called Keartisinal which she puts on every couple weeks. So even though I was not feeling my best and it took tremendous courage to even leave my house I drove my family down the mountain and we were fed an amazing meal of stuffed tomatoes and peppers, grilled lavraki (sea bass) wrapped in fig leaves, grilled corn, fried eggplant with skordalia second only to my own (I have a secret ingredient), and many glasses of wine. By the end of the four hour lunch I was feeling so great that Andrea and I went for a swim at Pisses (I feel so self-conscious when I write the name of the beach. It is actually pronounced Pee-ces and is very clean.) I thought I was cured but that was 4 days ago and I am still suffering. But being confined to the house has been good news for my website because I was able to create my Kythnos page (www.greektravel.com/greekislands/kythnos), put together a real estate page for Lesvos (www.lesvos.com/realestate) and read the excellent Tides of War by Stephen Pressfield, the story of Alcibiades and the Peloponesian War.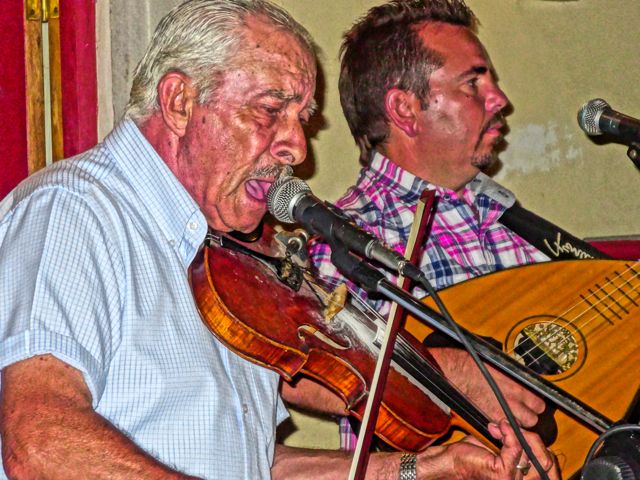 Meanwhile in Ioulia, Kea there is grumbling about the August 15th Panigiri. The feast day of the Virgin Mary has always been a big event in Ioulida (Hora). The platia is filled with tables and chairs and hundreds of people listen and dance to master violinist Andonakis Zoulos and his band, (usually consisting of one other guy on guitar trying to keep up with him), as he plays through the night sometimes until long after the sun has come up. Both Yannis and Rolando's restaurants serve food, with Yannis usually roasting a couple pigs, a goat, a lamb and his excellent kontosouvli. It is total chaos really because a restaurant that normally has twenty tables can't suddenly have fifty tables, and hire a couple of the neighborhood kids to help and expect things to run smoothly. But as long as there is plenty of wine people's patience lasts and by 3am it is usually just the hard core who remain, who drop 20, 50 and 100 euro bills in to Andonakis hat (or box actually) for the right to get up and dance.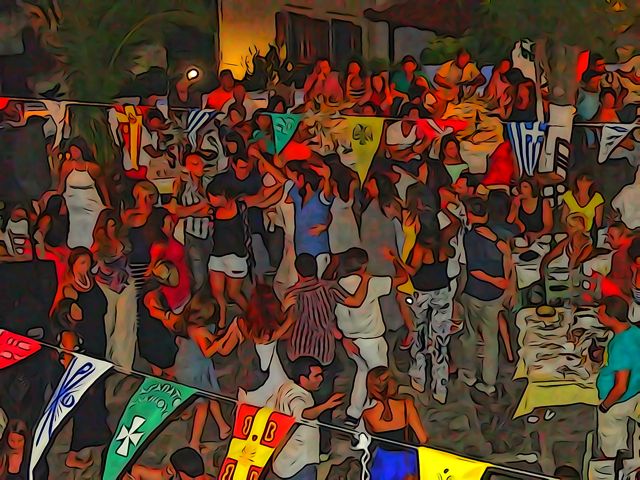 Three summers ago at the Panigiri there was a sort of scandal when some foreigners got up and were dancing with the villagers. By foreigners I don't mean you or me, I mean people who were not from the village. They were asked to leave the dance floor because in Kea it is the people who pay for the song and their family and friends who are permitted to dance. (Not just Kea. In many places. Even in my grandmother's village which I wrote about at Illegal Dancers at the Panigiri). So after the Panigiri this was the topic of conversation, whether it was right to make the foreigners leave the dance floor or should the village hospitality be extended so that even if George Grekas pays for his family to dance, others may join, since after all, in dance the more the merrier. Some people believed the tradition of paying to dance should over-ride the hospitality issue and some believed the opposite. But it was not just a hospitality issue. It was political as well. George Grekas was the son of the owner of the Grocery store-butcher shop, a smart, handsome, enterprising and energetic young guy who was becoming one of the leaders of the village and as in any village power and success breeds jealousy. So some people resented the fact or at least the appearance that the Grekas family, who were among the most active at the panagiri, were taking it over. Not allowing the foreigners to dance was part of it.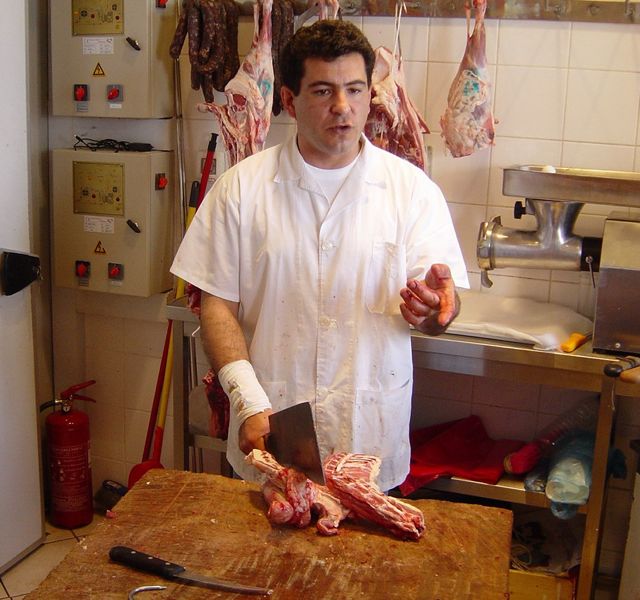 Then in October George Grekas was killed in a car accident on the road from Hora to Livadi. His car sailed off the cliff and it was not just a calamity for the family, the whole village was in mourning. (In a way it still has not recovered.) That next summer Zoulos said he could not play at the Panigiri because George was his friend and it would not be right. (Instead he would play at the big taverna at Kato Meria). Yannis hired a band from Athens to come instead. Yannis was George's friend as well but why should the whole village stay in mourning? The show must go on. So he brought this band in that played typical Athenian bouzouki-party music, the kind of group that would be hired to play the annual dance for the people of Chania who lived in Athens, held in the ballroom of some fancy hotel. It was not the same thing as Zoulos, playing his music from the island all night with everyone singing along and marveling at this seventy year old guy who just gets better and better as the night progresses. By 1am the platia was almost empty and the Athenian band was just going through the motions. We were at a big table with Tassos Anastassiou and family and friends and we were all commenting on how weird it was to be at a Panigiri without Zoulos. It was like he had died with Giorgos. Is this what we had to look foreward to in the future? Instead of Zoulos an endless parade of Athinian bands till they found one they liked? But we figured next year Zoulos would be back.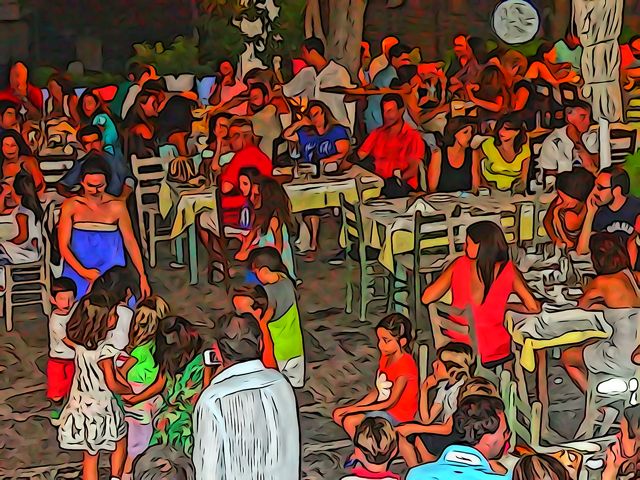 Well this is next year and Zoulos did not come back. Maybe he had an exceptionally good night at Kato Meria the previous year but even up to the afternoon of the 15th nobody knew what was going to happen, whether he was playing or there would be some band from Athens or maybe some other guys from the island. There are two other Panigiri's the same night, the one in Kato Meria and another at the Monastery of Kastriani so the island's supply of musicians would be tested. We reserved a table at Rolando's with a view of the town hall where the band usually sets up. At 9pm I came down to the platia and it was obvious there was not going to be any music. The platia was full of tables and chairs but there was no stage, no PA system, just a Japanese photographer who had come film the event. He too had come to the realization that there was going to be nothing to film except people eating and drinking in restaurants. I told him to go to Kato Meria and Kastriani, and then to go to the nightclub in Sklavanikola where Ta Pedia Pezi would be singing and playing all night long. My family joined me at Rolando's and we had the most uneventful August 15th in all our years in Greece. Later Andrea went over to Yannis Taverna where Tassos and some of the more culturally minded people were having a heated discussion about the lack of music. "Its a catastrophe. For centuries they have celebrated the Holy Day of the Panagia in this square with music and dancing. The all night dancing is a part of Kea's reputation and to just stop it?" Yannis complained that it was the fault of the Demos (town government) and that they should provide the music. Why should he pay for the band if nobody else was going to contribute?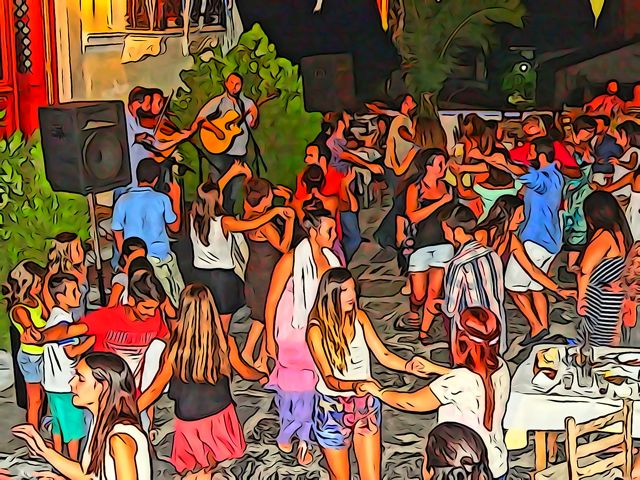 So instead of music it was a night of complaints. The funny thing is that many of the villagers used to complain about the music. Ioulida is built like an amphitheatre with the platia being about where the stage would be at Epidavros or Herod Atticus. When I went to Epidavros with my 9th Grade history teacher, the reknown Nikos Stavrolakis, he sent us all to the top row while he stayed on the stage and dropped a 20 lepta piece (the coin with the hole for those who go back that far), to illustrate to us the perfect acoustics of the place. We all heard it. Now imagine a screaming searing violin played by a possessed musician through a big public address system all night long. For some people it could not have been any louder if Zoulos had been playing in their living room. These are the people who complained about the 15th of August and dread it like no other day. But they are also the kind of people who left Athens a couple days before the 2004 Olympics because they thought it would just be a big hassle instead of life enhancing event, so who cares about them? The question on everyone's mind is whether this is the end of music in the Hora during the Panigiri, or just a blip on the radar screen of Kea History?
Tune in this time next year and I will let you know.
(In answer to this question all these photos came from the August 15 Panigiri of 2014)