Life in Psychiko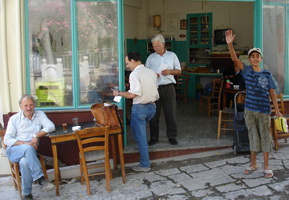 Psychiko kind of sucks. It reminds me of Xidera, Lesvos but in a sort of bad way. Wait a second! How can Psychiko, the high class first suburb, home to ambassadors, ministers, embassies and millionaires remind me of Xidera, the most remote agricultural village on the island of Lesvos, which has not even had a policeman in 400 years? Well, let me tell you about Xidera where my wife's family come from. Its got a population of about 300 people, all living in houses with gardens and courtyards behind big walls. The only time you see the women is at sunset when they sit outside their homes and talk to each other while they sew or clean lentils. The men leave the houses early in the morning to go to the fields to feed their sheep, water their gardens or do other stuff that subsistance farmers do. Then they go to one of the 8 cafeneons in or around the shaded square and drink coffee, or ouzo before going home for lunch and then a sleep. They reappear at the cafeneons in the evening to again drink coffee or ouzo and talk with their pals, mostly old men, before going home to their walled houses to go to bed, or in some cases watch TV.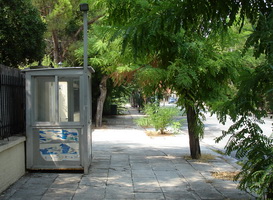 Psychiko also has houses hidden behind high walls but these have electronic gates with surveillance cameras and some have armed guards. Some of these houses have been turned into embassies and others are the official residences of ambassadors, attaches and who knows who else. Most of the houses have plaques outside which tell you for example that this is the Embassy of Iraq (under construction actually), or China (huge), or Russia (even bigger and kind of scary looking) and you can understand why they would have guards. But some houses are unmarked and they have guards too, sometimes with machine guns and you have to wonder what it would be like to have a next door neighbor who is protected with automatic weapons and a small army, and you don't even know who the hell he is. On one street the Tunisian, Palestinian, Kuwaiti and Israeli embassy are all in a peaceful row, separated by private homes. The Tunisians have a guard booth but no guard, just these killer rottwiellers that look like they could rip through the fence and tear you to shreds before you could even cry for help. The Kuwaiti guards have a booth that sits in the sun, with no AC so they are always on the shady side of the street and their area is the only one free of garbage since they have nothing better to do than clean it up. You don't really see a lot of people walking around. You see them on their way to work in their Mercedes or BMWs sometimes with an armed entourage including Athens cops and SUVs filled with thugs who make no effort to hide the arsenals that each one carries, capable of leveling an entire block of Psychiko should a firefight break out. On Friday Psychiko has their street laiki farmers market but the only people who come are the old folks who have lived in Psychiko forever and the Filipino servants, shopping for their host families. It is my favorite thing about Psychiko.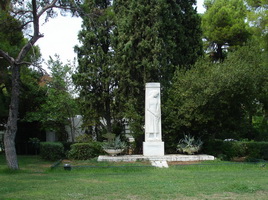 See... it's just like Xidera. The difference is that Xidera has nine cafeneons. Psychiko has none. Xidera has one shop. Its owned by one of my wife's cousins and he sells cigarettes and a couple other essentials. Psychiko has no shops. There are a few kiosks in strategic places where you can buy gum, cigarettes, magazines, bus tickets, soda, cookies, contraceptives and even the International Herald Tribune, but the entire town is residential. There used to be a nice little cafe in the first platia, called the Blue Bell. It was the most popular hang-out in Psychiko because it was the only hangout in Psychiko. But the municipality took it over and now it is just an ugly little building with some notices about lost pets tacked on a bulletin board. Its a shame really. The platia is shaded by gigantic trees and would be the perfect place to spend a few hours of an afternoon, drinking coffee and reading the paper or playing backgammon. Instead you have to cross Kiffissias Avenue to Nea Psychiko with its busy streets and apartment buildings to find a cup of coffee, though finding a quiet place to drink it is not easy and takes some walking. Along the fringes of Psychiko there are businesses. There is a psistaria (grill house) on the road going up to Galatsi. There is also Anna's Taverna on the same street. In Nea Psychiko there are a couple great restaurants in Platia Eleftheria by the Halandri turnoff at Agia Barbara, and my favorite Ouzeri, Xoxlidaki on Adrianeiou street hidden among apartment buildings.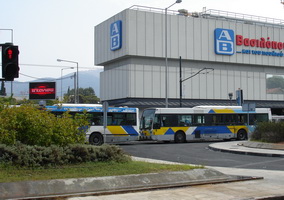 Most people in Psychiko do their grocery shopping at Alpha-Beta supermarket on Kiffissia Ave at Faros. Its actually the very first Alpha-Beta in Greece and the second supermarket in Greece. The first supermarket was Vassilopoulos which was also at Faros. It opened sometime around 1970 and was a big success. So successful, that the brother of Mr Vassilopoulos decided to open a supermarket too. Alpha-Beta. Right next door. For years the only two supermarkets in Greece were right next to each other. They say the brothers stopped talking to each other as they opened supermarkets all over Athens. Eventually the Vassilopoulos chain withered and died and Alpha-Beta was left to try to hold its own against newcomers like Sklavanitis, Lidle and Carrefour. Its a great supermarket. You can almost see the ghosts of the neighborhood butchers, green grocers, fish markets, cheese shops, bakeries and cavas (wine and spirit shops) that were driven out of business by the introduction of the American supermarket concept. Right down the street is a giant Carrefour, the French supermarket chain where you park your car in the massive garage in the basement and take an escalator right into the store. Further on is The Mall, which rivals the best US malls and surpasses it in the number of shops that sell computers and other modern devices. Imagine a mall that had not only a Best Buy, but also a CompUSA, Circuit City and an Officemax.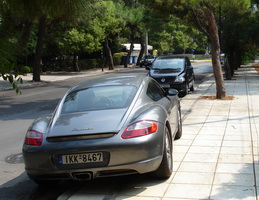 The Psychiko kids take their skateboards and hang out at a couple cafes near Faros. There is also a nice little souvlaki shop and several fancy cafe-bars that serve food. There is one remaining grocery store. My neighbor won't shop there because she says its expensive but in my opinion even if you have to pay a few cents more for a banana you have to support the small shops as a matter of principle. There is a bakery next to the Alpha-Beta, a video rental store, some fancy clothes stores and even a Marks and Spencer. If you wander around the back streets of Nea Psychiko you can find lots of little shops and even several unpretentious old men style cafeneons. But in Psychiko there is nothing. Just houses behind walls and shaded streets that are only walked on when people take their dogs out in the early morning or evening. There are signs that ask people to clean up after their dogs but a walk on a hot summer day will convince you that few people take them seriously. The nice little park called Alsos(forest) Psychiko was as far as I could tell, a giant litter box. Like anywhere in Athens there are cars parked on the sidewalk so taking a walk on the beautiful tree-shaded streets can be difficult and you are often forced to walk on the street where people drive like they have diplomatic immunity, because many of them do and those that don't have so much money that they may as well.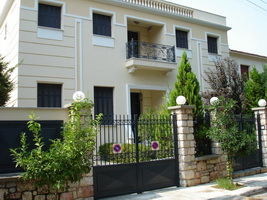 But it is a beautiful area. The houses for the most part are spectacular or charming with a few that are ostentatious thrown in for entertainment. The streets have large trees so you can walk around and be mostly in the shade. I suspect that most people who live here are so married to their cars that they rarely notice the beauty that surrounds them. You can't really enjoy the scent of jasmine if you are passing by at 70 kph with the windows rolled up and the AC on. But for those who take the time to walk around the horticulture is as interesting as the architecture. They do keep the area cleaner than most neighborhoods though there are some blind spots. A bag of garbage sat on our street for a week before someone cleaned it up. The system that is supposed to water the weeds at Faros seems to be automatic. It comes on at night and as far as I can tell does nothing but waters the street. No big deal unless you live in a country that is prone to water shortages. But the main problem with Psychiko is there is no center. There is no community. Just a bunch of people with money and nice houses, locked away behind big walls. Sort of like Xidera except at the end of the day when the farmers and shepherds go to the cafenons to talk politics and life with their friends and neighbors, the people of Psychiko have nowhere to go. They get in the car and drive to some other neighborhood, or stay home and watch TV. Reminds me of America.
Nea Psychiko on the other hand is a happening place. Last night Agia Sophia, the big church in the center of N Psychiko had their panagiri (saints day) and the streets were packed with Greeks, Russians, Chinese, Gypsies and Africans selling loukomades, grilled corn, religious icons, handbags, dolls, toys, clothes, candles, candles, African statues, and just about anything else you can think of whether it had something to do with church or not. Traffic was backed up for miles. Anyone who was cutting though trying to get from Kiffisias Ave to Mesogion Ave got a big surprise. I wandered around the church and the square taking photos and then went off to explore. I found several psistarias(grill houses), a couple ouzeries and even a sushi restaurant. I ended up at a small old guy cafeneon right by the Ag Sophia platia where Andrea met me when she came back from Athens with Amarandi.
I love Nea Psychiko, I told her.
I meant it too.