---
9/24/2008 Athens, Greece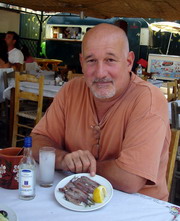 I received this e-mail today and it is worth sharing. I will find a place somewhere approriate on my site but for now I will just put it here and that way I don't have to write anything today. Its kind of important.
Hi Matt,
I'd written to you before going on a cruise. We went in late July and returned in mid August. I loved the vacation, mainly to Greece. It included 2 stops in Turkey, which was surprisingly cool. Before I left I knew I'd love Greece and its people (as I've never met a Greek in the U.S that I didn't at least like, if not love) but I had no idea how much...especially following my accident on Crete. We'd docked at St. Nicholas for a short visit on the morning of 8/7 and I tripped and fell, fracturing my pelvis! Ouch! I was taken to the local (government-run) hospital. As our Athenian tour guide said after we got back to the ship "You do NOT want socialized medicine in the U.S." I SO agree! That hospital was dirty, over-run, under-equipped/staffed and scary.
I was seen on 8/8 at Metropolitan Hosp in Athens, which you probably know is a private facility. The difference was night and day: clean, well-equipped and staffed, etc.
Anyway what I want to tell you is, in case your website doesn't already advise this, I highly suggest that travelers buy the optional travel insurance when booking a trip. Ours was a LIFE saver! Our health carrier would cover treatment or hospital admission but the Athens doctor said I didn't require admission, just complete bed rest for another 10-15 days. Our health carrier wouldn't help us pay for an extended stay at the hotel so I could convalesce. We told the doctor we really needed to try to go home. He said he didn't advise it but if we had to leave he wrote a medical order saying I should go with a medical escort and upgrade from coach to a fully-reclining plane seat (first or business class.) Our health carrier wouldn't cover that cost either. Then we remembered we had travel insurance and called--God bless them! They canceled our coach return flight, booking us on business class (Luftansa--exquisite!) They offered to fly a medical escort to Athens to come back with us in a few days but they also said that because my vitals/prognosis was stable they'd fly us out in 24 hours if my husband wanted to be my medical escort. He's a first responder, fully trained in CPR, etc. and he could have the same class of seat instead of coach. We snapped up that offer and the travel insurance also arranged wheelchairs/helpers ready for me at all the airports as well as ground transport, including a limo ride to our house. Anyway, I can't say enough about how helpful and money-saving it was to have this coverage. It's the best advice I can give an international traveler.

Take care,
Linda
For more on Travel Insurance see http://www.greecetravel.com/insurance/
---
---