ACS Orientation Day and Xoxlidaki Mezedopoulion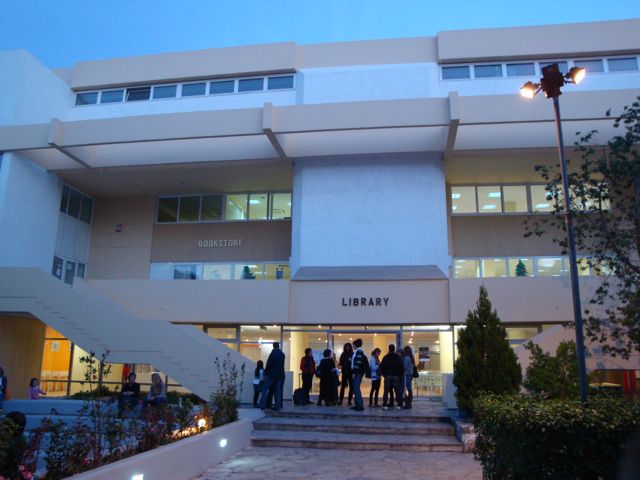 Today was orientation day at the American Community Schools of Athens. We jumped in the car, picked up Andrea's mother at the Alpha Beta Supermarket and drove through heavy traffic to ACS. For me it was a sort of homecoming. My father taught here and I and my brothers and sister, and Andrea and her sister all went here in the late sixties-early seventies. Even Andrea's mom was the school nurse or as she puts it "Director of Health Services". We were going to stop for tiropitas at some bakery on the way but I did not feel like losing my place in the morning traffic jam in Halandri so we arrived hungry. To our surprise there was a big tray of giovetsi, a giant bowl of salad and a tray of galatemboureko on a table in the cafeteria and nobody objected when we each made a plate and attacked it like wild animals. Actually I just had enough to let my stomach know that there was food in its future and not to worry. I think the food was meant for the teachers who were gathered there and being the son of a former teacher did not entitle me to eat their lunch. But Amarandi had no such qualms.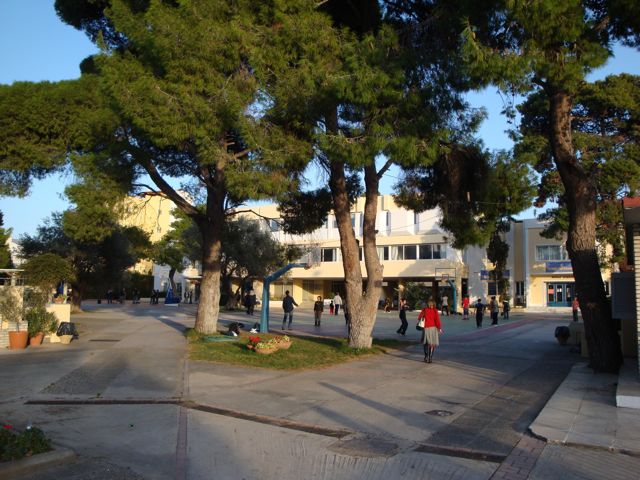 We were ushered into the state-of-the-art auditorium, a smaller version of Athens Megaron Music Hall and were greeted by Dr Stefanos Gialamas, the Head of School who spoke about the responsibility of the school in educating the students to help fix a world that our generation did not do a very good job of taking care of. The issue of the day was cell phones and ipods. The policy at ACS is strict but a good one. If you use them during class they will be taken away from you. There was going to be a meeting later that day to decide whether it would be taken away for the semester or forever. Its a great rule, really. Zero tolerance. Though they implied there would be a short grace period so kids could get used to the rule and not live in terror of being cut off from their musical or social life for an inadvertent infraction, like forgetting to turn it off and losing it because your mom called to tell you that you forgot your lunch. There were some moans and groans from among the few returning students who had shown up to orientation to see the new kids. The school had a dozen or so new teachers from the USA and a new principal who had taught in South Korea and Columbia.
The whole experience really made me miss my Dad. It seemed strange to be there without him. He had put a lot into that school, bringing in some of the best teachers, creating the middle school, the media center and the humanities-based curriculum as well as other things. But what he seems to be most remembered for is helping to put together the retirement package which the teachers still have. There were only two or three people left at the school who were working there when he was there which made me feel really old. The school is full of ghosts for me. There is a photo of George Pimenedes, the principal of the Middle School, the sweetest man who ever lived, smiling in the hallway. He died in 1985, almost a quarter of a century ago. I walked into Jack Marlowe's class which was now economics and met the teacher who has it now. I was really torn between the past and the present but in a strange way not feeling like the me of 1972 was the same person walking through the halls with my daughter.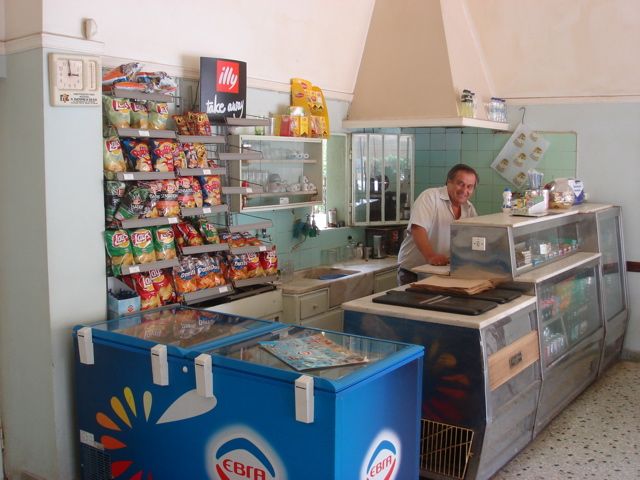 After the orientation we went to what is still known as 'the taverna' right outside the front gate which did not exist in the seventies, nor did the guards. The 'taverna' is actually a cafeneon, in its most pure form, with a small drygoods shop attached. They used to make and still do make sandwiches our of about a half a loaf of bread with ham, cheese, mustard and now I think they have added eggs according to Sideris who was in his twenties when I went to school and is now in his sixties. He and his brother Vangelis ran it with their father who has since passed away. They both seemed to remember me and they remembered my father and all the other teachers I mentioned who used to come here for a beer after school. Mr Davenport, the gym teacher and basketball coach from North Carolina. Mr Marlowe from San Francisco with his full beard and long hair who looked like John Lennon at his most esoteric. Sideris even remembered that Mr Ammerman's nickname among the students was 'Bozo'. How could he know that? He didn't speak English and they don't even have Bozo the Clown in Greece. Sideris sat with us and talked about the good old days. His brother came out later and looked at me in a way that made me suspect he remembered our last encounter. My friend Dino Patapis and I who were going to Pierce College(now Deree) at the time went to ACS just as school was getting out, to see some of our friends who were still going there. Dino was sitting on the curb in front of the taverna and the old man came outside and started yelling at him. Dino was trying to avoid a confrontation but the old man was persistent and pushing Dino who responded by pretending he knew some kind of karate or jujitsu. From out of the taverna the two brothers charged and leaped on Dino (who was a very big guy) because they thought he was threatening their father. I ran to pull them off Dino and suddenly it was a big rumble with students and bus drivers involved. Somehow it was resolved and we left. Seems to me that one of the brothers might have remembered that incident. Its not like fights broke out there every day.
'The Taverna' is still a place where kids go to some cigarettes as I noticed when I arrived to find my daughters friends all smoking. I don't know if Amarandi smokes. She used to. Its hard not to in Greece where everyone smokes. Someone asked me if smokers were tolerated in Greece. I told him non-smokers are tolerated, but just barely. Anyway the term 'taverna' which has been used for this simple cafeneon for the last 40 years gives you an idea of how language is corrupted. A bunch of Americans in Greece called a place a 'taverna' even though it was nothing like a taverna and the name stuck.
Xoxlidaki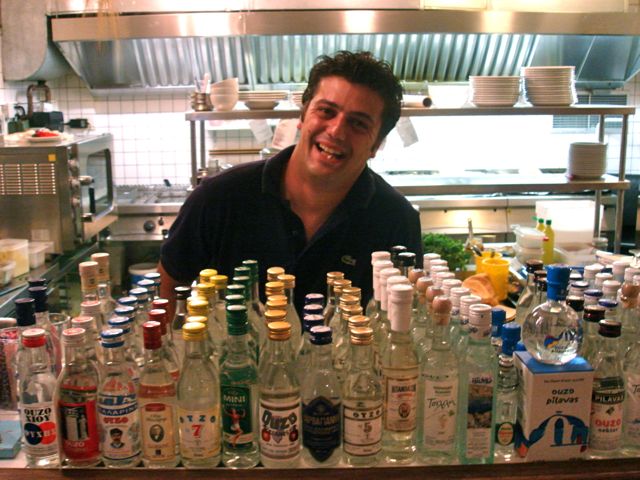 Last night I found a great ouzerie-mezedopoulion right in my neighborhood. Well actually it is across the street in Nea Psychico on Adrianeiou Street at number 31. Its called Xoxlidaki and they have another one in Halandri on Pendelis Avenue. I have been wandering around the neighborhoods looking for cool places to drink coffee, ouzo, eat and yesterday after a long walk it seemed like a good time to check the place out. Andrea was in Kypseli but the 13 and 14 Trolley buses end right up the block so it was the perfect place to meet. Tony was back in Athens from Sifnos so I called him too because he lives just down the street in Ambelokipi. When I sat down there were two other tables and I was immediately greeted by a smiling waiter and a small bottle of cold tsikoudia from Crete and a tiny plate of cucumbers and a tomato, all complimentary. I drank half, saving the other half for Andrea who kept calling and sending text messages to clarify the location. I then ordered a small bottle of Babatzim ouzo and started on that. I was in a great mood. It was a quiet street in a not very attractive neighborhood, but the food looked terrific and I was happy.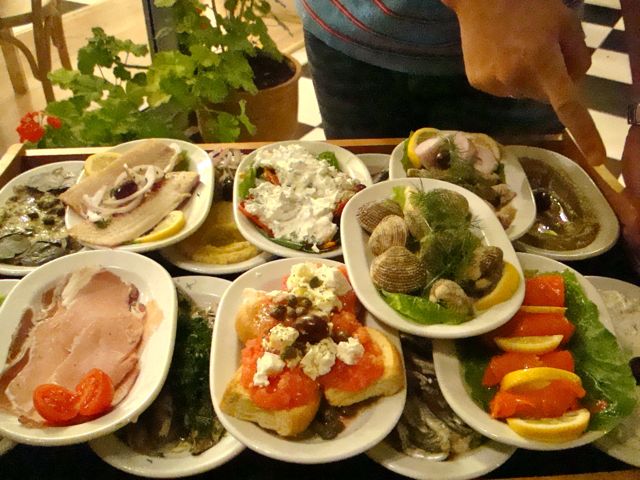 But Andrea was taking forever and every time I was giving her directions it seemed like she was not really listening to what I was saying, just sort of tuning in and out and then asking me a question that made me wonder if it were even possible that she could find this little place just a couple blocks from our house and one block from the bus she had just gotten off. Finally after almost an hour and a half she finds it and blames my directions (which were perfect). Tony had already found me. The waiter returns with a tray of mezedes that you choose from, all delicious. We got the cheese-stuffed Florina peppers, caper salad, a eggplant-tomato-cheese gratin kind of thing, and something else... I forget what. They had lambs tongues, all lined in a row on their plate like babies spooning, that I wanted to try but the others (well Andrea) vetoed. Later we had their fried potatoes, as good as Rolando's in Kea, and grilled sardines which were also excellent. There were about two dozen other things I wanted to try but I will save it for another time with a more adventurous eating partner. They had about thirty varieties of ouzo and a whole booklet describing each one though it is only in Greek for now. The menu is in Greek or English. They gave us complimentary mastica ice-cream for desert and some kind of chocolate souffle cake. The whole experience was good except that Andrea was mad at me and increasingly so the more she drank. It started out as a nice idea. A romantic little place to meet at the end of the day to relax, have a nice meal and talk. But when your date takes an hour and a half to find a restaurant a block away and then blames you, some of the romance washes away with the ouzo drunk in solitude. But if you want to check it out take the #14 trolley from Akadamias or by the entrance to the National Gardens on Vassileos Sofias to the very last stop which is in Nea Psyhico at Ag Sofias Square (its a circle actually). Walk back the way the trolley came on Sikilianou just a couple small streets and make a left on Adrianeiou, which is a kind of big street and it is about a block down on the right. Let me know if you find it easier than Andrea did.