Schinias and Salamina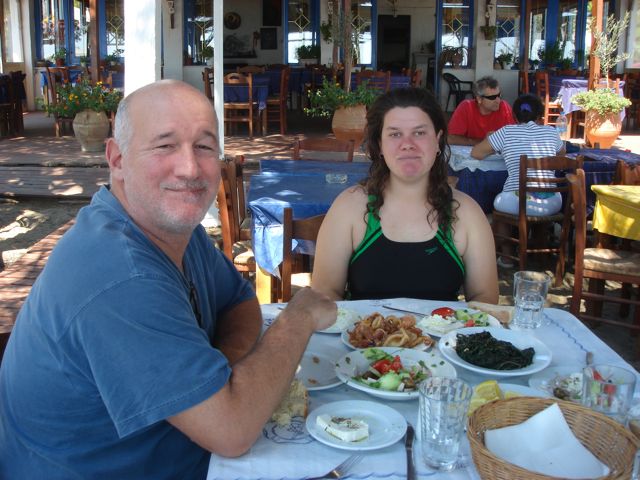 The danger in moving to Greece is that people drop in on you unexpectedly. Years ago when Andrea had the house in Plaka all types of relatives and friends and friends of friends, passing through would drop by looking for a place to stay. Well, that's a little harsh. When people travel they are always looking for a safe harbor. For me a safe harbor is a nice hotel with air-conditioning, wireless internet and an easy walk to the beach, restaurants, bars or whatever is around. But for some people a safe harbor is something that is free, preferably belonging to a relative or at least someone you know. Andrea had her fill of relatives dropping in about twenty years ago with cousins and aunts who would plant themselves in her life and after seeing the sites of Athens and maybe an island or two, would fester on the couch, reading, sleeping and waiting for dinner. Having guests in Athens is labor intensive. You have to either take them everywhere or explain things so thoroughly that it is actually easier to take them there. So when my niece, Nichole, called me from the airport and said "Uncle Matt. I am in Athens" I had two reactions. One was happiness that someone from my family was here to visit us. The second was a dread of having to play host for the next week or so. There was a third reaction. Fear. I had to tell Andrea who had been meticulously organizing Amarandi's life to make her start in school at ACS as seamless as possible. Getting her to bed an hour early every night so she would be able to wake up in time for the bus. Shopping for school supplies and having discussions on the importance of education and that it is now time to bare down and get serious. And now tonight, the eve of Amarandi's first day of school, her cousin Nichole shows up, which in Andrea's orderly world means chaos. So rather than make a big deal of it I told Nichole to take the metro to Panormou and I would pick her up there. Then I said nothing while Andrea went about her after-dinner chores until about 10 minutes from the estimated time of Nichole's arrival and I said
"I am going out for a few minutes".
To which Andrea replied, "Where are you going?"
"To pick up Nichole?"
"WHAT????!!!!!!"
"Bye".
Andrea was a good sport. I could tell it really bugged her but she remained even tempered and made Nichole feel very welcome. I mean she was very welcome, despite the fear Andrea had that her visit would disrupt all the plans for Amarandi's new beginning, sending her hurtling on a downward spiral starting with waking up late and missing the bus and ending up as a life of academic failure, drug addiction, bad marriages and a job in a bar in Mykonos. But she needn't have worried. Amarandi was so involved with her new school friends that she barely saw Nichole. (And she loves ACS!)
So Nichole was our guest which was OK with me. But the first thing we had to do was get her a cell phone so if she got lost in Athens we could find her or she could call us and we could talk her back to Psychiko like a ground crew trying to teach a passenger to fly a plane after the pilot has died of a heart attack. We left her a note that we would be back at 4pm and she should make herself at home and that Amarandi would be home after school. Amarandi as it turns out went with her friends to Starbucks at Agia Paraskevis, and we got so involved talking to Tom Mazarakis while he tried to get the SIM card to work in the old phone we had rented from him in 2004 and never returned, that we did not get home until 7pm,an hour or so before Amarandi. Nichole took it in good humor. "I felt like a pet that was locked in the house while the owners went on vacation".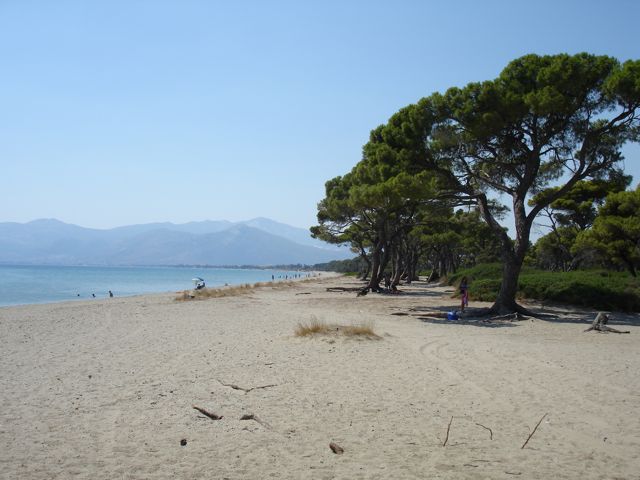 The next day Andrea had to go to school to change Amarandi's bus. The Psychiko bus was leaving the school at 3:30 and dropping her off at 5pm after visiting every street in the town. Nichole and I hung out with one of the brothers at the taverna in front of the school and talked about the good old days and then we drove to Schinias(photo), probably the best beach within striking distance of Athens. Its a long stretch of fine sand next to a pine forest. There are a couple beach bars and tavernas and rental umbrellas but mostly it is just beach and trees and scattered cars and people, at least on a weekday in September. There is no electricity. We went to a really nice fish taverna called Glaros (there is a sign for it on the road if you want to find it) and they ran their whole operation and the little beach bar next door on a gas or diesel generator in a little hut. The sea was clean. The food was excellent, and the restaurant was full of these amazing oil paintings with faces based on Byzantine icons painted by an artist friend of the family that owned the place, though every person I asked, the Albanian guy peeling potatoes, the shirtless father who waited tables and looked like a Mount Athos monk, said they had painted them. It was the beautiful daughter who laughed and told me the truth. Glaros is the perfect place to go if you want a Greek island taverna experience without actually going to a Greek island. In fact in some ways it is better. At least on weekdays. I imagine it is packed on weekends when the weather is nice. We took the road back by way of Kifissia and in an hour we were home. I love Athens!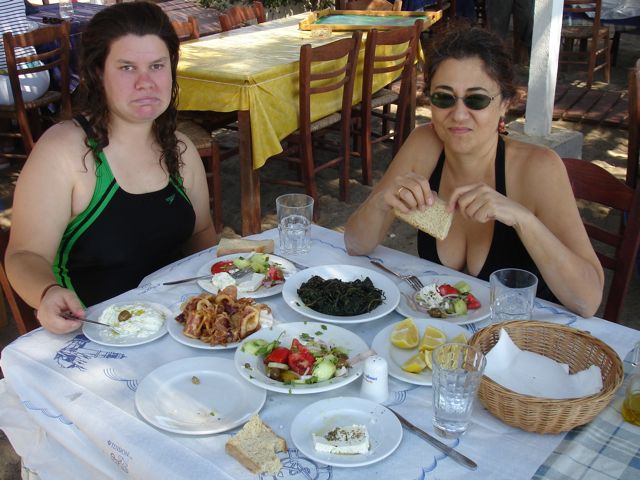 Yesterday I could see Nichole was getting antsy to leave and visit her brother in Tenerife, checking flights on the internet and being dismayed at the cost. We found one with Fantasy Travel for 400 euros on Olympic but I convinced her not to book it but to go to Sifnos where she could camp at Makis and meet some people her age and maybe she would not want to leave. She agreed to this and we drove her to Pireaus and got her a ticket and sat her in the cafe right in front of where the boat would come in and gave her specific instructions so she would not get on the wrong boat or get off at the wrong island, before we got stuck in the traffic of all the ferries coming in from Mykonos and Santorini. Because it was Saturday there was not much traffic in Pireaus so we decided to explore a little and ended up in Perama where the small ferries go back and forth to the island of Salamina (Salamis). We sat at the side of the road for a few minutes trying to decide if we should take the big step of buying a ticket and driving on to the boat and exploring the island. Finally I said "Lets do it" and drove to the ticket booth, bought the 6 euro ticket for us and the car and drove on to the boat. "I am so proud of you", Andrea said. "You made a decision".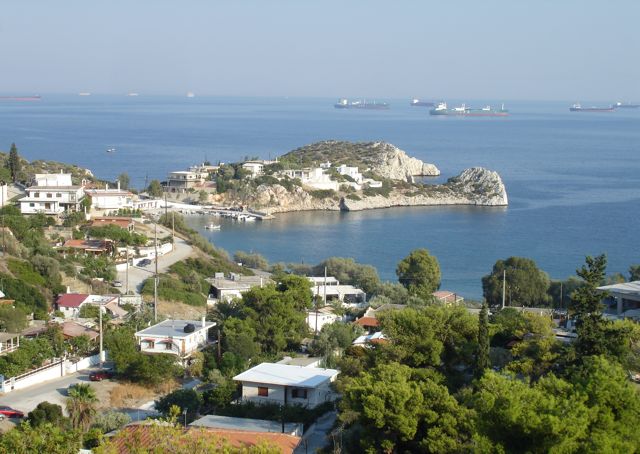 The ferry takes about ten minutes, crossing the waters where three thousand years ago the Athenians defeated the Persian fleet while their king Xerxes watched from the hills in dismay. The port you arrive at is not the town of Salamina but Paloukia. You drive across the island to Salamina but really you would never know you had left Paloukia. Its like one big town. Andrea looked in the Lonely Planet guidebook but they did not even have a chapter on Salamina. She asked me if I knew anyone who had ever been to the island. "Yes. I know 4 people. George the Famous Taxi Driver, you and me twice. Once with him and now with you." Who goes to Salamina? My guess is that the summer houses which dot the coast are owned by people in Pireaus who had the good sense to buy many years ago or inherited from their parents and grandparents. Its kind of third-worldly, stray dogs and lots of people walking on the side of the road. We stopped and asked a guy sitting in the shade for directions to Peristeria which looked like the most interesting place from the map of Greece where the whole island of Salamina covers exactly a quarter of an inch. Not much to go by but the dot representing the town was not filled in. The guy was obviously retarded, we realized when he stuck his entire head into the car and began talking. He had blood coming out of his ear and streaming down his neck and onto his shirt. But he gave really good directions. Very precise, unlike Athenians who will tell you something like "Go right, go left, go left, go right and then ask someone else". We passed a couple seaside settlements with small coves, beaches and fishing boats like you would find on any island or along the coast of Attika.
Peristeria is one of the weirdest places in Greece and I highly recommend going there. There is a small taverna called O Kalamies tou Maniati right on the 'beach', a few fishing boats and a basketball court. You can see all of Aegina across the way and in between is sort of a parking lot for big tankers and freighters, waiting for cargo or maybe to be sold or sent to the scrapyards. But the first thing you notice about Peristeria are these wood and stone sculptures scattered around. They have been incorporated into the fence that surrounds the basketball court and further down the beach there is a diving platform made of the same materials. There are several gates, a small pier and even the parking lot was created by what seems to be an obsessed folk artist. Then you see across the street is a house, though you have to look closely to realize that it is a house. It is covered in stone and wood, held together by cement. It looks more like a cave dwelling or something you would find in the jungle or the movie Swiss Family Robinson. There are gardens, pathways and bridges and a big pond with a waterfall, all covered in this material. There is a sculpted garage with a BMW in it and big aquariums that face the road with these giant fish that look like a cross between a shark and an anteater. There was a young guy watering the plants and I asked him who is the artist who made these things. "I am", he told me and went back to his watering. Andrea thought he was too young to have done them all. It looked like a lifetime of work. Maybe the owner of the house began it and this fellow was continuing the task of clothing everything in stone and branches. There was another Greek family wandering around the grounds but they knew as much as we did. There were public toilets so it was obvious that guests were welcome. Anyway it is a mysterious place but well worth a visit if you are looking for something to do on a sunny afternoon and have a car at your disposal. The taverna looked great as well and the sea seemed pretty clean by Athens-Pireaus standards. (See More Photos of the Strange Salamina House)
We drove back to the ferry through the mountains of Salamina, past flocks of sheep and pistachios, then hitting the coast where there are shipyards and shipwrecks, the kind of stuff that some people find ugly but I find somehow beautiful in a Mad Max kind of way. Just like when we came, we buy a ticket in a booth and drive onto the ferry and in a few minutes it leaves. They are the kind of ferries that have no front or back. The front is whatever direction it happens to be going in so you can drive on and drive off without turning around. There is a line of these in the port because they leave every 10 minutes. Further down the coast is a line of the old style ferries with one entrance and one direction, probably waiting for someone to buy them and take them away. The sun was setting over Salamina and the lights were coming on in Perama, Pireaus and Athens beyond. We drove off the ferry and into the city and made our way back to our house in an hour, showered, split a delicious Blue Mak beer and met our friend Arnaki for dinner at Climateria Taverna in Nea Psychiko.
Oh yeah. Today it is going to be 100 degrees and they are working on the road outside so electricity has been cut off for our street until 5pm.