Obama, Tavernas, Bars and Rashidi Graffiti
Its a rainy Sunday afternoon, a perfect day for checking out my newest discovery, a rembetika club just a block from my house on Fokionos Negri. Its called Karavani and singer-bouzouki player Giannis Lempesis, who has about a dozen albums to his credit, plays there Friday, Saturday nights and a matinee on Sunday afternoon which costs 20 euros for food and drink. But its only 2pm so I will wait another hour and hopefully the rain will let up too. The last few days we have had beautiful sunny mornings and then the clouds move in and we get a steady rain which is great for Greece. This will be one summer we won't have to worry about a lack of water and for those of you planning to come in the spring to see the wildflowers, this should be a good one.
Much has happened since my last writing and some of it I can't really put in a website which may be read by innocent young children, though much of this I don't remember anyway. What I do remember was going to ACS, the American Community School, on inauguration day which for us was inauguration night and watching Obama's inspiring speech, drinking organic wine and listening to a real live American rock and roll cover band in the school gym. It was kind of like a high school dance. Nobody was dancing even though the band was good. Not really my kind of music. I am not a Doobie Brothers kind of guy but they did open with Born to be Wild and individually they could all play. It was the same band that played election night at the Hilton. Next time I would love to see Dorian Kokas up there singing 'American Pie' and 'Johnny B Good', but he sold me his telecaster a couple years ago for $500 and we found the same guitar listed on Ebay for $5000 a couple days ago so I am thinking that since I got such a good deal maybe I should buy him a nice electric-acoustic Ovation.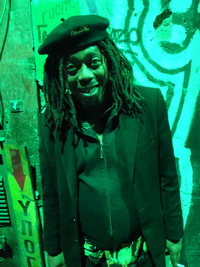 Anyway I am thinking out loud or whatever I am doing and getting off track. The inauguration event was attended by some of the local big shots, the Ambassador for example, who gave a speech (I missed it) and there were dozens of cops surrounding the school. There were close to a thousand people there and I saw a few that I knew from high school in the seventies, all looking like adult versions of the kids I remember. But after a couple hours we decided to go downtown and see how the Irish were celebrating Obama's inauguration at the James Joyce Pub. It was disappointing. There were European football games on the three big screens, loud music and the Athens chapter of the Juventis Football Fan Club taking up most of the space. We had some wings (great), potato wedges (even better) and some Irish Beef Stew (the best) and tried every beer they had on tap before we left, taking as hostage the bar's performer, a gifted piano player and singer by the name of Rashidi Graffiti who came down from his home in Berlin to play at James Joyce for a couple weeks. Rashidi is originally from Philly and has been in Berlin since the early eighties and has that gravelly blues voice that all wimpy white blues guitarists wish they had but can't attain no matter how many packs of camel non-filters they smoke. Rashidi wandered around Psiri with us and kept talking about this place he knew with a piano and finally we agreed to follow him there, to a cafe-restaurant-ouzeri called Poikili Stoa, right behind Agio Philippou Church across from the entrance of the ancient Agora. Rashidi Graffiti sat down at the piano and for the next 2 hours entertained us with one song after another, blues, jazz and whatever came to mind. We were the only people in the place besides Harry the owner, his son Georgo, and a waiter named Vassilis, a self described jazz and blues fanatic with a CD and record collection that would fill several U-haul trailers and cause envy in the mind of the John Cusak character in the movie High Fidelity. Poikili Stoa is a beautiful cafe-ouzeri with one room after another filled with art and antiques and a big patio upstairs with one of the best views of ancient Athens, the Temple of Hephestus, the Acropolis and the ancient Agora, of any cafe. The people who worked there were very knowledgeable about jazz and blues and to them Rashidi Graffiti walking into their bar and sitting down at the piano was like a gift from God for some good deeds of the past. They could not have been happier if Muddy Waters and BB King had walked in and wanted to jam. By 2am we were beat and the party broke up. But if you are in town check out Rashidi at James Joyce and I heard that he is coming to Poikili Stoa every night after his set to play piano for whoever happens to be around.
Andrea forced me to go get my car so we could go to IKEA. I was happy keeping it in Swift Car Rental's warehouse. A car in central Athens is an albatross if there ever was one, especially in Kypseli where we live now. I have about 2 inches clearance on either side when I drive down the narrow streets with cars parked on both sides and almost every car in the neighborhood is dented or smashed in some way. But in the end it was easier to get the car and go to IKEA than it was to refuse and argue for the next two weeks so we went. There are 2 IKEA's. The one you see at the airport when you first arrive and another in this industrial area off Kiffisou Highway near Egalion which you have to just head towards and hope you end up there. Anyway I won't bore you with the shopping details but we bought a couch and three lamps, two which did not work. Then we went to get my daughter who was at the orthodontist getting her braces off. Its a long story but we went to an orthodontist in the USA over Christmas who did not think much of what her Greek orthodontist was trying to do and Amarandi demanded that they be removed. The Greek orthodontist did not take it very well either. I think it really hurt his pride. Anyway we came back to Kypseli and I put my car in a garage here for 170 euros a month and have not seen it in a week.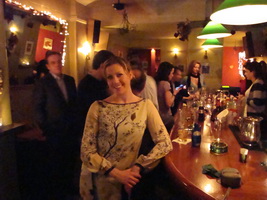 Alexia Amvrazzi, the journalist, invited me to meet her at a bar in Kolonaki on Thursday and then cancelled at the last moment. But I went anyway and I am glad I did. The bar is called Cafe Boheme and it is at 36 Omirou Street which is off Akadamias Street just before you get to the University if you are coming from Syntagma. Its a bistro-style restaurant that serves a mix of Italian, neo-Greek and traditional Greek food, with a really nice little bar and some interesting patrons from the neighborhood and beyond, many of them x-pats. The owner, a beautiful woman named Cassandra who despite the Greek name is English (her father is the current drummer of Wishbone Ash and they all hung out here when the band was in town), kept bringing plates of appetisers for us to sample, which were so good I did not have room for a main course. The food really was something special and I feel like I have found that perfect bar I have been searching for. They have a DJ who has great taste, playing some pretty sophisticated stuff. I don't know what goes on late at night but in the early evening and at least until midnight when we finally left, the ambiance was such that if Sean Connery had walked in and asked for a loukoumia Martini, shaken-not-stirred, I would not have been surprised.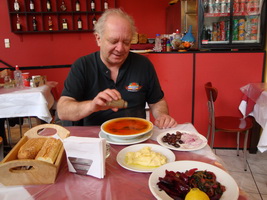 The sun is out. I don't know for how long so let me wrap this up. I found a great little hole-in-the-wall family run working class restaurant in Platia Ag Giorgios which is in Kypseli close to Pedion Areos (Green Park). Actually I did not find it. Its Dorian's favorite place in the neighborhood. He calls it 'Mary's' because he is infatuated with the owner, a tall, beautiful blonde woman, named Mary, who runs the place with her husband, mother, three sons and a few other hired hands in the back. She often seems agitated which is understandable for a woman with three teenage sons and a husband all working together in a small place, but sometimes I think she is agitated at Dorian too because he sort of fawns over her and makes no effort to hide his obsession. I like her too because when you can coax a smile from her its like a kiss from a beautiful actress. And the food is really good and cheap too. You can have a pretty big meal for under 10 euros. I made up my mind that I am going there every day and eating horta (wild greens) to maintain my health. I think I may have mentioned this before that when I eat horta every day my finger and toe nails become so hard I can barely cut them. Anyway that's Dorian in the photo having lunch at Mary's right before he broke his foot. Now I have to go to Mary's and bring Dorian his meals. I think Mary may actually have a soft spot in her heart for Dorian but probably she is so fed up with men that they all seem like a nuisance to her.
Another discovery is the Polish neighborhood which is down Archanon Street, beyond Omonia Square, kind of above the Larissa train station. There are several Polish supermarket-deli's where you can find all sorts of stuff you don't find in the Greek supermarkets. I bought some excellent pickled herring, rolled up and stuffed with onions and carrots. They have smoked salmon for several euros cheaper than the Greek shops, lots of soups, sauerkraut, pickled beats, all sorts of sausages and smoked meats and fish and cheese. I bought about 10 pounds of stuff and trudged all the way back to my neighborhood and then found another just a few blocks from our apartment on Aristotelous street in Kypseli, near Agia Meletiou Street.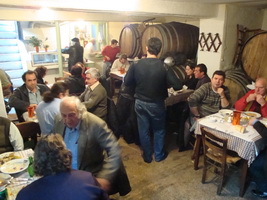 But before I sign off I have another great story. I got an e-mail from a Canadian woman in Mexico named Paulanne who was going to Greece to visit a guy she met on-line who dropped out of sight as soon as she bought her airline ticket. (Maybe this is a clever plan by the Greek National Tourist Organization to bring single women to Greece.) She wanted to know if she could cancel and I urged her to come because she would have a good time. I was still under the influence of jetlag when I met her at the Hotel Attalos but we went for a coffee and I perked up enough to suggest we go to the Secret Underground Taverna at the bottom of the Fruit and Vegetable Market on Sokratous Street. We walked down the steps and sat down and the owner brought us a carafe of retsina and told us what was on the menu today: moschari me kritharakia (beef with pasta), rivithia (chickpea stew), kounoupidi (cauliflower), and sfirida (grilled mackerel). We got the fish the chickpeas and the cauliflower. When the place filled up another younger couple joined us and they were joined by two friends, a couple old men who had shops in Athens. The couple were from Evros, on the border with Turkey where they had a silk farm and several shops and a factory. They come to Athens in the winter for business and entertainment and the older men were friends who they had been doing business with for years. We shared several carafes of wine and then an accordion player came in and began playing every popular Greek laika(popular) song of the fifties and sixties and everyone in the restaurant was singing along. Niko, the silkworm guy, got up and began dancing and even got me up, which is pretty rare since I am a terrible dancer except when I am alone and drunk out of my mind. I was only half way there so I probably danced about thirty seconds but Paulanne claims to have filmed it and it is on her facebook site. The party broke up a few hours alter and we exchanged business cards and maybe it will happen again someday. As for Paulanne she is very happy she came to Greece and spent about a week or more in Athens until she booked a ferry to Santorini where she still is, and I assume having just as much fun as she did in the Secret Underground Taverna with me and the silk merchants from Evros.