Athens: Don't Be Afraid
Time for my once every couple of years pep-talk for people who have been terrified out of their long planned trip to Greece because of some event, in this case the December riots of 2008.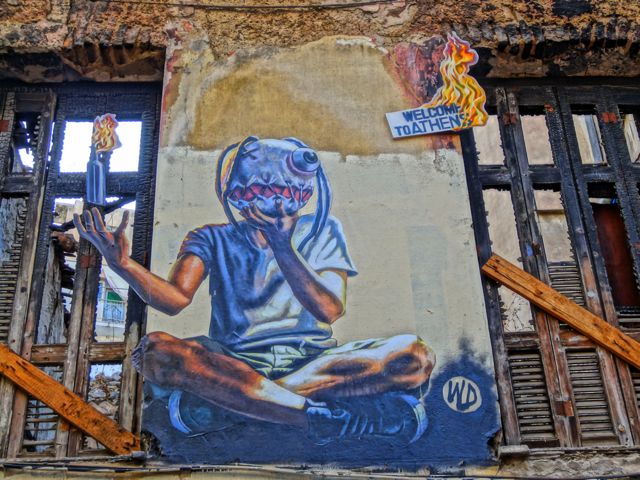 Nearly every day I get e-mails from people who want to come to Greece but are worried about 'the riots' or that they read that all of downtown Athens was burned, and they are worried about their safety or there won't be anywhere to shop. There are no riots in Greece now and it is unlikely there will be any. Nearly two months ago in the aftermath of the shooting of a teenager by a policeman on a Saturday night there was a reaction by young people, who emptied out of the clubs when they heard the news, and turned their fury on whatever targets they deemed 'the establishment' or 'multinational corporations' and of course the banks. They smashed windows and managed to burn a few shops, banks and some buildings and trashed a few ATM machines. For the next several days they had demonstrations which led to confrontations with the police who were ordered not to make a bad situation worse:to try to contain the violence, but don't answer violence with violence. In other words don't shoot anyone else or hit someone in the head hard enough to hurt them. The message was that the kids were pissed off and had a right to be, so let them vent and we (the government) will deal with the aftermath. Vent the kids did, mostly followed by professional 'anarchists' who used the demonstrations as an excuse to take their ongoing battles with the police out of the back streets of Exarchia and into the downtown areas. The whole thing lasted about three days. There were demonstrations almost daily in the weeks that followed, but the level of violence never came close to that of those first three days, no matter how hard the 'anarchists' tried to provoke the police. Finally they packed up their rocks and molatov cocktails and went home for Christmas with the family. Since then Athens has returned to its usual level of demonstrations which means almost every day, though with little if any violence.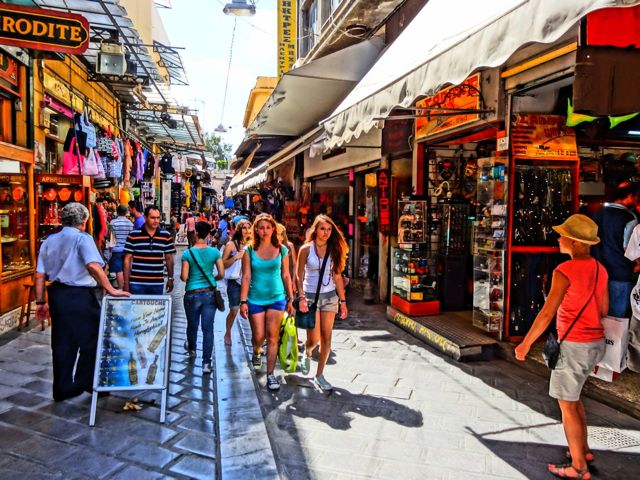 A tourist walking around downtown would have a hard time finding the 'scorched city center' as it was described by the international press. Most shops cleaned up the broken glass, replaced doors and windows and were open within two or three days. Some that were having a hard time even before the demonstrations, decided to call it a day and closed for good, but not many. You will recognize them by the enoikiazatai (for rent) signs on the new glass. The buildings that were burned have been cleaned out and are now being rebuilt, some are already completed and the tenants are back in business.
Of course things have changed now since the 'December Riots' made such a lucrative international story for the media, and events that would not have made CNN a few months ago, are now reported as 'renewed violence'. But kids in Exarchia throwing rocks at cops or setting fires to garbage cans and old tires is not a riot or a revolution. Its something that happens in Athens, and has been happening in Athens for the last 20 years without anyone making a fuss about it, or visitors even being aware of it. Demonstrations in Athens are a nuisance but they are a part of life in the city. If you can't avoid a demonstration then you must be blind and deaf and even if you stumble into one by sheer incompetence, the demonstration is oblivious to you. (There was a reporter who said that demonstrators were attacking his hotel, but actually they were attacking riot police who happened to be standing in front of his hotel.)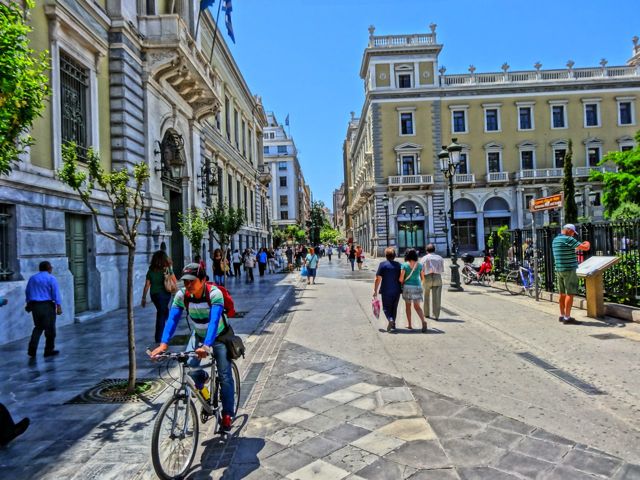 So for those who are thinking of canceling or postponing their holiday in Greece because they are afraid that something bad will happen to them or that they will find themselves in a city that looks like Beirut during the seventies, you shouldn't worry. Chances are you will have two or three days in Athens and then you will be off to the islands. Do you think there is unrest in Mykonos and Santorini? Riots in Delphi? Even when Athens was at its worst there were tourists watching and taking photos. An armored riot policeman wearing a gas mask illuminated by the glow of a burning trash can makes a scary photo, but lets call it what it is: a cop standing next to a burning garbage can, not Armageddon. If you are scared to stay downtown because of the fear of violence then stay by the beach in Glyfada and take the tram into the city in the morning to see the sites. But besides seeing some graffiti I doubt there will be much action in the narrow streets of the Plaka or around the Acropolis and to find anything resembling what you saw on television in early December you would really have to go out of your way to neighborhoods you have no reason to go to at hours when you are more likely to be asleep.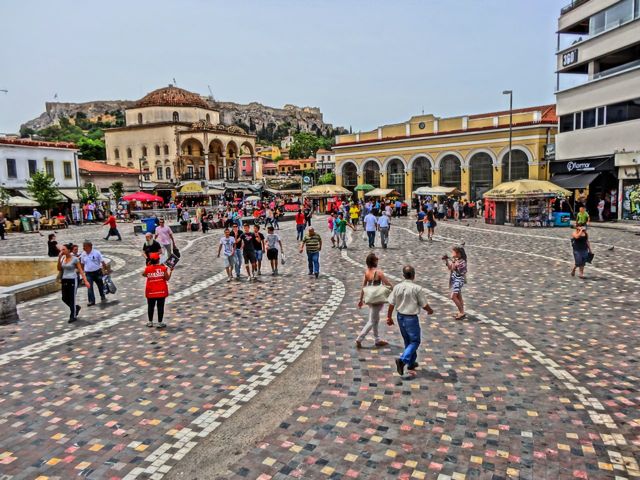 Life goes on in Athens. I live here. It's no big deal. Its still safer than any other city in Europe or the United States. People walk the streets safely at night and go out to dinner and go to museums and archaeological sites in the daytime, and sit in cafes drinking coffee or ouzo, beer and wine at all hours. People go to the movies and concerts and art exhibits and take their children to the park. So if you are still afraid after reading this I can only say that you being in any danger is extremely unlikely. If you have fears then you have to either face them or avoid them. But even when it is at its scariest, Athens is not a scary place. It just gets crazy here sometimes. Maybe it requires a little courage to leave your safe nest and go to a place that seems to be on the edge of chaos. But there is something to be said for living on the edge (and you would just be a visitor), like going to San Francisco which sits right on a major fault-line and everyone knows could turn into rubble in a large enough earthquake, and yet it is the top tourist destination in America.
As Zorba said "A man needs a little madness or else he never dares cut the rope and be free". Where would the Zorba in you go for a holiday? A condo in Myrtle Beach with 200 channel cable TV, or a couple nights in Athens and a week in the Greek Islands? Maybe it takes a little courage, but so does going to the dentist and when you leave the dentist you wonder why you wasted so much time worrying about it. Same goes for Athens. And its a hell of a lot more fun than going to the dentist. At least as much fun as San Francisco and a lot safer too.
E-mail me with questions and comments. Join Matt Barrett's Greece Travel Guides Group on Facebook for comments, photos and other fun stuff. If you enjoy this website please share it with your friends on Facebook, Tripadvisor, and other social media. If you are appreciative of all the free information you get on my websites you can send a donation through Paypal