George Papandreou Becomes Prime Minister
For those of you in the USA who missed it Greece has a new government. Maybe you read about it? With the American football season in full gear it did not really get the coverage one might expect when a European country elects an American as its prime minister. George Papandreou, son of former PM Andreas Papandreou and Margaret Papandreou, formerly (Margaret Chant) was elected PM on October 4th in a landslide (by Greek standards) over Constantine Karamanlis who had called special elections in the hope that the opposition would not have enough of a majority to form a government or that he might somehow win. So after 6 years of conservative rule the socialists are taking over again and while the American press writes about how Europe is turning to the right Greece has just elected their Barak Obama. It is not a moment too soon either. Or maybe it is too late. Only time will tell.
Before I tell you a little about our new PM a few words about the government that is leaving power which I covered in this blog on March 24 2009: Greek Politicks for Dummies, an article I was quite proud of but is now obsolete except for historical purposes. Many people in Greece feel the same way about the departing Karamanlis and his crew, the way liberal Democrats feel about George Bush, which is: Good ridance and hopefully one day we will see you in court or prison. For a standing government to be so soundly defeated they must have done something wrong and with ND the list is long and includes major scandals (like the Vatopedi Monastery land exchange which cost the country millions), incompetance (like the inability to bring order during the December riots and the forest fires of 2007 and 2009), lack of interest in Greek culture (the archaeological site of Akrotiri, Santorini is still closed 4 years after the roof collapsed) and for me the biggest crime of all, the gutting of the Greek baseball project which the previous PASOK government had spend a lot of time and money to create.
I have to accept that I still do have friends that did vote for ND again this past election but most of them are the kind of people who see politics the way sports fans do when they continue to support their team after it has traded or sold their best players, are losing all their games, have a lousy manager and are now shaking down the hot-dog venders for spending money.
For me the election of Papandreou gives me hope that things will change for the better in Greece and some of the problems I have been complaining about in this blog will finally be dealt with. It also is very useful when I get the occasional complaint from travelers who are worried about 'anti-American sentiment' in Greece. Instead of going through my usual explanation about every Greek having a relative in America and their passion for politics does not infringe upon their filoxenia (hospitality and friendship for foreigners) all I have to say is that they just elected an American PM so how anti-American can they be?
More importantly it gives me hope for my own personal ambitions because just like George Papandreou, I too am of a Greek academic father and an independent minded American mother. I think it is a good balance. I mean it works for me to have my mother's rationality, sensitivity, and humanity to balance out my father's ummmmmmmm..... Greekness? OK. I won't go into this here. But for those of you who have sent comments that Greece should make me minister of tourism or head of EOT (The ineffective Greek National Tourist Organization) this could be my chance and I have doubled my efforts with the Rosetta Stone and stand ready to serve my country.
So what about George Papandreou? Well here is what I wrote in the Biography section of my History of Greece which I guess I need to update now.
George Papandreou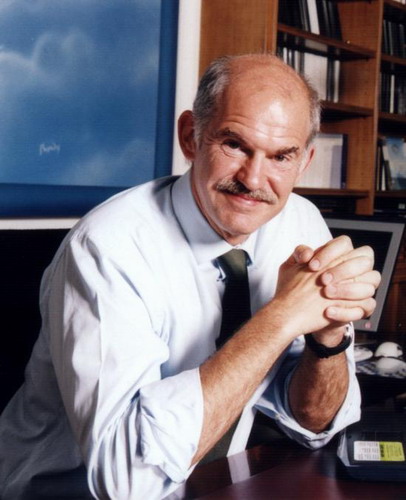 George Papandreou was born on June 26, 1952, in the US state of Minnesota. He spent his childhood in the US and Canada, until his family returned to Greece in 1961. His father, Andreas Papandreou, was arrested in 1967 and imprisoned by the military dictatorship ruling Greece at the time. When pressure from thousands of internationally prominent figures forced the junta to release him eight months later, he and his family fled to Sweden, where they were given political asylum. After studying Sociology at Amherst College, Massachusetts, he returned to Greece for his obligatory military service. Afterwards he continued his graduate studies in Great Britain in the Sociology and Development Department of the London School of Economics.
Some years later, in Sweden, George Papandreou met and became friends with Olaf Palme, with whom he worked on promoting human rights and adult education. He often accompanied Palme on his election campaigns. On one of the tours with Palme, he met Anna Lindh, who was later to become the Foreign Minister of Sweden, and who at the time was President of the Socialist Youth of Sweden. Their friendship lasted until Ms. Lindh's was killed by a deranged man in 2003.
George Papandreou became a cabinet member for the first time in 1985, taking up the post of Deputy Minister of Culture. He was primarily responsible for issues of the Greek Diaspora, Adult Education and Youth. In this post, he successfully supported the institution of Free Radio and in 1988 he received the Votsis Foundation Award for the Promotion of Journalism.
George Papandreou became the leader of the International Olympic Truce Foundation to promote the Olympic Ideals, to serve peace, friendship and international understanding and to uphold the observance of the Olympic Truce, calling for all hostilities to cease during the Olympic Games and beyond, and mobilizing the youth of the world in the cause of peace. In two separate tenures as Minister of Education, he laid the foundations for a number of new institutions and took measures to reform and improve the educational system. He showed particular sensitivity to education for minority groups creating a system of Intercultural Education to address the needs of students with special cultural needs, such as the students of minority schools in Thrace, the Roma community, and immigrants. As Foreign Minister he worked at improving relations between Greece and its neighbours, and particularly with Turkey. For his contribution to Greek-Turkish relations he was named Diplomat of the Year 2003 by the European Voice newspaper. At the 4th World Conference on the Future of the Internet, George Papandreou was voted as one of the 25 people who have changed the world through the Internet.
He has received awards for the promotion of world peace and democracy, and was honoured by the Organisation "SOS Racism" for his struggle against racism and xenophobia in 1996. In September 2003 he received the prestigious "Defender of Democracy" award from the Parliamentarians for Global Action. As President of the Andreas Papandreou Foundation, every summer he invites prominent international figures to take part in the Symi Symposium, held on the island of Symi. All the participants – politicians, intellectuals, academics and journalists –share a progressive political outlook and use the symposium to discuss important issues of current European and global affairs. Among , Bill Clinton, Joschka Fischer, Javier Solana, and the two Nobel Prize-winning economists Amartya Sen and Joseph Stiglitz.
In 2004 George Papandreou, one of the most popular figures in contemporary Greek politics became leader of PASOK though the party lost the elections to the Costa Karamanlis led New Democracy Party. As Minister of Foreign Affairs he continues to improve Greece's relationship with her neighbors and is an active force in world peace, education, democracy and human rights. George Papandreou proves that America, is still the land of opportunity our ancestors believed in, and if you go to school, are honest and work hard, one day you may be prime minister of Greece.