Megapanos Wines, Kainari and Klimataria Restaurants
I wanted to write about this stuff right away while I remembered it but now it is 5 days later and I will probably have to resort to my photos to even remember what I did that was so important that I wanted to write about it right away. Its all kind of a blur because this weekend we went to a couple great restaurants and everything is sort of running together in this Athenian weekend montage. But let me just sort of write whatever pops into my head and maybe it will all come back.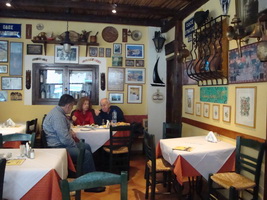 Friday Andrea had a doctor's appointment and I planned to just stay home and write. But it was a beautiful sunny day and then when the phone rang and it was Alexander Megapanos, the famous wine guy, inviting me to his winery just outside of Athens in Pikermi it was one of those convergences of factors that make it impossible for me to sit in front of a computer. We got the car out of the garage and as my new hobby is to find a different route through the city to everywhere, we chose to go through Ghizi, an area of Athens that makes Kypseli look like the countryside. It was challenging and required a lot of quick thinking and improvising but we managed to get to Panormou in plenty of time for Andrea's appointment and I wandered around taking photos for a future website. Panormou is a pretty cool area and easy to reach. The #3 metro line from Monastiraki and Syntagma stops there and on one side of the street are a bunch of cafes, bars and rock clubs and on the other are several good tavernas, some with live rembetika and laika. There are several other good tavernas scattered around the neighborhood. But I wanted to check out this little place across Leoforos Kifissias called To Kainari at #20 Xiromerou street. Its a tiny mezedopoulion owned by an old guy from Thessaloniki. They have great food. I had a plate of all pastes, which is cured fish. it included, regga (smoked herring), skoumbri (mackeral), kolios (another mackeral), lakerda (marinated tuna) and another unknown fish. I plan to go back so I will know more in the next week or so. When I left I told the guy he had terrific food. "How do you know? You hardly had anything". He said.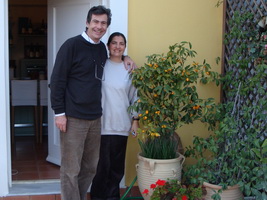 After Andrea's appointment we drove to the winery and got a tour and talked with Alexander and his wife about doing some excursions that would include lunch at the winery, along with a wine tasting of course and then a visit to some nearby sites. So as an example I was thinking of a day tour that would feature the Attika Zoo, the temple of Artemis near Vavrona, then the winery and lunch and then drive out to Sounion to see the temple and maybe watching the sunset. Doesn't that seem like a great way to spend the day outside of Athens? Well it's in the planning stages which means it is all in my head right now but since you are probably thinking about it go to www.athensguide.com/wine-tours/ and when I get it together I will post the info there. In the meantime if you want to do it on your own just send the winery an e-mail and if you don't have a car yourself contact George the Famous Taxi Driver and you can be the guinea pig. By the way Megapanos makes some of the best wine in Greece. Afterwards we drove around the dirt roads between Pikermi and Rafina passing all the vines, now leafless because it is still winter and going through giant puddles in the Suzuki until we were covered in mud. I can't tell you how proud I felt when I brought the car back to the garage and gave the keys to Stefanos, the Albanian guy who works there. Proud because anyone with a 4WD that is not covered in mud at least once a month should probably not have one.
We were in our apartment for about twenty minutes, time enough to lay on the couch and read a couple articles in the Herald Tribune, before we got our coats and took the bus downtown and went to the Hotel Attalos to have a glass of wine with Mr Zissis and to see the renovations he made to the rooftop bar and gardens. He spent a lot of money on it but they did a really good job and I predict that many people will spend a lot of their time in Athens up there, drinking beer, wine, ouzo or tsipuro, eating mezedes and watching the lights of the Acropolis and Athens. In fact I am thinking about moving into the hotel myself. If I had a room there, the rooftop bar could be my living room. I would not have to go out and meet people; people would come there. If nobody came at least I would always have Sophia the bartender to talk too and Mr Zissis always stays late on Fridays and he is a great story-teller. One day I want to put together all of his tales of Athens in the early days of tourism.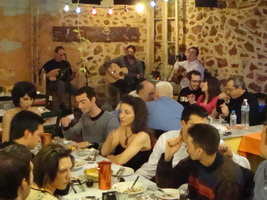 Pandelis Melissinos, our weekend companion met us at the hotel and Andrea wanted to either go to Mumbai, which used to be Pak India and is supposed to be the best Indian restaurant in Athens, or to Taverna Climataria, an old traditional restaurant that I would send every tourist to if not for the gauntlet you must pass through to go there. Climataria is a family run business on Platia Theatrou which in Athens is as nasty as it gets. Though barely a stone's throw from the mayor's office in city hall, the streets are littered with the dregs of Athens society, Athens' junkie community. But on Friday and Saturday night, the Guru Bar, one of the most popular bar-restaurants in Athens (they serve Thai food), hires a private security guy to make sure the drug addicts don't break into their customers cars. In fact when we went down there, not a junkie was to be found. We walked up Athinas Street towards Omonia and then turned left through the fruit and vegetable market to Sokratous Street where all the beautiful African prostitutes hang out. They barely looked at us which kind of hurt my feelings. Last time we came by they were all so flirtatious and sweet. Now I was beneath their notice. But we were not down here for hookers but for food and music so we turned down Theatrou street and into the square and found the taverna lit up right at the intersection of Menandrou. (You can also go down Evripidou and turn right on Menandrou if you want to miss the hookers and most of the drug addicts.)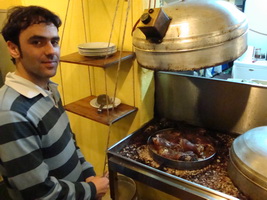 Inside Taverna Climataria we were met by Alex, the waiter-host, master-of-ceremonies and he showed us the three big pots that were by the front door. Inside one was lamb, slowly roasting in something like a mastela pot. In the other two pots were the specialty of the house, giant pork thighs, slow cooking with potatoes, so tender they fall off the bone in a way that would make North Carolina BBQ masters envious. One thigh serves two people and I can't tell you how delicious it is though the potatoes are even better. Andrea had the baked gopes, a popular inexpensive fish, already de-boned. We also had a delicious kremedopita, an onion pie, a huge mixed cabbage, carrot and winter green salad, a couple liters of excellent wine from the barrel, some kind of cabbage and tomato stew, I forget what it was called and I had never seen it before. We ate a few other things, we ordered a lot. Everything was good. Probably its the best taverna downtown which is a shame because I just finished an article for National Geographic and wrote that Taverna Psiri was the best. But probably because of the location most people will feel less threatened at Taverna Psiri than here. But the location did not deter the young Greeks who were eating here and by the time we left the place was nearly full. There was a very good rembetika band playing, they have live music on Friday and Saturday nights and on Sunday afternoon. We left well after midnight, people were still coming in of course, it being Friday night. We walked back past the security guy watching the cars and the African hookers who still ignored me and then Andrea and I caught a taxi home on Athinas street. I absolutely recommend this restaurant. The area is a little scary so I don't recommend coming here with your children and you may feel safer in a group of three or more rather than by yourself. But Friday and Saturday nights the security guy from the Guru Bar is a pretty good deterrent and I saw a lot more riff-raff here on Sunday morning.
There is more but I will have to continue tomorrow....
Update: The neighborhood around Climataria Taverna has been cleaned up so you don't have to be afraid to go there anymore.