Marathon, Schinias and Sotiria Leonardou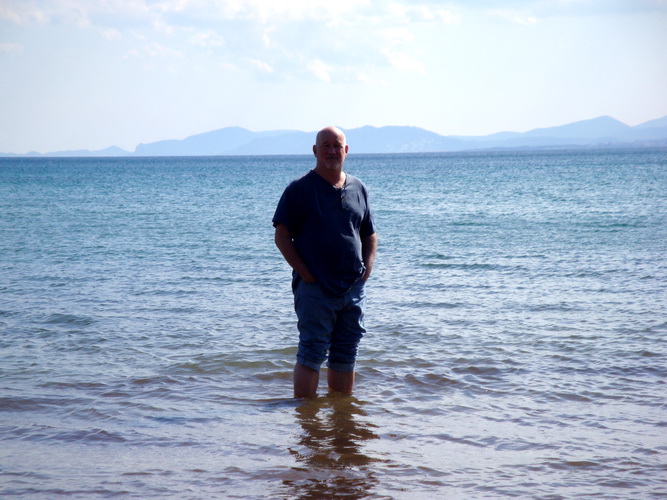 Saturday was a gorgeous sunny day, much like Friday, Thursday and as far back as I can remember. Andrea and I decided to take a one day road trip somewhere and to our surprise Amarandi, who was staying at her friend's house in Kifissia, wanted to join us. Very odd but we were not going to look a gift horse in the mouth so I picked her up in Kifissia Square and we drove to Marathon Lake where we could walk across the world's largest marble dam. I guess she was impressed. She seemed to just want to get to the beach and sunbathe so we drove down Pendeli mountain on the north side of Athens and went to Schinias, which as anyone who has been reading these blogs knows, is my favorite beach near Athens. We parked under the pine trees and took my zero-gravity chair out on to the beach and just hung out. Amarandi got the chair and I got the sand and Andrea collected seashells and stones for the garden she plans to create in pots on our balcony. It was warm and the sky was blue with some spectacular clouds. I rolled up my pants and waded into the sea which is very shallow in Schinias so it gets warm very quickly and is one of the best places to swim early in the season. I was actually standing in the sea for about twenty minutes without getting frost-bite or losing the feeling in any of my toes. After an hour or so we walked over to the Glaros Fish Taverna which is now open every day and had barbounia, salad and Andrea and I shared a quarter of a kilo of wine and did not even finish that. On the way back we stopped at a nursery and bought two little olive trees for the balcony and then went to Rafina for coffee and to watch the ships.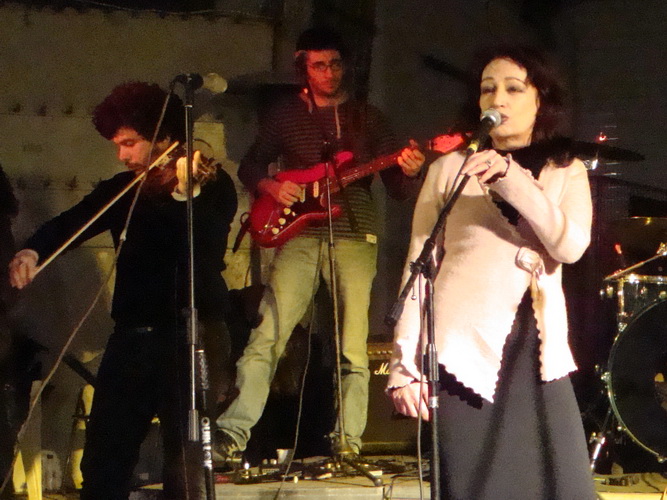 Saturday night there was a concert in the Demotiki Agora with a few young Greek rock stars and Sotiria Leonardou. For those of you who have seen the Kosta Ferris movie Rembetika, Sotiria Leondardou had the starring role as Marika, based on the singer Marika Ninou. She also co-wrote the script and sang. Actually to me and many other fans of the movie Sotiria Leonardou is iconic. That happens when you have seen a movie a couple dozen times and fall in love with the actress, even though she is playing a role of a woman that any man would be fool to fall in love with. And here she was, singing in the Fokionos Negri Demotiki Agora for the second anniversary of the occupation of the building. It was two years ago from this weekend that local activists stopped the Athens government from tearing it down to build a parking lot. The three main acts were all backed by the same band, who were pretty good, and they all took turns doing one or two songs each. Sotiria Leonardou was a step or two above the other singers, singing mostly heavy, melancholy and dramatic songs somewhere between the realms of Mikis Theodorakis and Leonard Cohen in a low, dark and expressive voice. The material the other guys did were something like Papaconstantinou and Nikos Papazaglou though one of them did a speeded up version of Jethro Tull's Locomotive Breath from Aqualung. We left after an hour or so to have dinner at Mpakalogatos, the mezedopoulion on Fokionos Negri, eating fresh clams, scallops and mussels and hanging out with George the owner who told us the sad fact that many restaurants in Kypseli are hurting because the Greeks have moved to the suburbs and the immigrants all eat at home. But there were a few hearty Kypselians eating and drinking and Fokionos Negri was hopping on this festive Saturday night.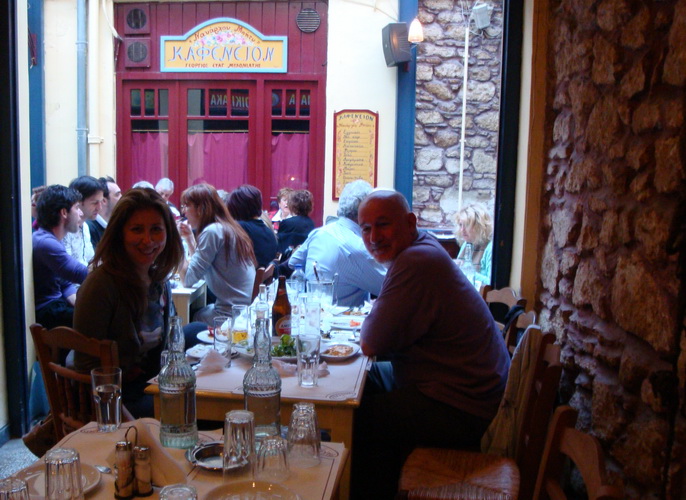 Sunday we met Anna Kamais in Monastiraki and took the metro to Pireaus where we met my friend Electra from Kyparissi and she took us to an excellent mezedopoulion called Rakadiko at #5 Karaoli Dimitriou just a few blocks from the metro station. The restaurant is in Stoa Koubelou and takes up several of the old shops that used to be there. They have an excellent rembetika-laika band that plays there on Friday and Saturday night and lunch on Sunday. The place was packed. Really excellent food. We had two massive salads, sardines wrapped in grape leaves and grilled, marinated gavros, the world's best fried potatoes (I know I always say this but these really were), peppers stuffed with cheese and pimentos, tirokafteri (spicy cheese spread), methismenos keftedes, which means drunken meatballs and a few more things. Its good to go to these restaurants with a few people and not to order everything right away but to see what other people are eating too. They offer a giant plate of grilled meats which I would have ordered if there had been more big meat eaters in our group. Also the sausages looked great. Andrea, Amarandi and Anna left Electra and I there (we were the only ones at our table drinking). Afterwards we walked through Pireaus. Electra gave me a little mini tour. She used to live in the Noufara Hotel and later on in Kasteli so she knows the town way more than I do. We walked down to Zea harbor and found a cafe and drank coffee, looked at the boats and talked about spiritual stuff til it was time to go home.
Here are some more photos....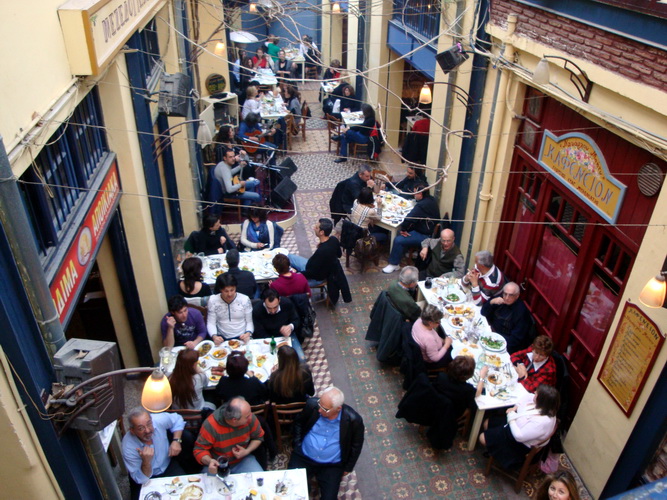 Rakadiko in Pireaus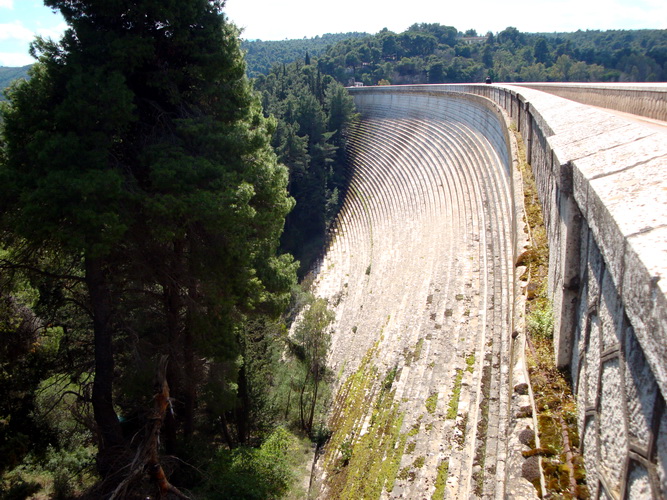 Marathon Dam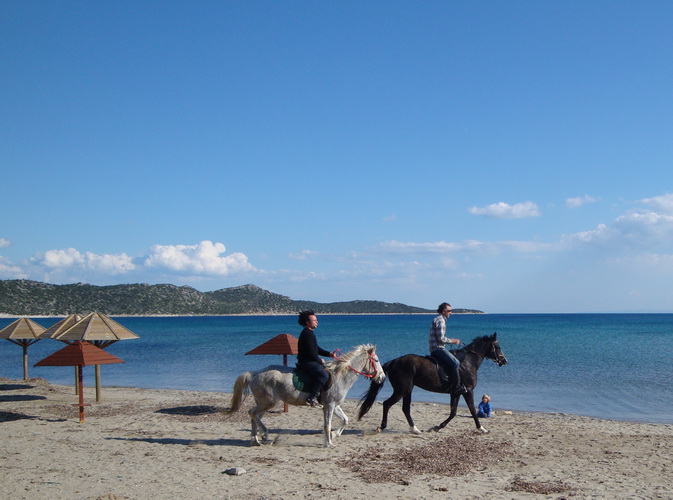 Schinias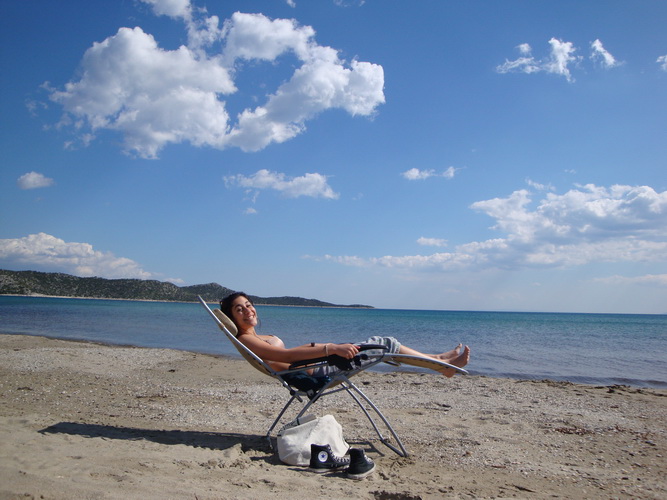 Amarandi in Schinias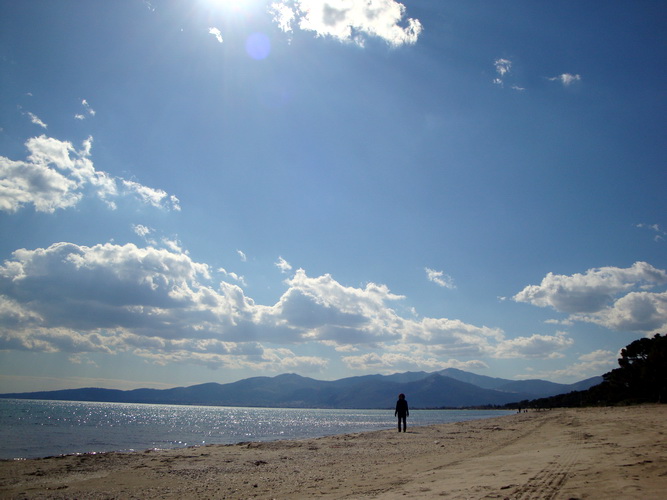 Schinias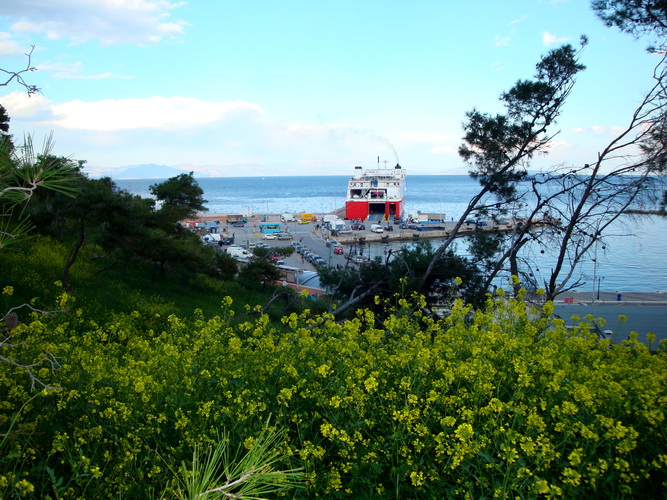 Rafina

Glaros Taverna, Schinias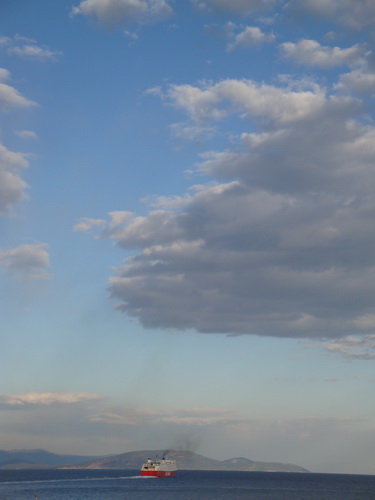 Rafina