Apokreas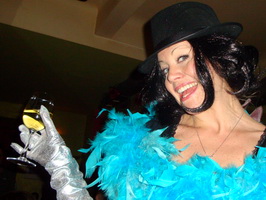 Apokreas is over. As usual I didn't do the apokreatic things I intended. I never made it to Skyros to see the goat dancers. I didn't make it to Patras to see the biggest parties in Greece in which the entire city takes part. I didn't go to Kea or any of the islands to see the carnival parades the school children put on. I did not even make it to Moschaton in Athens because they closed the ISAP electric train for the weekends to work on several of the stations. But I did manage to go out just about every night and by the time the final weekend of carnival season arrived I was ready for it to end. I am not one of those guys who stays late at the bars doing shots of tequila or other delicious but lethal concoctions invented by creative bartenders but Friday and Saturday I did just that, the first night at Cafe Boheme at a costumeparty of international Athenians (photo) and the second at Foibos Bar in Fokionos Negri until 4am with several other people who normally don't do shots either including one who was a recovering alcoholic who I have not seen since.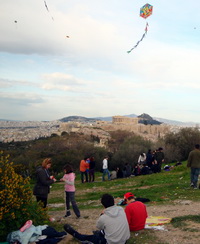 Yesterday was Katheri Deftera (Clean Monday), the day we all take it down a notch, start eating fish and bloodless creatures of the sea, and climb Mount Philippapou to watch the Athenians flying their kites. We started at a party in out friend's garden on a beautiful spring-like sunny day and later made the climb to the base of the Acropolis and then followed the pedestrian road and then the paths to the top of Phillipapou as the rain clouds gathered. But there was something different about Clean Monday. The Greek Athenians were outnumbered at least five to one by the new Athenians. Immigrants from Pakistan, Afganistan, Persia, Iraq, Kurds, Indians, Africans and people from who knows where, all wandering the slopes of the central Athenian wilderness, many with kites, some with children, some not much older than children themselves, taking part in this cultural phenomenon of clean Monday kite-flying. Everyone was dressed in their Sunday best. There were street musicians but instead of going from cafe to cafe playing for individuals until paid to leave, they were drawing crowds of non-Greeks who danced in circles in the clearings and large pedestrian avenues. The sky was filled with colorful kites, almost all of them bought from Gypsies with strange designs like Spongebob and racing cars or happy clown masks in the familiar many sided design of Greek kites. But here and there were new designs, plain blue without tails, brought over from some country to the east where they also fly kites on windy spring days. We were with a group of Americans who had come over to work at the International Hellenic Studies School in Paros. It was all Greeks to them and I pointed out that there were actually very few Greeks among the people passing by. This is the new face of Athens. Athens truly is an international city. The other day in Kypseli I was standing at the bus stop next to some beautiful African girls from the local high school. They were speaking Greek to each other.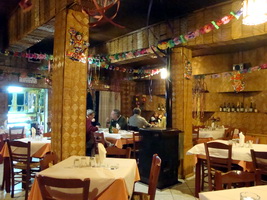 The weather has been mostly beautiful in Athens. The mornings are sunny and warm and the afternoon gives way to clouds and sometimes localized showers. Some nights have been cold though not by northern US or European standards. If you can't hack a winter in Greece you probably have circulation problems or you are one of those people who will have to move to south Florida when you hit sixty. There have been very few days that it has been necessary to sit indoors for lunch or coffee. Evenings are a little colder and anyway who wants to sit outside when everyone else in the taverna is inside around the somba, the oil-burners that used to heat all the apartments in Athens and can still be found in some local neighborhood tavernas like Kalamia in Kypseli. We had our last Saturday of Apokreas in Kalamia. We started at Alotino, sort of our new neighborhood hangout on Platia Georgio. Its a small bar with a large selection of whiskies and the best draft beer in Athens, HB from Munich, which they serve with sausages and mustard to a crowd of actors, actresses and theatre people. Then we walked to Kalamia, our taverna of choice on a tiny street only one block long called Strofadon, off Skyros. Its run by Kostas Basileos who waits thables and his wife who cooks in the ancient kitchen in the back. The restaurant is the ground floor of a deserted house and the interior is made from kalamia, reeds of different widths and lengths, arranged in patterns and designs that make you feel like you are part of an Escher painting. Besides having good taverna food, the restaurant is a work of art by some meticulous crazed master, who's name is now forgotten. Kostas has been here for thirty years and it was like this when he got it. He told us that whoever made it also had two others: one more in Athens that unfortunately burned down, and another in Tripoli. You can see how art history works. Already the knowledge of who built it is being forgotten. Probably some day, someone will rent or buy the place and not appreciating it, will tear out the kalamia to make some hip modern neo-Greek taverna or bar. But if I ruled Athens this would be protected as representing the last of the neighborhood tavernas even if I had to subsidize it with local tax money to keep it in business.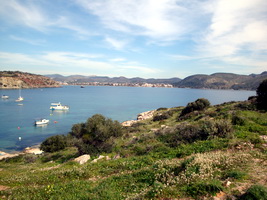 Sunday started as a beautiful sunny day as they all do, so we jumped in the car and made our way through the crowded streets of Kypseli and Patission in an attemot to find the easiest route to the sea. We got on the National Roas which becomes Kifissos which took us quickly to Pireas and Faliron where we followed the coast past Glyfada, Voula, Vouliagmeni, through traffic in Varkiza and we did not stop until we got to Ag Nikolaos, an old church on what was once an island, now connected by a narrow stretch of sand, creating two bays, one for swimming and one a small harbor for fishing boats. Families were walking on the beach and wandering the wooded hills or practicing their kite-flying for Katheri Deftera. Spring was in evidence, tiny colorful ground flowers like tassel-hyacynths were popping up and the plentiful rains had made the hillsides green like Ireland. One entire hill had been expropriated by the Greek National Tourist Organization, villa owners paid to leave their houses which were collapsing, the area going back to nature, and people scattered around, roasting meat and picnicking in the grass.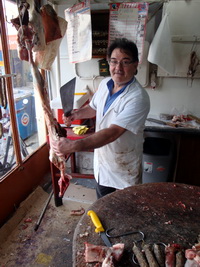 When we got hungry we drove inland to Kalivia, a once small village in the hills of Attika which grew around a handful of meat restaurants into something of an Apokreatic event with hundreds of Athenian cars making the journey for roast lamb, goat, kokoretsi and paidakia. We chose Georgantas because it was actually the village butcher and had tables and chairs outside. Not the most scenic place but you are entertained watching the waiters cross the town's main street, making their way through holiday traffic with plates of meat, salad and wine. By the time the food came the sun had gone behind some clouds and we were freezing so we moved inside where it was empty. I poke fun at the Greeks because in the winter they dress like they are in Alaska, but when the clouds move in at least they are prepared for the drop in temperature. I was wearing a t-shirt and a light jacket and I was freezing. Inside there was just one other table with two guys who had come from Athens on their bicycles, one in his colorful shiny biking outfit and the other in sweats. On the TV was one of those shows that take place in a taverna or a set, made to look like a taverna, and Babis Tsertos, one of my favorite rembetika-laika singers, was performing. Many Greek restaurants use the TV now instead of CDs because they don't have to pay royalties to the music mafia on their anual shakedown tour. These are the Greek versions of BMI and ASCAP whose job it is to collect royalties for the Greek musicians, though how much the musicians actually make is disputable. But it has caused many restaurants to stop playing music just so they don't have to pay it and thats why now you see so many televisions in Greek tavernas and cafeneons. But on a good day, especially on Sunday, you can find a variety show playing suitable taverna music and there are some channels on satelite TV that just play music. Next to the taverna is a traditional bakery with a wood burning fourno (oven) where we stopped to pick up traditional holiday breads and sweets for the katheri deftera party. Inside were two older guys speaking a language I could not understand at first but by gradually picking out words realized they were speaking Greek but a dialect, maybe Kalivean? Its amazing that you can drive half an hour out of Athens and be in a village where they speak a different kind of Greek than they do withion Athens. But probably Athenian is a sort of hemogonized Greek since there are so few people who actually come from Athens.
So it's a beautiful sunny day and Andrea has gone to IKEA with her father to buy more furniture for the apartment. By the time we get this place fully furnished it will be time to leave. Well, whoever rents it from us will get the benefits of all the hours that Andrea has spent shopping. I really should just devote the day to answering e-mail and finish the Kypseli pages which I have been working on for weeks. A sunny day in Greece should not be an excuse for blowing off work like it would be in Portland or Seattle, because practically every day is sunny here. But I woke up a couple hours ago, had my coffee and wrote this. That's enough work for one day. Don't you think?