A Week in Chania, Crete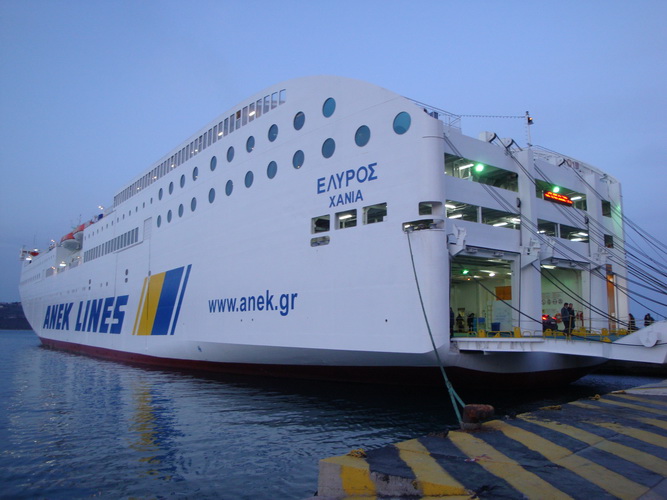 Where do I begin? It's Sunday morning. A week ago I was spending my first few hours in Chania, Crete after an all night ferry trip on the ANEK lines Elyros, a big new and beautiful ferry that left Pireaus at 9am and arrived in Souda Bay, the port of Chania at 5:30am while it was still dark. You probably won't believe this but I woke up a couple hours earlier and went up on the deck where I could see the lights of Crete in the distance. I could smell olive oil. It was the smell of olive presses, a scent I am familiar with and I was not imagining it. Ten miles out at sea I was smelling the olive oil factories of Crete. It was something of an epiphany like when you hear for the first time that radio waves and light just keep going on and on into infinity. Crete was sending out waves of olive oil scent. It was not such an epiphany that I remembered to tell Andrea about it, in fact I forgot about it until I sat down to write this, and an hour later I was driving my Suzuki Grand Vitara off the giant ferry and into the night that should have been morning.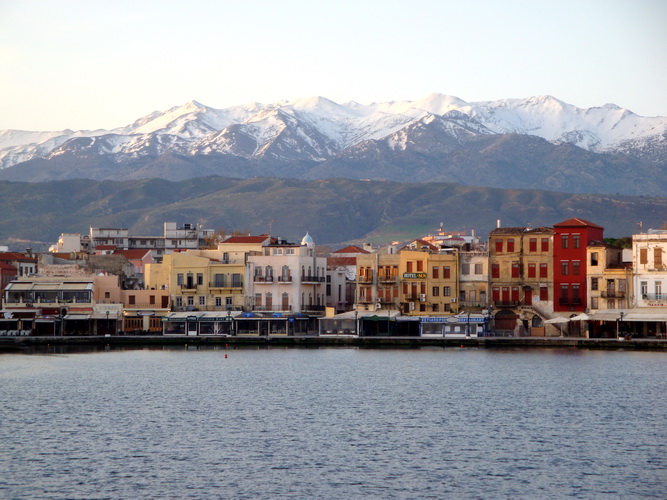 Having a car in Crete is essential, unless you just plan to lay out on the beach by your hotel, basking in the sun and waiting for mealtime and drinking hour, which probably a majority of the tourists who come here do. But for those who don't rent a car or hire a taxi to drive them around, they are missing the things that have inspired travelers who have written about the island for the last few centuries. Most people have this image of Crete in their minds of colorful dolphin wall paintings and ruins of red and brown stones, beaches with palm trees and old men in riding boots. But Crete is a huge island and could easily be its own country, separate from Greece. There are cities with apartment buildings, factories, supermarkets and shops, with traffic that can make you feel like you are in Athens at times. There are mountains with snow covered peaks, and hidden valleys of farms and citrus orchards, rivers and streams and agricultural villages that welcome the few tourists that visit the local tavernas and cafes, but don't rely on them. With hundreds of miles of coastline there are beaches of all types, from long umbrella-filled to small coves that can only be reached by dirt roads and footpaths. There are giant modern resort hotels on the beach, and small pensions and campgrounds, while in between are hotels, rooms, apartments and villas of every size, shape and category, in towns, cities, villages and some out in the middle of nowhere. There are golf courses and mini golf, scuba diving centers, hiking trails and caves to explore, beach sports and meditation and yoga ashrams, churches and monasteries. In the cities and towns there are restaurants, cafes, bars, discos and clubs to hear traditional Cretan music and good old rock and roll.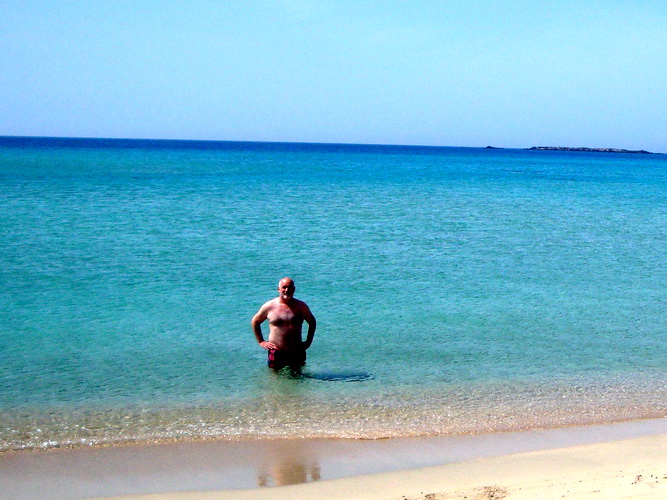 You can't see all of Crete in one trip. We spent a week in Chania and my things-to-do-list kept getting bigger though my days were filled to the brim and at times I felt like I had become one with the Suzuki and it all began in that first magical hour or so of our arrival in Chania when I probably took a hundred of the several thousand photos that I would take in the course of my one week adventure. I planned to sit down and write about my experiences every night but there was really no time to do anything but explore, and then come home to our hotel, shower and go out for tsikoudia and dinner with our new pal Nikos, owner of the Hotel Ammos, who introduced us to his friends, fellow hotel owners, restaurants, and made sure we did not miss the important spots of which there were many that we visited and some that we did not have enough hours of daylight to see. While we explored Chania and the villages, monasteries, mountains, valleys, rivers, streams and beaches of Western Crete, Nikos spent his days working to get his hotel open by Easter, meeting us at night for dinner in some favorite restaurant of his and by the end of the trip he would announce that he was taking a night off from the eating, drinking and conversation that is required of our friends, for a quiet night at home to recover. But then I would hear the beep-beep of my phone that told me I had an SMS message and it was Nikos, asking us where we felt like going tonight.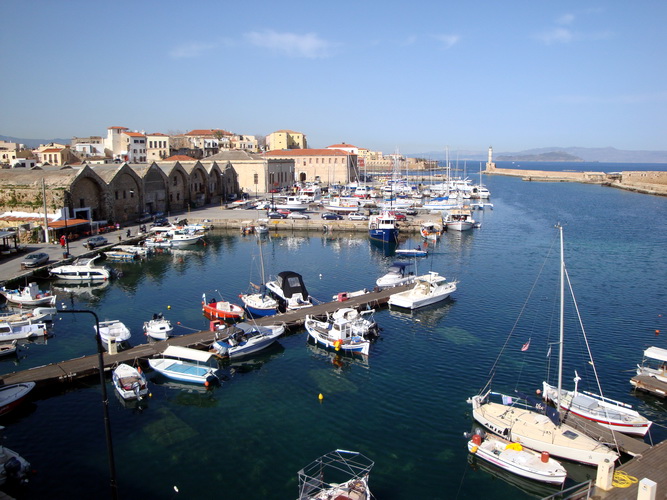 We spent our first few days at the Porto Veneziano, courtesy of our friend George of Fantasy Travel who put us in a suite on the top floor with a view of the old harbor (photo) and much of the Venetian warehouse district of the old town, which have now been turned into fish restaurants, bars, cafes and cultural centers. The hotel was formerly a Best Western and is one of the few modern buildings in the old port. For our purposes it was the best place to stay, mainly because it was the end of March, beginning of April and we were not going to do much swimming so there was no reason to stay on the beach. There was a large public parking lot in the area behind the hotel, probably a neighborhood or factories that had been blasted to smithereens by German bombs in WW2, but we never really had to use it because in the off season there was a nice little spot right in front of the hotel in the marina. The hotel had a cafe-bar with tables and chairs right on the waterfront and a small garden in the back where you could sit if you were tired of boats and sea. Some of the best seafood restaurants were right below us on the waterfront and on a small street called Salpidonas were a number of cafe-bars playing pop and rock music and a small cafeneon at the far end that was more traditional where the local koukloforema and young hipsters would gather every night. I can only imagine what the street is like in the summer.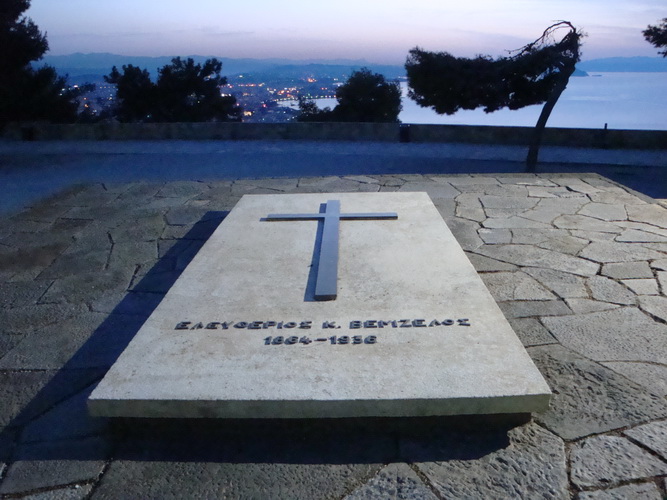 Our first day Nikos called me on my cell and came to meet us at the hotel. I had never met him in person, we had just communicated by e-mail but he was a friend of a friend and pretty much of a kindred spirit. We drove out of town for lunch to the small village of Afrata on the Rodopou peninsula west of Chania, to a little traditional restaurant called H Kali Kardia (The Good Heart) run by an old man and his wife who made everything in their traditional kitchen. On the way we stopped to see the renovations at the Hotel Ammos. Nikos spends much of the money the hotel takes in on improving it each year. Not that it needed much improvement but he is the type that sees his hotel as a work of art that must be perfected. This year he had added a fish pond to go with the swimming pool, and was upgrading the decor of the rooms. The hotel is one of the few that is right on the beach. You can walk into the old town of Chania in 45 minutes along the shore which Nikos does nearly every day to keep in shape or to go to the community pool when it is too cold to swim in the sea. After lunch we drove half way to Rethymnon to the area called Apokoronas, a rich agricultural area of small towns, farms, forests and a spider-web of rivers and streams, to his friend Manoucho's beautiful old farm house which overlooked the valley, where he had a large studio filled with his ceramic work and a dozen or so well fed cats to keep him company when friends are not dropping by to visit. Manouchos took one look at me with my eyelids drooping and put me in the guest bedroom where I slept for twenty minutes and woke up refreshed and ready for more fun. We also visited ancient Aptera and the Venizelos graves overlooking the city of Chania from the Akrotiri peninsula(photo). Nikos dropped us off at the hotel where we showered and a couple hours later met him at the Neoria Fish Taverna, conveniently located a half a block from our hotel where we drank tsikoudia, and ate grilled fish and local greens and home-made white taramasalata until we decided to call it a day.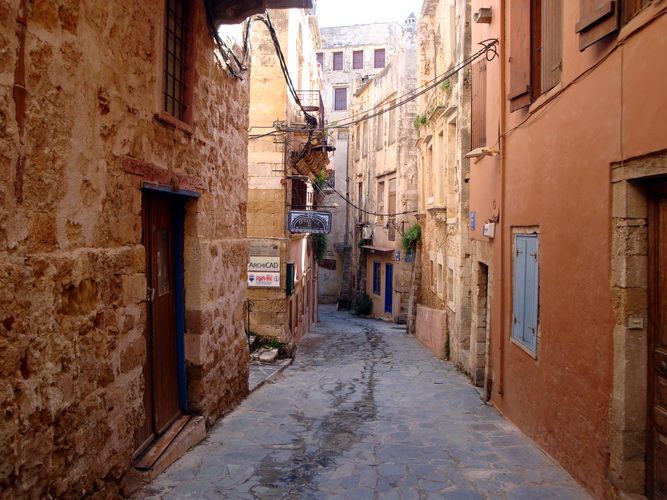 So my impressions of Chania after an absence of around 35 years? My first thoughts were "What the $%&#@ am I doing in Athens?" Chania is a modern cosmopolitan city but unlike Athens, which has had periods where it was all but deserted, it has been continuously inhabited since Minoan times. Let me write that again so you think about it. Chania has been continuously inhabited since Minoan times. In other words for at least 5000 years people have been living in this city, one civilization following another from Minoan, to Mycenaean, to Hellenistic, Roman, Byzantine, Venetian, Turkish all the way up to its present day inhabitants some of whom share the blood of all these groups. Yes, there could be Minoans walking around the streets of Chania. Unlike Athens which lay dormant for centuries and basically began again from scratch in the mid 19th century, Chania has had a flourishing culture and in the 18th century was an international center of commerce. Imagine what Alexandria and Smyrna would have been like had the nationalism of Attaturk and the Arabism of Nassar not caused the eviction of the multi-nationals who lived in those cities and you have Chania, a town with a sophistication that would allow them to view Athens as somewhat provincial. And what justifies that view better than the fact that Eleftherios Venizelos, who went to Athens as a member of the Greek parliament in 1912 when Crete was still a semi-autonomous state, and became within a few years the greatest Prime Minister in Modern Greek history, and one of the most important personalities of 20th century Europe?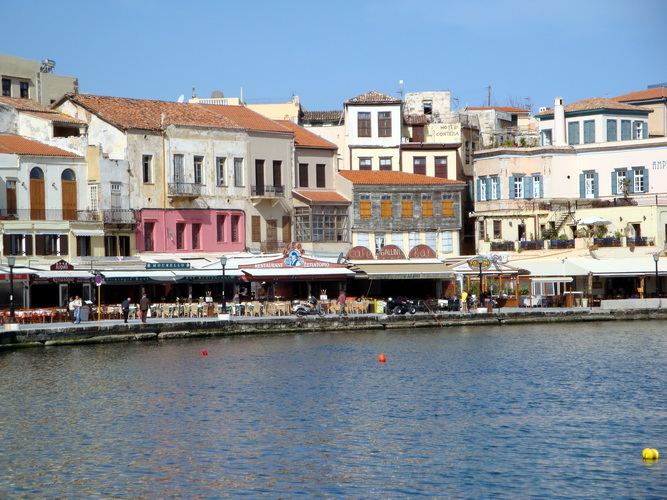 By the second day we were looking at the photos in the many real estate offices, trying to figure out how we could live here. And we still had a week to go. One thing was certain though. My plans to start with Chania and explore as much of Crete as I could would have to be altered. We barely scratched the surface of Chania and Western Crete in the week we spent there. Had the Friday night ferry not been full with Cretan high school kids going to Athens for the annual Easter field trip (Athens high school kids come to Chania) we would not have left the region at all. As it turned out we visited Rethymnon for an hour or so and then drove to Iraklion for dinner with Lefteris the Taxi Driver who is to Crete as George the Famous Taxi Driver is to Athens, and then got on the midnight Superfast Ferry which got us back into Athens at 6am. So now I sit here with thousands of photos, brochures, business cards, local guidebooks, maps, and little bits of paper that I have to somehow put together in a website that does justice to the island of Crete, which my current page does not. It seems like an insurmountable task. But at least I with what I have written here, I have started it.
Helpful Crete Travel Information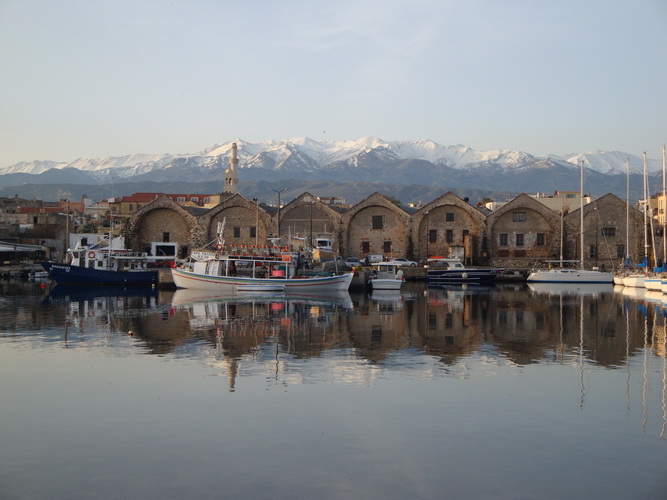 My Crete pages are at www.greecetravel.com/crete and my Western Crete pages are at www.greecetravel.com/crete/chania .
If you are looking for a beach hotel within walking distance of Chania Visit the Hotel Ammos.
If you want to stay in a really nice hotel in the old town and you can afford a little splurge stay at the Casa Delafino Suites which is more like a palace than a hotel or the Porto Veneziano which has a great location and an amazing view from the front rooms.
You can find lots more hotels at www.hotelsofgreece.com/crete
and on Booking.com's Crete Pages where you can find over 2000 hotels with photos, guest reviews, maps and booking information.
For a travel agency specializing in Crete and the Greek Islands I recommend Fantasy Travel