Jamie Oliver Does Athens
I know. I know. It has been a long time since I have written anything on this blog but there is a really good reason. I was working on my Chania pages and I think you will agree that this site is worth me missing a couple posts about what I did yesterday or what I ate for breakfast or about my dinner with Jamie Oliver. But never mind about that.....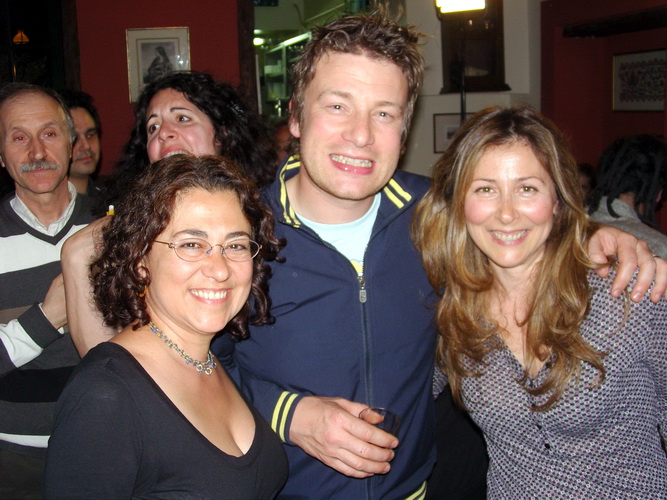 .... Oh you want to hear more? I figured. When I got home last night I posted on my Facebook wall "Matt just returned from dinner with Jamie Oliver" and within 5 seconds I had a comment and within 5 minutes I had about 5 comments. All from women in love with Jamie of course. It was kind of disturbing because I can go to my Facebook page every day for a week and the only messages are people sending me Easter bunnies or some silly facebook thing that everyone gets, but last night I could not get off-line and go to bed because every time I went to sign off another message would pop up with someone asking me about Jamie Oliver. I have to say that dinner with Jamie Oliver was exhausting enough but having to spend my recovery period answering questions about him really wiped me out and I did not get to sleep until 4am. The dinner ended at around two. Jamie left a little earlier but some of us hung out to finish off the deserts and the wine.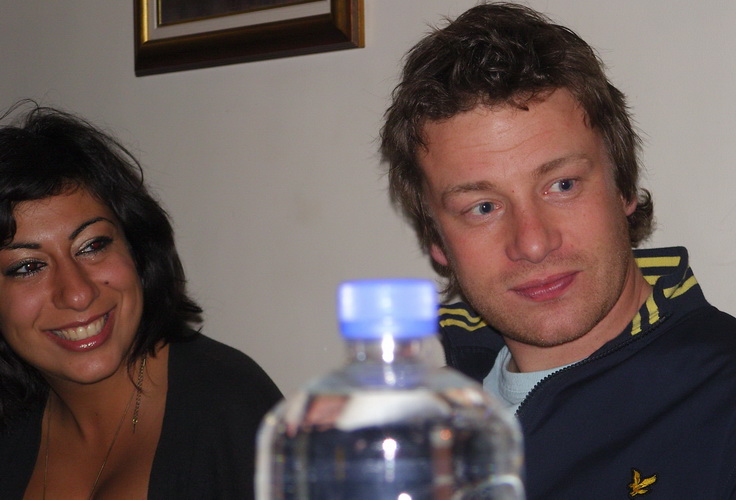 So how did it happen that I went out to dinner with Jamie Oliver? Well first of all I don't want it to sound more intimate than it really was. It wasn't me and Jamie drinking wine while he ran back and forth to the oven to bring out some new Jamie dish for me to taste. In fact Jamie did not cook one thing. I had dinner with Jamie Oliver but unlike most people who have dinner with him we were eating food cooked by someone else, in this case the chef at To Kafeneon on Epiharmou Street in the Plaka. Besides Jamie and a couple of camera guys and a producer or two there were about a dozen of us at the table. My friend Nikos Mangriotis was the sort of host for the Jamie Oliver crew and he mentioned my website to Katie Millard, who is Jamie's producer and she and I e-mailed each other for a couple weeks while they looked for locations to shoot a 2 minute segment for 'Jamie Does Greece' or whatever the show will be called. Nikos had chosen To Cafeneon as the best place for a mezedes dinner, and Katie asked my opinion and I agreed but gave her some other options which she could check out. One was The Secret Underground Taverna but when she sent someone there she found out the owner had a heart attack and it was closed (they re-opened yesterday and the Jamie crew had lunch there and the owner proudly showed his surgery scars). I thought the most authentic place would be Cafe Evi or what people who use my site know as the Elvis Costello place. Its not fancy and pretty, its in a derelict area next to some dumpsters, deserted buildings and graffiti but Kati loved it too and asked Stratos (Elvis) if they could film there. He refused. He didn't want the publicity and he was upset that when Jamie was the chef for the G-20 leaders a couple weeks ago he didn't poison them all.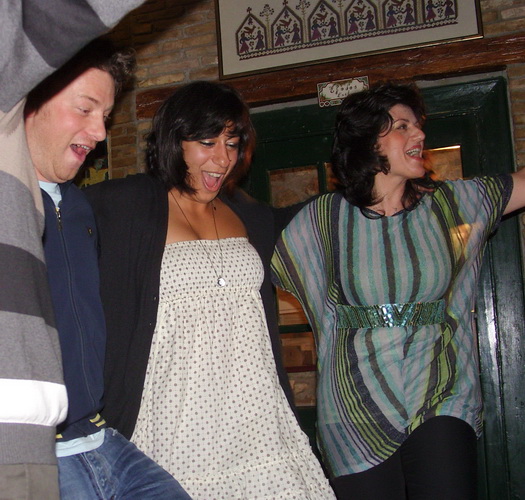 So they chose To Cafeneon and we all met there and we ate the cafeneon food which kept on coming and there were some musicians playing and we all talked and laughed and drank for several hours and even though I had the flu I took enough Advil and drank enough wine so that I was OK but I did not want to get too close to Jamie and give him the flu so I kept a low profile and mostly hung out with Kosta, the guy who they brought in to spontaneously get up and dance, which he did and Jamie joined him and did pretty well. Then we all said goodbye and exchanged business cards and they went back to the Fresh Hotel where they were staying because they had to shoot in Aegina on a typical Greek caique (fishing boat) today, where Jamie actually was going to do the cooking. But today is grey and cold and I am glad I was part of the cafeneon scene instead of the caique scene because I imagine they are out there freezing their asses off right now. I almost forgot to mention that Jamie was there with Andy Harris who is an old friend of ours who is the editor of Jamie Oliver's new magazine, called Jamie of course. Andy kept behind the scenes but I just wanted to mention that his cookbook Modern Greek is probably pretty close to what a Jamie Oliver Greek cookbook would be and since there is no way of being certain that there will be a Jamie Oliver Greek cookbook, for those who want one you may be able to pick up one of the few remaining copies of Modern Greek through Greece In Print by using this form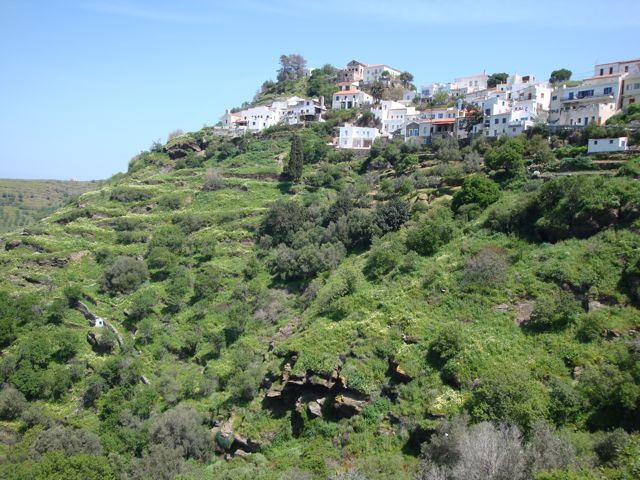 For those who don't know or care about Jamie Oliver I know the number one question on your minds is what did I do for Easter. We went to Kea on Thursday and my cousin Craig who I had not seen in about 20 years came from the states on Thursday and we drove around the island, eating, drinking and even swimming. (4th swim this year! I swam in Kyparissi last week too.) Kea was absolutely beautiful. Everything was green and the wildflowers were all in bloom. But that's where I was when I caught the flu on Easter eve and though we went to the candlight service and then to Yannis taverna for mageritsa and kokretsi and lamb, I felt terrible the next day and we really did not do anything. But because I am one of those guys who can't lay in bed even when I am sick, I was able to complete 99% of my Chania site (remember?) which is at www.greecetravel.com/crete/chania in case you have forgotten.
But today I am feeling a little better. It was Thursday and we went to the laiki agora in Kypseli and bought some fruit and vegetables and I bought a kilo of fresh mackerel for about 4 euros and we ate lunch at home and I think that if I can keep from going out and drinking with my cousin tonight, as I have every night since he arrived, I may be close to 100% tomorrow.