Amfiaraion, Egosthena and Fried Barbounia at Rena's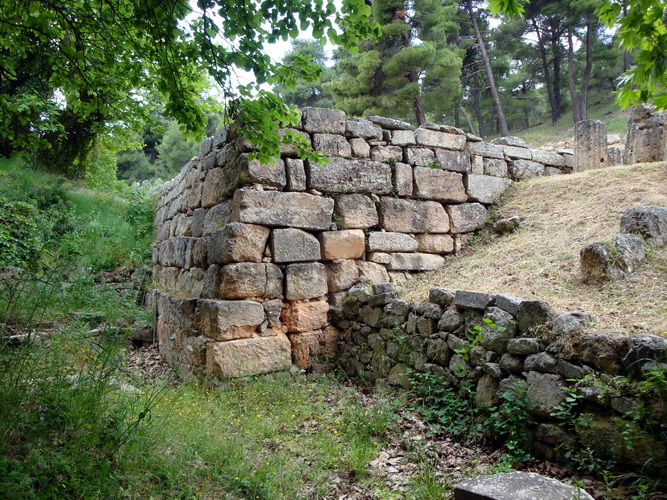 Wow. Its been so long I think I have forgotten how to write. I have an excuse though. An endless parade of friends and relatives visiting from the USA because of the cheap fares in May. It started with my cousin Craig a couple days before Easter. I had not seen him in about 10 years and that was at my father's funeral so we had not really spend any time together since around 1980. I was a little nervous. It was like having a stranger come visit you for three weeks. But as it turned out he was low maintainance, independent and fun. We spent Easter on Kea and then the rest of his holiday in Athens. He stayed in the Hotel Dore in Kypseli, right up the street and would show up every night at out apartment with a bottle of red wine which we would drink before going out to some neighborhood taverna or whatever friends could join us. The day he left, my brother arrived with his daughter and this set off a new round of tavernas as several friends arrived on simultaneous days, peaking with the arrival of his wife and my mother. We managed to get most of them to stay in the neighborhood which was convenient because we did not have to get on the trolly every night to meet for dinner. But I have begun to realize that you can't do Greece the way you do it for a summer holiday, stretched out the entire year. My body and mind simply can't handle eating, drinking, and staying out late every night without some kind of break. So last night I stayed home, had a simple dinner of lamb and stringbeans that my mother made for my daughter and only had 3 small glasses of wine which for me is a break. And here I am! 8am and writing again.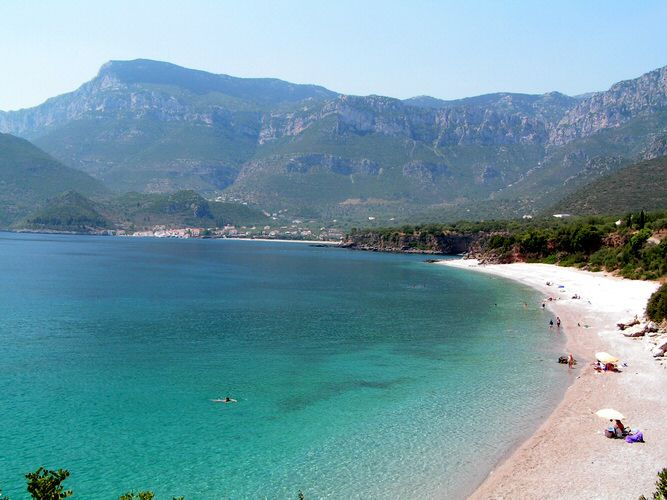 I have been keeping up with my e-mail though and putting together a few new pages. One is the page I made for my grandmother's village in the Peloponessos. Its called Kyparissi (photo) and I have written about it in this blog but now it has its own website. I waited until now to put it on the site because I was afraid that so many people would read it and go that I would have a hand in destroying the place. But the simple fact is that it is so difficult for the normaltourist type to reach that few who read about it will make the effort to go there since most people don't want to spend hours driving mountain roads and the last half hour is so terrifying that some passengers have to close their eyes. But if that does not deter you visit www.greecetravel.com/peloponessos/kyparissi
I have been swimming several times this month. The sea is still a little chilly but in Schinas, near Marathon I swam for about half an hour without having a heart attack or losing any fingers or toes to frostbite.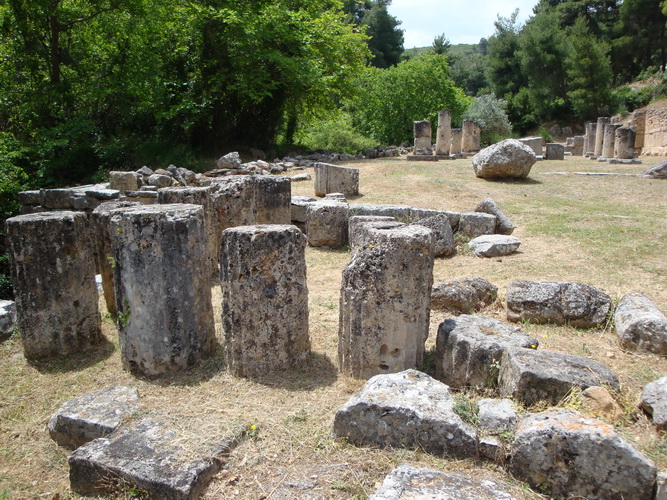 This week we found an amazing site that few tourists or even Greeks go to. The ancient sanctuary of Amfiaraion is near the town of Kalamos which is near Oropos, in north Attika, where you catch the ferry to Eretria, Evia. It was a healing center and the most important religious sanctuary for the nearby city of Oropos during the classical period. There is a temple to Amphiaraus with some columns still standing, a sacred spring which still has water, baths, an ampitheatre, a long stoa, and the remains of dwellings and shops on each side of a small stream in a wooded area in the hills that lead to the sea. It reminds me of a small version of Delphi or Olympia but its just half an hour from Athens. It was excavated in the thirties but the archaeologists lost interest and much of it remains undiscovered. But it is a beautiful and peaceful setting and nobody visits there. We were there for over an hour and the only other people we saw were the guy selling tickets at the gate (2 euros) and the caretaker in the old museum, which has been closed for years but still has statues, columns and pieces of the ancient buildings. It is an important site, there is even a book about it written by Basil Petracos, the Ephor of Antiquities. Once you see the siite you can go to Agio Apostoli or Oropos for a swim and lunch at one of the many fish tavernas.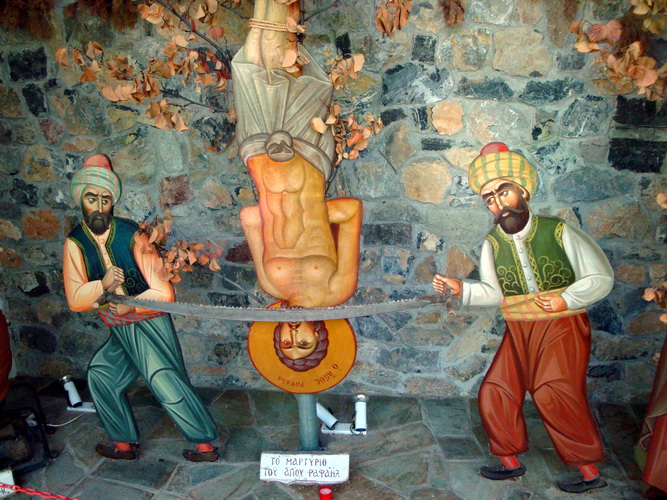 The next day we drove to Porto Germanos which is the most western part of Attika. So far west that it is on the Corinthian Gulf. If you take the Attiki Odos towards Elefsina and get off at the exit for Mandera and Thebes you leave a factory area and find yourself in the kind of rural settings you associate with the Peloponessos. It feels like you are 100 miles from Athens. Its a modern road, very wide in some places because trucks from the north use it as a shortcut to Corinth and south and along the way in a town called 'Oh No!' is an ancient tower. At the turnoff for Porto Germanos there is a church dedicated to Rapheal, Nicholas and Irini, the saints from Mytilini in a beautiful garden setting. It is actually a private house. The woman who lives there went to Lesvos where these saints at the famous church in Thermi cured her husband of the asthma that was killing him. They built the shrine in thanks. The garden is full of monuments and one set of statues resembling the nativity scenes you see on American lawns at Christmas, though these show the child Irini being boiled alive, Raphael having his head sawed off and Nicholas being flayed, by Turks. The work put into the shrine is more than impressive. These people have devoted their lives to these saints from Lesvos and if you are the spiritual type stopping here will be a special experience. The woman loaded us down with plastic crosses, holy oil, holy water and icons so we would spread the word.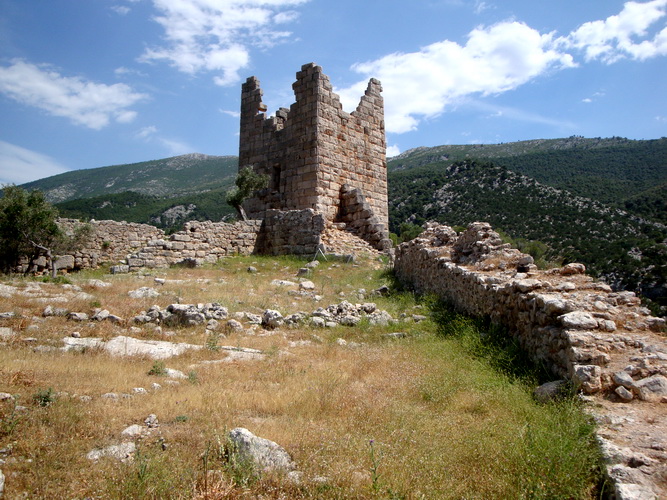 Porto Germanos is the best place to swim in Attika. The sea is postcard blue in color and the beach and town sit at the end of a large bay that faces west, with pine covered mountains on three sides. There is a modern looking town with houses and small apartment buildings, like condos, but the impression, at least in early May, is of a small coastal village somewhere more remote than Attika. Most of the restaurants were being worked on, getting them ready for the summer. There were a few people who came from Athens having lunch at one of them and there were several people on the beach. I swam for about twenty minutes and though it was cold when I got in, I got used to it pretty quickly. If you have a free day and want to swim in the kind of sea you usually find in the Sporades, its worth the trip. But the most impressive part of Porto Germanos is the fortress and ruins of ancient Egosthena. The 4th Century BC fortress itself is the most impressive in Greece from that period with much of the walls and the towers still intact. There is a small church and the remains of a monastery within the fortress and inside the church are frescoes, the latest being from the 1830s, but they are replacing paintings that were damaged and much older, some of which can still be seen though they have been darkened by centuries of candles and oil lamps. Just like the previous day at Amfiaraion, we were the only ones here. But there is no ticket collector, no gate, no fence. We just drove into an olive grove below the walls of the fortress, parked the car and walked around for an hour until we were chased away by a big snake.
Yesterday was Thursday which is market day in Kypseli. I bought a kilo of barbounia (red mullet) for 18 euros, (it costs at least 55 euros in a restaurant), and brought them to Rena's, my hangout in Kypseli and she fried them for me, Andrea, my mother and Dorian. We also had salad, tarama salata (the best ever) and vleeta (seasonal greens) and including the 5 euros she charged for cooking the fish, the bill came to 15 euros. Who says you can't eat cheaply in Greece? And seeing what a kilo of barbounia looks like and how long it took us to eat it made me realize that there have been times when I have gone to a restaurant and not gotten the full weight I had paid for. So if you don't have a beautiful cafeneon owner like Rena who will fry your fish for you and you have to buy your fish in the restaurant, when you order your kilo or half a kilo go inside and watch them weigh it.
Here are some more photos of Porto Germanos and Ancient Egosthena.