Moms, Rough Guide and Rotten Fish
No, Andrea did not murder me. But thanks for asking. Actually since her meltdown a couple weeks ago she has been pretty nice to me. But that's because she feels pity for me and has other things on her mind too. As you may recall I have been bombarded with guests since a couple days before Easter which by my recollection was about 40 days ago since this is the dreaded weekend of Agios Pnevmatos, the holiday of the Holy Spirit, which is to Greece as Memorial Day is to Americans, a mass exodus to the islands and countryside. We are down to two guests, my mother who has just 3 more days in Greece, and Andrea's mother who will be with us until September if we live that long. I have been reading A New Earth by Eckhart Tolle. I don't know if you know him. He is a modern guru type, I guess made famous by Oprah. His teachings are a mixture of Baghwan Shree Rajneesh without the humor and a watered-down Course in Miracles. Maybe not that important in the context of the universe but helpful for those of us struggling within it. He wrote something, actually he was quoting Baba Ram Dass.
"If you think you are enlightened try spending a week with your mother".
Have truer words every been spoken? No matter how much you think you have it together, how far you have progressed in your life path, how centered and peaceful you have become, all it takes is spending time with your mother, to realize that you still have a long way to go. OK, mine in particular. And in all fairness she is not a nagger, she does not guilt trip me (that much), she does not put me down. In fact she is very quiet, intelligent and philosophical and I suppose Bohemian, though some would say she is a total hippy. But three weeks with my mother or anybody's mother including my daughter's, is at least two weeks too many and the reason I have not written anything in these three weeks is because I did not want to spend three weeks writing about my mother. OK? Do I seem tense? I AM NOT!!! I have just strayed a bit from the path of inner peace and all it took was a visit from my mother.
So now we are on Kea. Me, my mother, Andrea and her sister Pam and if my mother has the ability to cause irritability in me for no reason, Andrea and her sister can drive me insane for many reasons, none of which I will go into here. Maybe next session.
Its nice to be out of Athens. There are very few visitors on the island and the beaches are empty. Yesterday I dropped Andrea, Pam and a friend at the path to Karthea so they could walk down and see the archaeological excavations on the ancient city and the temple they have unearthed. Its over an hour down the mountain to the sea and a lot more walking up so I skipped it and drove to the next beach which took an hour on the worst dirt roads on the island. Several parts are impossible for a car and difficult even for a 4by4 and caused me some stress. At one point I thought I blew a piston trying to keep from sliding off the road and into a ditch, the car smelled so bad, but it was only the brakes. But I had this whole beach to myself. In fact I had several beaches to myself. No need to get my bathing suit wet. I just swam naked. It feels great. No need to mess up a towel. Just stand on the beach and dry by the sun and wind.
Anyway I know you want to see a photo, not of me naked, I mean of the beach so here you go...
I started re-doing my HotelsofGreece website. Besides spiffing up the individual hotel pages I have also given people the option of booking directly with the hotels through booking.com. I know I say all over my website that you should book with a Greek travel agency to avoid hassles with the ferries and I still feel that way. But some people won't use a travel agent no matter what I tell them so instead of having them use my website and getting all my information and then feeling guilty because they booked somewhere else, now they can book directly through my website. Yes, I get a commission and hopefully with that and the google ads on my site I won't have to sell my body on the street to be able to keep writing.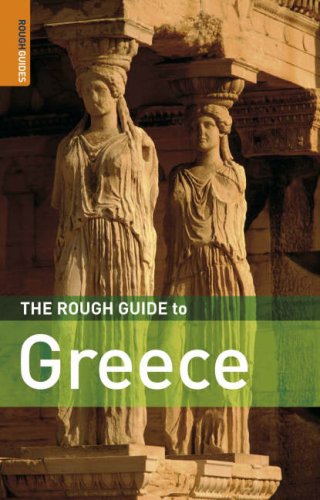 I got an e-mail from the publishers of Rough Guide and the people who wrote their Guide to the Greek Islands wanted to send me a complimentary copy. I started using Rough Guide on my adventures a couple years ago after Andrea threatened to throw my Lonely Planet out the window on a trip through the Peloponessos. Guidebooks have it tough these days. People are not buying them like they used to, there are a lot more of them, and they are in competition with sites like mine that people just print out the pages they want for free. Most guidebooks can't afford to update as often as they would like, sometimes waiting several years before returning somewhere. Not like I go back to the same places every year either but at least I have enough people who read my site and can tell me if a restaurant went out of business or is now serving baby seal instead of veal and I can make the changes. But most guidebooks pay their writers very little and those who write well and know the most about a particular destination often move on. A simple mistake I made on one of my websites and changed a few weeks later turned up in a popular guidebook where it has been through several re-printings. Editors have no idea if some of their writers are getting their info off the net (not like I don't do it) or actually going to every place they have written about. Many guidebooks pay their writers a set fee which is supposed to cover expenses too, so the hotels that get in are those that let the writer stay there for free which enabled them to come home with some money in their pockets. Who can blame them? I would do the same, especially if I was an underpaid writer of a Guidebook owned by a multinational publishing company. So my point is that in my opinion Rough Guide is at the moment the best guidebook for Greece. I am not an expert because I don't use all of them, I generally just stick with one until it fails me or the writing style gets on my nerves. (Andrea says the Blue Guide is the best if you are serious about archaeology and culture and stuff not related to eating and drinking)
The other point is that if you meet someone who writes for one of these guidebooks treat them to drinks or a meal because they not only deserve it, but it could make the difference between them coming home with some money in their pockets or losing money doing an important job.
(To give you an idea of how bad the business is I have a friend updating a well known guidebook used by millions, who was told not to go anywhere new. In other words he is allowed to go to the towns and villages already written about in the book but not to go somewhere that might require adding a new section. I am sending him hotels that may let him stay for free in the hopes of being included in the book because he is running out of money!)
Last but not least, go to visit my friend Rena at her Cafeneon in Kypseli. Just take the 2, 4 or 9 trolley from Akadamias or in front of the National gardens, or the 035 blue bus if you are coming from Athinas Street, and get off at Platia Kypseli. You will know you are at the Platia because it is a square at the top of a long straight road up a hill. Then walk back down Kypseli Street one block and turn left on Skopelou. Rena's is on the intersection with Spetson. It is the most authentic Greek cafeneon-ouzeri you will find, nothing like the places downtown and Rena and her husband are very sweet. She is a terrific cook and changes the menu every day. A couple weeks ago we bought a kilo of fresh barbounia at the Kypseli Laki Agora for 18 euros and Rena fried them for us for 5 euros. So we ate 55 euros a kilo fish for 23 euros a kilo. Of course the next week the same guy sold me rotten fish and we had to throw them out and it ended up costing 18 euros for nothing which meant all together we spent 41 euros altogether but that is still 10 euros cheaper than another restaurant. And after we threw out the rotten fish she cooked us the best fried kalamarakia I have ever eaten.