Syros, Houses in Lesvos, and Tripadvisor Extortionists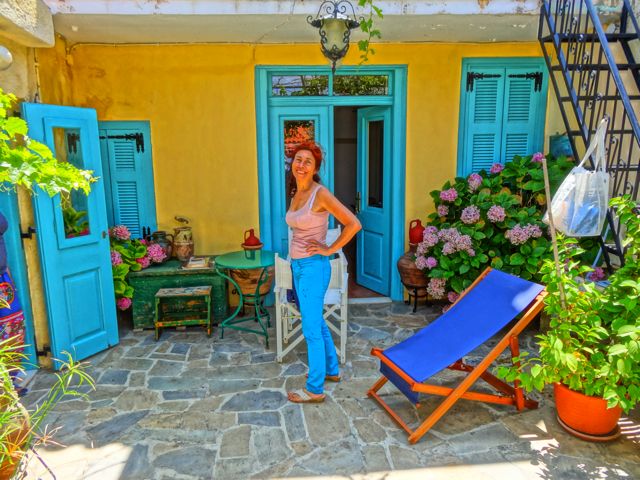 It has been awhile since I have written anything. To be fair (to myself) I have been keeping up with my e-mail despite adverse conditions. I am at the moment in the small town of Vatousa, Lesvos staying at the house of my former best friend who almost married my sister-in-law. He bought it for very cheap, around 20k, and the two of them were restoring it, very quickly because they were having an aravona (engagement party) and they planned to have some of the guests stay in his house, while they stayed in hers next door. To make a long story short, the stress from preparing for the aravona, and the task of trying to renovate an old village house in three weeks, not to mention my friend's fear of comittment brought out the worst in both of them and though they got through the party, the relationship did not last much longer than the trip back to the states. He just sort of shut down his emotional center and became indifferent, while she just cried for a few weeks and then continued her life, which was pretty full even before they got together. She never forgave him for proposing and then chickening out, for making her fall in love with him and then turning stone cold. A year later he called her to try to make up. I don't know if he was asking forgiveness and wanting to start over, or just see if there was any possibility that they could be friends. There wasn't. And she certainly did not want him living in a house in her village, right next door. So she made him sell it to two of her New York friends who have money and use it for a week every two or three years while she continues to restore it. They call it the Three Mosquittos House, I guess in reference the character of the new owners, not because there are mosquittos. But for me it is Peter's House, and I can't help being sad when I think about what could have been if they had stayed together. How many guys have a best friend in America that marries their sister-in-law and then moves to an island where they all spend their summers? But I have to also see the glass as half full and though I lost a friend, in a way I have gained a house, because Andrea and I stay here more than anyone, for at least a week every summer.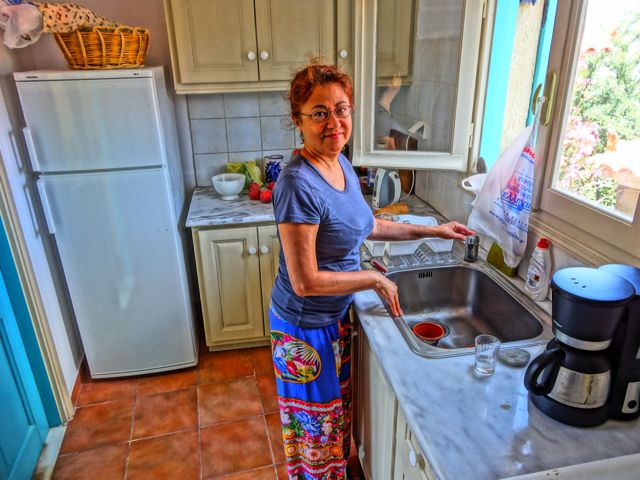 But besides a pet ostrich, probably the last thing I need in Lesvos is a house in Vatousa because last year Pam completed the restoration of her grandmother's house in Xidera, the next village and that is considered Andrea and my house, since we paid for it. So we have two houses within a couple miles of each other, neither by the sea. And I forgot to mention that we have an apartment in one of the old 1922 refugee houses in Mytilini town that Pam is restoring right now. Before you start thinking I am rich I should mention that these houses cost nothing because they were such wrecks or because Andrea's family already owned them, but having a sister-in-law who is an historic preservation architect, means we can fix them pretty cheaply since we don't have to hire a contractor to steal from us. Personally I don't see the point in me having any houses since travel agents are more than happy to comp me on hotels since it is a business expense for them and could be free advertising for the hotel. But I have to admit that Andrea is a lot happier in her own house than she is living like a gypsy, going from hotel to hotel. My daughter Amarandi would rather stay in hotels, just because they are in more interesting places than Vatousa and Xidera, usually with beaches, bars and cute guys from other countries. Our villages, on the other hand, are as untouristy as you can imagine. The women stay at home in gardens enclosed behind high walls, the men wake up at 5am and feed their animals (sheep mostly) and then go to the cafeneons to talk, play cards and drink coffee or ouzo until around 1pm and then they go home to sleep til evening when they come out and go back to the cafeneons. Vatousa has only two restaurants and even if you went there on a Saturday night you would think the male to female ration is something like twenty to one. My daughter is here with her friend, both tall and beautiful, and have become the obsession of every young man or boy in the village. When they get up to use the bathroom every eye in the restaurant follows them. Its as if two playboy bunnies suddenly appeared in this wild mountain village, the answer to every boy's dream. Of course as a parent it is kind of weird for me to have all these guys checking out my daughter and her friend, but this is Lesvos, and the boys are taught to have good manners and be respectful and they are pretty innocent compared to the boys of Kea, who are mostly Athenians with money. But the girls are not too happy here, especially after coming from Skala Eressos where the beach bars are one continuous party that just gets suspended for a few hours, from dawn to sometime after lunch.
Syros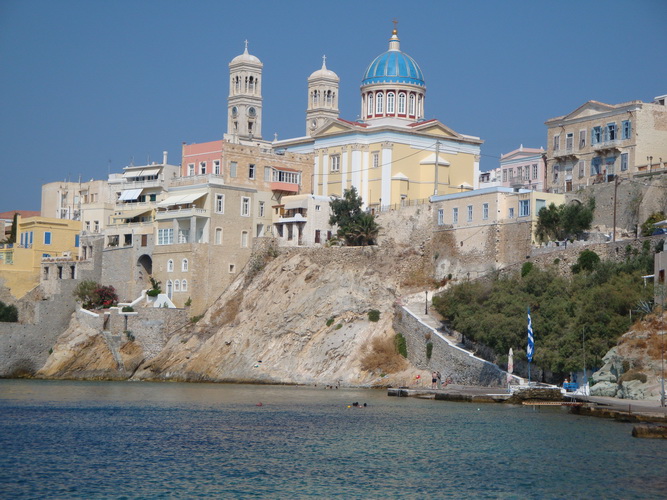 We started this trip from Kea. I could have easily just stayed there, writing, answering e-mail, updating my website, eating at Rolando's, but I thought it would be good for Amarandi's friend Nathalie to see some other islands. Several days a week there is a ferry from Kea to Syros so we started there, as we have done many times before. But this time, and the last time, we got there during a heat wave, and staying in Hermoupolis, which is as big a city as you will find in the Cyclades, it seemed a little hotter than what the thermometer read. But we stayed in the Syrou Melathon, a beautiful restored mansion overlooking the sea with great airconditioning. Actually we stayed in the anex which though some people may be disappointed because it does not have a view, the rooms are larger than the main building, with beautiful showers with plenty of water pressure, not common on an island that has to import its drinking water. Below the hotel is the swimming area, you can't call it a beach, because it is really a series of stone and concrete docks and a walkway, where every morning I would swim for an hour with the old men and women from the neighborhood who do this from May until it gets too cold. It's really the main social activity of the day for many of them and from above you see all these heads bobbing around in little groups, and the sound of conversation filling the bay. There is an old guy (right, probably my age) who has turned a little beach hut into his summer home and in the afternoon and early evening he plays old rembetika and laika. In the morning he plays Demis Roussos. So just imagine every morning doing your daily swim and underwater exercises while the greatest hits of Demis Roussos float over the quiet sea and your octogenerian neighbors chat nearby. Its kind of a surreal experience, something out of a David Lynch movie. (Photo-you can click to see it big)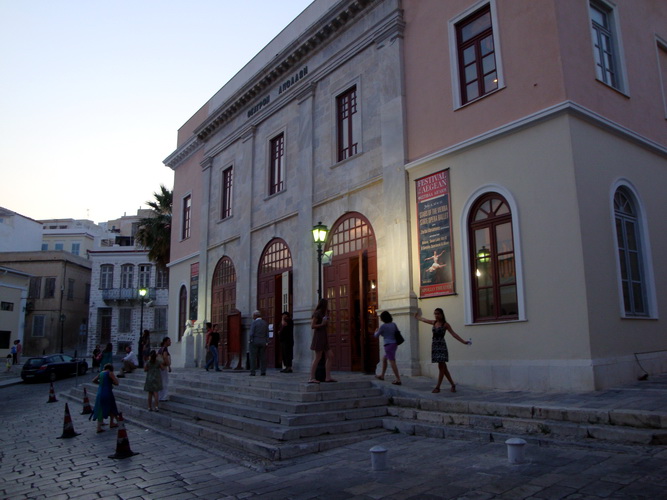 Syros puts on the Festival of the Aegean every summer, the brainchild of Peter Tiboris, the founder, music director and conductor of the Manhattan Philharmonic. The festival features visiting composers, orchestras, dance and theatre groups, in the copy of La Scala opera house just off the main square in Hermoupolis. We got tickets for Sheakespeare's As You Like It, performed by a theatre group from New York, using very few props, modern clothes, but speaking in the Sheakespeare dialect that is as hard for me to follow on stage as it was to read it as a bored highschool student. I realized after a couple minutes that I had no idea what was going on and I became more confused as the play continued with each actor playing several different roles, which actually led to some amusing scenes, for example when two charactors played by the same actor shared the stage. But like a 50 point blow-out in football I did not make it past half-time and sat in the big square and drank a Guiness while waiting for the play to end and my family to rejoin me. (Photo-you can click to see it big)
The best thing about Syros, after the architecture, is Amfix, the Italian restaurant in the port in the old distillary. We discovered it a couple years ago and ate 4 out of 5 dinners there, and this year we did two out of three. I think it is the best Italian restaurant that I have ever been to in Greece and having been here now for a solid 13 months, when I see an Italian restaurant I eat at it, having exhausted my desire for Greek food. It has great air-conditioning too. We ate here the first night, then our last night we decided to take the midnight ferry to Lesvos, so we parked the car across the street where the ferry comes in, and had an Italian dinner until it was time to board.
For more about Syros see www.greektravel.com/greekislands/syros
Lesvos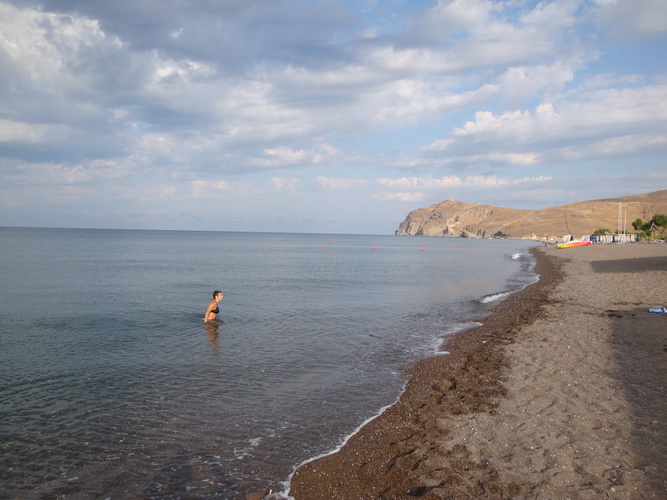 It is 6 hours from Syros to Lesvos and there were no cabins but we had a couple sleeping bags and I slept on the deck just like the good old days before I discovered I needed a cabin. In Mykonos we passed giant cruise ships twenty stories high, and lines of car headlights on the shore, heading for town from outlying hotels. I went to sleep and woke up in Chios and again in Lesvos where I drove the car off the boat and right to Vatera to the Hotel Aphrodite Beach for a swim and breakfast. Then on to Skala Eressos where we spent the next few days eating Italian food at Acua and Samadhi and sardines at The Blue Sardine. For those who have yet to visit Skala Eressos, it is like a trip back in time. It reminds me in a way of Ios and Mykonos in the days when they were hippy hangouts, not eurotrash brothels and spring break on steroids. There are probably a hundred former and current Baghwan Shree Rajneesh sanyassins who run and work in restaurants and cafes, teach yoga, do Swedish massage and shiatsu, and every kind of traditional and new age therapy, like a Greek Sedona-on-the-Sea. The restaurants, whether they be Greek fish-tavernas, or contemporary bistros are pretty much all good. Most of them sit right on the sea on boardwalk like platforms on stilts that are dismantled in October when the season ends. Many of the foreigner who live here stay year-round and some just for the warm months. Its a really great scene and the beach is one of the best in Greece. Rooms go for as low as 25 euros for a double (though this price is hard to find in August) and an espresso can cost under 2 euro instead of the 8 or whatever they are charging in Mykonos today. There's a first run outdoor movie theater, shops, a couple galleries, a dinner theater, bars, cafes, clubs and no cars on the main drag which follows the coast. It has been a Mecca for international lesbians (as in gay) but is also a family destination, counter culture alternative types, honeymooners and plenty of Athenians. Anyway there is no excuse for not coming because Greece has gotten expensive. It is cheap here.
Tripadvisor Extortionists
I was talking to a travel agent friend about an e-mail from an American client that was cc'd to me. She did not like her Santorini hotel. Apparently the shower stopped working while she was in it, which happens in Santorini in some of the clifftop hotels sometime because of a lack of water and the pressure to push it through the pipes uphill. Her bed was uncomfortable too. She wanted to find another hotel but never called the agency. She went back to America and then sent an e-mail to her travel agent that unless they gave her a refund she would write a bad review on Tripadvisor. I think we call it extortion or blackmail. But my friend said that he has spoken to other travel agents and hotels and it is a trend. As the economy worsens and people get more uptight about money they use sites like Tripadvisor to get the discounts they could not get before they booked the trip. Just think, you can make 100 euros or more by threatening a hotel or agency with a bad review.
But that pales beside the customer who sent me a complaint about a hotel two weeks ago. The woman and her husband checked into an island hotel owned by a very nice young couple. Unfortunately the woman hotel owner had been diagnosed with breast cancer, just underwent a double masectomy and a massive dose of chemo-therapy and happened to be bed-ridden the few days this customer stayed there. Meanwhile the husband, who was in a state of depression over this turn of events, and the daughter did their best to keep everyone happy. But the customer wanted me to take them off the site because they had ruined their holiday. When I replied that I could not with a good conscience remove a hotel from my site because the owner was ill for several days after a double masectomy and chemotherapy she replied "Do as you wish. I thought I'd contact you first, but Trip Advisor and other review sites are available to prevent these things from reoccurring."
I actually wrote about it on this blog and included the e-mails back and forth but decided not to post it because it really is not my job to expose someone's lack of humanity to the world. But it really makes me wonder what is happening to us. Coming to a hotel and finding the owner recovering from a life threatening illness should bring out sympathy for a fellow human being, not anger for ruining a holiday. A travel agent works hard to put together an itinerary for you and everything is perfect except you don't like one of the hotels so you threaten to destroy his business on Tripadvisor if he does not give you money? Wow! In one summer a couple of my readers have given new meaning to the term 'Ugly American'. If it gets worse I may have to find another job.
But the weirdest complaint was the group of basketball players who came with a couple coaches, who were stopping in Athens on a cruise and instead of seeing the Acropolis, wanted to showcase their talents for some professional coaches and maybe get a deal for a couple of the players and e-mailed me to ask if I could help them. I said I did not know any coaches but I knew a kid who played basketball and maybe he could help them. I gave them the number of his mother's restaurant and thought that was the end of it. Then yesterday I was driving to Eressos when Billy, of Billy's Bus Tours in Athens calls me up and told me that the woman coach who had hired him to go to some basketball stadium was blaming me because they apparently were not allowed to use the court. "I can't believe what she was saying about you that you had completely ruined their plans." How could I ruin their plans? I did not even know their plans. I just knew a guy who played basketball and gave them his number. But that is the down-side of trying to help people. Because if you give them advice and something goes wrong, then they may think it is your fault. And in a country that was designed so that things go wrong there is always that risk. But hopefully the good remarks about me on Tripadvisor outweigh the bad. If I am wrong don't tell me. I don't want to know.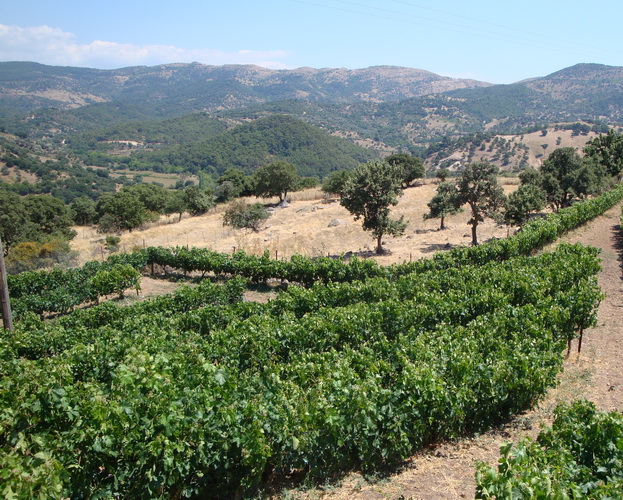 One more thing to end on a positive note. Yesterday we went to Methymnaos Winery in Xidera, Lesvos where they were bottling the wine from last season's grapes. It really was an amazing thing to see, and a group of German tourists were also lucky enough to come for a wine tour that day. It is a fully-automated bottling system but don't get the impression that there is one person who presses start and the wine goes from the giant vats in to the bottles. There is a person at every step of the way either feeding the bottles into the machine, making sure each machine does its job, and then taking the bottles and putting them in the boxes. But the whole thing is state-of-the-art and Methymnaos is the best wine I have ever tasted. If you come to Lesvos you should come and take the tour, get a case or two to drink so you don't have to drink ouzo every night, and bring the rest home. It is organic and leaves no after-effects, at least it doesn't with me and I am an expert on after-effects. Check out their website at www.lesvos.com/wine and if you are a wine distributor or know one you should consider getting this. It has a facinating history and is virtually unknown outside of Greece (except for winning a few European awards of course). In the same little village or Xidera is the Iacovidis Digital Museum which is also well worth visiting since it is one of the two most high-tech art museums in Europe and Iakovidis is probably the greatest painter that you have never heard of.