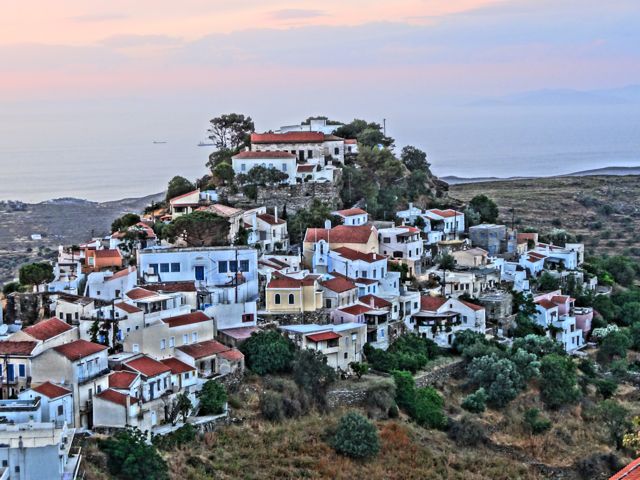 So I am back in our house on the island of Kea, sitting in front of my laptop while outside the window I can see the Cavo d Oro, the stretch of sea between the island and the Attika Peninsula where the wind is blowing and there are whitecaps. It won't last. It is supposed to get hot this weekend. 36 in Kea which is hot for here and 41 in Athens, which is hot for anywhere. Today I thought that maybe I would tell you what it is like to be me on a typical day in Kea.
Normally it begins at 8am but my day began today at 3am with an SMS text message from my daughter and her two friends who had gone to Vourkari where the bars are. They had been waiting for a taxi for an hour and there were none around. After sending messages back and forth with the phone numbers of all the island's taxi drivers, all of whom were either asleep or not answering their phones, I realised the inescapable truth that I was going to have to get out of bed, get dressed, and drive to the port to get them or blow my shot at being named father-of-the-year. Going to get your daughter when she is stranded at four in the morning is what any good father would do. Except in my case I live in the village of Ioulida which is a mountain fortress, unsuited to 4-wheel vehicles and my car is parked down the mountain, a half mile from the village, because the parking lot is full. So muttering to myself and rehearsing the lecture I will give my daughter I set off down the mountain, get in the car, and find them a mile outside the port, beginning their trek up the mountain. They get in the car but I never give my speech except to say that she is not going to the port anymore. The girls get out while I park the car (I have to park on the mountain on the side of the road, so close to the rock that you can't open the passenger doors, or the car juts out and some drunk can knock off your mirror). Then I sit on a bench in the piazza and watch the lights of Attika and the stars twinkling while a nearby owl calls out to his owl friends in the dark.
I wake up at 8am and then sleep again til 10am and make coffee, put on some Mozart and send SMS messages to all my friends asking if anyone knows any cops because Dorian had been given 900 doughnuts as payment from a Nigerian client trying to get a business license.
Dorian: I need money! What am I going to do with 900 doughnuts?!!
Nigerian Client: But they are cream-filled.
Cops in America traditionally eat doughnuts. In Greece maybe they eat kolouria. Anyway nobody knows any cops so they end up being eaten by the officials at the customs house. One crisis solved.
I sit down to work. First thing I do is check to see how much money I made from bookings.com yesterday. These are the people who go against my advice about using a Greek travel agency and book hotels on their own, and then are going to e-mail me later trying to find a ferry, which is OK with me since I will make 33% of the 15% that Booking.com will make from them. Not that I know whether they booked with my booking.com page or with Expedia or with the hotel directly. I don't know, which is why I help everyone. I figure if someone knowingly books elsewhere to save fifty cents and then has to come back to me and humbly ask for my help in finding a ferry and I happily comply, it just adds to the Matt Barrett mystique of me being some kind of patron saint of travelers to Greece.
Next I check the Google adsense report, you know those little ads I stick on every page that look like they are part of my site but aren't. I get about fifteen cents everytime someone clicks on one. I figure if people like my site and they click on one by accident they will realize they are not on my site and come right back, and those who click and don't come back were probably leaving anyway, so it is like having an exit fee instead of an entrance fee. I love the google adsense program because even though it is money that is paid by people leaving the site, it is one of the few ways I have of monitoring the success of the site on a day to day basis. It is like having my own private stock market and I can code the ads for each domain and even specific pages. Like, Wow. Lesvos.com is up fifty cents since last week. It makes me feel like a businessman. Why do so many people who visit the cruise page click on the google ads? I am not complaining but on a normal page maybe 1 to 2% of the people who visit that page click on a google ad. On the cruise page something like 35% of the people click on the google ads. Kind of makes me feel like they popped into my site by accident and get the hell out as quikcly as possible. But cruise people are kind of weird if you haven't figured that out already. I think they are more into the boats than the places they go to.
Then comes the most important report of the morning. How did the faltering NY Mets do last night? They lost again. Shit. When they win I actually go to SNY.tv and watch the game wrap-up with Ron Darling(my friend Ned's former neighbor), Cary Cohen, and my favorite all-time player who should be in the Hall of Fame but isn't, Keith Hernandez. If they lose I just read the game wrap-up in the same way I have to read many of the e-mails I get, skimming it for important keywords that may offer a glimmer of hope for this season. Next stop is Huffington Post for my news of the day but if Dick Cheney or Sarah Palin are not being indicted I just move on to Meteo.gr for the weather, and then I settle down to my e-mail which I will spare you from all except the most juicy.
Here's one I got about a tourguide on my site named Dick Caldwell (now deceased). I don't really promote him, like I do Fantasy Travel, or Dolphin Hellas, but I mention him because he is an interesting guy:
"I need to know the truth: Though legendary, has Dick Caldwell indeed become
sloppy, cranky, inebriated, and dismissive of his clients, or well past
his prime as alleged?"

My reply:

"I think he was always like that.

I imagine that the kind of people who post on Tripadvisor might be
traumatized by his tours. But the guy is brilliant and hanging out with
people like Dick Caldwell could be the best or worst experience of your
life, depending on the type of person you are. If you have doubts don't
go but the good thing is that you can join him at any time and leave at
any time. So if the horror stories on trip adviser make the tours sound
more interesting than your normal tours that every Tom, Dick and Harry
take, go. Your chances of surviving it are fifty-fifty, and you will
probably come back smarter, though this may be counteracted by the brain
cells lost in long nights of drinking and philosophical discussions.
Probably half the people who book his tours found him because they are
searching for the islands that Mama Mia was filmed on which are Skiathos
and Skopelos, in the Sporades. It's ironic that he would be the one to
benefit from that film because he probably hated it and I imagine he
would be dismissive of anyone coming to Greece because they saw that
film. Anyway I don't know what to tell you. I would go on one of his
tours, but I probably would not take my wife and daughter, my mother, or
anyone who goes to church regularly."

Then of course I have to send an e-mail to Dick Caldwell, a brilliant ex- professor and author with the personality of Peter O'toole on a six week binge:
(the client decides to book after my description above by the way)
Dear Dick
I find myself in a position of having to explain why I recommend a guy who I have never met, whose tours I have never taken and who has left a trail of traumatized travelers who spill their guts on Tripadvisor like it is some kind of group therapy session. At least nobody has died on one of your tours yet, that I know of, though I did hear a rumour that you totaled one of Swift's vans. Isn't it about time to retire and write a book or something?

Can you at least sent me some positive reviews from this century?

And let me know when you will be in Athens because there is no excuse for you being on my site and us never having met, especially since I spent the past year in Athens.

Keep up the good work, if it is indeed good work that you are doing.
Matt

Then I have a series of e-mails from people who need help with their itineraries, like deciding on an island. Most people don't take my advice. I say go to an island like Sifnos, or Lesvos, somewhere that is still somewhat Greek. But 90% of the people go to Mykonos and Santorini and then they write and thank me for the wonderful trip they had. Others are in ferry crisis, usually because of the shortage of boats and seats between Mykonos and Santorini, two islands that you would think would have half a dozen ferries between them a day. They have one and sometimes two and sometimes none.
Sometimes I get letters written by people when they are really pissed off. Like this one today:
Hi Matt
What a wonderful time we are having waiting for George since he didn't show up to pick us up. Please let me know how I CAN LEAVE A TESTAMONIAL. His wife or someone is sending us another driver she says but I really doubt if they show up. I booked this a month ago and he had all the instructions. HE IS NOT NOT NOT dependable.
All in all I think your website should be honest and it is not. I would also adsvise you to start a new scam.
Name withheld
I call George's wife Loula and it turns out the client had forgotten to send the name of the hotel he was staying at in Athens so they had no idea where to pick him up. When he finally called to complain they sent a driver and he went off on his tour. But before that I had sent the angry client a reply:
Dear Name Witheld,
You can send a testimonial to me, or maybe you just have.
George is very dependable. But this is peak season and mistakes do happen. However since I don't know the whole story I can't really judge who is at fault, though if a driver did not show up to pick me up I would be angry too.
Thanks for the advice on the new scam.
I will just assume that you are venting because you are pissed off about missing your driver, and not take it personally. I hope the rest of your trip turns out better.
Sincerely
Matt Barrett

It didn't really matter because he had sent it from a fake e-mail address and it was returned. But see how diplomatic I am? Of course the e-mail I wanted to send looked nothing like the above. But I am considering a new scam. Maybe Barcelona. I guess I should go there first though.
Most of the really insulting e-mails I get come from people who visit my History of Greece page and don't agree with something I wrote. Usually they are very conservative, sometimes anti-American and often just plain off-base. Like this one which is written by an attorney who did not like my criticism of George Stefanopoulos which I had written in anger after he had asked the ridiculous question of Barak Obama about not wearing an American flag on his lapel. Maybe I was a little hard on the guy. You can be the judge: www.ahistoryofgreece.com/biography/george-stephanopoulis.htm
The angry attorney wrote:
You rip George Stephanopoulos, but you have praise for the Greek Royals, whose bloodlines are from a bunch of bloodsuckers and thieves, who have as much Greek blood as Barack Obama does. That more than anything gives your webpage a BIG ZERO.
I replied:
Dear Nameless Reader
If you call this praising the Greek royals then you did not read it, unless in your mind saying Queen Fredrica was in a Hitler Youth Group and a disciple of an Indian Swami is praise:
http://www.ahistoryofgreece.com/biography/frederika.htm

and this neither praises nor condemns:
http://www.ahistoryofgreece.com/biography/constantineII.htm

But George Stephanopoulos could have done great things and chose the easy road. Very rare with Greek-Americans who generally have higher aspirations and often attain them.

Thanks for the big Zero Mr Expert.
I hope you read your legal papers a lot more carefully than you read my site before condemning it.
Sincerely
Matt Barrett
OK, maybe I was not as diplomatic with this guy as I could have been. I doubt there will be any remorseful e-mail coming from him. But at least he did not threaten to disembowel me like the person who was offended when I wrote that the nation of Greece did not exist before 1821.
"Didn't exist? Have you ever heard of ancient Greece you $#@%$ moron!"
Then there is the Greek-American who is visiting Greece for the first time, who I made the mistake of suggesting he go to his ancestral village and try to find any existing relatives:
Many Thanks for your prompt reply !
Regarding Greece - I do not have any known relatives either in the USA nor in Greece and I have no interest in looking up relations there per se. I strongly doubt that they know of my existence therefore I would be complete stranger to them. Nor would I be able to garnish proof that I am related and I do not think they would extend any hospitality to me.

I hasten to add that I am a fairly young person who wanted to go hanging out with generous young locals there. I am not the least bit interested in visiting any elderly types who might be seeking a handout from me. I am not anymore economically better off than they and should seek such assistance from their own families !
Obviously, there is no such an organization there where one pays a small fee to eat at someone's home so I guess I won't be going to Greece anytime soon !
Evidently my inquiries are not being fully understood !
Thanks Again,
Bill
I'm not going to answer this one. No good can come of it.
This guy wrote and asked me about ferries from Pireaus to Cyprus. I wrote back that there was a boat but they discontinued it about eight years ago. He then writes:
"Look, I just wanted to know the aproximate price of the cheapest ticket from Athens to some port in Cyprus...
Is it aprohimately 20$ or 200$?"
To which I reply:
How can it cost anything if there is no ferry?
You want an approximate price for a non-existent ferry? OK. One million euros because you have to buy the whole boat.
Matt Barrett
Many of the e-mails deal with the location of hotels. This person works for an investment company and asked me about the Hotel XXXX and I told her that it was a nice hotel but the street it was on is full of African prostitutes and drug addicts, to which she replies:
Hmmm need to rethink about hotel XXXX then... would it get dangerous/dodgy
after dinner time? It's for my parents so they won't be out till late, probably 9pm at the latest if they want to walk around plaka.
Is Attalos in a much better neighbourhood?

I answer:
Wait a second... You work for Morgan-Stanley and you are asking me if it is OK to put your parents in a hotel surrounded by hookers and junkies. Now I am really worried about the economy.
Matt
And so it goes, another day spent answering e-mails. If I have any energy left I will write on my blog, or update the site. I was working on Lesvos in Lesvos but now I am in Kea which means I will either leave Lesvos half updated or be working on Lesvos in Kea which can get confusing. But right now it is 6:45pm so it is either beach time, or time to do my Greek lessons. Probably I will just continue to answer e-mail as it comes in and wait for dinner time and go to eat at Rolando's and begin drinking the 20 gallons of wine we brought back from Lesvos which surely will make starting another day of e-mails much easier.