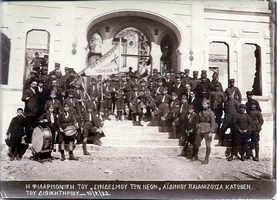 A lot has happened since I last wrote anything, Alot of nothing actually. We closed up our apartment and flew back to the USA on Sept 3rd. The last few days in Athens were fun. When there is a limit on time remaining in Greece we try to do as much as we can, eat a last meal at a favorite taverna, see our friends for the last time, and of course clean the apartment and my office so it is not a disaster we have to deal with when we return. What complicated this was the discovery of thousands of slides and photos left by Andrea's aunt in the apartment. I spent several days scanning the best ones. Probably the most interesting were several hundred photos from 1819 to 1922 from the town of Aidinion in Asia Minor, where Andrea's great grandmother came from. They capture a lost world for it was not long after these photos were taken that all the Greeks were forced to leave their homes, farms and businesses to 'return' to Greece, a country they had never lived in. The photos capture important events, parades commemorating the name-day of King Constantine, the arrival of Greek troops, religious festivals, the arrival of important politicians, the battle of Aidiniou and Nazli, destruction of hospitals, mosques and churches. The photo on the left is an example. It is the Philharmonic Orchestra of Aidiniou standing in front of the administration building. But if you look closely(click on the photo to see it full size) you see the building is in ruins and all that remains is the outer walls. The date is 10/2/1922 just a week or so after the burning of Smyrna. If you look below there is a photo of the same building intact from March of the previous year.
This is just one of many photos and not all of them are from Asia Minor. Many are from Greece in the fifties and once I sit down and figure out what I have, I will put them together into some kind of project. You can click on the photos below to see them full size.
Apart from that I have just been trying to get acclimated to North Carolina again. I feel kind of tired lately. My eyes are bothering me and I can't spend long hours in front of the computer so I just answer my e-mail and try to get my life organized. We will be going back to Greece in October and I have a lot of photos and information for new pages and updates of old pages that I need to do before I go back and get new stuff. But I truly miss the craziness of Athens. I guess you get addicted to it. Every day there was something new happening. Every time I walked out of my apartment I saw something interesting, something worth thinking about, something crazy. To put it all into perspective I came home the other night and turned on the TV. It was the last minute of the movie Goodfellas, where Ray Liotta is talking about his life with the mob, before it came crashing down and he was forced to testify against his friends and bosses to stay out of prison. He was reminiscing about all the girls, the money, the booze, the best seats in the house, and the feeling of being truly alive he had while living on the edge. The last scene is in a cookie-cutter suburban neighborhood our west somewhere, all the houses look the same and he comes out in his bathrobe to pick up the morning paper from the doorstep. Just another suburban shmuck. That's how I feel right now. Hopefully I will get over it.