Back in Athens!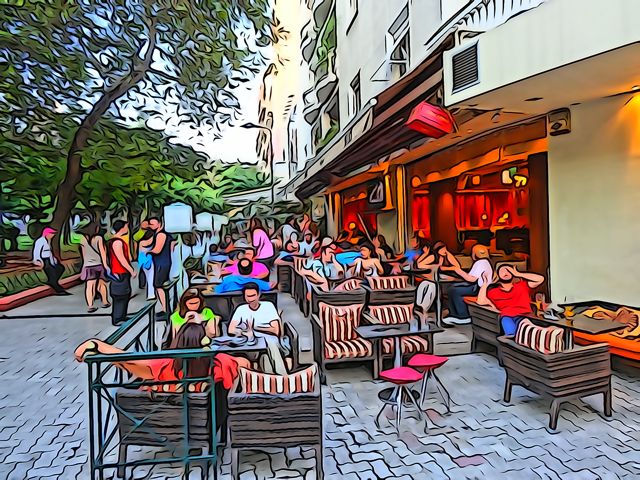 After the usual long flight in which I slept approximately 11 minutes we arrived in Athens and found our pal Yannis, George's driver from New Jersey, waiting at the gate to take us to Kypseli. I don't remember anything besides eating some kind of egg sandwich on the plane and 2 of the 3 movies I watched. Capitalism: A Love Story, and True Heart. After a couple hours of doing I have no idea what in our apartment, I fell asleep and woke about 6pm, in time to go to Fokionos Negri for a walk and maybe a coffee. The pedestrian avenue was full of kids playing, people walking their dogs, chatting with friends and neighbors in the cafes and restaurants, eating, drinking, smiling, laughing, and I had to ask myself what was going on. There is supposed to be a crisis here. Don't people here watch CNN?
After a coffee we made our way to Alotino, our neighborhood jazz-bar hangout and met some of our friends for a drink, well several actually, before going back to Fokionos to Bakalogatos, the mezedopoulion where feeling somehow immortal I drank glass after glass of amazing tsipuro from Lemnos, and ate anything within arms reach while talking more in one night than I had in a year of Fridays in America. It is GREAT TO BE BACK! I feel like a bear that has been hibernating all winter. I feel like Ted William's head which has been thawed and then awakened to find itself grafted onto the body of a teenager that has just been injected with 24 ounces of Red Bull. I feel like makin... "feel like makin..... feel like makin.... feel like makin.... feel like making love to (your name here)." And remember that this is 16 hours after drinking a quart of tsipuro from Lemnos. Remind me to visit that island this summer.
Woke up this morning at about noon. Andrea was next to me reading. You know I am in a good mood if I wake up in the same bed as my wife. Not that anything happened. Well, even if it did I would not tell you. But the fact that she was just laying there reading after I had spent the last 8 months in America waking up before her and making coffee for her was enough reason for me to take a quick shower and head out to Fokionos Negri again for my morning coffee. I mean, have I become such an enabler that she does not know what to do if she wakes up before me and there is no coffee made? That reminds me of our cat who sits in front of his food bowl until someone notices and feeds him. But really, when you live in Athens and every moment can bring a new experience, who wants to sit in bed drinking coffee, chit-chatting with his wife?
Just as I was leaving I had checked my phone because Andrea told me she had heard it beep when I was asleep. It was a message from my friend Anastasia replying to my text message asking her if she was in Mykonos at her shop. Her reply said she was working as a waitress in a cafe at 57 Fokionos Negri so that gave me a concrete destination instead of the usual indecision of where to have coffee today. The cafe was called Stou Stratou,and the owner, whose name is Stratos, owns another place of the same name in the upper platia of the Hora on the island of Serifos. Anastasia was surprised to see me at one of her tables and after my first coffee she came out with a glass of raki from Rethymnon, Crete, some olives and traditional paximadia which I drank and ate with no ill effects. The menu was a book. Not because it had so many different things on it. It had a good selection of mezedes, drinks, coffees, and even omeletes and other eggs for breakfast. But it was full of poetry, art, information on Serifos and enough stuff to keep a customer occupied for several days of ouzo or coffee drinking. Apparently Stratos was a student of Philosophy in Paris who returned to Greece and one day on the way to Milos, stopped in Serifos and fell in love with the island and never left. Those who have read my Serifos pages may recall that the same thing happened to Bobby Bobolos of the Hotel Mastriali who is sort of the un-official information service for the island. Anyway, Stratos has opened a very nice cafe, probably the best on Fokionos in terms of what I like and having Anastasia working there, since she is my main ouzo-drinking partner in the neighborhood, is an added attraction. (Which remind me that I have to introduce her to Rena's where I have been going since Anastasia went back to Mykonos last spring after we had spent the winter looking for the best place for ouzo and mezedes in Kypseli ).
The phone just rang and it was Yannis, who owns Methymnaos Winery, wanting to come out with us. Andrea went to Exarchia with Pam to visit our friends Elizabeth and Mihos in their new apartment but Yannis says there is a demonstration by one of the communist groups that may spill into the neighborhood since that is the area the 'anarchists' are based and the cops don't go into. Sounds like a fun evening. I imagine a quiet little ouzeri on a small side street where we can watch the police and the embittered youths shout insults at each other in the platia down the street, like we are spectators for this popular urban sport. Actually I think most of the communists are protesting in front of the Israeli embassy in Psyhico over the attack on the relief ships bringing food and medicine to Gaza last night. Well, who knows what tonight will bring? If the protests are out in Psyhico this could be a nice night to visit the many ouzeries and tavernas in Exarchia.
I had to spend the last several hours answering e-mails and I wanted to get a few words into this blog while I had the opportunity because once life begins moving for me here, finding the time to sit in front of a computer and remember what has gone on in the last 24 hours becomes impossible. America seems like a blur. Was I really away for 8 months? It seems like I have always been here. And yet everything is still fascinating. It is funny because the perception you get of Greece from watching the news is of a country in shambles. I am thinking about the guys who go off into space and come back and though they have aged only a couple years, back on Earth it is 100 years later. I feel like Rip Van Winkle, only I went to sleep for a hundred years and woke up to find nothing had changed. Except there is a new cafe-ouzeri on Fokionos Negri.