Andy Horton, Rain, Rick Steves and the Greek Constitution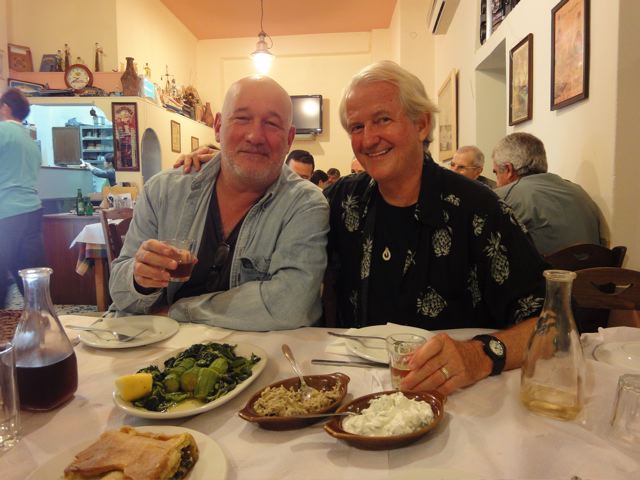 Sorry it has taken so long to write again. It is not that I have been so busy but that not much has happened which is kind of what you want when you live on a quiet Greek island. The first day we were here it was warm and sunny and I went for a swim but the next day it rained all day. I love it when it rains on the islands in the summer because it is so unusual and almost makes it like a holiday. In our village the streets can become rivers as all the water that has come downhill from us follows the course of the streets towards the ravines below the village, turning steps into waterfalls. But unfortunately for us, this rare rainstorm struck at an inopportune time because we were having our roof replaced and the day it rained was the day there was no roof at all, just a ceiling and the skeleton. We waited for the water to come through but the workers had put down plastic as their last act before quitting due to the weather and though they only had enough for half the house, the other half was covered with rubble which I suppose absorbed the water. Afterwards people in the village, who were all aware that our house had no roof, asked us if it rained inside and we were able to tell them it hadn't, and they would cross themselves, thankful of another miracle.
Saturday night was cold and still damp and we had dinner at Yannis in the Platia which is as cozy a winter taverna as you will find. We were joined by Andy Horton who teaches film at University of Oklahoma and has written and translated about 18 books on film and Greece. But his proudest achievement is that he is the guy who discovered Brad Pitt and put him in his movie Dark Side of the Sun, about a guy who has an illness that makes him unable to be in the sun. So Brad Pitt spends the whole movie covered up and masked which probably delayed his journey to being the Brad Pitt we all know and some of us love to look at, since there were few scenes in the film where you actually saw his face. OK, I am teasing. This is not Andy's proudest achievement, at least I don't think it is. Andy has written some terrific movies that you have probably seen and if you study film you have probably read one or two of his books. He has also has a couple books about living on the island of Kea, written years before books by people living on Greek islands became as common as travel blogs. (You can click on the photo to see full size. If you want to read more about Andy Horton go to www.andyhorton.org) We had a festive night of paidakia, spanakopita, sadziki and bread toasted on the grill along with several carafe's of some amazing local red wine. Since it was cold and wet anyone in town came to Yannis for dinner, though afterwards it was nice enough to go across the street to Rolando's and introduce Andy to Andonis Spinoulas, another filmaker who happens to be Rolando's son and is helping him in the restaurant this summer. A couple nights later we had drinks at Andy's. It was his last night here before flying back to the USA and we met a nice couple who are archaeologists who have been working on the Agia Irini archaeological site for the last twenty or so years. Afterwards Andrea and I went to this small taverna on a back street called Sti Zoula which besides having really good food, also has a photograph of John, Paul, George and Ringo in the village of Arachova, near Delphi, sometime around 1967.
Sunday we stayed in the village for most of the day. I have been spending about 6 hours a day answering e-mails and the village is so much cooler than down below that we have to force ourselves to go to the beach. But it is supposed to get hotter during and especially after the weekend and by then swimming will probably be a daily occurrence. My last month in the USA I had some kind of cough from the NC heat and humidity or from the air-conditioning. Within a couple days of arriving in Kea (since we used the AC in Athens) it is completely gone. Now we are talking about going somewhere, I am supposed to be a travel writer, or at least that is what people say, but I don't want to end up somewhere that I have to use the AC to keep cool. But that could just be an excuse to not go anywhere. I need to lay down and reflect on this and see if I can break through the barriers of excuses and false beliefs and see why I am happy to sit on a mountain top with a cool breeze blowing, watching the ships pass, instead of jumping in the car and going through the ferry ordeal and visiting somewhere new that I may not like but will have to write something nice about. The thought of being without e-mail for 2 or 3 days is troubling, not because I can't be away from my computer, but because if I spend 6 hours a day answering e-mail and I don't answer e-mail for 3 days that is 18 hours of e-mailing I will have to do when I return from my journey. And with 18 hours of e-mail plus 6 more hours every day when am I supposed to write about my trip? I have entire sections of Greece that I have not put on the site yet because I have not had time. I have thousands of photos that I have never put up and the thought of going somewhere new and piling more work up is kind of scary. But I suppose I will go somewhere and somehow I will manage to answer the e-mail and write the articles. Rick Steves does not have this problem. Have you ever tried to send him an e-mail and ask for the ferry schedule from Santorini to Mykonos? No wonder he has books on a dozen countries and does tours all over Europe. He probably has a room full of people who can answer his e-mail for him. He even has time to travel! Rick Steves does not have to sit on a beautiful Greek island, with a view of the sea, answering e-mail from desperate travelers, waiting for 5pm to drive to the beach for a daily swim and then come back and go to a taverna and drink wine with friends all night. Rick Steves does not have to suffer this way. Rick Steves has it made!
OK.... about the political situation here. It still seems pretty normal. Lots of editorializing in the papers. Some new information on old scandals, some resignations by members of the government on the verge of being exposed for stealing millions, maybe more. No major strikes in awhile. No violence. I had a really interesting talk with a friend of mine who works for one of the papers. I told him that in my opinion the best thing the government could do is repeal parliamentary immunity. For those who don't know this, in the Greek constitution, members of parliament can't be prosecuted for crimes they have committed while in office or after they leave. The law was probably made to keep the political party going into power from throwing in jail everyone from the opposition party that just got voted out. So it was created to keep the opposing parties from tit-for-tat retaliations, but used by the people in government to steal everything that was not tied down without fear of going to jail. My friend explained to me that the law can't be changed so easily because it is in the constitution. To change the constitution the government has to announce that they want to change it, then step down and hold new elections. Pasok can't step down because what if they lose? Then not only won't the constitution be changed but they are out of power, New Democracy returns, and may not feel obliged to honor the commitments Pasok has made. So instead the government has to force fishermen to give receipts to their customers to make up the billions the government needs to avoid the country's collapse which will probably net them an extra 10,000 euros. In return the fishermen get angry and block the port of Pireaus, angering the cruise companies who threaten to cross Athens off the map, which costs the city millions in lost revenue. Meanwhile there are billions of euros in Swiss bank accounts that will stay there until the owners can figure out a way of spending it without drawing too much attention (unlike the Greek politician who married a woman 50 years his junior in a wedding in Paris, the likes of which had not been seen since before Louis XVI was beheaded).
Well the Greek government has assured the cruise lines that there will be no more problems with the fishermen or the seamen's union, and the editorialists have been beating the drum pretty steadily that to disrupt tourism by blocking ferries and cruise ships is tantamount to treason, and the cruise companies seem to be willing to give us another chance. And to be fair I have to add that the fishermen did not completely close the port for 24 hours but only for a few hours before letting the ferries in and out again. You can count on the fishermen having some compassion for the tourists. After all... Who else is going to pay 75 euros a kilo for barbounia?
In the meantime today the euro is at 1.19 and Greece gets cheaper and cheaper for those who disregarded the photos of flaming garbage cans, riot police and hooded anarchists in Athens and booked their holiday to the islands anyway. If things stay calm and the euro keeps dropping, Delta, USAIR and Continental may want to drop their prices and add a few more flights.