Paros and Antiparos (and the Rabbit)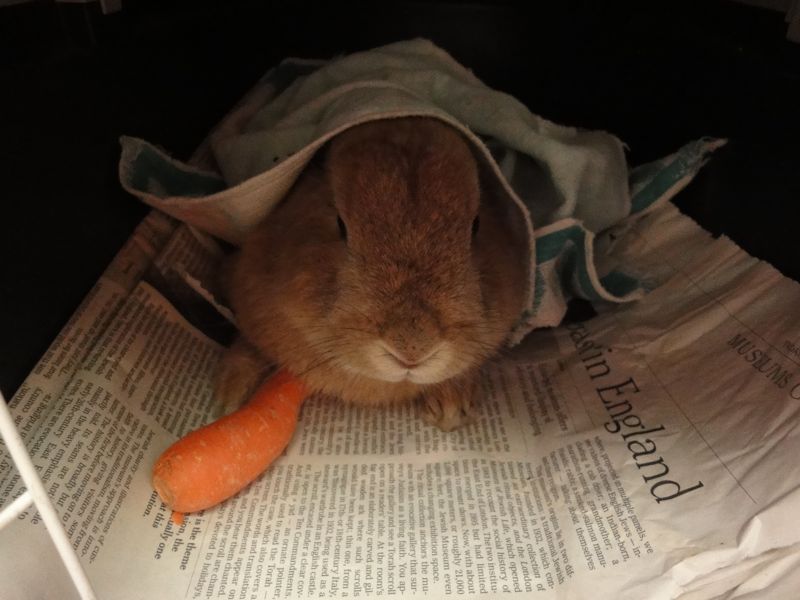 I am on the ferry Aqua Jewel going from Paros to Sifnos. The rabbit is on the farm and Andrea stayed with him. Yes. She chose life with the rabbit over me. But I have come to accept it. The rabbit provided her with something I can only reluctantly give her; something to mother. It is time for me to do manly things like go to an island by myself on the agoni grammi.
The agoni grammi is the ferry routes that connect all the islands in the Cyclades to Syros, the capital. It is a route subsidized by the government and ship-owners in the past have had to bribe government officials to get these routes (there are agoni grammis all over) because you don't have to worry about filling up the boat to make a profit. You make your money even if the boat is empty. And this boat is empty. There are maybe 20 or 30 tourists, a few Greeks, about 8 cars and no trucks. So I have a beautiful place to sit with a table and 2 benches, right next to the sea, shaded, with a nice breeze and a view of the passing islands. Right now I am looking at Sifnos, where I am going, but we have to pass it and go to Serifos and then turn around and go back. I sent a text message on my phone to my friend Sarah at the Hotel Stavros asking if she had a room and she wrote back "No Problem". Life is sweet when a trip is progressing smoothly. Then again it only began twenty minutes ago.
Paros
We arrived in Paros at about 11pm on Sunday night. Nikos and Carolina were there to meet us at the windmill to take the rabbit to his new home on the farm and we drove to a taverna on the sea in Parikia, the port of Paros. Because they close the port road to traffic in the summer we had to drive all the way around the town and down this paved riverbed to park the same distance from the restaurant we would have been at if we had just left the car in the parking lot. Nikos was with me and Andrea and the rabbit were with his wife Carolina and Nikos made me more nervous than the guys who help me park the car on the ships. He would say "straight, straight, straight..... continuously and then just when it was becoming like a mantra and my mind was drifting into a meditative state he would shout "Right Here!" with such force that I thought I had missed the turn. By the time I parked the car I was ready for a drink.
We had a light dinner at a restaurant called Christos Taverna, which served really nice home-style Greek food, not the mousaka-pastitsio-souvlaki that many of the other restaurants advertised. We had a plate of really good melitsana salata that he made with walnuts, gouna, which is the local specialty; sun-dried mackerel, usually kolios but in this case skoumbri (both in the same fish family) that is grilled. He also served a kind of flat hortopita, a wild green pie that they eat in my grandmother's village in the Peloponessos. I asked where he was from and he told us Molai, which is the regional capital of my grandmother's village and Andrea and I both got very excited because we had to go there many times to do paperwork for my grandmother's house. "My brother-in-law is an engineer he said and told us the name of the only person we knew in Molai, the guy who did the plans for our house. This seems to happen a lot in Greece. In the USA when I meet someone from somewhere that I know many people, they never seem to know any of them. Maybe its a reflection on the people I know. But in Greece if I know one person from one place, the first person I meet from that place will be his relative. It never fails. If I meet someone from somewhere I know many people, like my grandmother or grandfather's village it usually turns out that we are related.
Carolina took the rabbit and we drove 16 kilometers in the dark to the Hotel Contaratos Beach which was on the back side of Naoussa. The owner, Taso was waiting up for us and checked us in. We both fell asleep, rabbitless for the first time in a week.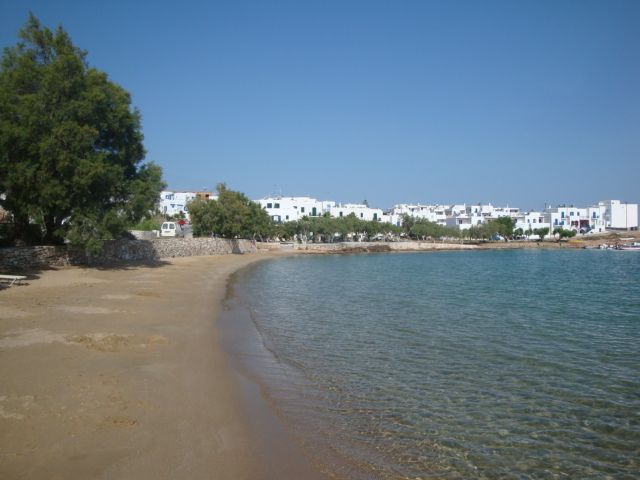 The next morning I woke up and went out on the balcony to check out our surroundings. It was a really nice hotel with rooms that overlooked a large swimming pool and the sea which was across a small road. After ten days on Kea where the sea is this blue thing with ships passing by several miles away, to be able to wake up with a swim was a real treat. We ate breakfast and then started on our journey around the island. Because of the screwed up ferry system I had only one day before the ferry to Sifnos. You would think that two islands within sight of each other would have more than one or two ferry connections a week, but not so. The 'have' islands, meaning touristy islands, don't want good ferry connections to the 'have-not' islands because they don't want to share their tourists. They see the exchange as one-sided, like for example if I were to ask Travelocity for a reciprocal link. As wonderful as my website is why should they link to me? So they can get 1 or 2 of my viewers and I get several hundred of theirs? That is not reciprocal, that is them giving me a gift, not matter how valuable my site may be. Well it is the same thing with islands. Why should islands like Mykonos, Santorini, Paros and Naxos have regular ferry service to islands like Sifnos, Serifos or Milos? Tourists might like them better!
Well that was my brilliant perception and I really liked the analogy with my website but my friend Apostolis, the owner of Aegean Thesaurus Travel on Sifnos just phoned to see if I am coming and told me the real reason. In the past the ferry companies would ask for input from the travel agencies, like for example they might ask him "what would you think about a ferry from Mykonos to Sifnos? Could you sell tickets?" Of course he would say absolutely since this ferry connection would increase his business. But now the ferry companies, which have all been absorbed into two or three mega companies, don't even ask the agents. The reason? Fuel. They make more money doing short hops like Andros-Syros-Tinos-Mykonos or Paros-Naxos-Ios-Santorini or Kythnos-Serifos-Sifnos-Milos and even though Sifnos is just 22 miles from Paros that is considered out of the way by ferry company standards. So anyway I got the idea right but instead of it being about wealthy islands it is about oil which seems kind of appropriate for these times.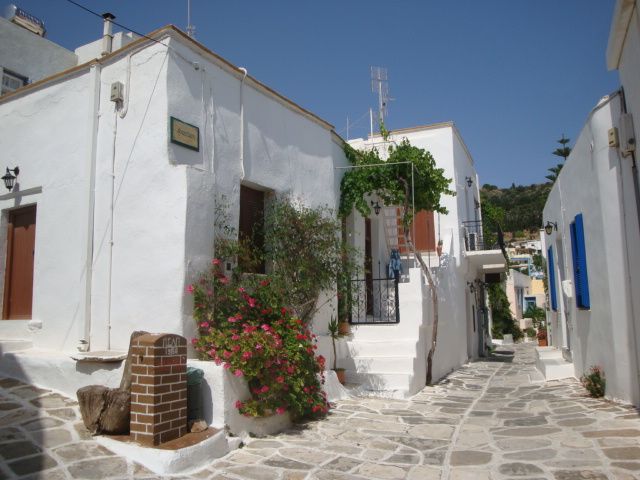 So back to our trip around the island. Yannis, another of the owners of the hotel, gave us a map and circled some of the places we should visit. The closest was Lefkas, a traditional Cycladic style village in the middle of the island. We arrived there at the same time as a bus load of French tourists. Yes it was a very attractive village with a nice street of interesting shops, a bakery with excellent spanakopita; more like a sesame kolouri filled with spinach and feta. But it was impossible to take a photo without at least two French people in it. They were creating traffic jams in the narrow streets, stopping to photograph cute kittens, white churches, each other and anybody within range. They even had a guide giving a running commentary on what they were seeing which was a small agricultural village that was probably getting into the tourism business a little bit too late. But for those who want to see what Paros was sort of like back in the age before tourism and summer villas it is a really nice place to see, and if you can stand being away from the sea, probably a nice place to stay.
Antiparos
Our next stop was the tiny port of Pounta where we caught the small car ferry that leaves every half hour or so for the island of Antiparos. It's a ten minute trip past the island of Goulandris. That is not the name of the island. Goulandris is a ship owner and he also owns the island as I was told by one of the guys who works on the ferry. "I guess it would be nice to have your own island", I told him. "But what a pain when you run out of cigarettes." He agreed. He was a smoker like everybody else in Greece and when you put it in these terms the rich don't seem so well off.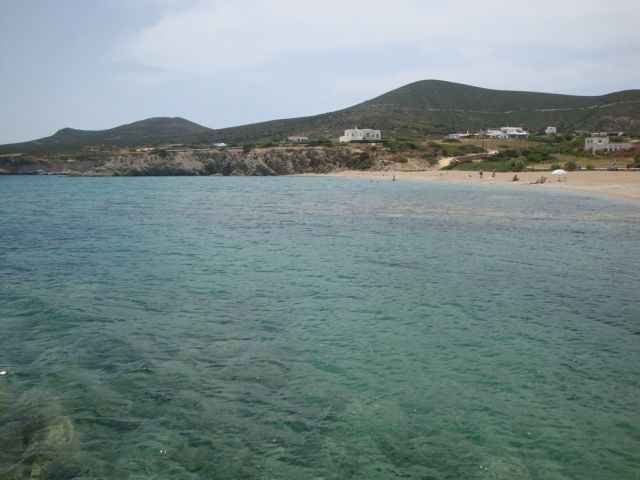 Antiparos is not a spectacular island. It is not a particularly beautiful island. It is somewhat touristic though the reason it is now touristic is because it wasn't. Antiparos was one of those islands that the artists and free-spirited entrepreneurs went to when the islands they had discovered, like Mykonos, Santorini, Ios, and Paros became saturated by tourists and the rents became unaffordable. There is a waterfront with cafes and fish restaurants and a street that leads into the village lined with cool cafes, boutiques, Greek and Italian bistros and restaurants, gift shops, craft and art galleries, many of them owned by young people who are counter-culture but still have to make a buck. The village is flat and spread out and the best mode of transportation is bicycle and you see them all over. In fact you could live on Antiparos quite comfortably with a bicycle as your only transportation. In the center of the town is a Genovese fortress from around the 14th century, pretty impressive once you figure out what you are looking at, and there is a small museum in the center of it.
(As I write this we have entered the port of Serifos. We left Paros at 9am and it is now 10:43).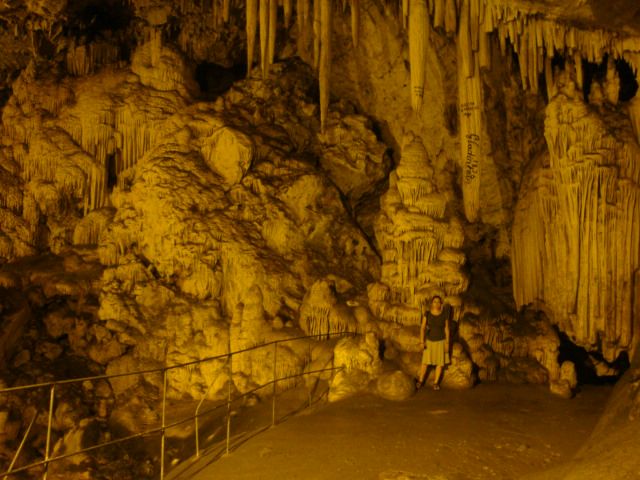 The most important site on the island is the Cave of Antiparos which was discovered in the modern age in 1673 but is mentioned by the lyric poet Archilochus in the 6th Century BC. People have been climbing down into the cave for hundreds of years and carving their names and the dates in the stalagmites and stalactites hundreds of feet below. There are now stairs that go all the way down and the cave is mostly vertical. It looks like the stairway to hell as you look down and as you descend you can't help but thinking that you hope there is an elevator at the bottom to bring you back up. There isn't. I walked to the next to last level while Andrea went all the way to the bottom. There was a Scandinavian couple huffing and puffing their way up the stairs that convinced me that I had seen enough. But Andrea, who was climbing the walls to get photos of all the historical signatures including King Otto and Queen Amalia who visited the cave on my birthday, September 27 1840.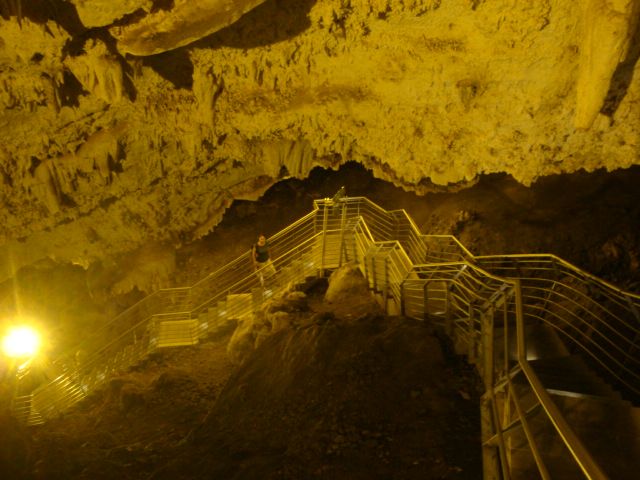 The climb back to the entrance is actually not as far as it seems. The Scandinavian couple who I was afraid would die on the way out, actually managed to reach the surface and as some people inexplicably do, rewarded themselves for their efforts with a cigarette. As we were leaving two middle-aged German couples were entering the cave but one of the women took one look at where she was going and turned around. Yes it looks kind of scary and if you are like me, the kind of person who measures any journey by the difficulty of the return, (I would rather climb a mountain and enjoy the walk down than go down into a deep hole and have to climb up) remember that I told you the climb back up is not as difficult as you think it is going to be. The stairs and railings are new and there are plenty of places to rest.
Be sure to ask for the small brochure when you buy your tickets. The guy at the ticket booth did not even mention there was one until we came out and were asking him questions about it. He has 4 closed-circuit TV screens so use the rest room before you go down into the cave and don't carve your name in the stone so people can read it a couple hundred years from now. But on that subject, the people who carved their names a century ago or more, climbed down into the cave with ropes and pulleys, their only light was candles and lanterns. They earned the right to carve their names. Unless you crawl on your belly down the 400 steps with your eyes closed, you haven't.
By the way, Tom Hanks, Bruce Willis, Pierce Brosnan and several other famous people all have villas on the island. I asked my friends why they would choose Antiparos for their villas in Greece when there are so many islands that are more beautiful and have more to offer in the way of... well just about everything. It is because they are left alone in Antiparos. Nobody is in awe of their stardom because, well most people don't even know who they are, at least among the year-round residents. So even though I assume most people who read my site are not the star-oogling autograph-seekers, (mainly because people who use my site that see me in restaurants and cafes don't ask for my autograph), should you see one of these famous people it is OK to say hi, or smile, or tell them which of their movies you liked the best, because they are stars and they appreciate a sincere compliment. But don't pitch your novel or movie script to them.
Once a guy from the island of Paxos once told me he was at a taverna there one night and at the next table was Bruce Willis, Tom Hanks, Steven Spielburg and Bruce Springsteen. I get a good feeling when I think of these guys speaking broken Greek to the waiters and ordering an extra sadziki or another carafe of local wine or posing with the owners for a photo and stumbling home drunk in the dark. I wonder if Springsteen used my website. Now that would be a reciprocal relationship. He uses my website and I buy his albums.
Arriving in Sifnos.... Bye!