Matt Barrett on Strike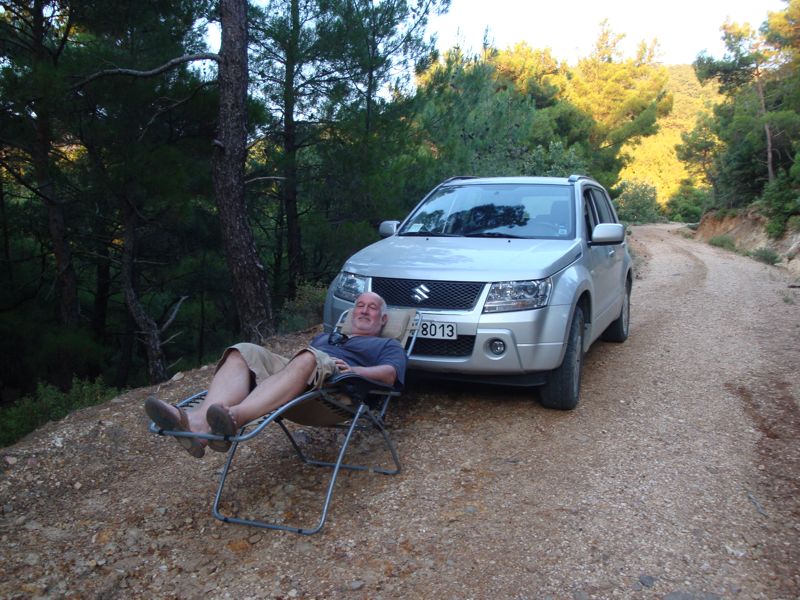 I am going on strike. I am part of the Associated Union of Greecetravel Writers (AUGW) and I am going on strike to bring attention to the Greek government's lack of support for me. I will start with a slowdown and I will not answer any e-mail between the hours of 7am to 10am on Wednesday and if the Greek government does not cave to my demands I will declare a 24 hour strike on September 27th (my birthday) where I won't even turn on my computer (unless the Mets are still in the pennant race.) What are my demands? I demand recognition for the members of my union (membership 1) and the dissolving of EOT (Greek National Tourist Organization) which will be replaced by members of AUGW.
Do I expect my demands to be met? No, not really. But I know that this is the best way to gain publicity for my website because CNN and the other News Organizations will present the strike by AUGW as yet another blow to Greek Tourism.
How do I know this will work? Easy. Read these e-mails. The names and fonts have been changed to protect the innocent:
To: Matt Barrett
Subject: FROM CNN INTERNATIONAL
Hi Matt-
I am contacting you from CNN International where this Wednesday we will be covering the tourism strike in Greece . We were hoping to find someone who is currently traveling around Greece who we could talk to about how travelers on the ground are being affected. It would be great if you could let me know if you have any plans to travel on Wednesday. The idea would be to do a short on air phone interview about your experience trying to get to your destination. If not, please do let me know if you know of anyone else with travel plans who we might be able to talk to.
Many thanks in advance and hope to speak to you soon.
Best wishes,
Dianne
From: matt@greecetravel.com [mailto:matt@greecetravel.com]
Sent: 28 June 2010 17:03
To: Dianne
Subject: Re: FROM CNN INTERNATIONAL
Hi Dianne.
I may be traveling on Wednesday but this tourism union strike does not seem like as big a deal as CNN seems to think. People who work in restaurants are not in the union. Maybe some cleaning ladies at some hotels are and maybe some employees at large travel agencies but this is not a powerful or important union. I don't see how it would affect the ferries even. The buses and metro are not in this union. Taxis are certainly not in it. Tourist shops are not in the union.
I called my friend George who owns Fantasy Travel which is one of the best and most well known agencies in Athens and he had never heard of this union of Tourism Workers. I looked it up and the last strike they had nobody showed up or noticed they were on strike because they were so disorganized that they announced their strike on the day the newspapers were on strike. George thought the strike was of people in the government who are in the tourism sector and that would be a blessing. If they went on strike forever tourism would improve here.
The big news would be the 24 hour general strike which takes place tomorrow that will affect ferries, the metro, buses etc (but not the airport or taxis). It just means that people arriving in Athens will have to take taxis to their hotels and if they planned to go to the islands that day they will have to spend an extra night in Athens and if they planned to come back to Athens that day they will have to spend an extra night on the island which will make many people happy. For people who booked with a travel agency in Greece they will have everything taken care of by the agent. Their hotels and islands will be juggled and their ferry tickets or flights changed. It will be hell for the agents who will be up all night making changes but for the travelers it will just mean a change of plans. But even for this strike the government said they were not going to permit the seamen's union to block the ferries. Last week they blocked 5 ferries. OK that is a drag if you have to catch a ferry but no worse than having the ferry delayed for bad weather and it was just 5 ferries. So maybe a thousand people were inconvenienced. It is more about the bad press. I think it is the same with this Tourism Union striking. They want attention and this is how to get it. But how a Union that nobody has ever heard of will bring the country to a standstill I can't even imagine. I might travel that day just out of curiosity.
I just heard back from George Gerassimides at Fantasy Travel. He does not know of this union nor does anyone who works in the office. He then found the name of the Union on google: POEEYTE or Panhellenic Federation of Catering and Tourist Industry Employees and he phoned the union. There was no answer. So a union that is having a 24 hour strike tomorrow is not answering the phones? What if some members need directions to the demonstration? Then he called HATA (Hellenic Association of Travel Agencies) and they did not know anything about the strike. Finally someone from the agency found that this union is mostly the cleaning ladies and some staff at the larger hotels which means that in some hotels management and non-union employees will be making beds and cleaning waste baskets. It probably won't bring the country to its knees.
But I noticed by googling the strike that every article is from outside of Greece and looks like it was copied from the previous article I read. There is nothing in the Greek press, at least the English language version, just as there was nothing in the papers about the blind people who demonstrated last week.
Anyway whoever covers this strike for CNN is going to have an easy day. Probably the best way to cover it would be to stay at one of the luxury hotels in Syntagma like the Grande Bretagne or the King George and see if their sheets get changed or the bartender knows how to make a mohito.
My cell # is (01130) 693 2595007 (not my real number, fans) and you can call me if you have any questions about what is going on here. If you want to know first hand from someone in the industry call (01130) 210 322 8410 and talk to Vassilis at Fantasy Travel. Very articulate, speaks English fluently and is at this moment trying to find out about this mysterious union and the strike that the whole world except Greece is worried about.
Sincerely
Matt Barrett
www.greecetravel.com
So comrades are you with me? With the support of the media we can bring the country to its knees. For it is only by striking and inconveniencing our brothers and sisters that we can move forward and create a society where we can all be on strike all the time!