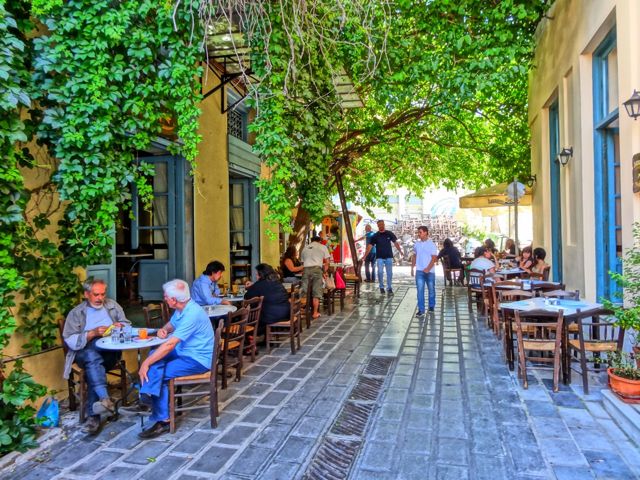 The Greeks tend to see the world as being against them. They complain that what people see on CNN and BBC is not what is happening in Greece. It is what is happening in a 4 block area of central Athens. Photographers and cameramen make money selling dramatic photos of shield bearing riot police surrounded by flames and smoke from teargas battling masked demonstrators. But this is the same hooliganism that you find after a soccer game, in fact it is the same people. My complaint is that the Greek government allows these people to fight with the police, but besides the damage to the image of Greece and some broken windows and the unfortunate loss of life in the bank that was burned nearly two months ago, which really was an accident (the deaths, not the fire), what kind of danger to they pose? They like to fight with the police. It is like a game. The police fight back in a restrained way so they donít actually hurt anyone. It is like on-the-job-training. People stand on the sidelines and watch. It is like a sport, but a game that you know the outcome. The hooligans will get tired and go home or to Exarchia to drink frappe and brag about their courage in battle, the police will leave and go back to their families, street-cleaners will come with their sweepers, and the cafes and sidewalks will fill with normal people and cars and buses will once again take over the streets.
And meanwhile a couple blocks away, tourists who may not have seen the TV wonít even know something happened until they get frantic messages from their family and friends at home wondering if they are OK.
We live in a world of soundbites and flashing images. But no image from CNN or the BBC can capture the reality of what is happening here, not even Malcolm Brabant reporting on what is going on in Syntagma Square from the beach.
This has been Matt Barrett reporting on the violence in Athens from the beautiful island of Kea in the Aegean Sea. (Where nobody is on strike or demonstrating)