Review for George the Famous Taxi Driver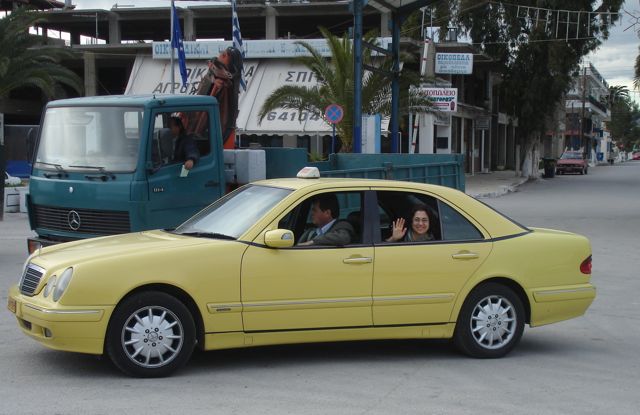 Usually I post reviews for travel agencies and services on my site at www.greektravel.com/testimonials but the one I received today I think deserves special attention and if I stuck it with the hundreds of other reviews it would just be lost.
Fifteen years ago when I met George, he really was just another taxi driver, though during my short trip from the old airport to the center of Athens with him I recognized something special about him. He had lived in Australia and New York, owned a restaurant in NY which he sold and came back to Greece because he wanted to be a machinist. I mean, who wants to be a machinist? That is something you are stuck being because it is the only job in town or your father owns the company(like my brother-in-law). But George loves machines. He discovered that like other professions in Greece it is who you know if you want a job and George after twenty something years outside of Greece (all his sons were born in the USA) he did not know anyone. So George became a taxi driver, at first sharing a cab with a relative and then buying his own.
Since the day we met and George told that he was going to be the best taxi driver in Athens, he has done exactly that. He bought the best Mercedes available, brushed up on his history and archaeology and has become a living legend. His success has created an army of imitators, some claiming they were the first and they are the best. But I was there at the beginning and the truth is that George was the first and is probably still the best at offering first rate service to travelers, the kind not usually associated with taxi drivers. Many of the drivers you see with their own websites worked for George and went out on their own, and some like Christos and Panayotis and Spyros are good people, excellent drivers and know the country. Others just saw what George was doing, bought Mercedes and imitated George's website and began getting bookings from travelers who did not know one taxi driver from another. Some began going to Tripadvisor, posing as customers to praise themselves or complain about the competition. The world of the taxi driver is a competitive one and in Greece the way you get ahead is not by improving what you do but to tear the other guy down. But George has always remained above the fray and just quietly continued to do his job and attract customers and make new friends.
I have always felt that the Greek government should give George some kind of medal or build a statue for him somewhere because he has raised the standards of Greek taxis. A non-smoking Greek taxi driver who could lecture on ancient history, Greek culture, cuisine and modern Greek society was rare before George. There were plenty of drivers who spoke English and even lived in the USA, but George raised the bar and when other drivers saw how successful he was, they followed. Now with a handful of other excellent drivers like New Jersey John (everyone's favorite) and Little George, as well as his son Dennis who drives a limo and his son Billy (who despite his parents spending a fortune to send him to University in Italy where he got a degree in Economics, would rather be driving tourists around Greece in his mini-bus), George continues to please visitors and make their trip to Greece a little more special.
So in tribute to my friend George the Famous Taxi Driver I am using today's blog to post this e-mail I received this morning:
Dear Mr. Barrett,
For decades I had been wishing for a trip to Greece, so when the time came to make the actual arrangements, I was somewhat nervous; I wanted everything to be perfect. Then I discovered your website, and its wealth of valuable information! I don't think the trip would have worked out as well as it did, and your recommendations invariably proved to be good ones! Thank you for the wonderful help you provided.
I must say that the best recommendation, among many very good ones, was for George Kokkotos, the "Famous Taxi Driver." I admit to being a bit nervous in committing a large portion of our trip to a single driver/guide, but I read George's consistently excellent reviews, on your site and others, and went ahead and booked his services. It was the best single decision we made for the entire trip.
Every "practical" aspect of George's services was excellent: He's a superb driver, his taxi is even more comfortable than we'd expected, his command of English is superb, he is scrupulously honest, and he's an amazing fount of information: he is charmingly proud of his country, and he shares his enthusiasm enjoyably and informatively. He also manages to add little grace notes to each excursion; each of our outings with George was made much better by the inclusion of several small stops we'd never have discovered without him. Basically, he gave us everything we'd hoped for, and more.
But that's not why I'm taking the time to write what I hope comes across as an unreservedly positive and enthusiastic review. It's because of George's charm and generous friendship, which we experienced over and over again during the several days we spent in his company. As we drove all through the country, the conversation flowed smoothly, and easily, and enjoyably; hard to believe, but conversing with George as we drove turned out to be one of the most positive aspects of our entire trip! We truly feel that we've made a friend in George, and that's entirely to his credit. We were all sad—even our two pre-teen girls—when the last of our trips with George came to an end. The rest of the trip, islands and all, would have been better if we'd shared it with him, we have no doubt.
Please post this as a review on your website, and please feel free to share it with George. I hope what I've said will help others decide to work with him, because we'd select him again any time, without any reservations whatever. He's a great guy and outstanding at what he does.
Sincerely,
Albert Harris