Tryfon's and Western Lesvos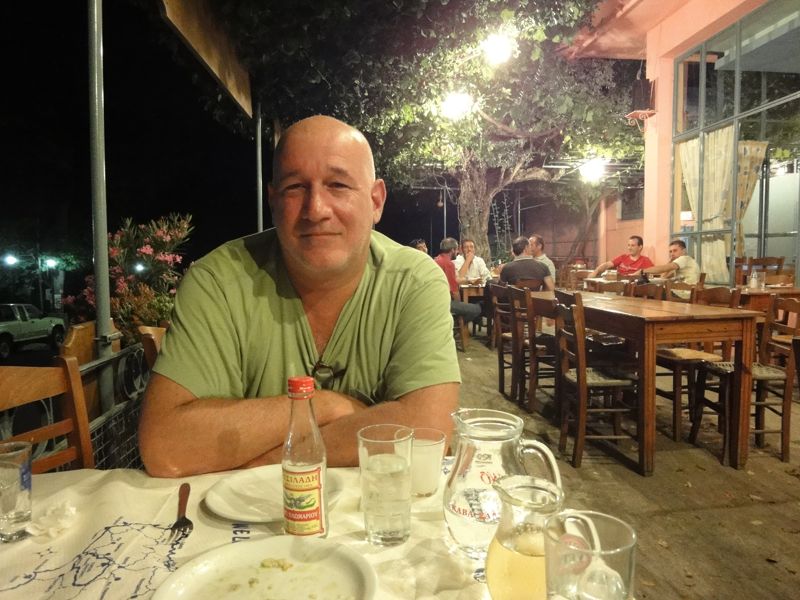 Imagine a small taverna-cafeneon on the road from Kaloni to Eressos-Sigri in the village of Vatousa where the shepherds and the retired old men come to drink coffee and ouzo in the morning and afternoon and the occasional tourist stops for a beer or a soda or even a light lunch. At night they put charcoal on the grill and cook paidakia (lambchops) and provatina (mutton: like paidakia but more like steak) that comes from the owner's shepherd brother-in-law. Also grilled and rotisserie chicken, tomato and cucumbers and feta from their own farm and garden. Tryfon, the father, works the grill. He used to own the beautiful old cafeneon in the upper village which was known as Tryfon's and was the heart of the village. His wife Rena cooks all the oven dishes: stuffed tomatoes and peppers, stuffed zucchini flowers and grape leaves, lamb stew, string beans, koukia (fava beans), fried meat balls, and lots of other food all made with local ingredients (except fried squid which is rarely local anywhere). The son Giorgos and the nephew Grigoris wait tables and on weekends the younger son Joseph comes back from hair-cutting school in Mytilini. On Saturday nights it is full of villagers and it takes twenty minutes of greetings before you can sit down at your table and order the rotisserie chicken that Tryfon makes on these special evenings when families who normally eat their meals at home come out to dinner. The music is usually old rembetika and laika but sometimes they play this CD of live Mytilini music, sort of like rembetika crossed with a marimba band, which was recorded in the restaurant during a panagiri last spring, and if the kids are working they may sneak in some more modern laika, though usually not anything that will scare away the old men.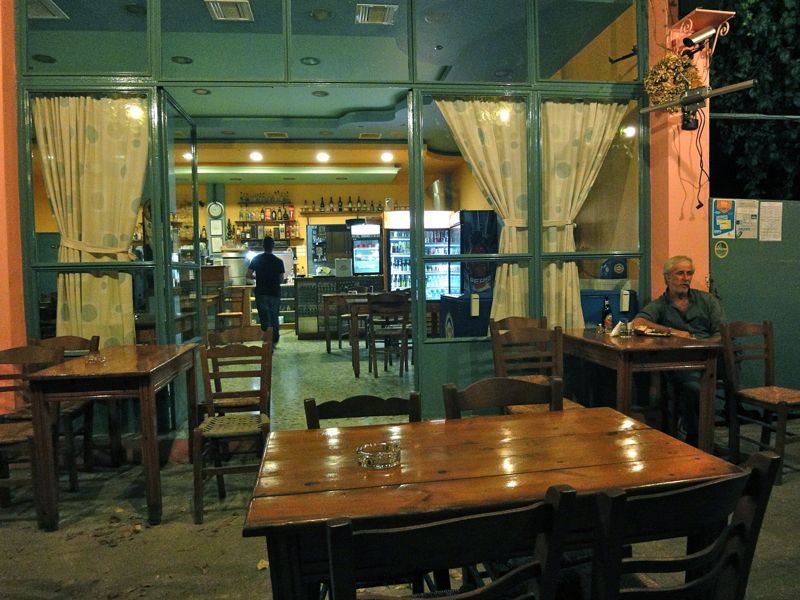 Because it is on the main road all the buses stop here, and anyone with anything to sell does too. I bought the best kitchen knife I have ever had from a gypsy passing by, so sharp you could practically throw a napkin in the air and slice it in half by just letting it fall. Any time of day there are people here, usually drinking a beer or an ouzo which are served with small plates of mezedes at no charge, as they do in the other two cafeneons in the upper village of Vatousa near the small square by the church. Tryfon's, which is actually called RENA'S, is named after his wife who is the sister of Michalis, who owned the restaurant known as Michalis' across the street which was actually called Aphrodite, named for his mother but was sold to Athenians who barely get by because they are not from around here. Michalis became a agrofilakas which is like an agricultural policeman. He is also the brother-in-law with the sheep that is served at Tryfon's. Spiro Cooper and all the Albanian stone masons hang out here, as do the carpenters, and people who are just here from Athens for the summer. There are about 20 different brands of ouzo, all from Lesvos of course, wine from Methymnaos Winery, right down the street in Xidera and in the summer a big box full of ice-cream. It also has wireless DSL. It is my office.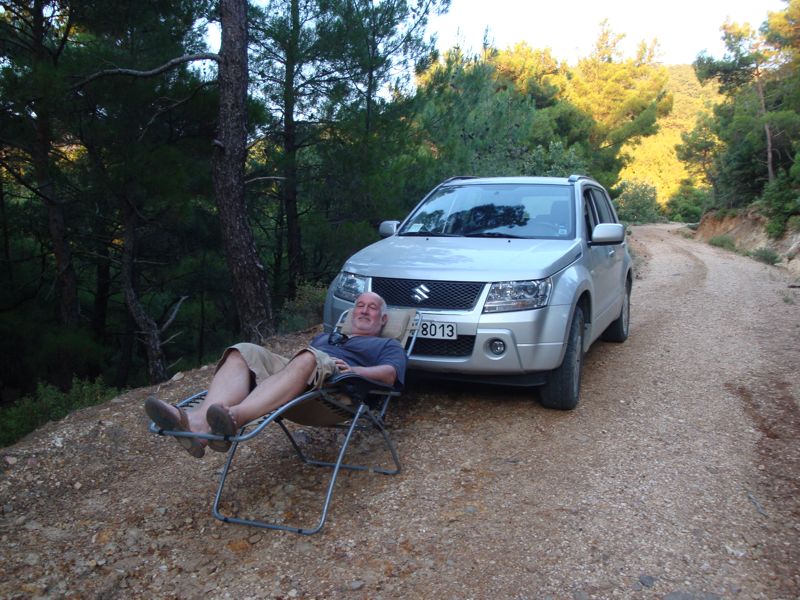 I wrote to a friend from Chicago that Vatousa is to tourism as Lou Pinella is to ballet. If you wanted to get away from the tourism of Molyvos and Petra or even Skala Eressos, as low level as it is, you just come here, or to Xidera or Antissa, or Skalohori, or Mesotopos , or Agra, or Filia where you are more likely to see a donkey than a tourist unless they are driving by in their rent-a-car on their way to somewhere. This is western Lesvos. Vatousa is green. There are farms in the valleys, pine trees in the mountains and springs and streams if you know where to look for them. We sit in the caldera of a massive volcano with very rich soil, the reason Methymnaos is as good or better than any you will find from Santorini or just about anywhere else in Greece and farmers have begun to switch to growing the local grapes which are related to the ancient vines that once grew in abundance here. If I am tired and don't want to walk back up the hill to our house I drive as far as I can on the dirt road behind the village to where it is impassable to all but my Suzuki Grand Vitara, pull over and set up my Lafuma zero-gravity chair, and take a nap listening to the sounds of the mountain and the wind blowing through the pines, until it is a reasonable hour to come back down for an ouzo and dinner.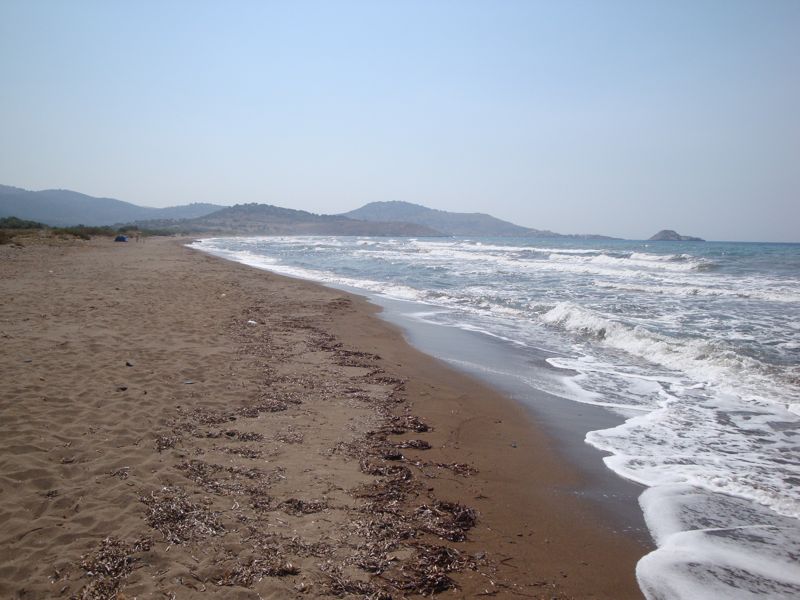 Our closest beach is Campo Antissa(photo), a wild stretch of sand at the end of a wide valley that faces the north wind where the waves can be scary big or not all. Nobody from around here swims in Campo Antissa even though there are a couple showers and sheltered picnic tables at one end of the beach. If anyone is here they will be tourists looking for privacy, one or two scattered every couple hundred yards of the 2 mile long beach, if there is anyone here at all. Most of the locals swim at Gavatha where it is more sheltered and there is a town and a taverna on the beach. The best food though is in the valley of Campo Antissa at Kosta's and also at the taverna in the tiny village of Liota in the olive groves that overlook Gavatha where people usually go at night. Touristically there are a few important sites. The Methymnaos Winery and the Digital Art Museum in Xidera, the frescos at the Perivoli Monastery, the Petrified forest and Museum at Sigri and the Ipsilou Monastary on the road to Sigri.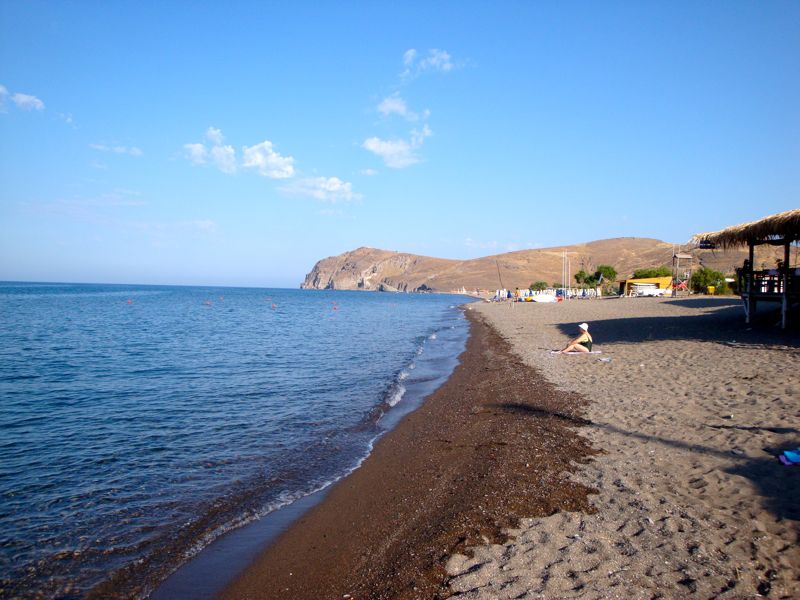 Beyond Antissa, which has perhaps the mostly lively and beautiful town square on the island with two or three good restaurants, the landscape becomes lunar, with bare mountains and strange rock formations. Not much here besides goats, sheep and the world's largest petrified forest. The road forks and one leads to Eressos and Skala Eressos(photo) which brings in most of the tourist revenue for this part of Lesvos, if not all of it. You drive through the harsh landscape between mountains until you come to a huge green valley with a village at the top, Eressos and at the end of a long, narrow, straight road Skala Eressos, a beach town with great restaurants, cafes, shops, boutiques, bars, yoga, massage, and is a center for spiritually minded people, former hippies, ex-Rajneesh sanyasins, gay women, families with children, couples (gay and other) and even has a movie theater. Oh yes, it also has one of the best beaches in Greece, a mile or two of sand that stretched along the bottom of this lush valley from mountain range to mountain range and is dissected by a river full of turtles that has water even in the summer when it hasn't rained in months.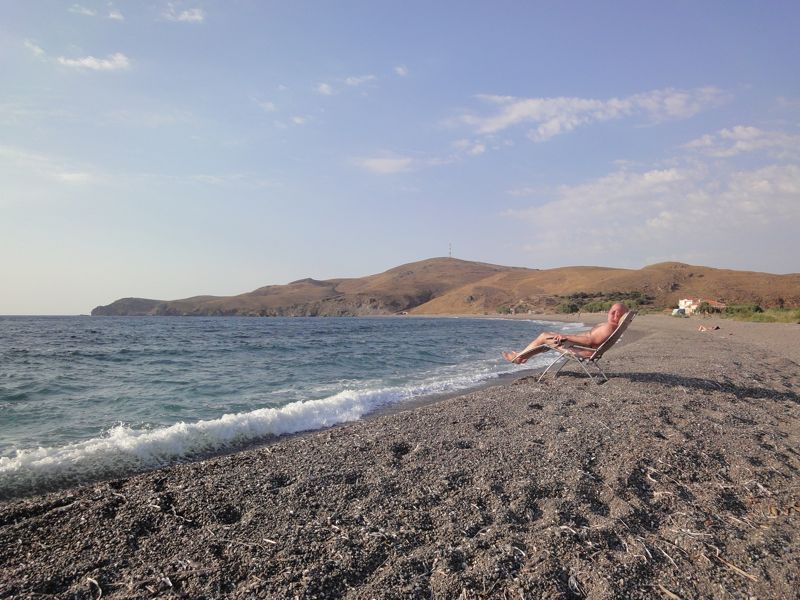 The other fork leads to Sigri, which is the land that time forgot, the most remote tourist destination in Greece. The village is a chaotic hodgepodge of summer houses, rent rooms and hotels clustered around a small fishing harbor, a Turkish castle, and the town beach where most people staying here swim. In front of the dock is the Cavo d Oro fish taverna, one of the best on the island and there are several others in the small village square that overlooks the enormous bay which is sheltered by mysterious island populated only by telephone poles. Sigri though not an attractive village by Lesvos standards is where I would choose to live if I was going to stay here forever. The lay of the land and its relationship to the sea is so multidimensional that it would be hard to be bored here is you have any affinity for beaches and water at all. North of the town are farms and scattered houses in a large green valley that is full of water. Like Skala Eressos there is a river here too. The beach of Fanouromeni(photo) is my favorite on the island. Usually there are waves. It is the end of Lesvos and there is nothing but open sea from here to the Bosphorus and the entrance to the Black Sea. Few people come here. Bathing suits are optional. If you wear one you are probably ashamed of your body. The wind is usually blowing here, as it does in the north side of Sigri where they claim that air-conditioning is unnecessary and you need blankets on many summer nights. That's why when there is a heat wave I come here. It is also why there is a Windsurfing school here. It may be the best spot in Greece for the sport and is still relatively unknown. The south side of Sigri there is a dirt road that leads to Eressos that passes a half dozen beautiful beaches, usually empty of humans but occasionally you will see a flock of sheep. One beach is actually known as sheep beach. Yesterday we swam at a beach that was at the end of a wide valley, having driven down a dirt road that was next to a river. There was one guy on the beach fishing. The beach itself was probably half a mile long. It looks like a smaller, people-less version of Skala Eressos. If you look closely at the pebbles and stones here and Fanouromeni you will find that many of them are petrified wood.
This is my world right now. I get more comfortable in it every day.
For more about Western Lesvos see www.lesvos.com
You can see all these photos full size by clicking on them.